krainaksiazek breads bread machine 20091951
- znaleziono 12 produktów w 3 sklepach 74,35 zł
Książki / Literatura obcojęzyczna
Sklep: Libristo.pl 59,43 zł 113,91 zł
Książki / Literatura obcojęzyczna
Can the incomparable taste, texture, aroma of handcrafted bread from a neighbourhood bakery be reproduced in a bread machine? When Beth Hensperger first set out to try, she had doubts. Then she spent hundreds of hours testing all kinds of breads in a range of bread machines...and her answer turned out to be a resounding "Yes"! In this big and bountiful book full of than 300 recipes, she reveals all the simple secrets for perfect bread every time.
Sklep: Libristo.pl 84,08 zł
Książki / Literatura obcojęzyczna
A bread machine makes it easier to prepare loaves from scratch, ensuring that the ingredients are gluten-free and first quality. The bestselling gluten-free author team of Donna Washburn and Heather Butt provides this all-new bread machine book, which focuses on whole grain breads and doughs. Many who are intolerant to the gluten found in wheat, rye, barley and oats don't realise that a wide variety of whole grain gluten-free flours is available. These flours include quinoa, teff, rice, buckwheat, millet and cornmeal, and they are used in these creative and delicious recipes. The results are outstanding and the wheat or other flour typically used will never be missed. Flavour and nutrition are the keys in all the recipes. Responding to extensive feedback from coeliacs and the general public, there's also an egg-free chapter, as well as many nut-free and rice-free recipes. Since ease of baking is so important, there's a whole chapter devoted to nutritious mixes that can be prepared ahead of time. All are well organized for easy use and identification. The recipes include: Artisan Breads - Asiago Herb Pan Rolls, Bacon Cheddar Mini Loaves, Sourdough Teff Loaf; Egg Free (EF) - EF Banana Raisin Bread, EF Honey Walnut Bread, EF Rich Dinner Rolls; Hearty Whole Grains - Black Quinoa Bread, Buttermilk Buckwheat Bread, Wild Rice Loaf; Quick 'n' Easy Mixes: The Six Loaf Nut-Free Creamy Bread Mix is the starter to Nut-Free Dinner Rolls, Nut-Free Rosemary Bread Sticks and Nut-Free Orange Chocolate Chip Loaf; Seeds, Nuts & Fruits: Apricot Almond Loaf, Poppy Thyme Loaf, Seedy Sandwich Loaf; The Classics - Cornbread, Hot Cross Buns, Mock Rye Loaf, French Baguette, Challah; Wraps, Flatbread & Filled Breads - Teff Pizza, Black Olive Goat Cheese Ciabatta, Panini Sandwich Loaf. The authors include a wealth of helpful hints and techniques for baking the perfect gluten-free loaf. The 'Gluten-Free Bread Machine Pantry' provides information on all the ingredients needed to make that perfect loaf of healthy bread, for both the 750g and 1 Kg machines.
Sklep: Libristo.pl 49,62 zł
Książki / Literatura obcojęzyczna
There's nothing quite like the smell of freshly baked bread, but not everyone has the time to hand-make their own. With Bread Machine Easy, you won't have to. Packed with 70 easy-to-follow recipes, this practical recipe book shows you how to make the most of your bread machine. Using an imaginative range of ingredients for traditional and international favourites, you can easily bake anything from everyday classics such as Olive Oil Bread to more exotic loaves like Mediterranean Herb with Salt Glaze, and even wheat-free breads. Including step-by-step instructions for basic techniques, expert's tips and an easy-reference troubleshooting guide, Bread Machine Easy takes all the effort out of baking the perfect loaf.
Sklep: Libristo.pl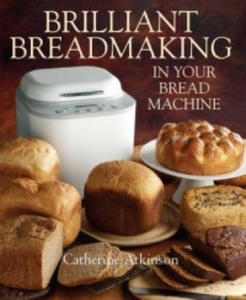 44,18 zł
Książki / Literatura obcojęzyczna
There's nothing quite like the flavour and aroma of freshly baked bread. Your bread machine gives the pleasure of both with the least effort on your part. This book is for those who are new to bread making and those who want to expand their repertoire of recipes. - It takes you through the basic techniques and provides foolproof advice on how to make the perfect loaf. - From simple, straightforward loaves, which cost a fraction of the shop-bought equivalent, to more elaborately flavoured and handshaped creations, you'll discover over a hundred delicious recipes that make the most of your bread machine's potential. - If you are concerned about what goes into the food you eat, you can now decide the ingredients of your daily bread yourself, and make bread that you will love. There are chapters on breads for those on special or restricted diets, such as gluten-free, and recipes using spelt and rye flours. - All recipes are suitable for all makes of bread machine, and most recipes include ingredients for medium or large loaves or a small loaf using a compact bread machine.
Sklep: Libristo.pl 94,96 zł
Książki / Literatura obcojęzyczna
Features: Over 375 recipes keep fresh loaves of scrumptious bread in the pantry; By varying seasonings and ingredients, custom bread making is easy and fun; Two bonus chapters on Soups & Stews and Sandwiches offer more recipes and suggestions for enjoying delicious home-made breads; Recipes, from sweet to classic, suit all tastes; Basics chapter answers frequently asked questions.
Sklep: Libristo.pl 53,30 zł
Bread Dorling Kindersley Publishers
Inne 1
Turn your home into a bakery with delicious recipes for everything from baguettes to buns, focaccia to granary loaves. Ideal for experts and beginners alike, the step-by-step instructions for both hand and machine-baking are clearly explained, with problem-solving hints and tips. The ultimate reference and inspiration, Bread is packed with tempting recipes. Superb photography and step-by-step instructions to make the rewarding art of bread-making accessible to even the beginner. From mixing and shaping to proving and glazing
Sklep: Albertus.pl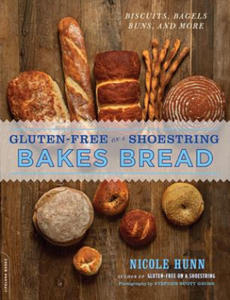 91,49 zł
Książki / Literatura obcojęzyczna
If you're eating gluten-free, you know the challenges of bread. You probably know where to get the packaged stuff--and you know the exorbitant cost. Maybe you've bought mixes and bread makers in a vain attempt to avoid the mystery of how to bake gluten-free at home altogether. Now, thanks to Nicole Hunn, you don't have to settle for the high price of packaged, frozen loaves. Welcome to easy, budget-friendly, delicious recipes for all your favorites, from shaped breads to flatbreads, biscuits, scones, and muffins. You'll learn to master lean crusty white bread, hearty whole-grain, fragrant cinnamon swirl, decadent cheese bread, not to mention a wild yeast starter you'll use to make everything imaginable, including a real no-rye "rye" bread. And you won't need a bread machine or any fancy supplies. Nicole covers all the essentials, including: recipes from a bread flour that makes it all work, all-purpose flour blends, a whole-grain blend, and a pastry flour; key techniques; the secrets to working ably with gluten-free dough; and even a whole section on troubleshooting, in case things go off the rails a bit. Gluten-Free on a Shoestring Bakes Bread tells you everything you need to know to make the artisan-style bread you've been missing--and at a fraction of the cost.
Sklep: Libristo.pl 74,35 zł
Książki / Literatura obcojęzyczna
A collection of bread recipes from around the world, made both by hand and in a bread machine, shown in 500 photographs. It features delicious breads from all over the world, including France, Germany, America, India and Mexico. It lets you explore the diversity of bread in recipes such as Ciabatta, Golden Pumpkin Bread, and, Parathas.
Sklep: Libristo.pl 74,35 zł
Książki / Literatura obcojęzyczna
Most of us dream about having the time to make fresh bread, to fill our kitchen with the irrestible aromas of a bakery every day. Now, with Jeff and Zoe's new bread-making method, you too can make your own loaves in only five minutes a day! No bread machine required, and no need for kneading - it's revolutionary! In this amazing new book, Jeff and Zoe prove that baking bread can be easier and quicker than a trip to the baker's. Their method is quick and simple, and produces perfect, scrumptious loaves every time. In exchange for a mere five minutes of your time, your warm, indulgent, crusty breads will rival those of the finest bakers in the world. With nearly 100 recipes that use this ingenious technique, "Five Minute Bread" is a revelation for anyone who thinks that home-made bread is too much work. Crusty baguettes, mouth-watering ciabattas, hearty sandwich loaves and even buttery pastries will become everyday treats with this innovative book.
Sklep: Libristo.pl 84,08 zł
Książki / Literatura obcojęzyczna
Enjoy all the sensational food that is typically avoided in gluten-free diets. Let's face it: two of the worst things about adopting a gluten-free lifestyle is having to give up all your favourite foods and spending loads of extra time in the kitchen. But gluten-free foods don't have to be plain or unappetizing and you don't need to spend hours in the kitchen. All you need is a well-stocked gluten-free pantry and the sensational recipes found in Easy Everyday Gluten-Free Cooking. These recipes offer numerous ideas for healthy, tasty meals. No more cooking separate meals for a friend or family member who has coeliac disease or a wheat allergy - everyone will enjoy this fabulous food. Tasty and innovative meal ideas cover everything from baked goods, pasta dishes, appetizers and family meals to mouth-watering desserts. This book also shows how to take advantage of the ever-widening variety of gluten-free flours that are now available at your local grocer. Outstanding gluten-free recipes are beautifully organized for ease of use and preparation whatever the time of day or occasion: Breakfast and Brunch; Appetizers; Soups, Salads and Dressings; The Main Event; Quick Breads; Bread Machine Recipes; Heavy-Duty Mixer Recipes; Holiday Fare; Delicious Desserts; Sweet Treats. Also included is useful information on maintaining a gluten-free lifestyle - whether you're just beginning or simply need to check in for a quick reference. Sections such as The Gluten-Free Pantry, Handling Gluten-Free Flours and Starches, Gluten Cross-Contamination in the Kitchen, Healthy Choices for Eating Out - Or In! Travelling Gluten-Free Safely and Nutritious School Lunches are invaluable. Adopting a gluten-free style of cooking and baking needn't be a chore - it can fun and surprisingly easy if you have the right recipes and tools. You'll find all this and more in this wonderful cookbook.
Sklep: Libristo.pl
Sklepy zlokalizowane w miastach: Warszawa, Kraków, Łódź, Wrocław, Poznań, Gdańsk, Szczecin, Bydgoszcz, Lublin, Katowice
Szukaj w sklepach lub całym serwisie
2. Szukaj na wszystkich stronach serwisu
t1=0.042, t2=0, t3=0, t4=0.022, t=0.042