krainaksiazek breakfast eggs cookbook 20039687
- znaleziono 12 produktów w 2 sklepach 162,35 zł
Książki / Literatura obcojęzyczna
Like millions of other people, I had an autoimmune condition that just kept getting worse and worse. Through diet, nutrition, and learning to care for my body (and mind), I've sent my autoimmune condition into remission. And I'd love to help you do the same. The Paleo Autoimmune Protocol (AIP) is not an easy diet to implement. It's confusing what foods to avoid, and it's tough to find delicious recipes that don't include non-AIP ingredients. That's why this cookbook is designed to be 100% AIP-compliant so you don't have to worry about figuring out what to eat for your next meal! All the recipes are made with easy-to-find ingredients and don't include any eggs, nightshades, nuts, seeds, dairy, grains, soy, peanuts, other legumes, etc. So all the recipes in The Essential AIP Cookbook are also friendly to those looking for dairy-free, gluten-free, nut-free, or egg-free recipes. Plus, included in the book is also a detailed AIP FOOD LIst and a 4-week AIP MEAL PLAN. Inside the Essential AIP Cookbook, you'll find the following:
Sklep: Libristo.pl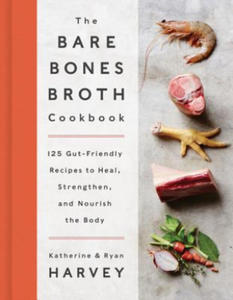 98,84 zł
Książki / Literatura obcojęzyczna
From the founders of Bare Bones Broth Company, 125 delicious recipes for making and cooking with the latest food trend that's taking the culinary and wellness communities by storm: bone broth. Bone broth is one of mankind's oldest foods-and healthiest, boasting one of the most complete nutritional profiles of any food on earth. The collagen, bone, skin, marrow, and fat that is extracted when animal bones simmer in water for hours (or days) are the building blocks of life, containing proteins that help to combat inflammation; boost immunity; strengthen bones; improve hair, skin, and nails; and help a host of digestive issues by promoting optimum gut health. In The Bare Bones Broth Cookbook, Kate and Ryan Harvey, founders of the artisanal broth manufacturer, Bare Bones Broth Co., show readers how simple, inexpensive, and delicious it is to make their own nutrient-rich broth at home. With foolproof directions for slow-cooking your own broth and more than 100 inventive ideas for incorporating it into everyday meals in delicious new ways, The Bare Bones Broth Cookbook includes: * 10 signature broth recipes, from beef and chicken to fish and vegetable recipes * Soups and stews such as Coconut Chicken Curry and a Classic Pho * Eggs and breakfast, including a Root Veggie Hash and Paleo Eggs Benedict * Meat and seafood entrees, from Pan-Roasted Fish Tacos to Lamb Apple Mint Burgers * Sides and salads, such as the Braised Baby Beet Salad with Kale or Glazed Plantain Fries * Sauces and spreads, including Chimichurri sauce, bacon jam, and cilantro salsa Discover the amazing health benefits of bone broth-the power of delicious food is only a stockpot away with The Bare Bones Broth Cookbook.
Sklep: Libristo.pl 84,03 zł
Książki / Literatura obcojęzyczna
Market Kitchen, the flagship daily UKTV food programme, is essential viewing for anyone who wants to create mouth-watering meals using the freshest seasonal ingredients. And now, the most delicious recipes from the star presenters and their guests are together in one fantastic collection. Some of the most exciting names in British cooking are here: Market Kitchen presenters Rachel Allen, Mathew Fort, Matt Tebbutt and Tom Parker Bowles plus Tana Ramsay, Sophie Grigson, Diana Henry and John Burton Race, to name just a few. All share a passion for sourcing the best produce available...without breaking the bank. Every recipe has been tried and tested during the filming of Market Kitchen and showcases the chefs' dedication to locally-produced seasonal ingredients. From breakfast treats such as Chorizo Scrambled Eggs to Sticky Gingerbread; from Huevos Rancheros to the traditionally British Fidget Pie, recipes are clearly explained with hints and tips. Beautiful finished food shots offer real inspiration. Divided into the four seasons, the book also features storecupboard essentials and an ingredients A-Z. RECIPES INCLUDE: * Beef bourguignon - Rachel Allen * Couscous with mint - Rachel Allen * Sticky toffee pudding - Rachel Allen * Grilled pears with port and Stilton - Matt Tebbutt * Lamb chops with clams, sherry and ham - Matt Tebbutt * Irish potato soup - Matthew Fort * Pot roast shoulder of mutton - Matthew Fort * Fidget pie - Matthew Fort * Gazpacho - Tom Parker Bowles * Roasted Cayenne chicken - Tom Parker Bowles * Griddled asparagus with duck eggs - Tom Parker Bowles
Sklep: Libristo.pl 122,00 zł
WYDAWNICTWA ALBUMOWE > Hobby > Kulinarne
Feast of Ice and Fire: The Official Companion Cookbook   ISBN: 9780345534491 Autor: Monroe-Cassel Chelsea, Lehrer Sariann Rok wydania: 2012-05-29 Ilość stron: 220 Oprawa: twarda Format: 196 x 237 mm Ever wonder what it's like to attend a feast at Winterfell? Wish you could split a lemon cake with Sansa Stark, scarf down a pork pie with the Night's Watch, or indulge in honeyfingers with Daenerys Targaryen? George R. R. Martin's bestselling saga A Song of Ice and Fire and the runaway hit HBO series "Game of Thrones "are renowned for bringing Westeros's sights and sounds to vivid life. But one important ingredient has always been missing: the mouthwatering dishes that form the backdrop of this extraordinary world. Now, fresh out of the series that redefined fantasy, comes the cookbook that may just redefine dinner . . . and lunch, and breakfast. A passion project from superfans and amateur chefs Chelsea Monroe-Cassel and Sariann Lehrer--and endorsed by George R. R. Martin himself--"A Feast of Ice and Fire "lovingly replicates a stunning range of cuisines from across the Seven Kingdoms and beyond. From the sumptuous delicacies enjoyed in the halls of power at King's Landing, to the warm and smoky comfort foods of the frozen North, to the rich, exotic fare of the mysterious lands east of Westeros, there's a flavor for every palate, and a treat for every chef. These easy-to-follow recipes have been refined for modern cooking techniques, but adventurous eaters can also attempt the authentic medieval meals that inspired them. The authors have also suggested substitutions for some of the more fantastical ingredients, so you won't have to stock your kitchen with camel, live doves, or dragon eggs to create meals fit for a king (or a "khaleesi"). In all, "A Feast of Ice and Fire" contains more than 100 recipes, divided by region: - The Wall: Rack of Lamb and Herbs; Pork Pie; Mutton in Onion-Ale Broth; Mulled Wine; Pease Porridge - The North: Beef and Bacon Pie; Honeyed Chicken; Aurochs with Roasted Leeks; Baked Apples - The South: Cream Swans; Trout Wrapped in Bacon; Stewed Rabbit; Sister's Stew; Blueberry Tarts - King's Landing: Lemon Cakes; Quails Drowned in Butter; Almond Crusted Trout; Bowls of Brown; Iced Milk with Honey - Dorne: Stuffed Grape Leaves; Duck with Lemons; Chickpea Paste - Across the Narrow Sea: Biscuits and Bacon; Tyroshi Honeyfingers; Wintercakes; Honey-Spiced Locusts There's even a guide to dining and entertaining in the style of the Seven Kingdoms. Exhaustively researched and reverently detailed, accompanied by passages from all five books in the series and full-color photographs guaranteed to whet your appetite, this is the companion to the blockbuster phenomenon that millions of stomachs have been growling for. And remember, winter is coming--so don't be afraid to put on a few pounds. Includes a Foreword by George R. R. Martin
Sklep: Multistore24.pl 135,32 zł
Książki / Literatura obcojęzyczna
The companion to the New York Times bestseller The Virgin Diet brings the groundbreaking health and weight loss program into your kitchen. With more than 100 delicious and practical recipes, THE VIRGIN DIET COOKBOOK is designed to show you how to incorporate anti-inflammatory, healing foods into your diet to reclaim your health and reset your metabolism, while avoiding the 7 foods that are most likely to cause food intolerance. These tasty, easy-to-make recipes are free of gluten, soy, dairy, eggs, corn, peanuts, and sugar and artificial sweeteners. With mouthwatering suggestions for breakfast, lunch, dinner, dessert and snacks, you'll lose weight fast while enjoying what you eat!. THE VIRGIN DIET COOKBOOK will also help you to stock your kitchen, provide delicious substitutes for common ingredients, and offer easy swaps for eating out and on-the-go.
Sklep: Libristo.pl 63,18 zł
Książki / Literatura obcojęzyczna
For over thirty years, Jeannie and Sam Chesterton have lived high in the hills of Spain's western Andalusia at Finca Buenvino, their welcoming pink farmhouse, which they have run as a guesthouse - achieving international acclaim for their cooking and also their cookery courses. On their 100-acre estate the Chestertons grow their own organic vegetables, fruits and chestnuts, and raise Iberian pigs which are killed for jamon Iberico, salchichon, and chorizo. Violet Andalusian hens, a rare breed which they are helping to conserve, produce fresh eggs for breakfast, and homemade breads and jams are always on the table in the morning. Dinners are a social occasion, with summer dining under the stars, or in winter guests assemble at the table in the panelled dining room. Talk of food is of the essence always!
Sklep: Libristo.pl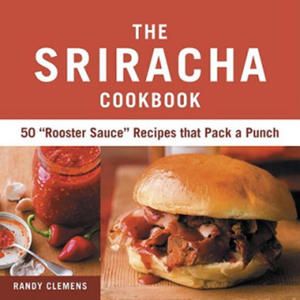 78,98 zł
Książki / Literatura obcojęzyczna
You've drizzled the addictively spicy chili sauce over your breakfast eggs, noodles, and French fries, but now it's time to take your Sriracha obsession to bold, new heights. Food writer and trained chef Randy Clemens presents 50 palate-expanding recipes that make the most of Sriracha's savory punch, such as: Spicy Ceviche, Honey-Sriracha Glazed Buffalo Wings, Bacon-Sriracha Cornbread, the Ultimate Sriracha Burger, Peach-Sriracha Sorbet, and more. Named "Bon Appetit's" Ingredient of the Year for 2010, the piquant puree of chili peppers is one of the few kitchen standbys adored by adventurous cooks of all stripes--from star chefs to college freshmen--who appreciate its vibrant, versatile balance of ketchup-like sweetness, garlicky pungency, and just the right amount of spice. Whether you're a die-hard fan or a recent convert to the revered "rooster sauce," you'll love adding heat, depth, and an intriguing Southeast Asian twist to your dishes beyond just a tableside squeeze.
Sklep: Libristo.pl 112,69 zł
Książki / Literatura obcojęzyczna
Every dish meets today's stringent nutritional standards and covers every course of cuisine from appetisers to desserts. For each recipe, the author provides nutritional information, including calories, total fat, cholesterol, and sodium. Weeks' worth of healthy, easily prepared, mouth-watering menus could include a day of Eggs Sardou for breakfast, a Roasted Onion and Garlic Sandwich for lunch, and Beef and Portobello Mushroom Shish Kebabs with Horseradish Mashed Potatoes for dinner. For dessert, Sweet Cheese Crepes with Cherries Jubilee, at only three grams of fat per serving, are sure to tantalise tastebuds without widening waistlines. At Louisiana State University's Pennington Centre since 1993, nutritional chef Kelly Patrick Williams has created modern, nutritionally sound recipes for the United States Army and has developed a line of salt-free cooking spices.
Sklep: Libristo.pl 224,72 zł
Książki / Literatura obcojęzyczna
A fresh new cook on the block, with over 150 irresistible and easy dishes to dress up, dress down or simply kick off your heels and indulge yourself with. Greed has never been so fashionable...This luscious, sophisticated, you-want-to-eat-the-food-off-the-page cookbook launches an exciting new face in the world of cooking. Ravinder Bhogal is a 'self-confessed greedy girl about town' and your new best friend in the kitchen. Winning the 'Fanny Craddock for the new generation' award from Gordon Ramsay on his 'F-Word' programme, Ravinder has a huge appetite for good food (and unhealthy addiction to high heels). She understands that modern women need a new kind of cookbook that caters to their moods as well as their busy lifestyles, and be accessible and fun. Cook in Boots is divided into 12 chapters offering a simple, tasty and effortless recipe for every capricious, delicious one of you: * Working It 9 to 5: Work to Eat and Live to Eat * Food Rehab: No Need to Go Cold Turkey * Fork Me, Spoon Me: The Food of Love and Rude Food * Hard-up Food: For when you've spent all your lolly on your Louboutins * Meet the Parents and Other Situations When You Should Just Let the Food Do the Talking Whether you're a fashionista, career girl, wife, slob, home bunny, disaster zone or Queen - Ravinder will tantalise your tastebuds and your inner fashionista with recipes like Breakfast Burritos with Chorizo and Scrambled Eggs, Butterflied Leg of Lamb with a Spicy Yoghurt and Herb Crust, Love Apple Tartlets with Feta and Bitter Chocolate and Raspberry Popsicles.
Sklep: Libristo.pl 108,61 zł
Książki / Literatura obcojęzyczna
The humble egg is the starting point for some of the most delicious and inspiring dishes. Both simple and versatile, eggs are also incredibly nutritious, rich in protein, low in fat and essential for baking. This collection of recipes shows us how tasty and versatile eggs can be. Including all the basics for cooking the perfect poached, scrambled and fried egg, this cookbook will be a staple in every cook's kitchen. From easy and fuss-free pancakes, souffle, tarts and omelettes to cakes, curds and puddings, the potential for this nourishing ingredient is endless. Classic recipes such as steamed pudding and Arnold Bennet are given a contemporary twist and there are also lighter, fresh egg-based dishes such as courgette fritters with dill and lemon and squash gnocchi with sage. Blanche Vaughan is a food writer with a passion for creating good-for-you and imaginative dishes from this glorious ingredient. Whether for breakfast, lunch, tea or supper, this book will be a celebration of the egg in all its forms.
Sklep: Libristo.pl 82,23 zł
Książki / Literatura obcojęzyczna
Peter Gordon's first collection of unique and stunning recipes, The Sugar Club Cookbook, concentrated on his signature dishes at the restaurant. Now this brilliant young chef turns his creative attention to dishes and menus to prepare at home. Fresh and original ideas for breakfast - Tea-smoked salmon with poached eggs, toast, spinach and hollandaise; inpsired picnic ideas - Roast carrot and parmesan risotto cakes; menus for celebrations - Fiery chicken, green chilli and lemon grass stir-fry; and lots of tips for marinades and dressings, cocktails and canapes - all display Peter's trademark combination of modern British food with Pacific flavours.
Sklep: Libristo.pl 28,99 zł
Książki / Literatura obcojęzyczna
Starting a new diet can be hard, but learning how to eat your true diet is easy. The Paleo diet is not just another fad diet; it is the diet humans were designed to eat. Also known as the Primal diet, the Caveman diet and the Stone Age diet, the Paleo diet has been around for as long as men and women have roamed the earth. The Paleo Diet for Brits is a comprehensive guide to embracing the Paleo lifestyle. Why postpone feeling healthy, losing weight and increasing your energy levels? 50 easy recipes cover breakfast, lunch, dinner, dessert and tasty snacks in-between. Enjoy Paleo-friendly versions of old and new favourite foods, with recipes such as Paleo Scotch Eggs, Quick Paleo Cock-a-Leekie, Spicy Chicken Masala Curry and Paleo Pear Cakes. 135 Paleo-recommended foods (and an extensive list of what foods to avoid) set you up for success in planning and shopping for your Paleo diet. 8 tips for success guide you through your transition to a Paleo lifestyle. With The Paleo Diet for Brits: The Essential British Paleo Cookbook and Diet Guide, start enjoying the best health of your life today - all while losing weight and decreasing your odds of diabetes, hypertension, heart disease, cancer, osteoporosis and many other modern health maladies.
Sklep: Libristo.pl
Sklepy zlokalizowane w miastach: Warszawa, Kraków, Łódź, Wrocław, Poznań, Gdańsk, Szczecin, Bydgoszcz, Lublin, Katowice
Szukaj w sklepach lub całym serwisie
2. Szukaj na wszystkich stronach serwisu
t1=0.054, t2=0, t3=0, t4=0.018, t=0.055