krainaksiazek british civilization an introduction 20052125
- znaleziono 7 produktów w 1 sklepie 145,89 zł
Książki / Literatura obcojęzyczna
This highly-praised textbook has been substantially updated and revised to provide students of British studies with the perfect introduction to Britain, its country and people, politics and government, education, economy, media, arts and religion.
Sklep: Libristo.pl 460,14 zł
Making Headway University of Rochester Press
Książki / Literatura obcojęzyczna
The process of cultural transfer in Northern Nigeria was historically thought to have been dictated by European colonial domination. In fact, Western missionaries may not have been able to guide African Christians toward mastery of the secular world when they themselves lacked the worldliness to do so. In this penetrating study, Andrew E. Barnes argues that competition among colonizing forces impelled British colonial administrators and Christian missionaries alike to offer Africans those aspects of Western civilization Africans themselves specifically wanted: schools that provided greater access to Western intellectual skills. In Making Headway: The Introduction of Western Civilization in Colonial Northern Nigeria, Barnes demonstrates effectively that Europeans were successful in transferring to local peoples the cultural values they hoped to foster only because Africans and Europeans reached consensus about the nature and character of the Western civilization to be shared. Ultimately, this study asserts, Africans had greater control over the introduction of Western civilization to the region than traditionally thought. Andrew E. Barnes is associate professor of History at Arizona State University.
Sklep: Libristo.pl 53,25 zł
Książki / Literatura obcojęzyczna
Persia (ancient Iran) occupies an important place among the great civilizations of the ancient world. The many splendid achievements of the early inhabitants of Iran range from the imaginatively painted pottery of the prehistoric period to the magnificent silver vessels of Sasanian times, and include the Luristan bronzes and the spectacular sculptures of Persepolis. Civilization began early in Iran, as it did elsewhere in the Ancient Near East, and the author traces the history, archaeology and art from the growth of settled communities in about 6000 BC through to the beginning of the Islamic period in the seventh century AD. This introduction is illustrated throughout with many examples drawn from the rich collection of Iranian antiquities in the British Museum.
Sklep: Libristo.pl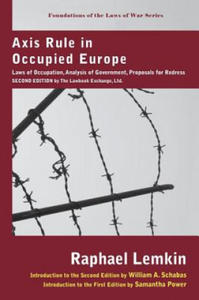 345,18 zł
Książki / Literatura obcojęzyczna
From our Foundations of the Laws of War Series, the book that introduced and defined the concept of genocide. Introduction to the Second Edition by William A. Schabas. Introduction to the First Edition by Samantha Power. Originally published: Washington: Carnegie Endowment for International Peace, Division of International Law, 1944. xxiii (vii-xxiii new introductions), xxxviii, 674 pp. In this path-breaking study Polish emigre Raphael Lemkin [1900-1959] coined the term "genocide" and defined it as a subject of international law. While the term has come to mean the extermination of a people, Lemkin used it to describe all programs that sought to increase the "Aryan" birthrate while working to exterminate the social, cultural and economic independence of non-Germanic peoples. This study was an elaboration of ideas he first proposed in 1933 in his address to the Fifth International Conference for the Unification of Penal Law (1933), which argued that attacks on racial, religious and ethnic groups should be considered international crimes. Important for the prosecution of the Nazis, this pioneering work helped to establish the framework for all subsequent efforts to punish crimes against humanity. "In 1933 a government arose in Germany whose policy was directed not towards the murder of individuals only but of a whole civilization. The decrees of this government together with those of Fascist Italy and those of the puppet regimes of the Axis Powers, in relation to the various countries which they occupied, have been collected with great care by Dr. Lemkin and are on record for all time. The work has been splendidly done. (...) This book is one which will be of enduring value to jurists, historians, students of politics, and practical men." --British Yearbook of International Law 22 (1945) 313-314.
Sklep: Libristo.pl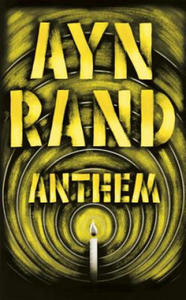 36,99 zł
Książki / Literatura obcojęzyczna
He lived in the dark ages of the future. In a loveless world, he dared to fall in love. In an age that had lost all trace of science and civilization, he had the courage to seek and find knowledge. But these were not the crimes for which he would be hunted. He was marked for death because he had committed the unpardonable sin: standing out from the mindless human herd. Ayn Rand's classic tale of a dystopian future of the great "We" - a world that deprives individuals of a name or independence - anticipates her later masterpieces, The Fountainhead and Atlas Shrugged .§This seventy-fifth anniversary edition of Anthem , celebrating the controversial and enduring legacy of its author, features an introduction by Rand's literary executor, Leonard Piekoff, which includes excerpts from documents by Ayn Rand - letters, interviews, and journal notes in which she discusses Anthem . This volume also includes a complete reproduction of the original British edition with Ayn Rand's handwritten editorial changes and a Reader's Guide to her writings and philosophy.§In Ayn Rand's novels you have found more than great works of art - you have found a philosophy of reason. §"I had to originate a philosophical framework of my own, because my basic view of man and of existence was in conflict with most of the existing philosophical theories. In order to define, explain, and present my concept of man, I had to become a philosopher in the specific meaning of the term." Ayn Rand §Now available for further reading on Rand's philosophy: Objective Communication by Leonard Piekoff. §Ayn Rand's philosophy of Objectivism is increasingly influencing the shape of the world from business to politics to achieving personal goals. In Objective Communication , Peikoff explains how you can communicate philosophical ideas with conviction, logic, and, most of all, reason.§Also available from Penguin: an enhanced edition/app of Atlas Shrugged.
Sklep: Libristo.pl 94,71 zł
Książki / Literatura obcojęzyczna
This is a sweeping, colorful, and concise narrative history of Egypt from the beginning of human settlement in the Nile River valley 5000 years ago to the present day. Accessible, authoritative, and richly illustrated, this is an ideal introduction and guide to Egypt's long, brilliant, and complex history for general readers, tourists, and anyone else who wants a better understanding of this vibrant and fascinating country, one that has played a central role in world history for millennia - and that continues to do so today. Respected historian Robert Tignor, who has lived in Egypt at different times over the course of five decades, covers all the major eras of the country's ancient, modern, and recent history. A cradle of civilization, ancient Egypt developed a unique and influential culture that featured a centralized monarchy, sophisticated art and technology, and monumental architecture in the form of pyramids and temples. But the great age of the pharaohs is just the beginning of the story and "Egypt: A Short History" also gives a rich account of the tumultuous history that followed - from Greek and Roman conquests, the rise of Christianity, Arab-Muslim triumph, and Egypt's incorporation into powerful Islamic empires to Napoleon's 1798 invasion, the country's absorption into the British Empire, and modern, postcolonial Egypt under Nasser, Sadat, and Mubarak. This book provides an indispensable key to Egypt in all its layers - ancient and modern, Greek and Roman, and Christian and Islamic. In a new afterword the author analyzes the recent unrest in Egypt and weighs in on what the country might look like after Mubarak.
Sklep: Libristo.pl 204,56 zł
Książki / Literatura obcojęzyczna
Covering criminal justice history on a cross-national basis, this book surveys criminal justice in Western civilization and American life chronologically from ancient times to the present. It is an introduction to the historical problems of crime, law enforcement and penology, set against the background of major historical events and movements. Integrating criminal justice history into the scope of European, British, French and American history, this text provides the opportunity for comparisons of crime and punishment over boundaries of national histories. The text concludes with a chapter that addresses terrorism and homeland security. It spans all of western history, and examines the core beliefs about human nature and society that informed the development of criminal justice systems. The fifth edition gives increased coverage of American law enforcement, corrections, and legal systems. Each chapter is enhanced with supplemental "Timeline", "Time Capsule", and "Featured Outlaw" boxes as well as discussion questions, notes and problems. It contains discussion questions, notes, learning objectives, key terms lists, biographical vignettes of key historical figures, and "History Today" exercises to engage the reader and encourage critical thinking.
Sklep: Libristo.pl
Sklepy zlokalizowane w miastach: Warszawa, Kraków, Łódź, Wrocław, Poznań, Gdańsk, Szczecin, Bydgoszcz, Lublin, Katowice
Szukaj w sklepach lub całym serwisie
2. Szukaj na wszystkich stronach serwisu
t1=0.031, t2=0, t3=0, t4=0, t=0.032