krainaksiazek building effective project teams 20107681
- znaleziono 4 produkty w 1 sklepie 178,04 zł
Książki / Literatura obcojęzyczna
You have to make sense of enormous amounts of data, and while the notion of "agile data warehousing might sound tricky, it can yield as much as a 3-to-1 speed advantage while cutting project costs in half. Bring this highly effective technique to your organization with the wisdom of agile data warehousing expert Ralph Hughes. Agile Data Warehousing Project Management will give you a thorough introduction to the method as you would practice it in the project room to build a serious "data mart. Regardless of where you are today, this step-by-step implementation guide will prepare you to join or even lead a team in visualizing, building, and validating a single component to an enterprise data warehouse. * Provides a thorough grounding on the mechanics of Scrum as well as practical advice on keeping your team on track * Includes strategies for getting accurate and actionable requirements from a team's business partner * Revolutionary estimating techniques that make forecasting labor far more understandable and accurate * Demonstrates a blends of Agile methods to simplify team management and synchronize inputs across IT specialties * Enables you and your teams to start simple and progress steadily to world-class performance levels
Sklep: Libristo.pl
285,53 zł
Książki / Literatura obcojęzyczna
Winner of the 2011 Jolt Excellence Award! Getting software released to users is often a painful, risky, and time-consuming process. This groundbreaking new book sets out the principles and technical practices that enable rapid, incremental delivery of high quality, valuable new functionality to users. Through automation of the build, deployment, and testing process, and improved collaboration between developers, testers, and operations, delivery teams can get changes released in a matter of hours- sometimes even minutes-no matter what the size of a project or the complexity of its code base. Jez Humble and David Farley begin by presenting the foundations of a rapid, reliable, low-risk delivery process. Next, they introduce the "deployment pipeline," an automated process for managing all changes, from check-in to release. Finally, they discuss the "ecosystem" needed to support continuous delivery, from infrastructure, data and configuration management to governance. The authors introduce state-of-the-art techniques, including automated infrastructure management and data migration, and the use of virtualization. For each, they review key issues, identify best practices, and demonstrate how to mitigate risks. Coverage includes * Automating all facets of building, integrating, testing, and deploying software * Implementing deployment pipelines at team and organizational levels * Improving collaboration between developers, testers, and operations * Developing features incrementally on large and distributed teams * Implementing an effective configuration management strategy * Automating acceptance testing, from analysis to implementation * Testing capacity and other non-functional requirements * Implementing continuous deployment and zero-downtime releases * Managing infrastructure, data, components and dependencies * Navigating risk management, compliance, and auditing Whether you're a developer, systems administrator, tester, or manager, this book will help your organization move from idea to release faster than ever-so you can deliver value to your business rapidly and reliably.
Sklep: Libristo.pl 245,63 zł
Książki / Literatura obcojęzyczna
"Companies have been implementing large agile projects for a number of years, but the 'stigma' of 'agile only works for small projects' continues to be a frequent barrier for newcomers and a rallying cry for agile critics. What has been missing from the agile literature is a solid, practical book on the specifics of developing large projects in an agile way. Dean Leffingwell's book Scaling Software Agility fills this gap admirably. It offers a practical guide to large project issues such as architecture, requirements development, multi-level release planning, and team organization. Leffingwell's book is a necessary guide for large projects and large organizations making the transition to agile development." -Jim Highsmith, director, Agile Practice, Cutter Consortium, author of Agile Project Management"There's tension between building software fast and delivering software that lasts, between being ultra-responsive to changes in the market and maintaining a degree of stability. In his latest work, Scaling Software Agility, Dean Leffingwell shows how to achieve a pragmatic balance among these forces. Leffingwell's observations of the problem, his advice on the solution, and his description of the resulting best practices come from experience: he's been there, done that, and has seen what's worked." -Grady Booch, IBM Fellow Agile development practices, while still controversial in some circles, offer undeniable benefits: faster time to market, better responsiveness to changing customer requirements, and higher quality. However, agile practices have been defined and recommended primarily to small teams. In Scaling Software Agility, Dean Leffingwell describes how agile methods can be applied to enterprise-class development. * Part I provides an overview of the most common and effective agile methods. * Part II describes seven best practices of agility that natively scale to the enterprise level. * Part III describes an additional set of seven organizational capabilities that companies can master to achieve the full benefits of software agility on an enterprise scale. This book is invaluable to software developers, testers and QA personnel, managers and team leads, as well as to executives of software organizations whose objective is to increase the quality and productivity of the software development process but who are faced with all the challenges of developing software on an enterprise scale. Foreword Preface Acknowledgments About the Author Part I: Overview of Software Agility Chapter 1: Introduction to Agile Methods Chapter 2: Why the Waterfall Model Doesn't Work Chapter 3: The Essence of XP Chapter 4: The Essence of Scrum Chapter 5: The Essence of RUP Chapter 6: Lean Software, DSDM, and FDD Chapter 7: The Essence of Agile Chapter 8: The Challenge of Scaling Agile Part II: Seven Agile Team Practices That Scale Chapter 9: The Define/Build/Test Component Team Chapter 10: Two Levels of Planning and Tracking Chapter 11: Mastering the Iteration Chapter 12: Smaller, More Frequent Releases Chapter 13: Concurrent Testing Chapter 14: Continuous Integration Chapter 15: Regular Reflection and Adaptation Part III: Creating the Agile Enterprise Chapter 16: Intentional Architecture Chapter 17: Lean Requirements at Scale: Vision, Roadmap, and Just-in-Time Elaboration Chapter 18: Systems of Systems and the Agile Release Train Chapter 19: Managing Highly Distributed Development Chapter 20: Impact on Customers and Operations Chapter 21: Changing the Organization Chapter 22: Measuring Business Performance Conclusion: Agility Works at Scale Bibliography Index
Sklep: Libristo.pl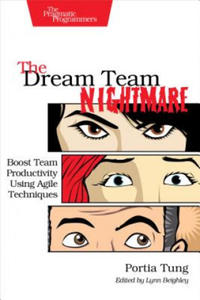 94,30 zł
Książki / Literatura obcojęzyczna
This first-ever interactive Agile Adventure is the gripping tale of an experienced team struggling with agile adoption. In this unique mashup of a business novel written in the gamebook format, you'll overcome common yet daunting challenges that come from using agile methods. As Jim, the agile coach, you'll learn to apply a range of thinking tools and techniques to real-life problems faced by teams and organizations. Find out what really works and what fails miserably from the consequences of your choices. And, unlike in the real world, if at first you don't succeed, you can make different choices until you get things right. Management is ready to disband your new agile team and outsource your project. Can you save The Dream Team? The Dream Team started their journey 18 months ago. Since then, life has become a nightmare. Progress has ground to a halt. Morale is low. Quality has become taboo. You have five days to figure out how to get the team back on track. There will be conflict and maybe tears. One thing is for sure: there will be plenty of tough decisions to make. Inspired by a classic gamebook series, this fun and interactive story has eight different endings designed to enrich and put your agile development knowledge and experience to the test. Packed with familiar scenarios an agile team faces every day, The Dream Team Nightmare offers you the chance to see what would happen if you could do things differently so you can change the way you do things for real with confidence. Combining practical team-building exercises with effective facilitation and Systems Thinking, by the end of the book you'll be ready to rescue projects in trouble, and get new projects off to a better start.
Sklep: Libristo.pl
Sklepy zlokalizowane w miastach: Warszawa, Kraków, Łódź, Wrocław, Poznań, Gdańsk, Szczecin, Bydgoszcz, Lublin, Katowice
Szukaj w sklepach lub całym serwisie
2. Szukaj na wszystkich stronach serwisu
t1=0.02, t2=0, t3=0, t4=0, t=0.02