krainaksiazek bunnies from hell 20095402
- znaleziono 6 produktów w 2 sklepach 155,21 zł
Książki
Sklep: KrainaKsiazek.pl 195,92 zł
Książki
Sklep: KrainaKsiazek.pl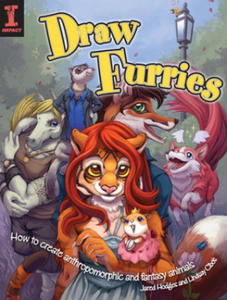 100,58 zł
Książki / Literatura obcojęzyczna
How to Create Anthropomorphic and Fantasy Animal What do you get when you cross a human with a horse (or a hamster, or a hummingbird)? You get any one of a number of fun anthropomorphic animals, also known as "furries" to their friends. From facial expressions to creative coloring, this book contains all the know-how you need to create anthropomorphic cat, dog, horse, rodent and bird characters. Step by step, you'll learn how to:Draw species-appropriate tails, eyes, wings and other fun details Give your characters clothes, poses and personalities Create the perfect backgrounds for your furry antics
Sklep: Libristo.pl 47,63 zł
Książki / Literatura obcojęzyczna
It
Sklep: Libristo.pl 173,64 zł
Książki / Literatura obcojęzyczna
Source: Wikipedia. Pages: 187. Chapters: Megatokyo, Penny Arcade, User Friendly, Dork Tower, PvP, The Order of the Stick, Girl Genius, Achewood, Gunnerkrigg Court, Sinfest, General Protection Fault, Hetalia: Axis Powers, Xkcd, Funny Farm, Aoi House, Platinum Grit, Kevin and Kell, Schlock Mercenary, Narbonic, FreakAngels, Oniichan no Koto Nanka Zenzen Suki Janain Dakara ne!!, Ctrl+Alt+Del, Inverloch, Eric Monster Millikin, Nodwick, Diesel Sweeties, Red String, Errant Story, Scary Go Round, Dinosaur Comics, Ozy and Millie, Last Blood, Jack, Van Von Hunter, Mac Hall, RPG World, VG Cats, Earthsong, Real Life, The Whiteboard, Pibgorn, Venus Envy, Create a Comic Project, Attitude: The New Subversive Cartoonists, Tonari no 801-chan, Little Gamers, Yenny, The Perry Bible Fellowship, Buzzer Beater, Wondermark, List of Red Meat characters, Demon Candy: Parallel, Unshelved, Argon Zark!, Afghanis-tan, A Lesson Is Learned But The Damage Is Irreversible, Lethargic Lad, High Moon, Exploitation Now, Loxie & Zoot, Fur-Piled, The Matrix Comics, Chicken Wings, Buttercup Festival, Sokora Refugees, Bunny, Johnny Wander, List of webcomics in print, Get Your War On, The Dreamland Chronicles, Bob the Angry Flower, Pixel, Zap!, Stealth, Some Guy with a Website, Avalon, Bruno, Alpha Shade, Crying Macho Man, Copper, College Roomies from Hell!!!, Mom's Cancer, Doctor Fun, Wendy Pini's Masque of the Red Death, Parade, Boy on a Stick and Slither, Richard Stevens, The K Chronicles, American Elf, The World of Quest, Dominic Deegan: Oracle for Hire, Chopping Block, Slow Wave, Funny Bunnies, Death to the Extremist, The Black Cherry Bombshells, PartiallyClips, Carnivale De Robotique, Toothpaste for Dinner, Spy6teen, Grey Legacy, La Morté Sisters, NeverNever, Seven-O-Heaven, Le blog de Frantico, The Joy of Tech, Big Fat Whale, I Drew This, Slowpoke, Thinking Ape Blues, Salamander Dream, Astounding Space Thrills, Idiot Box, Suicide Rabbit. Excerpt: PvP, also known as Player vs Player, is a webcomic, written and drawn by Scott Kurtz, with around 100,000 unique visitors per day as of August 2005. On February 1, 2007, it became the subject of its own animated series. The comic chronicles the adventures of a fictional video game magazine company and its employees. A popular but often controversial figure in the field of online comics, Kurtz is usually willing to share his opinions about comics and gaming culture in his blog, which is hosted on the same website as his comic strips. Originally, PvP focused on video gaming and the larger "nerd culture" including comics and RPGs. 1UP.com described it as one of the first game-based comics, but not the original, saying, "...neither Scott Kurtz's PvP nor Jerry Holkins and Michael Krahulik's Penny Arcade were the first gaming-themed webcomic on the Internet." Over the years, the humor has broadened to include technology jokes, relationship humor, in-jokes about and mocking of the generation gaps between the different characters, with gaming increasingly taking a back seat. Kurtz occasionally comes under fire for his satire. Sometimes Kurtz will speak of his father's open disdain for the strip. The first online strip was posted on Monday, May 4, 1998. Kurtz normally updates the strip every day but has occasionally missed updates since the comic's inception, less so after the PVP 2.0 revamp. In April 2005, Kurtz changed to a Monday through Friday schedule, with Friday's strip in color and sketches on Saturday and Sunday, in response to ...
Sklep: Libristo.pl 105,09 zł
Książki / Literatura obcojęzyczna
Sweet, tender, and inspirational prompts help parents fill out a memory/scrapbook for their children that goes far beyond first tooth or first steps, but misses none of those key milestones. This book connects their child to a world full of beauty, promise, and hope, just what every parent wants for a child. Touching quotes, poems, nursery rhymes, and awe-inspiring facts that connect the birth of the new child to the beauty of the world he/she is entering. Each spread is a celebration of the parent/baby bond, from first sunset to a parent's deepest dreams for a child. Its richness makes it a book parents will love to share with their children throughout childhood, and one that children will treasure into adulthood. The power of images to inspire emotion are put to good use here, drawing deeper thoughts than pastel bunnies, ducks, and chicks. The spirit of welcome for new life pervades the pages with deep joy.
Sklep: Libristo.pl
Sklepy zlokalizowane w miastach: Warszawa, Kraków, Łódź, Wrocław, Poznań, Gdańsk, Szczecin, Bydgoszcz, Lublin, Katowice
Szukaj w sklepach lub całym serwisie
2. Szukaj na wszystkich stronach serwisu
t1=0.034, t2=0, t3=0, t4=0, t=0.035