krainaksiazek business driven information systems 20128972
- znaleziono 13 produktów w 3 sklepach 872,17 zł
Książki / Literatura obcojęzyczna
Cognition-driven decision support system (DSS) has been recognized as a paradigm in the research and development of business intelligence (BI). Cognitive decision support aims to help managers in their decision making from human cognitive aspects, such as thinking, sensing, understanding and predicting, and fully reuse their experience. Among these cognitive aspects, decision makers situation awareness (SA) and mental models are considered to be two important prerequisites for decision making, particularly in ill-structured and dynamic decision situations with uncertainties, time pressure and high personal stake. In today s business domain, decision making is becoming increasingly complex. To make a successful decision, managers SA about their business environments becomes a critical factor.§This book presents theoretical models as well practical techniques of cognitiondriven DSS. It first introduces some important concepts of cognition orientation in decision making process and some techniques in related research areas including DSS, data warehouse and BI, offering readers a preliminary for moving forward in this book. It then proposes a cognition-driven decision process (CDDP) model which incorporates SA and experience (mental models) as its central components. The goal of the CDDP model is to facilitate cognitive decision support to managers on the basis of BI systems. It also presents relevant techniques developed to support the implementation of the CDDP model in a BI environment. Key issues addressed of a typical business decision cycle in the CDDP model include: natural language interface for a manager s SA input, extraction of SA semantics, construction of data warehouse queries based on the manger s SA and experience, situation information retrieval from data warehouse, how the manager perceives situation information and update SA, how the manager s SA leads to a final decision. Finally, a cognition-driven DSS, FACETS, and two illustrative applications of this system are discussed.
Sklep: Libristo.pl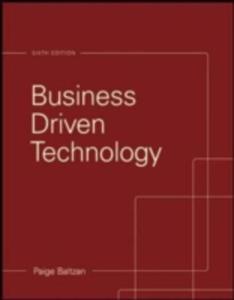 379,99 zł
Książki Obcojęzyczne>Angielskie>Computing & information technology>Business applicationsKsiążki Obcojęzyczne>Angielskie>Economics, fina...
0x00c8a7e000000000
Sklep: Gigant.pl 256,47 zł
Książki / Literatura obcojęzyczna
How can we optimize business processes and exploit their full potential? Here Volker Stiehl provides answers, utilizing the various options that the BPMN (Business Process Model and Notation) standard offers for planning, implementing, and monitoring processes. §The book presents an approach for implementing an architecture for applications that strives to find a balance between development and maintenance costs, sustainability, scalability, and error tolerance; that meets flexibility requirements without becoming inordinately complex itself; and that keeps the end application as abstract as possible from the system landscape in which it operates. Based on the semantic enhancements found in version 2.0 of the BPMN standard, which have made it possible to execute process models, his approach exploits BPMN to create and run complete application architectures. In this context, BPMN is not just used to model the business processes of the application, as the B in BPMN might suggest; but also to model and execute the integration processes between the systems. Throughout the book, the software package SAP NetWeaver Process Orchestration is used to illustrate the implementation of the proposed architecture, yet all recommendations are intentionally kept generic so that they can be implemented on any other comparable platform as well.§Software architects, IT managers, software developers and project managers, as well as students of information and business technology will find the book a valuable resource. The proposed application architecture offers them a detailed blueprint, the principles of which they can use to plan and implement process-driven distributed applications.
Sklep: Libristo.pl 217,39 zł
Książki / Literatura obcojęzyczna
Praise for Lean-Agile Acceptance Test-Driven Development "Lean-Agile Acceptance Test-Driven Development tells a tale about three fictive project stakeholders as they use agile techniques to plan and execute their project. The format works well for the book; this book is easy to read, easy to understand, and easy to apply." -Johannes Brodwall, Chief Scientist, Steria Norway "Agile development, some say, is all about pairing, and, yes, I'm a believer in the power of pairing. After reading this book, however, I became a fan of the 'triad'-the customer or business analyst + the developer + the tester, who work collaboratively on acceptance tests to drive software development. I've written some patterns for customer interaction and some patterns for testing and I like what Ken Pugh has chosen to share with his readers in this down-to-earth, easy-to-read book. It's a book full of stories, real case studies, and his own good experience. Wisdom worth reading!" -Linda Rising, Coauthor of Fearless Change: Patterns for Introducing New Ideas "The Agile Manifesto, Extreme Programming, User Stories, and Test-Driven Development have enabled tremendous gains in software development; however, they're not enough. The question now becomes 'How can I ensure clear requirements, correct implementation, complete test coverage, and more importantly, customer satisfaction and acceptance?' The missing link is acceptance as defined by the customer in their own domain language. Lean-Agile Acceptance Test-Driven Development is the answer." -Bob Bogetti, Lead Systems Designer, Baxter Healthcare "Ken Pugh's Lean-Agile Acceptance Test-Driven Development shows you how to integrate essential requirements thinking, user acceptance tests and sounds, and lean-agile practices, so you can deliver product requirements correctly and efficiently. Ken's book shows you how table-driven specification, intertwined with requirements modeling, drives out acceptance criteria. Lean-Agile Acceptance Test-Driven Development is an essential guide for lean-agile team members to define clear, unambiguous requirements while also validating needs with acceptance tests." -Ellen Gottesdiener, EBG Consulting, www.ebgconsulting.com, Author of Requirements by Collaboration and The Software Requirements Memory Jogger "If you are serious about giving Agile Testing a chance and only have time to read one book, read this one." -David Vydra, http://testdriven.com "This book provides clear, straightforward guidance on how to use business-facing tests to drive software development. I'm excited about the excellent information in this book. It's a great combination of the author's experiences, references to other experts and research, and an example project that covers many angles of ATDD. A wide range of readers will learn a lot that they can put to use, whether they work on projects that call themselves lean or agile or simply want to deliver the best possible software product." -Lisa Crispin, Agile Tester, ePlan Services, Inc., Author of Agile Testing Within the framework of Acceptance Test-Driven-Development (ATDD), customers, developers, and testers collaborate to create acceptance tests that thoroughly describe how software should work from the customer's viewpoint. By tightening the links between customers and agile teams, ATDD can significantly improve both software quality and developer productivity. This is the first start-to-finish, real-world guide to ATDD for every agile project participant. Leading agile consultant Ken Pugh begins with a dialogue among a customer, developer, and tester, explaining the "what, why, where, when, and how" of ATDD and illuminating the experience of participating in it. Next, Pugh presents a practical, complete reference to each facet of ATDD, from creating simple tests to evaluating their results. He concludes with five diverse case studies, each identifying a realistic set of problems and challenges with proven solutions. Coverage includes * How to develop software with fully testable requirements * How to simplify and componentize tests and use them to identify missing logic * How to test user interfaces, service implementations, and other tricky elements of a software system * How to identify requirements that are best handled outside software * How to present test results, evaluate them, and use them to assess a project's overall progress * How to build acceptance tests that are mutually beneficial for development organizations and customers * How to scale ATDD to large projects
Sklep: Libristo.pl 139,23 zł
Książki / Literatura obcojęzyczna
To see the future we can build with information technology, we must look beyond mere information to the social context that creates and gives meaning to it. For years, pundits have predicted that information technology will obliterate the need for almost everything--from travel to supermarkets to business organizations to social life itself. Individual users, however, tend to be more sceptical. Beaten down by info-glut and exasperated by computer systems fraught with software crashes, viruses, and unintelligible error messages, they find it hard to get a fix on the true potential of the digital revolution. John Seely Brown and Paul Duguid help us to see through frenzied visions of the future to the real forces for change in society. They argue that the gap between digerati hype and end-user gloom is largely due to the 'tunnel vision' that information-driven technologies breed. We've become so focused on where we think we ought to be--a place where technology empowers individuals and obliterates social organizations--that we often fail to see where we're really going and what's helping us get there. We need, they argue, to look beyond our obsession with information and individuals to include the critical social networks of which these are always a part. Drawing from rich learning experiences at Xerox PARC, from examples such as IBM, Chiat/Day Advertising, and California's 'Virtual University', and from historical, social, and cultural research, the authors sharply challenge the futurists' sweeping predictions.They explain how many of the tools, jobs, and organizations seemingly targeted for future extinction in fact provide useful social resources that people will fight to keep. Rather than aiming technological bullets at these 'relics', we should instead look for ways that the new world of bits can learn from and complement them. Arguing elegantly for the important role that human sociability plays, even--perhaps especially--in the world of bits, The Social Life of Information gives us an optimistic look beyond the simplicities of information and individuals. It shows how a better understanding of the contribution that communities, organizations, and institutions make to learning, working and innovating can lead to the richest possible use of technology in our work and everyday lives.
Sklep: Libristo.pl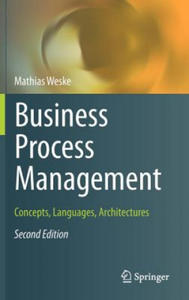 307,60 zł
Książki / Literatura obcojęzyczna
Business process management is usually treated from two different perspectives: business administration and computer science. While business administration professionals tend to consider information technology as a subordinate aspect in business process management for experts to handle, by contrast computer science professionals often consider business goals and organizational regulations as terms that do not deserve much thought but require the appropriate level of abstraction.§Mathias Weske argues that all communities involved need to have a common understanding of the different aspects of business process management. To this end, he details the complete business process lifecycle from the modeling phase to process enactment and improvement, taking into account all different stakeholders involved. After starting with a presentation of general foundations and abstraction models, he explains concepts like process orchestrations and choreographies, as well as process properties and data dependencies. Finally, he presents both traditional and advanced business process management architectures, covering, for example, workflow management systems, service-oriented architectures, and data-driven approaches. In addition, he shows how standards like WfMC, SOAP, WSDL, and BPEL fit into the picture.§This textbook is ideally suited for classes on business process management, information systems architecture, and workflow management. This 2nd edition contains major updates on BPMN Version 2 process orchestration and process choreographies, and the chapter on BPM methodologies has been completely rewritten. The accompanying website www.bpm-book.com contains further information and additional teaching material.
Sklep: Libristo.pl 282,30 zł
Biznes
Over the past few decades the political systems in advanced industrial societies have sailed through turbulent times. The globalization and liberalization of markets -- driven in part by a revolution in communication technologies -- coincided with an unprecedented mobility of capital, goods and services as well as increasing dependence of national polities on political and economic processes beyond their immediate control. Although these changes did not seal the end of the nation state, as some alarmist accounts had predicted, it undoubtedly transformed political power structures. An important question is how this deep structural change has affected the political sub-system of associational interest intermediation. The authors follow up that question by leaning on established accounts of collective action research and including more recent insights from organization theory, evolutionary theory and network analysis. They present empirical results having been obtained from hundreds of interviews with CEOs of business associations in the US, Britain, Germany, Switzerland and Austria. The core sectors are chemicals and information and communication technologies.There are also chapters on automotives and the dairy industry.
Sklep: Albertus.pl 130,43 zł
Książki / Literatura obcojęzyczna
Source: Wikipedia. Pages: 121. Chapters: Simple Network Management Protocol, Security management, Load balancing, Fault management, Managed object, Common management information service, Cacti, ProCurve Products, Windows Management Instrumentation, Organizationally unique identifier, Autonomic Networking, Comparison of network monitoring systems, Big Brother, Zentyal, Automounter, Management information base, HP OpenView, Assistant Secretary of Defense for Networks and Information Integration, Java Management Extensions, SolarWinds, Zenoss, Distributed Management Task Force, Netcat, Digital footprint, Syslog-ng, Opsview, Nagios, PacketTrap, Web-Based Enterprise Management, Goverlan Remote Administration Suite, Opsi, Zabbix, Network resource planning, NetCrunch, Transaction Language 1, Monolith Software, NETCONF, Pandora FMS, GridCC, Open Grid Forum, BaseN, Shinken, IP Flow Information Export, Cramer Systems, Nimsoft, OpenNMS, Network administrator, Plixer International, HP TeMIP Software, SFlow, FCAPS, Ganglia, RRDtool, In-network management, Transposition driven scheduling, Element Management, HP Business Service Management, NIS+, Network element, Website monitoring, JBoss operations network, Net-SNMP, Integrated business planning, Common management information protocol, Extromatica Network Monitor, OAMP, WhatsUp Gold, Network performance management, Multi Router Traffic Grapher, Log management and intelligence, Network management model, Accelops, Network traffic measurement, Information Security Operations Center, Desktop and mobile Architecture for System Hardware, Avaya Proactive Voice Quality Management, Network operations center, Zyrion Traverse, RMON, Rsyslog, Routers2, Object identifier, Enterprise project management, Avaya Unified Communications Management, NOC at Georgia State University, Console server, Network Information Service, Observium, Ipswitch, Inc., Website tracking, Telecommunications Management Network, Desktop Management Interface, InterMapper, ActionPacked! Networks, WMIX Software, Intellipool Network Monitor, WS-Management, Avaya Enterprise Switch Manager, Bidirectional Forwarding Detection, Cisco Unified Provisioning Manager, IBM Director, HP Operations Manager, Pragma Systems, FreeNATS, Dataprobe, Network Load Balancing Services, Terry Childs, Etherape, PacketFence, AdRem Software, Telecommunications control software, Argus, CoopNet content distribution system, Jumpnode, OpenKBM, Raritan Inc., Oracle Enterprise Manager Ops Center, CA Spectrum, MIMIC Simulator, NetLabs, NetXMS, Sipnms, Registered State Change Notification, Isyvmon, Internet server monitoring, Xymon, N2rrd, EventTracker PULSE, Loop Management System, Audit Record Generation and Utilization System, Ipanema Technologies, AiCache, Log management knowledge base, Paessler, Admon, Real user monitoring, Dhyan Network management System, Synthetic monitoring, SNMPTT, Netdisco, RANCID, Structure of Management Information, Optical performance monitoring, Big Sister, Network to Network Interface, Network management station, Passive monitoring, Remote virtual media, Panorama9, Upstream server, Fully Automatic Installation, JConsole, Lanhelper, Telecommunications Systems Management, IPHost Network Monitor, IT network assurance, Rollover cable, CaLStats, Joint Inter-Domain Management, Salutation, Telecommunication Management Network model, User network interface, Agent Extensibility Protocol, Monitoring and Measurement, Enterprise numbers, Guidelines for the D...
Sklep: Libristo.pl 144,93 zł
Książki / Literatura obcojęzyczna
Social Customer Experience: Engage and Retain Customers through Social Media builds on the prior works of author Dave Evans. As an update to Evans's earlier book Social Media Marketing , the new Social Customer Experience connects the early cases presented in 2010 with significant, contemporary examples, key concepts, and best practices associated with the adoption of social technology by global brands. This latest edition offers a blueprint for transforming your organization's disparate social initiatives into a unified social experience strategy. Most people know that social technologies are transforming business, but few understand how those changes are happening across the organization. Whether in marketing, communications, customer care, digital media or product development these changes shape the way in which business manage the experience their customers have with the brand. Filled with practical examples of what to do, and illustrated with cases taken from real companies, Social Customer Experience fills in the gaps for companies who want to do more with social than just listen and experiment. Part I lays the groundwork by explaining the three waves of change that combine to form social customer experience: social technologies and their impact on Web 1.0 digital infrastructures; social customers and their impact on marketing and support operations; and the new discipline of customer experience management that is reframing the old sales-and-service-centric ways of thinking about how companies relate to customers. Part I concludes by defining the social customer experience ecosystem, both on and off your own web domain. Part II, "Your Social Presence," puts you on the ground, with tactics and examples for how to apply social technologies and achieve your business objectives, how to measure and analyze social data and show business value, and how to implement a best-practice approach to avoid common traps and pursue proven opportunities. Part III digs deeper into the five building blocks of social customer experience: organization, platform, content, people and tools. What's a social experience organization look like? What systems need to be in place? How do you get the most out of the social "objects" -- content and other assets -- that are the byproduct of great social customer experiences? How do connections between customers -- the social graph -- come into play? And what applications will you use -- literally, what will you empower your customers to do? Part III answers these questions in the practical, method-driven style of authors Dave Evans and Joe Cothrel. Social Customer Experience features detailed exercises that show you how to translate learning into action, hands-on tutorials using today's social media tools and platforms, and compelling, modern case studies from organizations of all sizes--from the Fortune 500 to nonprofits and mom-n-pop main-street shops. As a bonus, the book also features resources and references to connect readers with the current thought leaders and sources of timely information. If you're interested in business, and how business is being reshaped by social technology, Social Customer Experience will show you a path to a new relationship with your customers, customers not only buy your products and services but get more out of them and go on to become partners in your business--selling, supporting, and innovating on your behalf.
Sklep: Libristo.pl 236,93 zł
Książki / Literatura obcojęzyczna
The mission planning environment for the strategic bomber is characterized by numerous few man-to-machine relationships, data flows and organizational interactions. Currently, these activities are accomplished by several systems using a variety of data formats. Several tools have been developed to address the complexity of not only bomber mission planning, but tactical (unit) level mission planning as a whole. Synchronized Air Power Management (SAPM) was a process driven, web-based tool intended to integrate command and control systems at the wing level. Theatre Battle Management Core System-Unit Level (TBMCS-UL) was also intended to do these functions as well as emphasizing data to data exchanges with its parent TBMCS-Force Level. Unfortunately, these initiatives have fallen short of seamlessly connecting the tactical level mission planning processes with the operational level or providing the unitlevel mission planner with the right information, in the correct format, at the right time. One of the major reasons these initiatives fail is the developers of tactical mission planning systems do not completely understand the business rules, data exchanges and activities that compromise the bomber mission planning process. Through structured architecture, this paper discovered a general set of bomber mission planning environment requirements, common to all bomber Major Weapon Systems (MWS), for use at the tactical level. During analysis of the architecture, several observations were made which warrant greater consideration during future requirements development and/or mission planning system acquisition.
Sklep: Libristo.pl 103,00 zł
Transforming Enterprise MIT Press Massachusets Institute of Tech nology
Inne 1
Innovators across all sectors of society are using information and communication technology to reshape economic and social activity. Even after the boom -- and despite the bust -- the process of structural change continues across organizational boundaries. Transforming Enterprise considers the implications of this change from a balanced, post-bust perspective. Original essays examine the impact on the economy as a whole, and, in particular, the effect on productivity; the role of information technology in creating and using knowledge -- especially knowledge that leads to innovation; and new organizational models, as seen in the interlocking and overlapping networks made possible by the Internet. The authors also analyze structural changes in specific sectors, including the effect of information technology on the automotive industry, demand-driven production and flexible value chains in the personal computer industry, and new models of outsourced manufacturing in the electronics industry. The final essays examine the societal implications of the diverse ways that information technologies are used -- across individuals, groups, communities, and nations -- and considering questions of access and the digital divide. William H. Dutton is Professor of Internet Studies and Director of the Oxford Internet Institute, University of Oxford. Brian Kahin is Visiting Professor at the University of Michigan. He is a coeditor of Transforming Enterprise (MIT Press, 2004) and many other books. Ramon O'Callaghan is Professor of Information Systems and Management at the School of Economics and Business Administration, Tilburg University, the Netherlands. Andrew W. Wyckoff is Head of the Economic Analysis and Statistics Division, Directorate for Science, Technology, and Industry, Organisation for Economic Co-operation and Development, Paris.
Sklep: Albertus.pl 152,42 zł
Książki / Literatura obcojęzyczna
HIGHLIGHT Learn the techniques used by Google, Netflix, and Amazon to transform raw data into actionable information--including recommendations, predictions, and intelligent search. DESCRIPTION Web 2.0 applications provide a rich user experience, but the parts you can't see are just as important--and impressive. They use powerful techniques to process information intelligently and offer features based on patterns and relationships in data. Algorithms of the Intelligent Web shows readers how to use the same techniques employed by household names like Google Ad Sense, Netflix, and Amazon to transform raw data into actionable information. Algorithms of the Intelligent Web is an example-driven blueprint for creating applications that collect, analyze, and act on the massive quantities of data users leave in their wake as they use the web. Readers learn to build Netflix-style recommendation engines, and how to apply the same techniques to social-networking sites. See how click-trace analysis can result in smarter ad rotations. All the examples are designed both to be reused and to illustrate a general technique-- an algorithm--that applies to a broad range of scenarios. As they work through the book's many examples, readers learn about recommendation systems, search and ranking, automatic grouping of similar objects, classification of objects, forecasting models, and autonomous agents. They also become familiar with a large number of open-source libraries and SDKs, and freely available APIs from the hottest sites on the internet, such as Facebook, Google, eBay, and Yahoo. KEY POINTS * Create recommendations like those on Netflix and Amazon * Implement Google's Pagerank and the HITS algorithm * Discover matches on social-networking sites * Business techniques like sorting email based on content, targeted advertising, and fraud detection MARKET INFORMATION The fields of Collective Intelligence and Web 2.0 are driving much of the interest in new web development techniques. This book is front-and-center in this hot area.
Sklep: Libristo.pl 265,75 zł
Książki / Literatura obcojęzyczna
"This book illuminates the connection of the two domains--SOA and REST--in a manner that is concrete and practical, providing concise application to everyday architectural challenges. Fantastic!" --Ryan Frazier, Technology Strategist, Microsoft "...a tour de force that elegantly applies REST principles to the industry-standard SOA framework described in prior titles in this series...This book is a must-read for anyone developing REST services." --Dave Slotnick, Enterprise Architect, Rackspace Hosting "This book undoubtedly will help SOA to reap the benefits from the main value propositions of Web architecture..." --Dr. Erik Wilde, Architect, EMC Corporation "REST is so much more than just another type of interface implementation--SOA with REST shows how the ecosystem of service compositions changes as new opportunities arise for service composition architecture designs. A comprehensive guide and a must-read for any serious IT architect considering REST-style services for application architectures." --Roger Stoffers, Solution Architect, Hewlett Packard "Service-orientation and REST both are architectural styles that are cornerstones of modern applications and cloud computing. Both aim to deliver scalable, interoperable solutions, but their different roots don't always make them a natural fit. SOA with REST explains how the two styles can work together in enterprise environments. It discusses a design process for a services portfolio that meets the goals of SOA and at the same time designs services that comply with the established REST constraints. It also shows pragmatic approaches to meet enterprise-grade requirements with the REST programming style but relaxes constraints where necessary." --Christoph Schittko, Director of Cloud Strategy, Microsoft "An excellent repertoire of service-oriented patterns that will prove handy when solving problems in the real world. The REST perspectives and principles will provide complete coverage of modern-day Web 2.0 style approaches. Highly recommended." --Sid Sanyal, IT Architect, Zurich Financial Services "An inspirational book that provides deep insight into the design and development of next-generation service-oriented systems based on the use of REST. This book clarifies the convergence of SOA and REST with no-nonsense content that addresses common questions and issues head-on. An essential 'instrument of modern service implementation' and a powerful body of knowledge for software designers, architects, and consultants." --Pethuru Raj, Ph.D., Enterprise Architecture (EA) Consultant, Wipro Consulting Services "REST and SOA are two of the most misunderstood terms in the software industry over the past decade. Yet the REST architectural style coupled with modern RESTful framework implementations provides a scalable and reliable approach to SOA. This book covers all you need to know about how to take the principles of REST and apply them in small and large SOA developments. If you are familiar with REST and thinking about SOA, then you need this book. If you have not considered REST in your SOA work, then this book is for you, too. Covering concepts of both REST and SOA, as well as design patterns and when to use them, the book is a wonderful companion and a good tool for architects and engineers." --Dr. Mark Little, CTO JBoss, Red Hat "Unlike many other texts on the subject, SOA with REST is a well-rounded, easy-to-read narrative, including real-world case studies that appeal to both developers and analysts. This makes it an indispensable source for any SOA practitioner or any professional who is planning to initiate an SOA project." --Theodore T. Morrison, Certified SOA Analyst, CSM, Geocent, LLC "SOA and REST are two very important architectural styles for distributed computing. SOA is successfully adopted by most enterprises, and the REST style is getting more attention from both researcher and industry users. The book SOA with REST introduces a new architectural style that is ingeniously combining both SOA and REST styles and clearly reveals how SOA and REST can work together to generate successful enterprise SOA strategies with REST, along with guidance for making architecture design decisions. This book is a bible of best practices for designing and implementing SOA architecture with REST. It is a must-have reference book for both IT practitioners and researchers." --Longji Tang, FedEx IT Senior Technical Advisor, Ph.D. in CSSE The Definitive Guide to Building Web-Centric SOA with REST The World Wide Web is based on the most successful technology architecture in history. It has changed how we view, access, and exchange information and, with the advent of REST, it has also provided us with compelling ways to build and improve automation solutions. REST provides a great deal of guidance to ensure that an architecture and its automation logic are technically sound, though it is still your responsibility to build services that actually add value to your business. SOA with REST is the first comprehensive tutorial and reference for designing and building RESTful services as part of service-oriented solutions and in conjunction with service-oriented architecture (SOA). This book demonstrates that REST is not only a suitable medium for building truly service-oriented solutions, but also that the service-oriented architectural model is a necessary foundation for REST technology architectures to realize their full business potential. The authors provide thorough mapping of REST constraints and architectural goals with service-orientation principles and SOA characteristics. Using real-world examples, they show how to leverage REST's simplicity, flexibility, and low overhead without compromising the power or manageability of service-oriented solutions and architectures. This book will be valuable to IT architects, developers, and any practitioner seeking to use SOA and REST together. Topic Areas * Distributed solution design with HTTP and REST * REST-based service composition architectures * REST service modeling and a service-oriented analysis process for REST service candidates * Technical service contract notation for REST services based on a uniform contract * Designing REST service contracts with service-orientation * Understanding REST constraints in relation to service-orientation principles * Using hypermedia and dynamic binding within SOA and service compositions * Creating complex HTTP-based methods for enterprise solutions * Advanced design techniques, including composition deepening, runtime logic deferral, and dynamic binding with common properties * Cross-service transactions and event-driven messaging with REST * Addressing enterprise solution concerns in relation to REST-based state management * Applying SOA design patterns to REST-based solutions * Distinguishing REST and SOA service concepts and terminology * Designing REST architectures with SOA * Versioning REST services and uniform contracts * Fundamental REST, SOA, and service-orientation concepts and terminology * REST constraints, REST architectural goals, and properties * Seven new REST-inspired design patterns * Defining common goals of REST and SOA
Sklep: Libristo.pl
Sklepy zlokalizowane w miastach: Warszawa, Kraków, Łódź, Wrocław, Poznań, Gdańsk, Szczecin, Bydgoszcz, Lublin, Katowice
Szukaj w sklepach lub całym serwisie
2. Szukaj na wszystkich stronach serwisu
t1=0.06, t2=0, t3=0, t4=0.023, t=0.06