krainaksiazek business driven information systems 20128972
- znaleziono 11 produktów w 3 sklepach 389,51 zł
Książki / Literatura obcojęzyczna
The Internet and the World Wide Web are becoming increasingly important in our highly interconnected world. This book addresses the topic of querying the data available, with regard to its quality, in a systematic and comprehensive way, from a database point of view. First, information quality and information quality measures are systematically introduced before ranking algorithms are developed for selecting Web sources for access. The second part is devoted to quality-driven query answering, particularly to query planning methods and algorithms. The in-depth presentation of algorithms and techniques for quality-oriented querying will serve as a valuable source of reference for R&D professionals and for IT business people. In addition, the work will provide students with a comprehensible introduction to cutting-edge research.
Sklep: Libristo.pl 319,99 zł
Książki Obcojęzyczne>Angielskie>Computing & information technology>Information technology: general issues
0x00ae992a00000000
Sklep: Gigant.pl 319,99 zł
Książki Obcojęzyczne>Angielskie>Computing & information technology>Information technology: general issues
0x00aefb4600000000
Sklep: Gigant.pl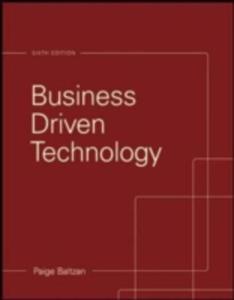 379,99 zł
Książki Obcojęzyczne>Angielskie>Computing & information technology>Business applicationsKsiążki Obcojęzyczne>Angielskie>Economics, fina...
0x006ece9000000000
Sklep: Gigant.pl 323,31 zł
Książki / Literatura obcojęzyczna
The Author shows the classification of international accounting systems, harmonization and standardization process. The unified accounting information system will lead to new types of analysis and data; furthermore, with the possible integration of new indicators from the practice of certain countries. Some economic characteristics and affects of international accounting standards are compared, measured and valued inside and outside of the European Union using mathematical-statistical methods. The results of applied regression model support that the greater demand for more informative and conservative accounting earnings due to performance evaluations at more widely held by businesses stimulating to adopt international accounting standards. Businesses with lower labor productivity compared to their industry peers have greater incentives to follow accounting standardization. The increase in the sensitivity of turnover to accounting performance post-adoption is primarily driven by heightened turnover sensitivity to accounting losses. The empirical results can be the author's suggestions for business management.
Sklep: Libristo.pl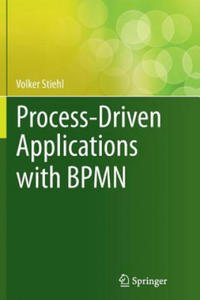 342,27 zł
Książki / Literatura obcojęzyczna
How can we optimize differentiating business processes and exploit their full potential? Here Volker Stiehl provides answers, utilizing the various options that the BPMN (Business Process Model and Notation) standard offers for planning, implementing and monitoring processes. The book presents an approach for implementing an architecture for applications that strives to find a balance between development and maintenance costs, sustainability, scalability and fault tolerance; that meets flexibility requirements without becoming inordinately complex itself; and that keeps the end application as abstract as possible from the system landscape in which it operates. Based on the semantic enhancements found in version 2.0 of the BPMN standard, which have made it possible to execute process models, his approach exploits BPMN to create and run complete application architectures. In this context, BPMN is not just used to model the business processes of the application, as the "B" in BPMN might suggest; but also to model and execute the integration processes between the systems. Throughout the book, the software package SAP Process Orchestration is used to illustrate the implementation of the proposed architecture, yet all recommendations are intentionally kept generic so that they can be implemented on any other comparable platform as well. Software architects, IT managers, software developers and project managers, as well as students of information and business technology will find the book a valuable resource. The proposed application architecture offers them a detailed blueprint, the principles of which they can use to plan and implement process-driven distributed applications.
Sklep: Libristo.pl 342,27 zł
Książki / Literatura obcojęzyczna
This volume constitutes the proceedings of the 4th Working Conference on Practice-Driven Research on Enterprise Transformation (PRET), held in Gda sk, Poland, on June 27, 2012, as the industrial track of the 24th International Conference on Advanced Information Systems Engineering (CAiSE 2012).§Restructuring, divesting, improving performance, and merging are among the usual transformation activities that enterprises conduct to provide answers to the challenging demands put on them. To foster the much-needed debate between researchers and practitioners on these topics, the number of papers accepted for PRET is kept low, providing the authors and the audience with ample time to engage in discussions about both the practical implications of results and the theoretical underpinnings of phenomena observed in industrial practice. This year, five papers were selected after careful review, and each paper is between 20 and 25 pages long, to allow for the presentation of details.§The topics covered include enterprise architecture, business and IT alignment, and business process management and evaluation.§The topics covered include enterprise architecture, business and IT alignment, and business process management and evaluation.
Sklep: Libristo.pl 146,78 zł
Książki / Literatura obcojęzyczna
To see the future we can build with information technology, we must look beyond mere information to the social context that creates and gives meaning to it. For years, pundits have predicted that information technology will obliterate the need for almost everything--from travel to supermarkets to business organizations to social life itself. Individual users, however, tend to be more sceptical. Beaten down by info-glut and exasperated by computer systems fraught with software crashes, viruses, and unintelligible error messages, they find it hard to get a fix on the true potential of the digital revolution. John Seely Brown and Paul Duguid help us to see through frenzied visions of the future to the real forces for change in society. They argue that the gap between digerati hype and end-user gloom is largely due to the 'tunnel vision' that information-driven technologies breed. We've become so focused on where we think we ought to be--a place where technology empowers individuals and obliterates social organizations--that we often fail to see where we're really going and what's helping us get there. We need, they argue, to look beyond our obsession with information and individuals to include the critical social networks of which these are always a part. Drawing from rich learning experiences at Xerox PARC, from examples such as IBM, Chiat/Day Advertising, and California's 'Virtual University', and from historical, social, and cultural research, the authors sharply challenge the futurists' sweeping predictions.They explain how many of the tools, jobs, and organizations seemingly targeted for future extinction in fact provide useful social resources that people will fight to keep. Rather than aiming technological bullets at these 'relics', we should instead look for ways that the new world of bits can learn from and complement them. Arguing elegantly for the important role that human sociability plays, even--perhaps especially--in the world of bits, The Social Life of Information gives us an optimistic look beyond the simplicities of information and individuals. It shows how a better understanding of the contribution that communities, organizations, and institutions make to learning, working and innovating can lead to the richest possible use of technology in our work and everyday lives.
Sklep: Libristo.pl 673,59 zł
Książki / Literatura obcojęzyczna
This book presents cutting-edge emerging technologies and approaches in the areas of service-oriented architectures, intelligent devices and cloud-based cyber-physical systems. It provides a clear view on their applicability to the management and automation of manufacturing and process industries. It offers a holistic view of future industrial cyber-physical systems and their industrial usage and also depicts technologies and architectures as well as a migration approach and engineering tools based on these.§By providing a careful balance between the theory and the practical aspects, this book has been authored by several experts from academia and industry, thereby offering a valuable understanding of the vision, the domain, the processes and the results of the research. It has several illustrations and tables to clearly exemplify the concepts and results examined in the text and these are supported by four real-life case-studies.§We are witnessing rapid advances in the industrial automation, mainly driven by business needs towards agility and supported by new disruptive advances both on the software and hardware side, as well as the cross-fertilization of concepts and the amalgamation of information and communication technology-driven approaches in traditional industrial automation and control systems. This book is intended for technology managers, application designers, solution developers, engineers working in industry, as well as researchers, undergraduate and graduate students of industrial automation, industrial informatics and production engineering.§
Sklep: Libristo.pl 282,30 zł
Biznes
Over the past few decades the political systems in advanced industrial societies have sailed through turbulent times. The globalization and liberalization of markets -- driven in part by a revolution in communication technologies -- coincided with an unprecedented mobility of capital, goods and services as well as increasing dependence of national polities on political and economic processes beyond their immediate control. Although these changes did not seal the end of the nation state, as some alarmist accounts had predicted, it undoubtedly transformed political power structures. An important question is how this deep structural change has affected the political sub-system of associational interest intermediation. The authors follow up that question by leaning on established accounts of collective action research and including more recent insights from organization theory, evolutionary theory and network analysis. They present empirical results having been obtained from hundreds of interviews with CEOs of business associations in the US, Britain, Germany, Switzerland and Austria. The core sectors are chemicals and information and communication technologies.There are also chapters on automotives and the dairy industry.
Sklep: Albertus.pl 103,00 zł
Transforming Enterprise MIT Press Massachusets Institute of Tech nology
Inne 1
Innovators across all sectors of society are using information and communication technology to reshape economic and social activity. Even after the boom -- and despite the bust -- the process of structural change continues across organizational boundaries. Transforming Enterprise considers the implications of this change from a balanced, post-bust perspective. Original essays examine the impact on the economy as a whole, and, in particular, the effect on productivity; the role of information technology in creating and using knowledge -- especially knowledge that leads to innovation; and new organizational models, as seen in the interlocking and overlapping networks made possible by the Internet. The authors also analyze structural changes in specific sectors, including the effect of information technology on the automotive industry, demand-driven production and flexible value chains in the personal computer industry, and new models of outsourced manufacturing in the electronics industry. The final essays examine the societal implications of the diverse ways that information technologies are used -- across individuals, groups, communities, and nations -- and considering questions of access and the digital divide. William H. Dutton is Professor of Internet Studies and Director of the Oxford Internet Institute, University of Oxford. Brian Kahin is Visiting Professor at the University of Michigan. He is a coeditor of Transforming Enterprise (MIT Press, 2004) and many other books. Ramon O'Callaghan is Professor of Information Systems and Management at the School of Economics and Business Administration, Tilburg University, the Netherlands. Andrew W. Wyckoff is Head of the Economic Analysis and Statistics Division, Directorate for Science, Technology, and Industry, Organisation for Economic Co-operation and Development, Paris.
Sklep: Albertus.pl
Sklepy zlokalizowane w miastach: Warszawa, Kraków, Łódź, Wrocław, Poznań, Gdańsk, Szczecin, Bydgoszcz, Lublin, Katowice
Szukaj w sklepach lub całym serwisie
2. Szukaj na wszystkich stronach serwisu
t1=0.044, t2=0, t3=0, t4=0.023, t=0.044