krainaksiazek business driven information systems 20128972
- znaleziono 13 produktów w 3 sklepach 253,48 zł
Książki / Literatura obcojęzyczna
The #1 reason software development projects fail has nothing to do with coding: Simply put, programmers are programming the wrong things, and no amount of cleverness in coding can compensate. The solution is a more intelligent approach to defining the requirements of information systems: one that draws upon the concept of "business rules," to plan software which is thoroughly aligned with business goals. Leading consultant Tony Morgan begins by outlining an "alternative future," in which the development of new IT systems is driven by structured descriptions of a business and its key goals. He thoroughly explains the ideas behind business rules, helping IT professionals establish a systematic framework for identifying them, and for validating the business logic underlying them -- thereby dramatically reducing cost and risk. Next, he presents realistic mechanisms for translating business rules into software, covering technical architectures, tools, techniques for managing rules and models on an ongoing basis, and much more. For all IT executives, managers, developers, analysts, and project team members, and for anyone with a stake in designing, implementing, and running efficient IT systems.
Sklep: Libristo.pl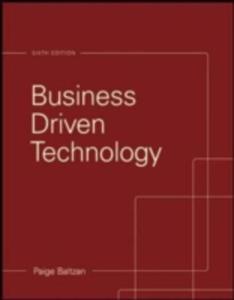 379,99 zł
Książki Obcojęzyczne>Angielskie>Computing & information technology>Business applicationsKsiążki Obcojęzyczne>Angielskie>Economics, fina...
0x014ca6e700000000
Sklep: Gigant.pl 135,76 zł
Książki / Literatura obcojęzyczna
To see the future we can build with information technology, we must look beyond mere information to the social context that creates and gives meaning to it. For years, pundits have predicted that information technology will obliterate the need for almost everything--from travel to supermarkets to business organizations to social life itself. Individual users, however, tend to be more sceptical. Beaten down by info-glut and exasperated by computer systems fraught with software crashes, viruses, and unintelligible error messages, they find it hard to get a fix on the true potential of the digital revolution. John Seely Brown and Paul Duguid help us to see through frenzied visions of the future to the real forces for change in society. They argue that the gap between digerati hype and end-user gloom is largely due to the 'tunnel vision' that information-driven technologies breed. We've become so focused on where we think we ought to be--a place where technology empowers individuals and obliterates social organizations--that we often fail to see where we're really going and what's helping us get there. We need, they argue, to look beyond our obsession with information and individuals to include the critical social networks of which these are always a part. Drawing from rich learning experiences at Xerox PARC, from examples such as IBM, Chiat/Day Advertising, and California's 'Virtual University', and from historical, social, and cultural research, the authors sharply challenge the futurists' sweeping predictions.They explain how many of the tools, jobs, and organizations seemingly targeted for future extinction in fact provide useful social resources that people will fight to keep. Rather than aiming technological bullets at these 'relics', we should instead look for ways that the new world of bits can learn from and complement them. Arguing elegantly for the important role that human sociability plays, even--perhaps especially--in the world of bits, The Social Life of Information gives us an optimistic look beyond the simplicities of information and individuals. It shows how a better understanding of the contribution that communities, organizations, and institutions make to learning, working and innovating can lead to the richest possible use of technology in our work and everyday lives.
Sklep: Libristo.pl 192,49 zł
Książki / Literatura obcojęzyczna
This book presents cutting-edge emerging technologies and approaches in the areas of service-oriented architectures, intelligent devices and cloud-based cyber-physical systems. It provides a clear view on their applicability to the management and automation of manufacturing and process industries. It offers a holistic view of future industrial cyber-physical systems and their industrial usage and also depicts technologies and architectures as well as a migration approach and engineering tools based on these.§By providing a careful balance between the theory and the practical aspects, this book has been authored by several experts from academia and industry, thereby offering a valuable understanding of the vision, the domain, the processes and the results of the research. It has several illustrations and tables to clearly exemplify the concepts and results examined in the text and these are supported by four real-life case-studies.§We are witnessing rapid advances in the industrial automation, mainly driven by business needs towards agility and supported by new disruptive advances both on the software and hardware side, as well as the cross-fertilization of concepts and the amalgamation of information and communication technology-driven approaches in traditional industrial automation and control systems. This book is intended for technology managers, application designers, solution developers, engineers working in industry, as well as researchers, undergraduate and graduate students of industrial automation, industrial informatics and production engineering.§
Sklep: Libristo.pl 259,06 zł
Książki / Literatura obcojęzyczna
Business Intelligence (BI): It's not just a technology. It's not just a methodology. It's a powerful new management approach that - when done right - can deliver knowledge, efficiency, better decisions, and profit to almost any organization that uses it. When BI first came on the scene, it promised a lot but often failed to deliver. The missing element was the business-centric focus explained in "The Profit Impact of Business Intelligence". Written by BI gurus Steve Williams and Nancy Williams, "The Profit Impact of Business Intelligence" shows step by step how you can achieve the promise of BI by connecting it to your organization's strategic goals, culture, and strengths while correcting your BI weaknesses. It provides a practical, process-oriented guide to achieve the full promise of BI. It shows how world-class companies used BI to become leaders in their industries. It helps senior business and IT executives understand the strategic impact of BI and how they can ensure a strong payoff from their BI investments. It identifies the most common mistakes organizations make in implementing BI. It includes a helpful glossary of BI terms. It also includes a BI readiness assessment for your organization. It includes Web links and extensive references for more information. Steve Williams, President and founder of DecisionPath Consulting, is a leading advocate of business-driven BI design and development. His consulting firm is one of the largest in the specialized field of Business Intelligence and Data Warehousing. Steve has over 23 years experience in information systems and systems engineering and has co-authored a training course on the BI Pathway Method. Nancy Williams is Vice President of DecisionPath Consulting. With over 21 years of business and technical experience, she provides technical and strategic leadership on business intelligence as well as hands-on guidance for client engagements. This is a practical, process-oriented book that will help organizations realize the promise of BI. It is written by Nancy and Steve Williams, veteran consultants and instructors with hands-on, 'in the trenches' experience in government and corporate business intelligence applications. It will help senior business and IT executives understand the strategic impact of BI and how they can help ensure a strong payoff on BI investments.
Sklep: Libristo.pl 417,28 zł
Książki / Literatura obcojęzyczna
The world is witnessing a number of severe crises including climate change, rise of international terrorism, social inequities, food shortage, material and spiritual poverty. Some argue that globalization has exacerbated these crises, while others argue globalization can be part of the solution. Globalization, understood as the cross-border integration of markets for products, labor, capital and knowledge, clearly is a force that has the potential to change the experience of human existence as well as its consequences for current and future ecosystems. These changes are driven by the increasing interconnectedness of financial systems, international trade, increased labor mobility, information and communications technology, and foreign direct investment. Some scholars argue that we have moved beyond the age of globalization towards an age of globality. In such an age, individual actions, local business practices and national politics all have global impact. It therefore matters on more than one level about how we think about business in a global community. In Humanistic Perspectives on International Business and Management, the contributing authors provide space to global perspectives on how we can rethink and reposition international business and management practice to be a part of the solution to our global problems. These contributions provide impetus for further research, practice and pedagogy development.
Sklep: Libristo.pl 282,30 zł
Biznes
Over the past few decades the political systems in advanced industrial societies have sailed through turbulent times. The globalization and liberalization of markets -- driven in part by a revolution in communication technologies -- coincided with an unprecedented mobility of capital, goods and services as well as increasing dependence of national polities on political and economic processes beyond their immediate control. Although these changes did not seal the end of the nation state, as some alarmist accounts had predicted, it undoubtedly transformed political power structures. An important question is how this deep structural change has affected the political sub-system of associational interest intermediation. The authors follow up that question by leaning on established accounts of collective action research and including more recent insights from organization theory, evolutionary theory and network analysis. They present empirical results having been obtained from hundreds of interviews with CEOs of business associations in the US, Britain, Germany, Switzerland and Austria. The core sectors are chemicals and information and communication technologies.There are also chapters on automotives and the dairy industry.
Sklep: Albertus.pl 110,84 zł
Książki / Literatura obcojęzyczna
Workflow, process, or business process mapping has been discovered by organizations of all kinds as being a powerful tool to analyze and improve their internal processes. It has attracted major attention from software vendors, including Oracle and IBM, who market systems that are designed to map processes and quantify all aspects of their operations. These systems can be very effective at capturing the formal or explicit knowledge inherent to any workflow; however, a long-term problem with these approaches is that the full "knowledge base" underlying these processes contains many elements which are "tacit knowledge." Despite being outside of the formal knowledge base, tacit knowledge must be addressed when describing the nature and functioning of processes. A key feature of the mapping method used in this book is that it makes both formal and tacit knowledge explicit in the workflow maps it produces. Much of what has been learned in the years of applying and teaching this method is that software-driven approaches are hobbled by the complications presented by tacit knowledge in workflows. Until both formal and tacit knowledge are understood these software-driven approaches cannot achieve their full potential. Consequently the mapping process here, by necessity, becomes a method for managing knowledge as well as a method of mapping the flow of materials and information. While it is a basis for process improvement in its own right, it can support development of both software-driven process mapping and the creation of dynamic programs on the basis of accurate understanding of existing workflows.
Sklep: Libristo.pl 103,00 zł
Transforming Enterprise MIT Press Massachusets Institute of Tech nology
Inne 1
Innovators across all sectors of society are using information and communication technology to reshape economic and social activity. Even after the boom -- and despite the bust -- the process of structural change continues across organizational boundaries. Transforming Enterprise considers the implications of this change from a balanced, post-bust perspective. Original essays examine the impact on the economy as a whole, and, in particular, the effect on productivity; the role of information technology in creating and using knowledge -- especially knowledge that leads to innovation; and new organizational models, as seen in the interlocking and overlapping networks made possible by the Internet. The authors also analyze structural changes in specific sectors, including the effect of information technology on the automotive industry, demand-driven production and flexible value chains in the personal computer industry, and new models of outsourced manufacturing in the electronics industry. The final essays examine the societal implications of the diverse ways that information technologies are used -- across individuals, groups, communities, and nations -- and considering questions of access and the digital divide. William H. Dutton is Professor of Internet Studies and Director of the Oxford Internet Institute, University of Oxford. Brian Kahin is Visiting Professor at the University of Michigan. He is a coeditor of Transforming Enterprise (MIT Press, 2004) and many other books. Ramon O'Callaghan is Professor of Information Systems and Management at the School of Economics and Business Administration, Tilburg University, the Netherlands. Andrew W. Wyckoff is Head of the Economic Analysis and Statistics Division, Directorate for Science, Technology, and Industry, Organisation for Economic Co-operation and Development, Paris.
Sklep: Albertus.pl 153,14 zł
Książki / Literatura obcojęzyczna
HIGHLIGHT Learn the techniques used by Google, Netflix, and Amazon to transform raw data into actionable information--including recommendations, predictions, and intelligent search. DESCRIPTION Web 2.0 applications provide a rich user experience, but the parts you can't see are just as important--and impressive. They use powerful techniques to process information intelligently and offer features based on patterns and relationships in data. Algorithms of the Intelligent Web shows readers how to use the same techniques employed by household names like Google Ad Sense, Netflix, and Amazon to transform raw data into actionable information. Algorithms of the Intelligent Web is an example-driven blueprint for creating applications that collect, analyze, and act on the massive quantities of data users leave in their wake as they use the web. Readers learn to build Netflix-style recommendation engines, and how to apply the same techniques to social-networking sites. See how click-trace analysis can result in smarter ad rotations. All the examples are designed both to be reused and to illustrate a general technique-- an algorithm--that applies to a broad range of scenarios. As they work through the book's many examples, readers learn about recommendation systems, search and ranking, automatic grouping of similar objects, classification of objects, forecasting models, and autonomous agents. They also become familiar with a large number of open-source libraries and SDKs, and freely available APIs from the hottest sites on the internet, such as Facebook, Google, eBay, and Yahoo. KEY POINTS * Create recommendations like those on Netflix and Amazon * Implement Google's Pagerank and the HITS algorithm * Discover matches on social-networking sites * Business techniques like sorting email based on content, targeted advertising, and fraud detection MARKET INFORMATION The fields of Collective Intelligence and Web 2.0 are driving much of the interest in new web development techniques. This book is front-and-center in this hot area.
Sklep: Libristo.pl 259,22 zł
Książki / Literatura obcojęzyczna
"This book illuminates the connection of the two domains--SOA and REST--in a manner that is concrete and practical, providing concise application to everyday architectural challenges. Fantastic!" --Ryan Frazier, Technology Strategist, Microsoft "...a tour de force that elegantly applies REST principles to the industry-standard SOA framework described in prior titles in this series...This book is a must-read for anyone developing REST services." --Dave Slotnick, Enterprise Architect, Rackspace Hosting "This book undoubtedly will help SOA to reap the benefits from the main value propositions of Web architecture..." --Dr. Erik Wilde, Architect, EMC Corporation "REST is so much more than just another type of interface implementation--SOA with REST shows how the ecosystem of service compositions changes as new opportunities arise for service composition architecture designs. A comprehensive guide and a must-read for any serious IT architect considering REST-style services for application architectures." --Roger Stoffers, Solution Architect, Hewlett Packard "Service-orientation and REST both are architectural styles that are cornerstones of modern applications and cloud computing. Both aim to deliver scalable, interoperable solutions, but their different roots don't always make them a natural fit. SOA with REST explains how the two styles can work together in enterprise environments. It discusses a design process for a services portfolio that meets the goals of SOA and at the same time designs services that comply with the established REST constraints. It also shows pragmatic approaches to meet enterprise-grade requirements with the REST programming style but relaxes constraints where necessary." --Christoph Schittko, Director of Cloud Strategy, Microsoft "An excellent repertoire of service-oriented patterns that will prove handy when solving problems in the real world. The REST perspectives and principles will provide complete coverage of modern-day Web 2.0 style approaches. Highly recommended." --Sid Sanyal, IT Architect, Zurich Financial Services "An inspirational book that provides deep insight into the design and development of next-generation service-oriented systems based on the use of REST. This book clarifies the convergence of SOA and REST with no-nonsense content that addresses common questions and issues head-on. An essential 'instrument of modern service implementation' and a powerful body of knowledge for software designers, architects, and consultants." --Pethuru Raj, Ph.D., Enterprise Architecture (EA) Consultant, Wipro Consulting Services "REST and SOA are two of the most misunderstood terms in the software industry over the past decade. Yet the REST architectural style coupled with modern RESTful framework implementations provides a scalable and reliable approach to SOA. This book covers all you need to know about how to take the principles of REST and apply them in small and large SOA developments. If you are familiar with REST and thinking about SOA, then you need this book. If you have not considered REST in your SOA work, then this book is for you, too. Covering concepts of both REST and SOA, as well as design patterns and when to use them, the book is a wonderful companion and a good tool for architects and engineers." --Dr. Mark Little, CTO JBoss, Red Hat "Unlike many other texts on the subject, SOA with REST is a well-rounded, easy-to-read narrative, including real-world case studies that appeal to both developers and analysts. This makes it an indispensable source for any SOA practitioner or any professional who is planning to initiate an SOA project." --Theodore T. Morrison, Certified SOA Analyst, CSM, Geocent, LLC "SOA and REST are two very important architectural styles for distributed computing. SOA is successfully adopted by most enterprises, and the REST style is getting more attention from both researcher and industry users. The book SOA with REST introduces a new architectural style that is ingeniously combining both SOA and REST styles and clearly reveals how SOA and REST can work together to generate successful enterprise SOA strategies with REST, along with guidance for making architecture design decisions. This book is a bible of best practices for designing and implementing SOA architecture with REST. It is a must-have reference book for both IT practitioners and researchers." --Longji Tang, FedEx IT Senior Technical Advisor, Ph.D. in CSSE The Definitive Guide to Building Web-Centric SOA with REST The World Wide Web is based on the most successful technology architecture in history. It has changed how we view, access, and exchange information and, with the advent of REST, it has also provided us with compelling ways to build and improve automation solutions. REST provides a great deal of guidance to ensure that an architecture and its automation logic are technically sound, though it is still your responsibility to build services that actually add value to your business. SOA with REST is the first comprehensive tutorial and reference for designing and building RESTful services as part of service-oriented solutions and in conjunction with service-oriented architecture (SOA). This book demonstrates that REST is not only a suitable medium for building truly service-oriented solutions, but also that the service-oriented architectural model is a necessary foundation for REST technology architectures to realize their full business potential. The authors provide thorough mapping of REST constraints and architectural goals with service-orientation principles and SOA characteristics. Using real-world examples, they show how to leverage REST's simplicity, flexibility, and low overhead without compromising the power or manageability of service-oriented solutions and architectures. This book will be valuable to IT architects, developers, and any practitioner seeking to use SOA and REST together. Topic Areas * Distributed solution design with HTTP and REST * REST-based service composition architectures * REST service modeling and a service-oriented analysis process for REST service candidates * Technical service contract notation for REST services based on a uniform contract * Designing REST service contracts with service-orientation * Understanding REST constraints in relation to service-orientation principles * Using hypermedia and dynamic binding within SOA and service compositions * Creating complex HTTP-based methods for enterprise solutions * Advanced design techniques, including composition deepening, runtime logic deferral, and dynamic binding with common properties * Cross-service transactions and event-driven messaging with REST * Addressing enterprise solution concerns in relation to REST-based state management * Applying SOA design patterns to REST-based solutions * Distinguishing REST and SOA service concepts and terminology * Designing REST architectures with SOA * Versioning REST services and uniform contracts * Fundamental REST, SOA, and service-orientation concepts and terminology * REST constraints, REST architectural goals, and properties * Seven new REST-inspired design patterns * Defining common goals of REST and SOA
Sklep: Libristo.pl 160,35 zł
Książki / Literatura obcojęzyczna
Large IT organizations increasingly face the challenge of integrating various web services, applications, and other technologies into a single network. The solution to finding a meaningful large-scale architecture that is capable of spanning a global enterprise appears to have been met in ESB, or Enterprise Service Bus. Rather than conform to the hub-and-spoke architecture of traditional enterprise application integration products, ESB provides a highly distributed approach to integration, with unique capabilities that allow individual departments or business units to build out their integration projects in incremental, digestible chunks, maintaining their own local control and autonomy, while still being able to connect together each integration project into a larger, more global integration fabric, or grid. Enterprise Service Bus offers a thorough introduction and overview for systems architects, system integrators, technical project leads, and CTO/CIO level managers who need to understand, assess, and evaluate this new approach. Written by Dave Chappell, one of the best known and authoritative voices in the field of enterprise middleware and standards-based integration, the book drills down into the technical details of the major components of ESB, showing how it can utilize an event-driven SOA to bring a variety of enterprise applications and services built on J2EE, .NET, C/C++, and other legacy environments into the reach of the everyday IT professional. With Enterprise Service Bus, readers become well versed in the problems faced by IT organizations today, gaining an understanding of how current technology deficiencies impact business issues. Through the study of real-world use cases and integration patterns drawn from several industries using ESB--including Telcos, financial services, retail, B2B exchanges, energy, manufacturing, and more--the book clearly and coherently outlines the benefits of moving toward this integration strategy. The book also compares ESB to other integration architectures, contrasting their inherent strengths and limitations. If you are charged with understanding, assessing, or implementing an integration architecture, Enterprise Service Bus will provide the straightforward information you need to draw your conclusions about this important disruptive technology.
Sklep: Libristo.pl 158,22 zł
Książki / Literatura obcojęzyczna
Geodemographics is a technique of market segmentation and a well-established data-driven analysis tool for marketers. Since its inception in 1979, its classifications have been widely used in customer databases and market research datasets.Written by one of the UK s foremost marketing statisticians, this book will help busy marketers apply geodemographics in any sector involved in business to consumer marketing, including retail, financial, and telecommunication fields. With numerous practical case studies from users and agencies worldwide, "Geodemographics for Marketers" is international in scope, offering an independent and impartial source of information about the real success geodemographics can bring to an organization. Chapters cover: -The definitions and principles of geodemographics and its strengths and weaknesses-Classification systems, including data inputs, how a classification is built, an overview of the latest products, and a table of the current classifications-Mechanics of using geodemographics-Applications in various industry sectors-How to choose a geodemographic classification-International geodemographics-Building a sector specific geodemographic discriminator, how classifications have been improved/augmented, individual-level classifications, and predictive analytics on customer databases-What the future holds for geodemographics "
Sklep: Libristo.pl
Sklepy zlokalizowane w miastach: Warszawa, Kraków, Łódź, Wrocław, Poznań, Gdańsk, Szczecin, Bydgoszcz, Lublin, Katowice
Szukaj w sklepach lub całym serwisie
2. Szukaj na wszystkich stronach serwisu
t1=0.087, t2=0, t3=0, t4=0, t=0.087