krainaksiazek calling all customers 20090011
- znaleziono 4 produkty w 1 sklepie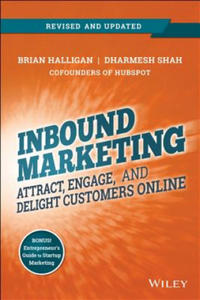 84,03 zł
Książki / Literatura obcojęzyczna
Attract, engage, and delight customers online Inbound Marketing: Get Found Using Google, Social Media, and Blogs is a comprehensive guide to increasing online visibility and engagement. Written by top marketing and startup bloggers, the book contains the latest information about customer behavior and preferred digital experiences. From the latest insights on lead nurturing and visual marketing to advice on producing remarkable content by building tools, readers will gain the information they need to transform their marketing online. With outbound marketing methods becoming less effective, the time to embrace inbound marketing is now. Cold calling, e-mail blasts, and direct mail are turning consumers off to an ever-greater extent, so consumers are increasingly doing research online to choose companies and products that meet their needs. Inbound Marketing recognizes these behavioral changes as opportunities, and explains how marketers can make the most of this shift online. This not only addresses turning strangers into website visitors, but explains how best to convert those visitors to leads, and to nurture those leads to the point of becoming delighted customers. Gain the insight that can increase marketing value with topics like: Inbound marketing - strategy, reputation, and tracking progress Visibility - getting found, and why content matters Converting customers - turning prospects into leads and leads into customers Better decisions - picking people, agencies, and campaigns The book also contains essential tools and resources that help build an effective marketing strategy, and tips for organizations of all sizes looking to build a reputation. When consumer behaviors change, marketing must change with them. Inbound Marketing: Get Found Using Google, Social Media, and Blogs is a complete guide to attracting, engaging, and delighting customers online.
Sklep: Libristo.pl 115,78 zł
Książki / Literatura obcojęzyczna
We're told marketing is hard. That it requires months of analysis, weeks of brainstorming, and years of consistent implementation. To succeed in marketing, you need the fortitude of General Patton, the genius of Don Draper, and the cash reserves of Warren Buffet. WRONG. One week. That's all it takes for most small and medium-sized businesses to dramatically improve their marketing. And let's face it, most business owners do very little marketing, and what they do is not particularly effective. Business owners often don't know how to best market their company, or are too busy working to make time to promote it. What they don't realize is that effective marketing doesn't have to be complicated or time-consuming. Mark Satterfield's "The One-Week Marketing Plan" lays out a step-by-step system entrepreneurs can put in place in just five business days. This "set it and forget it" strategy works all day, every day to bring in new business. Tailored to each company's niche market, this innovative plan can generate a consistent stream of customers for an out-of-pocket expense of as little as $300. Satterfield, founder and CEO of Gentle Rain Marketing, Inc., has more than two decades of experience helping clients in more than 75 niche industries grow their businesses without cold calling or hard selling. Now, in "The One-Week Marketing Plan," his strategies and wisdom are accessible and realistic for entrepreneurs, self-employed professionals, and business owners looking to move in a new direction. One week. That's all it takes. So let's get started.
Sklep: Libristo.pl 208,76 zł
Książki / Literatura obcojęzyczna
What do Ford Financial, IBM, and Victoria's Secret have in common? Enterprise JavaBeans (EJB). As the industry standard for platform-independent reusable business components, EJB has just become Sun Microsystem's latest developer certification. Whether you want to be certifiable or just want to learn the technology inside and out, Head First EJB will get you there in the least painful way. And with the greatest understanding. You'll learn not just what the technology -is-, but more importantly, -why- it is, and what it is and isn't good for. You'll learn tricks and tips for EJB development, along with tricks and tips for passing this latest, very challenging Sun Certified Business Component Developer (SCBCD) exam. You'll learn how to think like a server. You'll learn how to think like a bean. And because this is a Head First book, you'll learn how to think about thinking. Co-author Kathy Sierra was one of Sun's first employees to teach brave, early adopter customers how to use EJB. She has the scars. But besides dragging you deep into EJB technology, Kathy and Bert will see you through your certification exam, if you decide to go for it. And nobody knows the certification like they do - they're co-developers of Sun's actual exam! As the second book in the Head First series, Head First EJB follows up the number one best-selling Java book in the US, Head First Java. Find out why reviewers are calling it a revolution in learning tough technical topics, and why Sun Chairman and CEO Scott McNealy says, "Java technology is everywhere...if you develop software and haven't learned Java, it's definitely time to dive in "Head First." And with Head First book, you don't even have to feel guilty about having fun while you're learning; it's all part of the learning theory. If the latest research in cognitive science, education, and neurobiology suggested that boring, dry, and excruciatingly painful was the best way to learn, we'd have done it. Thankfully, it's been shown that your brain has a sense of style, a sense of humour, and a darn good sense of what it likes and dislikes. In Head First EJB, you'll learn all about: Component-based and role-based development The architecture of EJB, distributed programming with RMI Developing and Deploying an EJB application The Client View of a Session and Entity bean The Session Bean Lifecycle and Component Contract The Entity bean Lifecycle and Component Contract Container-managed Persistence (CMP) Container-managed Relationships (CMR) EJB-QL Transactions Security EJB Exceptions The Deployment Descriptor The Enterprise Bean Environment in JNDI Programming Restrictions and Portability Patterns and Performance for EJB The book includes over 200 mock exam questions that match the tone, style, difficulty, and topics on the real SCBCD exam. See why Kathy and Bert are responsible for thousands of successful exam-passers-- "The Sun certification exam was certainly no walk in the park, but Kathy's material allowed me to not only pass the exam, but Ace it!" --Mary Whetsel, Sr. Technology Specialist, Application Strategy and Integration, The St. Paul Companies "Kathy Sierra and Bert Bates are two of the few people in the world who can make complicated things seem damn simple, and as if that isn't enough, they can make boring things seem interesting." --Paul Wheaton, The Trail Boss, javaranch.com "Who better to write a Java study guide than Kathy Sierra, reigning queen of Java instruction? Kathy Sierra has done it again. Here is a study guide that almost guarantees you a certification!" --James Cubetta, Systems Engineer, SGI
Sklep: Libristo.pl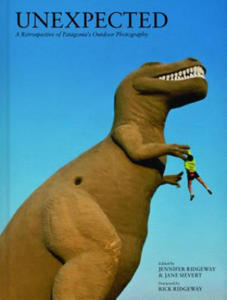 227,49 zł
Książki / Literatura obcojęzyczna
From the peak of a mountain or the barrel of a wave, Patagonia has collected some of the most spectacular sports imagery in history. Relive the achievements captured in Patagonia's history, as well as the joie de vivre fostered by nurturing a relationship with the great outdoors. Unique for a business enterprise, Patagonia's catalog devotes fully half its space to nonselling editorial content -- to environmental and sport essays and above all to extraordinary photographs of wild places and active pursuits for which the company makes its clothes. Since 1980, Patagonia has invited customers and wilderness photographers to submit their best, most unexpected shots of life outdoors -- of alpine climbing, bouldering in the desert, skiing untracked bowls, surfing secret spots, ocean crossings, first kayak descents and travel in unfamiliar places. The photos have poured in ever since (current rate: 60,000 per year), some from the famous (John Russell, Galen Rowell), others from respected photographers (Corey Rich) who had their first work published in these pages. Jane Sievert and Jennifer Ridgeway, Patagonia's current and founding photo editor, respectively, have been calling -- and culling -- the shots for three decades. This is their compendium of the 100-plus most compelling photos Patagonia has published -- and a celebration of wilderness and outdoor-sport photography as an art and a practice.
Sklep: Libristo.pl
Sklepy zlokalizowane w miastach: Warszawa, Kraków, Łódź, Wrocław, Poznań, Gdańsk, Szczecin, Bydgoszcz, Lublin, Katowice
Szukaj w sklepach lub całym serwisie
2. Szukaj na wszystkich stronach serwisu
t1=0.034, t2=0, t3=0, t4=0, t=0.035