krainaksiazek can diets be harmful 20111350
- znaleziono 4 produkty w 1 sklepie 49,97 zł
Got Milked? William Morrow Paperbacks
Książki / Literatura obcojęzyczna
Refuting the milk industry's overwhelmingly popular campaign-"Got Milk?"-which has convinced us that milk is essential, this scientifically based expose proves why we don't need dairy in our daily diets, how our dependence on it is actually making many people sick, and what we can do to change it. Bolstered by the dairy industry and its successful "Got Milk?" advertising campaign launched in California to help declining milk sales, as well as the government's recommended dietary guidelines, many Americans view cow's milk as an essential part of a daily diet, unequaled in providing calcium, protein, and other nutrients and vitamins. Cow's milk has been promoted as a food without substitute, as being necessary and not interchangeable with foods outside the dairy food group. But as food processing and marketing expert Alissa Hamilton reveals, cow's milk is far from essential for good health, and for many, including the majority of American adults who can't properly digest it, milk can actually be harmful. In Got Milked, Hamilton turns a critical eye on the Dairy Food Group and the promotional programs it supports to dispel misconceptions about milk and its crucial role in our health. Interweaving cutting-edge science in a lively narrative, Got Milked opens our eyes to the many ways in which dairy can actually be harmful to our bodies. In addition, the book offers simple and tasty food and drink swaps that deliver the same nutrients found in milk products, without all the sugar, saturated fat and negative side effects. Complete with delicious dairy-free recipes and full meal plans for "Making it Without Milk," Got Milked is a unique, substantive, and important look into an industry that has hugely impacted our diets and our lives.
Sklep: Libristo.pl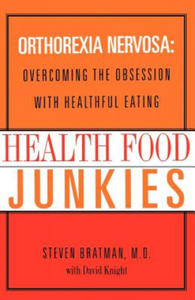 92,01 zł
Książki / Literatura obcojęzyczna
The first book to identify the eating disorder orthorexia nervosa-an obsession with eating healthfully-and offer expert advice on how to treat it. As Americans become better informed about health, more and more people have turned to diet as a way to lose weight and keep themselves in peak condition. Anorexia nervosa and bulimia nervosa-disorders in which the sufferer focuses on the quantity of food eaten-have been highly documented over the past decade. But as Dr. Steven Bratman asserts in this breakthrough book, for many people, eating "correctly" has become an equally harmful obsession, one that causes them to adopt progressively more rigid diets that not only eliminate crucial nutrients and food groups, but ultimately cost them their overall health, personal relationships, and emotional well-being. Health Food Junkies is the first book to identify this new eating disorder, orthorexia nervosa, and to offer detailed, practical advice on how to cope with and overcome it. Orthorexia nervosa occurs when the victim becomes obsessed, not with the "quantity of food eaten, but the "quality of the food. What starts as a devotion to healthy eating can evolve into a pattern of incredibly strict diets; victims become so focused on eating a "pure" diet (usually raw vegetables and grains) that the planning and preparation of food come to play the dominant role in their lives. Health Food Junkies provides an expert analysis of some of today's most popular diets-from The Zone to macrobiotics, raw-foodism to food allergy elimination-and shows not only how they can lead to orthorexia, but how they are often built on faulty logic rather than sound medical advice. Offering expert insightgleaned from his work with orthorexia patients, Dr. Bratman outlines the symptoms of orthorexia, describes its progression, and shows readers how to diagnose the condition. Finally, Dr. Bratman offers practical suggestions for intervention and treatment, giving readers the tool
Sklep: Libristo.pl 69,53 zł
Książki / Literatura obcojęzyczna
How to take the Paleo Diet to the max for optimal weight loss and total health--from bestselling author and top Paleo expert Dr. Loren Cordain Dr. Loren Cordain's bestselling The Paleo Diet and The Paleo Diet Cookbook have helped hundreds of thousands of people eat for better health and weight loss by following the diet humans were genetically designed to eat: meats, fish, fresh fruits, vegetables, nuts and other foods that mimic the diet of our Paleolithic ancestors. In The Paleo Answer , he shows you how to supercharge the Paleo Diet for optimal lifelong health and weight loss. Featuring a new prescriptive 7-day plan and surprising revelations from the author's original research, this is the most powerful Paleo guide yet. Based on the author's groundbreaking research on Paleolithic diet and lifestyle Includes a new 7-day plan with recommended meals, exercise routines, lifestyle tips, and supplement recommendations Reveals fascinating findings from the author's research over the last decade, such as why vegan and vegetarian diets are not healthy and why dairy, soy products, potatoes, and grains can be harmful to our health Includes health and weight-loss advice for all Paleo dieters--women, men, and people of all ages--and is invaluable for CrossFitters and other athletes Written by Dr. Loren Cordain, the world's leading expert on Paleolithic eating styles internationally regarded as the founder of the Paleo movement Whether you've been following a Paleo-friendly diet and want to take it to the next level or are just discovering the benefits of going Paleo, this book will help you follow the Paleo path to the fullest--for lifelong health, increased energy, better sleep, lower stress and weight loss.
Sklep: Libristo.pl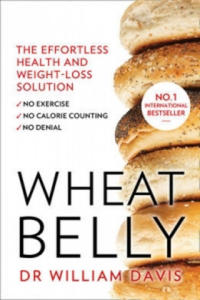 49,97 zł
Wheat Belly HarperCollins Publishers Ltd
Książki / Literatura obcojęzyczna
Renowned cardiologist William Davis explains how eliminating wheat from our diets can prevent fat storage, shrink unsightly bulges and reverse myriad health problems. Every day we eat food products made of wheat. As a result millions of people experience some form of adverse health effect, ranging from minor rashes and high blood sugar to the unattractive stomach bulges that preventative cardiologist William Davis calls 'wheat bellies'. According to Davis, that fat has nothing to do with gluttony, sloth or too much butter: it's down to the whole grain food products so many people eat for breakfast, lunch and dinner. After witnessing over 2,000 patients regain their health after giving up wheat, Davis reached the disturbing conclusion that wheat is the single largest contributor to the nationwide obesity epidemic - and its elimination is key to dramatic weight loss and optimal health. In Wheat Belly Davis exposes the harmful effects of what is actually a product of genetic tinkering being sold to the public as 'wheat' and provides readers with a user-friendly, step-by-step plan to navigate a new, wheat-free lifestyle. Benefits include: substantial weight loss, correction of cholesterol abnormalities, relief from arthritis, mood benefits and prevention of heart disease. Informed by cutting-edge science and nutrition, and numerous case studies, Wheat Belly is an illuminating look at what is truly making us sick.
Sklep: Libristo.pl
Sklepy zlokalizowane w miastach: Warszawa, Kraków, Łódź, Wrocław, Poznań, Gdańsk, Szczecin, Bydgoszcz, Lublin, Katowice
Szukaj w sklepach lub całym serwisie
2. Szukaj na wszystkich stronach serwisu
t1=0.017, t2=0, t3=0, t4=0, t=0.017