krainaksiazek cancer of unknown primary 20045129
- znaleziono 4 produkty w 3 sklepach 1985,59 zł
Książki / Literatura obcojęzyczna
The seventh volume of the series, Methods of Cancer Diagnosis, Therapy, and Prognosis, discusses General Methods, Overviews, Head and Neck Cancer, and Thyroid Cancer. As in the other six volumes of the series, these subjects are discussed in detail.§This fully illustrated volume presents overviews in Radio-immunotherapy in Cancer, Multidrug Resistance, Cancer Biomarkers, Role of Antibodies in Cancer Treatment, Classification of Cancer Stage Using Patient s Immune System, Cancer Stem Cells, General methods discussed are, Translating In Vitro Cell Lines Result into Clinical Practice, Late Relapse of Germ Cell Malignancies, Role of RNA Interference in Understanding the Molecular Bases of Cancer, Incorporating Pharmacogenomics into Cancer Therapy, Tumor Angiogenesis in Cancer, Spindle Cell Oncocytoma of the Adenohypophysis, Chemotherapy-Induced Neurotoxicity, Disseminated Carcinoma of Unknown Primary Site, Unknown Lymphadenopathy.§In part 2 of this volume Head and Neck Squamous Cell Carcinoma, Early Stage Oral Squamous Cell Carcinoma, Salivary Gland Tumors, Retinoblastoma, Tongue Cancer Metastasis, Role of Human Papilloma Virus in Tonsillar Cancer and Nasopharyngeal Carcinoma are discussed.§Part 3 discusses in detail Thyroid Carcinoma, including Papillary Thyroid Carcinoma, Molecular Genetics of the Thyroid, Medullary Thyroid Carcinoma, PET Imaging in Thyroid carcinoma, Thyroid Cancer and Markers for Diagnosis, Metastasized Medullary Thyroid Carcinoma, and Prognostic Factors in Thyroid Carcinoma.§The information presented in this volume should help in the development of novel, more effective therapeutic approaches for the treatment of head and neck cancer and thyroid cancer.§Professor Hayat has summarized the problems associated with the complexities of research publications and has been successful in editing a must-read volume for oncologists, cancer researchers, medical teachers and students of cancer biology.
Sklep: Libristo.pl 42,83 zł
Książki > Zdrowie. Medycyna. Uroda > Medycyna
Książki Jerzego Zięby Ukryte Terape doczekała się wersji angielskiej! Doświadczenie autora w naturoterapii sięga już przeszło dwudziestu lat. Zagadnieniem, nad którym najwięcej w tym czasie pracował, były naturalne metody leczenia i zapobiegania przewlekłym nowotworom. Lata badań i analiz przyczyniły się do powstania
Sklep: ksiazki-naukowe.pl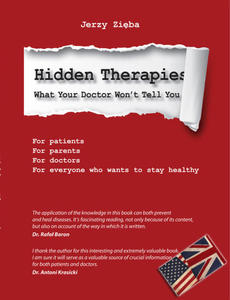 41,99 zł
Medycyna > English Division
Książki Jerzego Zięby Ukryte Terape doczekała się wersji angielskiej! Doświadczenie autora w naturoterapii sięga już przeszło dwudziestu lat. Zagadnieniem, nad którym najwięcej w tym czasie pracował, były naturalne metody leczenia i zapobiegania przewlekłym nowotworom. Lata badań i analiz przyczyniły się do powstania
Sklep: Ksiazki-medyczne.eu 152,23 zł
Symptoms Books LLC, Reference Series
Książki / Literatura obcojęzyczna
Source: Wikipedia. Pages: 155. Chapters: Delusion, Anxiety, Paralysis, Dehydration, Perspiration, Fever, Myalgia, Canga's bead symptom, Constipation, Low back pain, Hyperkinesia, Intrusive thoughts, Alexithymia, Hangover, Amaurosis fugax, Micropsia, Itch, Traveler's diarrhea, Macropsia, Flashback, Weakness, Tardive dyskinesia, Dysmetria, Muscle weakness, Allodynia, Subclinical infection, Oropharyngeal dysphagia, Shyness, Hypersexuality, Bloating, Hypotonia, Aboulia, Coprolalia, Tic, Directed attention fatigue, Amenorrhoea, Sickness behavior, Influenza-like illness, Medically unexplained physical symptoms, Delusional parasitosis, Depression, Anosognosia, Hysteria, Superior canal dehiscence, Hemiplegia, Alopecia, Heartburn, Mucositis, Pain scale, Psychogenic non-epileptic seizures, Passive-aggressive behavior, Confabulation, Pruritus ani, Fever of unknown origin, Closed-eye hallucination, Erythema chronicum migrans, Cancer-related fatigue, Cataplexy, Hyperactivity, Gelastic seizure, Chest pain, Paronychia, Drooling, Hyperfocus, Bronchorrhea, Primary polydipsia, Tonic-clonic seizure, Pathognomonic, Periorbital dark circles, Herxheimer reaction, Aura, Pseudologia fantastica, Rhinorrhea, Galactorrhea, Anhedonia, Flaccid paralysis, Form constant, Fixed fantasy, Cognitive dysfunction, Tourettism, Vaginal bleeding, Globus pharyngis, Intermittent claudication, Asymptomatic, Periodic fever, aphthous stomatitis, pharyngitis and adenitis, Oculogyric crisis, Formication, Lightheadedness, Pel-Ebstein fever, Complex partial seizure, Acrodermatitis chronica atrophicans, Hematemesis, Hairy leukoplakia, Prodrome, Hypoglycemia, Ambivalence, Dysesthesia, Anosodiaphoria, Radial neuropathy, Beeturia, Hypoventilation, Self-hatred, B symptoms, Cardiac asthma, Glossodynia, Chancre, Tullio phenomenon, Jacksonian seizure, Exercise intolerance, Athymhormia, Janeway lesion, Drop attack, Tachypnea, Angor animi, Monoarthritis, Rheum, Postoperative fever, Renal colic, The great imitator, SLUDGE syndrome, Fidgeting, Autophony, Hypervigilance, Carotidynia, Splinter hemorrhage, Exercise induced nausea, Facet syndrome, Weather pains, Hospital Anxiety and Depression Scale, Pseudodiarrhea, Paradoxical laughter, Cryptogenic disease, Waxy flexibility, Avolition, Cardinal sign, Enanthem, Camptocormia, Butterflies in the stomach, Disordered eating, Premorbid personality, Automatic behavior, Haemolacria, Carphologia, Overeating, Black pox, Tetanic contraction, Phrenitis, FLACC scale, Hyperreflexia, Pseudohallucination, March hemoglobinuria, Myxedematous psychosis, Chills, Vaginal discharge, Bubo, Collapse, Presyncope, Platypnea, Low frustration tolerance, Hyperpnea, Orchialgia, Psychotic break, Smoker's cough, Strangury, Palsy, Oscillopsia, Mucopurulent discharge, Abadie's sign, Target lesion, Productive cough, Joint locking, Constitutional symptoms, Myerson's sign, Abadie's symptom, Disequilibrium, Hypoesthesia, Obdormition, Stretch syncope, Apyrexy, Hyperacidity, Hypoactivity, Menolipsis. Excerpt: Low back pain (or lumbago, English pronunciation: ) is a common musculoskeletal disorder affecting 80% of people at some point in their lives. In the United States it is the most common cause of job-related disability, a leading contributor to missed work, and the second most common neurological ailment - only headache is more common. It can be either acute, subacute or chronic in duration. With conservative measures, the symptoms of low back pain typically show significant improveme...
Sklep: Libristo.pl
Sklepy zlokalizowane w miastach: Warszawa, Kraków, Łódź, Wrocław, Poznań, Gdańsk, Szczecin, Bydgoszcz, Lublin, Katowice
Szukaj w sklepach lub całym serwisie
2. Szukaj na wszystkich stronach serwisu
t1=0.028, t2=0, t3=0, t4=0.024, t=0.028