krainaksiazek career as a cartoon artist animator 20090841
- znaleziono 7 produktów w 2 sklepach 89,99 zł
Książki Obcojęzyczne>Angielskie>Children
A Career Guide To Animation. It Features Profiles Of Working Professionals.
Sklep: Gigant.pl 97,26 zł
Książki / Literatura obcojęzyczna
Source: Wikipedia. Pages: 69. Chapters: Koji Yamamura, Dean DeBlois, Seymour Kneitel, Mark Osborne, Chris Wedge, John Pomeroy, Morio Asaka, Jon Kinyon, Chris Sanders, Rony Oren, Charles-Émile Reynaud, Gábor Csupó, Armand Serrano, Milt Kahl, Hank Smith, Darrell Van Citters, Cody Cameron, Yuji Moriyama, Glenn McQueen, Ralph Zondag, Carlos Baena, Tom McGrath, Chris Jenkins, Maxwell Atoms, Burt Gillett, Arthur Davis, Eric Goldberg, Mike B. Anderson, Andy Engman, Masaru Kitao, James Baxter, Earl Duvall, Yoni Goodman, Bob Peterson, John David Wilson, Craig Clark, Cordell Barker, Noburo Ofuji, Aaron Augenblick, Don Towsley, Stanislav Sokolov, Tony Anselmo, Ronnie del Carmen, Suzie Templeton, Yoshinori Kanada, Myron Waldman, Bill Davis, Phil Nibbelink, Ed Benedict, George Scribner, Milan Blazekovic, T. Hee, John R. Dilworth, Jack Kinney, Charles Bonifacio, Manuel García Ferré, Matt Weitzman, Stephen Bosustow, Brice Mack, Russ Edmonds, Lauren MacMullan, Ryuji Masuda, Will Finn, Volus Jones, Kenzo Masaoka, Ferenc Rofusz, Pete List, Mike Milo, Carlos Saldanha, Reiko Okuyama, Bibo Bergeron, Mike Gabriel, Shingo Kobayashi, Bernard Derriman, Sam Fell, Jono Howard, Rudy Larriva, Michčle Cournoyer, Viking Eggeling, Frank Braxton, Jennifer Oxley, Gerry Chiniquy, Pete Burness, Noah Z. Jones, Art Stevens, Iginio Straffi, Peter Hixson, Zlatko Grgic, Rob Renzetti, Edwin Gillette, Bryan Brinkman, Ken Harris, Brian Pimental, David Hilberman, Cy Young, Chris Kientz, Rod Scribner, Cal Dalton, David Feiss, Greg Reyna, Christopher Hinton, Tod Carter, Jeffrey J. Varab, Michael Lah, Tetsuro Araki, Anthony DeRosa, Vicky Jenson, Vladimir Tarasov, Clyde Henry Productions, Phyllis Barnhart, John Weldon, Vincent Waller, Moran Caouissin, Jack Cutting, Jill Culton, William Pomerance, Kiyoshi Kohatsu, Vladimír Jiránek, Josy Eisenberg, Natalie Turner, Bill Nolan, Anthony Stacchi, David H. DePatie, Pete Michels, Nicholas Tafuri, Ted Sears, Earl Hurd, Garri Bardin, Leonid Amalrik, Dan Scanlon, Dick Lundy, Erik Wernquist, Yevgeniy Migunov, Attila Dargay, Ferenc Cakó, Charles August Nichols, Wan brothers, Vanitha Rangaraju, Emery Hawkins, Chuck Sheetz, Don Patterson, Isadore Sparber, Asaph Fipke, Sarah de Gaudemar, Mike Thurmeier, Martin Taras, Robert Sahakyants, Jacques Rouxel, Jim Pabian, Lev Milchin, Roy Williams, Joshua Meador, Chris Bailey, Larry Schwarz, Richard Markle, Carman Maxwell, Chris Tulloch, Bill "Tex" Henson, Leonid Shvartsman, Teddy Newton, Ellen Woodbury, Jim Smith, Bay Raitt, Mark Gravas, Davis Doi, Jeffrey Lynch, John Freeman, Neil Affleck, Paul Rudish, Atsuko Tanaka, Aaron Springer, Wladyslaw Nehrebecki, Al Eugster, Mark Baker, Katarina Löfström, Andy Symanowski, Eric Berthier, Mike Johnson, Len Glasser, Max Alessandrini, Mr. Niko, Witold Giersz, Tom Snyder, Peter Maddocks, David Pruiksma, Vincent Chalvon-Demersay, Neal Sternecky, Ron Husband, Ed Love, Melissa Goodwin, Serge Danot, Nikolay Petrovich Fyodorov, David Rose, Bassam Kurdali, Tsuneo Goda, James Ford Murphy, Pierre DeCelles, Zsolt Richly, George Gordon, Jen Kamerman, Annie Poon, Rudy Zamora, Hiroki Kanno, Patrick Roy, Ken Boyer, Bob Richardson, Ryoki Kamitsubo, Alan Bunce. Excerpt: Koji Yamamura Yamamura Koji, born June 4, 1964) is a Japanese independent animator who, since leaving a career as a background artist at an animation studio, currently directs, writes, edits, animates, creates the model sheets and background art for and sometimes produces his own short films and has wor...
Sklep: Libristo.pl 194,99 zł
Książki Obcojęzyczne>Nieprzypisane
This Collection Of Interviews With The Renowned Filmmaker, Animator, Artist And Member Of The Monty Python Comedy Troupe Covers The Phases Of His Career From His Early Work As A Cartoonist And Animator Through His Most Recent And Most Difficult Projects.
Sklep: Gigant.pl 165,66 zł
Książki / Literatura obcojęzyczna
Explore the intersections of art, society, and the Asian American experience with Cute Grit, the debut collection of digitally designed pop art by Japanese American artist Enfu. So named for its fanciful, yet edgy style, Cute Grit includes more than one hundred eye-popping illustrations that merge childlike imagination with serious exploration of Asian American identity in contemporary times. Reconstructing familiar iconography of American and Japanese culture, Cute Grit creates conversations about the social and cultural intersections between East and West, not only in subject matter, but in the architectural daydream that is Enfu's personal aesthetic. Bold images of cityscapes, cartoon characters, landmarks, and cosplayers are arranged to chronicle the evolution of Enfu's prolific career, exploring not only the cultural paradigm shifts encountered while straddling Japanese, American, and Asian American identities, but also the whimsy of childhood as seen through the eyes of a young father. Enfu is a Japanese American graphic artist whose work includes video games, illustrations, and bilingual comics. Enfu makes his living in the video-game industry as a developer for titles such as Halo 3 (Xbox 360), Scribblenauts Unmasked (Wii U, PC, 3DS), and Condemned (Xbox), among others. His pop art illustrations can be seen in stores and restaurants across the Pacific Northwest, and his popular comic, I Fart Rainbow, enjoys success at ifartrainbow.com. Enfu lives in Bellevue, Washington, with his wife and daughter.
Sklep: Libristo.pl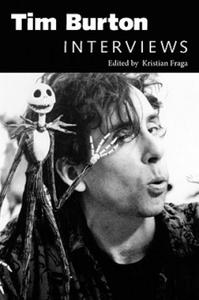 104,27 zł
Tim Burton University Press of Mississippi
Książki / Literatura obcojęzyczna
Starting his career as an animator for Disney, Tim Burton made his feature film directorial debut with the visually dazzling, low-budget "Pee-Wee's Big Adventure." When it became a surprise blockbuster, studios began to trust him with larger budgets and the whims of his expansive imagination. Mixing gothic horror, black comedy, and oddball whimsy, Burton's movies veer from childlike enchantment to morbid melancholy, often with the same frame. His beautifully designed and highly stylized films-including "Batman," "Edward Scissorhands," "Beetlejuice," "Big Fish," "Sleepy Hollow," and "Ed Wood"-are idiosyncratic, personal visions that have found commercial success. In "Tim Burton: Interviews," the director discusses how animation and art design affect his work, how old horror films have deeply influenced his psyche, why so many of his protagonists are outcasts, and how he's managed to make personal films within the Hollywood system. He gives tribute to writers he's worked with, his favorite actors-including Johnny Depp and Vincent Price-and talks enthusiastically about pulp horror fiction and the works of Edgar Allan Poe. These interviews show his progression from an inarticulate young director to a contemplative and dry-witted artist over the course of twenty years. In later interviews, he opens up about being in therapy and how his childhood fantasies still affect his art. "Tim Burton: Interviews" reveals a man who has managed to thrive inside Hollywood while maintaining the distinctive quirks of an independent filmmaker. Kristian Fraga, New York City, wrote and directed the award-winning PBS documentary "The Inside Reel: Digital Filmmaking." He is a founding partner of Sirk Productions, LLC, a Manhattan-based film and television production company.
Sklep: Libristo.pl 133,61 zł
Książki / Literatura obcojęzyczna
Easy-to-read, compelling text paired with color photos introduces young readers to the remarkable life of Walt Disney. Readers will learn about Disneys childhood, education, and career as a groundbreaking animator and entrepreneur. Disneys early interest and talent as an artist and cartoonist are discussed, including his work in advertising and the formation of Walt Disney Company. Also included are Disneys famous animated movies and characters, such as Mickey Mouse, as well as the making of Disneyland and Disney World. Disneys marriage to Lilly Bounds and their daughters, Diane and Sharon, are also covered. Features include maps, a timeline, a glossary with phonetic spellings, and an index. Buddy Books is an imprint of ABDO Publishing Company.
Sklep: Libristo.pl 119,99 zł
Książki Obcojęzyczne>Angielskie>The arts>Industrial / commercial art & design>Illustration & commercial art>Comic book & cartoon art
A Collection Of Hundreds Of Full-colour Illustrations And Pencils Spanning The Entire Career Of The Successful And Popular Artist Jim Lee. It Includes His Work On Batman' And Superman, Vertigo Titles, And WildStorm Heroes Wild CATs, Divine Right And
Sklep: Gigant.pl
Sklepy zlokalizowane w miastach: Warszawa, Kraków, Łódź, Wrocław, Poznań, Gdańsk, Szczecin, Bydgoszcz, Lublin, Katowice
Szukaj w sklepach lub całym serwisie
2. Szukaj na wszystkich stronach serwisu
t1=0.027, t2=0, t3=0, t4=0, t=0.027