krainaksiazek career as a certified medical assistant 20090842
- znaleziono 8 produktów w 4 sklepach 448,98 zł
Książki / Literatura obcojęzyczna
Prepare for a successful career in medical assisting! Kinn's The Medical Assistant, 12th Edition helps you learn the real-world administrative and clinical skills essential to working in the health care setting. Administrative coverage ranges from professionalism and interpersonal skills to billing and coding and electronic health records; clinical content teaches how to assist with medications, diagnostic procedures, and surgeries. And no other comprehensive medical assisting text can match its coverage of assisting with medical specialties! Written by medical assisting experts Alexandra Adams and Deborah Proctor, this classic resource also includes an Evolve companion website with practical exercises and activities, videos, and review questions for the CMA and RMA certification exams.
Sklep: Libristo.pl 303,25 zł
Książki / Literatura obcojęzyczna
This programme review and exam preparation text is designed as a resource tool for medical assistants at any stage of their career. It provides an overview of materials for students and graduates taking the national certification exams, as well as enhances skills of current medical assistants. The text features an outline format with key terms, summary boxes and review questions.
Sklep: Libristo.pl 202,10 zł
Zdrowie, medycyna
Administrative Procedures for Medical Assisting, 2nd edition addresses the most current competencies for CMA certification, CPR procedures, coding and insurance billing requirements, HIPAA regulations, and OSHA guidelines. It retains its thorough coverage of procedures. It trains students on medical office administrative procedures and equipment, infection control, and much more.Online Learning Center offers extensive chapter-specific applications and links, PowerWeb, Get Body Smart and much more. Cartridges for Distance Education are now available: WebCT, Blackboard, and eCollege.|Student CD-ROM with applications for each chapter in the text. Includes "A Day in the Life of the Medical Assistant" case studies, video clip library, audio glossary and more.|Updated and expanded information includes:*Current coding and billing practices, including HIPAA.*Use of technology in the medical office - especially more and varied uses of the Internet, including web site development, patient education, billing and coding.*OSHA issues.|Instructor's Resource Binder includes lesson plans, teaching strategies, tests and answers, SCANS competency correlation, and CMA and RMA correlation charts. Instructor Productivity CD-ROM includes full-color image bank, PowerPoint presentations, and ExamView Pro test generator.|Strong pedagogy, including boxed readings and end-of-chapter material add educational value: *Glossary includes pronunciation guide so students learn proper pronunciation of medical terms. *Career Opportunities provide information about additional careers available for medical assistants. *Educating the Patient shows how to provide the detailed instructions patients need to carry out their physician's orders. *Diseases and Disorders provides information on common medical conditions. *Tips for the Office offers suggestions for efficiently running a medical office. *End-of-chapter questions and activities help students assess their progress. |All step-by-step medical office and medical equipment procedures are fully-illustrated to show students proper techniques.|Workbook helps students prepare for the CMA exam with exercises, competency checklists, quizzes, supplemental case studies, and more|Triage, both telephone and office.
Sklep: Albertus.pl 235,49 zł
Książki / Literatura obcojęzyczna
The product of six years of collaborative research, this fine biography offers new interpretations of a pioneering figure in anaesthesiology, epidemiology, medical cartography, and public health. It modifies the conventional rags to riches portrait of John Snow by synthesising fresh information about his early life from archival research and recent studies. It explores the intellectual roots of his commitments to vegetarianism, temperance, and pure drinking water, first developed when he was a medical apprentice and assistant in the north of England. The authors argue that all of Snow's later contributions are traceable to the medical paradigm he imbibed as a medical student in London and put into practice early in his career as a clinician: that medicine as a science required the incorporation of recent developments in its collateral sciences, chiefly anatomy, chemistry, and physiology, in order to understand the causes of disease. Snow's theoretical breakthroughs in anaesthesia were extensions of his experimental research in respiratory physiology and the properties of inhaled gases. Shortly thereafter, his understanding of gas laws led him to reject miasmatic explanations for the spread of cholera, and to develop an alternative theory in consonance with what was then known about chemistry and the physiology of digestion. Using all of Snow's writings, the authors follow him when working in his home laboratory, visiting patients throughout London, attending medical society meetings, and conducting studies during the cholera epidemics of 1849 and 1854. The result is a book that demythologises some overly heroic views of Snow by providing a fairer measure of his actual contributions. It will have an impact not only on the understanding of the man but also on the history of epidemiology and medical science.
Sklep: Libristo.pl 78,60 zł
Książki / Literatura obcojęzyczna
Charles Chatman believed he would die in a Texas prison. He was sent there at age 21, convicted of raping a 52 year old white woman in his neighborhood, and sentenced to 99 years. The victim had picked his picture out of a line-up and the jury had ignored the testimony of his witnesses, that he was at work when the rape occurred. His court-appointed attorney made feeble efforts to defend him. He had served 27 years when Michelle Moore, a public defender working with the Innocence Project of Texas arranged a DNA test which proved him innocent, and District Judge John Creuzot ordered him released from prison. Richard Miles was more fortunate. After he had served 14 years of a 40 year sentence for murder, investigators for Centurion Ministries discovered police reports which had been hidden from him and his attorney, Ed Gray. A new trial was ordered, then the sole witness who had identified Miles recanted his testimony and claimed that he had been instructed to lie by a Dallas prosecutor. Over 250 prisoners in the U.S. have been exonerated in the last 20 years, some on death row and others serving long sentences. DNA testing has freed the majority, proof of false identification and misconduct by police and prosecutors the others. Dallas County, with one percent of the U.S. population, has accounted for 25 wrongful convictions, ten percent of the total. Henry Wade, Dallas County District Attorney for 32 years, ran the most aggressive and successful prosecutor's office in the country. Ed Gray, as Assistant District Attorney and criminal defense attorney had a ringside seat to the Henry Wade era. In these pages he explains how some of the innocent were convicted. TOUGH JUSTICE is the first book which attempts to portray the career and the history of Henry Wade, the most famous prosecutor in the history of Texas and perhaps the United States. After graduating from the University of Texas Business School and Southern Methodist University School of Law, Ed Gray was a civil law firm associate when he was appointed to represent an indigent defendant in Dallas District Court in 1969. In his first trial, Ed won a Not Guilty verdict and a job offer from District Attorney Henry Wade. He was quickly promoted to Felony Court, where he led the Dallas D. A.'s office in trials and convictions for the next four years. He was lead counsel in 15 murder trials, 13 attempted murder and aggravated assault trials, 8 rape trials, and 49 robbery trials resulting in sentences as high as death and 1200 years and only one Not Guilty verdict. Ed Gray has been a board certified criminal defense attorney since 1975, and has tried 525 criminal jury trials in state and federal courts.
Sklep: Libristo.pl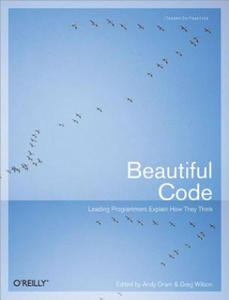 191,96 zł
Książki / Literatura obcojęzyczna
How do the experts solve difficult problems in software development? In this unique and insightful book, leading computer scientists offer case studies that reveal how they found unusual, carefully designed solutions to high-profile projects. You will be able to look over the shoulder of major coding and design experts to see problems through their eyes. This is not simply another design patterns book, or another software engineering treatise on the right and wrong way to do things. The authors think aloud as they work through their project's architecture, the tradeoffs made in its construction, and when it was important to break rules. "Beautiful Code" is an opportunity for master coders to tell their story. All author royalties will be donated to Amnesty International. The book includes the following contributions: "Beautiful Brevity: Rob Pike's Regular Expression Matcher" by Brian Kernighan, Department of Computer Science, Princeton University; "Subversion's Delta Editor: Interface as Ontology" by Karl Fogel, editor of "QuestionCopyright.org", Co-founder of Cyclic Software, the first company offering commercial CVS support; "The Most Beautiful Code I Never Wrote" by Jon Bentley, Avaya Labs Research; "Finding Things" by Tim Bray, Director of Web Technologies at Sun Microsystems, co-inventor of XML 1. 0; "Correct, Beautiful, Fast (In That Order): Lessons From Designing XML Validators" by Elliotte Rusty Harold, Computer Science Department at Polytechnic University, author of "Java I/O, Java Network Programming", and "XML in a Nutshell" (O'Reilly); and, "The Framework for Integrated Test: Beauty through Fragility" by Michael Feathers, consultant at Object Mentor, author of "Working Effectively with Legacy Code" (Prentice Hall). It also includes: "Beautiful Tests" by Alberto Savoia, Chief Technology Officer, Agitar Software Inc; "On-the-Fly Code Generation for Image Processing" by Charles Petzold, author "Programming Windows and Code: The Hidden Language of Computer Hardware and Software" (both Microsoft Press); "Top Down Operator Precedence" by Douglas Crockford, architect at Yahoo! Inc, Founder and CTO of State Software, where he discovered JSON; "Accelerating Population Count" by Henry Warren, currently works on the Blue Gene petaflop computer project Worked for IBM for 41 years; "Secure Communication: The Technology of Freedom" by Ashish Gulhati, Chief Developer of Neomailbox, an Internet privacy service Developer of Cryptonite, an OpenPGP-compatible secure webmail system; and, "Growing Beautiful Code in BioPerl" by Lincoln Stein, investigator at Cold Spring Harbor Laboratory - develops databases and user interfaces for the Human Genome Project using the Apache server and its module API. It also includes: "The Design of the Gene Sorter" by Jim Kent, Genome Bioinformatics Group, University of California Santa Cruz; "How Elegant Code Evolves With Hardware: The Case Of Gaussian Elimination" by Jack Dongarra, University Distinguished Professor of Computer Science in the Computer Science Department at the University of Tennessee, also distinguished Research Staff member in the Computer Science and Mathematics Division at Oak Ridge National Laboratory (ORNL) and Piotr Luszczek, Research Professor at the University of Tennessee; "Beautiful Numerics" by Adam Kolawa, co-founder and CEO of Parasoft; and, "The Linux Kernel Driver Model" by Greg Kroah-Hartman, SuSE Labs/Novell, Linux kernel maintainer for driver subsystems, author of "Linux Kernel in a Nutshell", co-author of "Linux Device Drivers, 3rd Edition" (O'Reilly). It also includes: "Another Level of Indirection" by Diomidis Spinellis, Associate Professor at the Department of Management Science and Technology at the Athens University of Economics and Business, Greece; "An Examination of Python's Dictionary Implementation" by Andrew Kuchling, longtime member of the Python development community, and a director of the Python Software Foundation; "Multi-Dimensional Iterators in NumPy" by Travis Oliphant, Assistant Professor in the Electrical and Computer Engineering Department at Brigham Young University; and, "A Highly Reliable Enterprise System for NASAs Mars Rover Mission" by Ronald Mak, co-founder and CTO of Willard & Lowe Systems, Inc, formerly a senior scientist at the Research Institute for Advanced Computer Science on contract to NASA Ames. It also includes: "ERP5: Designing for Maximum Adaptability" by Rogerio de Carvalho, researcher at the Federal Center for Technological Education of Campos (CEFET Campos), Brazil and Rafael Monnerat, IT Analyst at CEFET Campos, and an offshore consultant for Nexedi SARL; "A Spoonful of Sewage" by Bryan Cantrill, Distinguished Engineer at Sun Microsystems, where he has spent most of his career working on the Solaris kernel; "Distributed Programming with MapReduce" by Jeff Dean and Sanjay Ghemawat, Google Fellows in Google's Systems Infrastructure Group; "Beautiful Concurrency" by Simon Peyton Jones, Microsoft Research, key contributor to the design of the functional language Haskell, and lead designer of the Glasgow Haskell Compiler (GHC); and, "Syntactic Abstraction: The syntax-case expander" by Kent Dybvig, Developer of Chez Scheme and author of the Scheme Programming Language. It also includes: "Object-Oriented Patterns and a Framework for Networked Software" by William Otte, a Ph.D. student in the Department of Electrical Engineering and Computer Science (EECS) at Vanderbilt University and Doug Schmidt, Full Professor in the Electrical Engineering and Computer Science (EECS) Department, Associate Chair of the Computer Science and Engineering program, and a Senior Research Scientist at the Institute for Software Integrated Systems (ISIS) at Vanderbilt University; "Integrating Business Partners the RESTful Way" by Andrew Patzer, Director of the Bioinformatics Program at the Medical College of Wisconsin; and, "Beautiful Debugging" by Andreas Zeller, computer science professor at Saarland University, author of "Why Programs Fail: A Guide to Systematic Debugging" (Morgan Kaufman). It also includes: "Code That's Like an Essay" by Yukihiro Matsumoto, inventor of the Ruby language; "Designing Interfaces Under Extreme Constraints: the Stephen Hawking editor" by Arun Mehta, professor and chairman of the Computer Engineering department of JMIT, Radaur, Haryana, India; "Emacspeak: The Complete Audio Desktop" by TV Raman, Research Scientist at Google where he focuses on web applications; "Code in Motion" by Christopher Seiwald, founder and CTO of Perforce Software and Laura Wingerd, vice president of product technology at Perforce Software, author of "Practical Perforce" (O'Reilly); and, "Writing Programs for 'The Book'" by Brian Hayes who writes the Computing Science column in American Scientist magazine, author of "Infrastructure: A Field Guide to the Industrial Landscape"(W.W. Norton).
Sklep: Libristo.pl 87,49 zł
Książki Obcojęzyczne>Angielskie>Lifestyle, sport & leisure>Sports & outdoor recreation>Ball games>Football (Soccer, Association footbal...
Alex Totten's Incredible 50-year Football Career, From Playing At Liverpool To Serving At Some Of Scotland's Biggest And Best-loved Clubs. After Two Years As Assistant At Ibrox, The Ever-popular 'Totts' Bossed St Johnstone To The Premier League. Next To Killie And His Beloved Falkirk - Fighting Both Liquidation And A Deadly Medical Condition.
Sklep: Gigant.pl
Sklepy zlokalizowane w miastach: Warszawa, Kraków, Łódź, Wrocław, Poznań, Gdańsk, Szczecin, Bydgoszcz, Lublin, Katowice
Szukaj w sklepach lub całym serwisie
2. Szukaj na wszystkich stronach serwisu
t1=0.071, t2=0, t3=0, t4=0.022, t=0.071