krainaksiazek century of english farce 20107071
- znaleziono 4 produkty w 2 sklepach 72,49 zł
Książki>Nauka języków>Język AngielskiKsiążki>Książki Audio / Słuchowiska
2. Prologue 3. The Greek Drama 4. Greek Tragedy 5. Greek Theatres 6. Oedipus: 'Torment, Torment...' 7. Greek Acting 8. Greek Comedy 9. Kinesias: It's O, So Long Since You And I Have Known The Rites Of Love! - Won't You Come Back, My Ow 10. Roman Theatre 11. The Medieval Theatre: Its Origins 12. '1st. Voice: While The Third Lesson Is Being Chanted Let 4 Brethren Vest Themselves...' 13. Growth And Development Of Mystery Plays 14. 'The Effect Associated With Heaven And Hell Were Veritably Prodigious' Description Of Stage Machiner 15. 'God: Ego Sum Alpha Et Omega, Vita, Via, Veritas, Primus En Nouissimus.' 16. Development Of Miracle And Morality Plays 17. The Italian Commedia Dell'arte 18. The Elizabethan Theatre 19. The Structure Of A Playhouse - Description Of Burbage's Acting By Richard Flecknoe 20. '...think When We Talk Of Horses That You See Them Printing Their Proud Hoofs I' The Receiving Earth 21. An Attack On The Theatre By John Stockwood 1587 22. Christopher Marlowe And His Contemporaries 23. Tamburlaine: 'Forsake Thy King, And Do But Join With Me, And We Will Triumph Over All The World' 124. Faustus: 'The Stars Move Still, Time Runs, The Clock Will Strike, The Devil Will Come, And Faustus M 125. William Shakespeare (1546-1616) And His Plays 126. Excerpts From Shakespeare's Plays: As You Like It - Romeo & Juliet - Henry V - Henry IV Pt. 1 - A Mi 127. The Jacobean Theatre (1603-1642) 128. Duchess: 'Now What You Please, What Death? Bosola: Strangling: Here Are Your Executioners.' 129. Development Of The Private Theatre - Description Of A Private Audience By John Marstoni (1601) 130. Ben Jonson (1572-1637) 131. Ursula: Hang 'Em, Rotten, Roguy Cheaters, I Hope To See 'Em Plagued One Day (Poxed They Are Already, 132. Spanish Theatre In The Renaissance 133. Sigismund: 'The Rich Man Dreams His Riches, Dreams His Cares 134. The French Theatre In The Seventeenth Century 135. Phedre: 'There Love Will Always Live. Even As I Speak, Ah Cruel, Deadly Thought! They Flout The Fury 136. The Structure Of French Theatres 137. Moliere (1622-1673) (Jean-baptiste Poquelin) 138. Mr Jordan: ...and Now I Must Tell You A Secret. I'm In Love With A Lady Of Quality And I Want You To 139. Elmire: What? Is There No Avoiding Your Pursuit. Will You Not Give Me Time To Breathe? 140. The English Restoration Theatre (1660-1700) 141. Thomas Jordan's Prologue To The Moor Of Venice (1660) 142. The Development Of Restoration Comedy 143. Harriet: 'I Was Informed You Used To Laugh At Love, And Not Make It.' 144. Lord Foppington: ...my Life, Madam, Is A Perpetual Stream Of Pleasure, That Glides Thro' Such A Vari 145. Mrs. Pinchwife: 'Dear Sweet Mr. Horner' ...so...' 146. From A Short View Of The Immorality And Profaneness Of The English Stage. 147. Millamant: Positively, Mirabell, I'll Lie A-bed In A Morning As Long As I Please. Mirabell: Then I'l 148. From The Diary Of Samuel Pepys (1667) 149. European Theatre In The Eighteenth Century 250. German Theatre In The 18th Century 251. Elizabeth: Say Then, What Surety Can Be Offer'd Me, Should I Magnanimously Loose Your Bonds? 252. The English Theatre In The Early Eighteenth Century 253. The Development Of English Pantomime 254. The Introduction Of The Theatre Licensing Act In England (1737) 255. David Garrick (1717-1779) And The English Theatre In The Late Eighteenth Century 256. Description Of Garrick As Abel Drugger In The Alchemist 257. The Programme Of An Eighteenth Century English Theatre 258. An Eighteenth Century Audience 259. Sir Anthony: Why, Mrs. Malaprop, In Moderation, Now, What Would You Have A Woman Know? 260. Beaumarchais (1732-1799) And The French Theatre In The Late Eighteenth Century 261. The Count: With Your Brains And Character You Could Hope For Advancement In The Service. Figaro: Bra 262. The Development Of The Theatre In America (1800-1860s) 263. Romantic Melodrama In Nineteenth Century Europe 264. The Development Of Farce 265. Henry Irving (1838-1905), And English Theatre In The Late Nineteenth Century 266. Description Of Irving In The Bells By Edward Gordon-craig 267. The Biginning Of The Theatre Of Ideas And Realism 268. Henrik Ibsen (1828-1906) 269. Helmer: To Forsake Your Home, Your Husband, And Your Children! And Only Think What People Will Say A 270. George Bernard Shaw 271. Higgins: Say Your Alphabet Liza: I Know My Alphabet. Do You Think I Know Nothing? 272. Anton Chekhov (1860-1904) 373. The Seagull By Anton Chekhov 374. Nina: The Horses Are Waiting For Me At The Gate. Don't See Me Off, I'll Go By Myself... 375. Stanislavsky And The Moscow Arts Theatre 376. From The Writings Of Stanislavsky 377. The Growth Of Ensemble Companies 378. Lady Bracknell: ...now To Minor Matters. Are Your Parents Living? Jack: I Have Lost Both My Parents. 379. Theatrical Experiments In The Early Twentieth Century 380. The Theatre Of Luigi Pirandello (1867-1936) 381. The Political Theatre Of Bertolt Brecht (1898-1956) 382. American Theatre In The Early Twentieth Century And Eugene O'neill 383. A Long Day's Journey Into Night (Act Iv) 384. European Theatre In The 1930s & 1940s Federico Garcia Lorca (1898-1935) 385. The London Theatre, And Noel Coward (1899-1973) 386. Amanda: We Won't Talk About Ourselves Any More, We'll Talk About Outside Things, Anything You Like, 387. Post-war British Theatre And John Osborne (1929-1989) 388. Alison: (Softly) All I Want Is A Little Peace Jimmy: Peace ! God ! She Wants Peace! 389. Theatre Of The Absurd And Samuel Beckett (1906-1989) 390. Vladimir: 9sententiously) To Every Man His Little Cross (He Sighs) And Sits On The Mound Till He Die 391. Harold Pinter (1930- ) 392. Aston: I...i Think It's About Time You Found Somewhere Else. I Don't Think We're Hitting It Off. Da 393. British Theatre In The 1960s And Joe Orton (1933-1967) 394. Post-war American Theatre, Tennessee Williams (1911-1983), Arthur Miller (1915- ) And David Mamet (1 395. Willy: '...when I Was A Boy - Eighteen, Nineteen - I Was Already On The Road.' 396. Blanche: 'When I Think Of How Divine It Is Going To Be To Have Such A Thing As Privacy Once More - I 397. Experimental Theatre In The 1960s And 1970s 398. Developments In The Theatre From 1970-1990 399. Epilogue
Sklep: Gigant.pl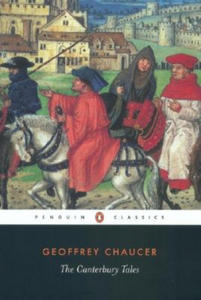 39,57 zł
Książki / Literatura obcojęzyczna
Inspired by Boccaccio's "Decameron", and framed as a storytelling competition between a group of pilgrims, Geoffrey Chaucer's "The Canterbury Tales" is one of the greatest works of English literature, translated from the Middle English with an introduction by Nevill Coghill in "Penguin Classics". In "The Canterbury Tales" Chaucer created one of the great touchstones of English literature, a masterly collection of chivalric romances, moral allegories and low farce. A story-telling competition between a group of pilgrims from all walks of life is the occasion for a series of tales that range from the Knight's account of courtly love and the ebullient Wife of Bath's Arthurian legend, to the ribald anecdotes of the Miller and the Cook. Rich and diverse, "The Canterbury Tales" offers us an unrivalled glimpse into the life and mind of Medieval England. Nevill Coghill's masterly and vivid English verse translation is rendered with consummate skill to retain all the vigour and poetry of Chaucer's fourteenth-century Middle English. Geoffrey Chaucer (c.1343-1400) was an English author, poet, philosopher, courtier and diplomat, best known as the author of "The Canterbury Tales". Chaucer is credited as being the first author to demonstrate the artistic legitimacy of the vernacular English language. The first poet to have been buried in the Poet's Corner of Westminster Abbey, his other works include "The House of Fame", "Troilus and Criseyde" and "The Book of the Duchess". If you enjoyed "The Canterbury Tales", you might like Boccaccio's "Decameron", also available in "Penguin Classics". "Nevill Coghill's easy, seductive translation ensures that this, the most popular work in English Literature - now 600 years old - will run through yet more centuries, delighting yet more readers, shaping more writers". (Melvyn Bragg).
Sklep: Libristo.pl 77,35 zł
Książki / Literatura obcojęzyczna
WALERIAN BOROWCZYK: THE BEAST Walerian Borowczyk (known as 'Boro') is one of cinema's one-offs. Quite simply, there is no filmmaker quite like Borowczyk. Borowczyk's films have an astonishing, magical quality. They reach a place very rare in contemporary cinema, and are quite unlike the films of any other auteur. Borowczyk's movies create their own space, with imagery, sounds and music of a really exceptional power. The appendices include a note on fairy tales, and on other versions of Beauty and the Beast (including the Jean Cocteau movie, and the 1991 Walt Disney musical movie). Fully illustrated, with stills from The Beast, and Walerian Borowczyk's movies, plus influences, a bibliography, filmography, appendices, quotes from Borowczyk and notes. 168pp. www.crmoon.com La Bęte (a.k.a. The Beast, The Beast in Heat and Death's Ecstasy, 1975) was Walerian Borowczyk's most controversial żlm, a mixture of French farce, surrealism, and a lot of sex (including bestiality). The story of La Bęte involves an American heiress Lucy Broadhurst (Lisbeth Hummel) being brought to a French chateau with her aunt Virginia (Elisabeth Kaza) by the scheming owners (in particular the marquis, Pierre de l'Esperance [played by Guy Tréjan]), who need to marry her to the earthy, degenerate (and somewhat backward) son of the family Mathurin (Pierre Benedetti) in order to circumvent a will which'll keep the family home intact. That's the framing story, about grasping aristocrats, decadent morality, degenerate priests and sexually repressed young women. This part of the żlm's set in the 20th century, though it's not the conventional modern, urban world of most movies. La Bęte takes place exclusively at the French chateau and its grounds (the żlm is in French, but there is English dialogue - Virginia, Lucy and their chauffeur speak English). AUTHOR'S NOTE: This book is expanded from my book on Walerian Borowczyk. The book includes an introduction relating Borowczyk to many other filmmakers and movies, from the European art movie tradition, but also the horror genre, and animation; an assessment the critical reception of Borowczyk, and the current perception of Borowczyk as a director. There are many illustrations (some of which are rare). And it contains a useful bibliography and list of sources. The aim is to offer an introduction the extraordinary 1975 movie The Beast, in a clearly written in an entertaining style, which I hope will encourage the reader to seek out some of Borowczyk's strange, lyrical, hallucinatory and erotic movies. I hope my book will offer some fresh insights into Borowcyk and The Beast.
Sklep: Libristo.pl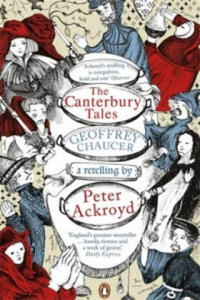 49,50 zł
Książki / Literatura obcojęzyczna
"The Canterbury Tales" is a major part of England's literary heritage. From the exuberant Wife of Bath's Arthurian legend to the Miller's worldly, ribald farce, these tales can be taken as a mirror of fourteenth-century London. Incorporating every style of medieval narrative - bawdy anecdote, allegorical fable and courtly romance - the tales encompass a blend of universal human themes. Ackroyd's retelling is a highly readable, prose version in modern English, using expletive and avoiding euphemism, making the Tales much more accessible to a new generation of readers. The edition also includes an introduction by Ackroyd, detailing some of the historical background to Chaucer and the Tales, and why he has been inspired to translate them for a new generation of readers.
Sklep: Libristo.pl
Sklepy zlokalizowane w miastach: Warszawa, Kraków, Łódź, Wrocław, Poznań, Gdańsk, Szczecin, Bydgoszcz, Lublin, Katowice
Szukaj w sklepach lub całym serwisie
2. Szukaj na wszystkich stronach serwisu
t1=0.027, t2=0, t3=0, t4=0, t=0.028