krainaksiazek challenges of school principals 20045548
- znaleziono 9 produktów w 3 sklepach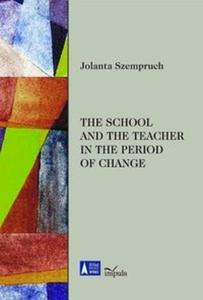 24,90 zł
Wydawnictwa naukowe i popularno-naukowePedagogika. Oświata i szkolnictwo
In the current social situation it is both school roles and the means of educational operation that are subject to change. School generates internal changes and reacts to transformations in various fields outside. It should foster the development of an individual, his/her attitudes and skills that constitute conceptual, critical and creative thinking as well as his/her ability to manage own development and the choice of life path. It is to introduce values into the world, pass on and popularize the achievements of science and disseminate cultural wealth. (?)School is becoming a strategic institution for the society that is informational, knowledge-based and engaged in lifelong learning. The core of its existence lies not only in knowledge transfer, but most importantly in teaching the skill of living in a world of multiplicity and informational contradictions as well as in a world of conflict of values and interests. (?)In the new educational context the teacher is assigned the role of a creator and executor of changes in the educational process. (?)Creative and engaged in the transformation processes, the teacher is becoming the pillar of modern school and faces new tasks meant to make school more attractive and equip students with tools necessary to understand the learning society (?)This publication is divided into two parts. The first part depicts the transformations that determine the operation of contemporary school and education. The problems presented magnify the issues of social and educational changes that take place in the contemporary school. It reveals the challenges that a school faces and describes the transformations of its model which facilitate completion of new tasks.The second part depicts matters that pertain to changes and challenges associated with professional activity of a teacher. He/she should organize the didactic-educational process according to the modern principles of education policy and practice as well as effectively fulfill the roles and tasks that lead to creative participation in social life. The teacher should also show young individuals the way to independence and responsibility in seeking and understanding their own place in the world. The articles presented here have been previously published in Polish journals and collective works. They have been elaborated and modified to consider the changing educational realities. The need to compile these papers so that the presented reflections may be synthesized and may encourage continuous exploration and the necessity to improve school operation and teacher activity are beyond dispute.The publication is addressed to all those who are interested in school and teacher activity in a time marked by dynamic social changes. Therefore, the readership is likely to include those who are professionally associated with education ? teachers, school principals, subject instructors, research workers, members of the school supervisory body and educational administrators as well as current and prospective students in teacher training institutions. Due to the social importance of the issues discussed here, the publication may become a source of inspiration to all Readers who are interested in school improvement and pedagogical progress and independently seek innovative solutions in this matter.
Sklep: Booknet.net.pl 5,25 zł
Książki > Przedmioty > Pedagogika
In the current social situation it is both school roles and the means of educational operation that are subject to change. School generates internal changes and reacts to transformations in various fields outside. It should foster the development of an individual, his/her attitudes and skills that constitute conceptual, critical and creative thinking as well as his/her ability to manage own development and the choice of life path. It is to introduce values into the world, pass on and popularize the achievements of science and disseminate cultural wealth. (
Sklep: sklep.koyto.pl 239,38 zł
Książki / Literatura obcojęzyczna
The school years tend to be the healthiest period of life, but it is also when mental health problems often begin or become more apparent, due in part to the challenges posed by unique educational and socialization expectations and physical and psychological developmental changes. The majority of youth negotiate these challenges well, drawing upon a range of resources to see them through: innate reserves of resilience, healthy coping strategies and supportive school and home environments. But every now and then, a young person falters and stumbles. Gentle support and guidance, informed by knowledge and skills, can make all the difference for the troubled youth. Providing this informed support and guidance is the role of the school counsellor. This casebook is intended to provide a solid foundation for counselling practice in schools. Part A of the casebook provides the basis for promoting positive mental health in children and adolescents and contains the following chapters: Child and Adolescent Development; Distress, Disorders and Disabilities; The Counselling Relationship; Case Management; Counselling Skills; Counselling Strategies, Settings and Formats; Counselling Ethics; and Becoming a More Effective School Counsellor. Part B contains twenty representative case studies of school youth with a range of mental health problems and practical case management approaches. While the case studies have some hallmarks of the Indian context, the case material is universally applicable to youth around the world. Each case study has two sections: the first section includes the specific child's presentation, mental status examination, case formulation and concludes with an individually tailored mental health approach following the guidelines from Part A; the second section contains the recommended general approach to the mental health problem presented in the specific case study, including the various diagnostic and therapeutic options that a counsellor should be aware of in order to deliver an optimal service to the youth. A School Counsellor Casebook is an accessible guide, training tool and resource for school counsellors, clinical supervisors of counsellors, educational and clinical psychologists, school principals and teachers, social workers and other mental health professionals and supervised paraprofessionals working in all countries to provide mental health services to school going youth (age 6-18 years).
Sklep: Libristo.pl 432,65 zł
Książki / Literatura obcojęzyczna
Need to re-energize your faculty? Looking at announcing poor test scores to the community? Facing an angry parent contingent? Why School Communication Matters offers tips and strategies for handling these and other difficult situations. This book is an easy-to-use reference for the communication dilemmas that today's superintendents and principals face by looking at real life challenges, reframing issues in ways that suggest new and effective solutions. New generations of parents expect better and faster connections with schools. Podcasts, instant messaging, chat rooms and blogs have left school newsletters and brochures in the dust. More and more, leader survival depends on anticipating stakeholder demands. This book shows how.
Sklep: Libristo.pl 337,59 zł
Książki / Literatura obcojęzyczna
'As I read this book, I found aspects of myself - my personal and professional behaviour - on almost every page! I was able to put the coping strategies in this book to immediate use with little effort and great results! A must when our time is so limited' - Kaye L Peery, Administrator, Springer Municipal Schools Springer, NM. 'School leaders are subjected to stress in all aspects of their work. Brock and Grady present a realistic approach to dealing with stress that can benefit every school leader' - Ron Joekel, Executive Director, Emeritus Phi Delta Kappa International. Much has been written on teacher stress and how to cope with it ...but now best-selling authors Barbara L Brock and Marilyn L Grady turn their expert attention to administrator burnout in this unique and powerful new 'how-to' book. "Avoiding Burnout" presents real-world success stories from individual school administrators across the country.How do they handle stress and burnout? What can be learned from their individual challenges and solutions? Principals at all levels will learn a great deal about: the nature of stress; stress triggers and response mechanisms; capitalizing on work stress; effective time management and interpersonal skills; career renewal; and, caring for yourself ...including a set of comprehensive resources that offer additional tools for self-assessment and taking action. A unique and useful new guide that offers school leaders at all levels an important opportunity for professional development and personal reflection.
Sklep: Libristo.pl 432,65 zł
Książki / Literatura obcojęzyczna
This pedagogical and sociological analysis of Shoah education in Israeli state schools is based on an empirical survey conducted from 2007-2009 among junior high and high school students, teachers and principals in general and religious schools, and experts in the field. It explores issues such as materials and methods, beliefs and attitudes, messages imparted, pedagogical challenges, and implications for national and religious identity and universal values. Comparative and multi-dimensional analyses of sub-populations, such as by age and type of school, were conducted. The practical and theoretical implications of the findings are considered in the context of Shoah education in Israel and other educational settings over the past half century.
Sklep: Libristo.pl 123,26 zł
Książki / Literatura obcojęzyczna
'The book is an excellent read as it provides both ideas and suggestions to empower leaders in the education system. Increasingly, more and more academics write for each other and not for the practitioners who lead our schools, so this is a refreshing book. In an era of some anti-leadership books it is refreshing to read ideas that build bridges to practitioners in order to improve schools. The book is an outstanding contribution to the resource base for leaders in schools and the wider education system' - Professor Brent Davies, International Journal of Education Management 'Michael Fullan's books - and this is no exception - are for educational policy makers, practitioners and researchers what J K Rowling's Harry Potter books are for children and parents. This is one of the best and most useful' - Tim Brighouse 'Michael Fullan has produced another powerful and inspirational book. He has the wonderful knack of continually positioning himself a couple of steps ahead of the fields.By so doing, he is able to challenge and lead thinking and thereby accelerate productive new developments' - David Hopkins, Royal Holloway University of London 'An ambitious and provocative journey into the complexities and possibilities that arise when leadership and sustainability join' - Roland S Barth, Lessons Learned (Corwin Press 2003) 'No one has contributed more to our understanding of leadership and change than Michael Fullan. Leadership & Sustainability continues that tradition - a brilliant analysis of a timely topic' - Thomas J Sergiovanni, Lillian Radford Professor of Education, Trinity University, San Antonio, Texas 'Efforts at education reform have taken us down a variety of paths, and Michael Fullan has consistently noted the importance of leadership to large-scale reform. In his latest book, Leadership & Sustainability, Fullan makes a solid case that such reform is a complex process involving many variables. Key among these variables is the relationship between leadership and sustainability' - Vincent L Ferrandino, Executive Director, National Association of Elementary School Principals.Alexandria, Vancouver 'With knowledgeable savvy from both individual leadership and system transformation, and a knack for writing in "plain-speak," Michael Fullan helps us understand that it will be "leadership" (not leaders) that pave the way for great sustainability. His attempt to link abstract concepts to concrete examples of what it looks like in practice was successful' - Theodore B Creighton, Director, Center for Research and Doctoral Studies, Sam Houston State University, Executive Director, National Council of Professors of Education Administration 'Michael Fullan has gone beyond his past research that described the change process so insightfully to a new and exciting exploration of how systems thinking and the "long lever of leadership" can bring about deep and lasting reforms in schools and schooling. This brand of leadership for sustainability, as described by Fullan, results in the "deep learning" that enables schools to respond successfully to the revolution in expectations they now face.This new work will both inform and inspire educators to become the "new theoreticians" whose impact will be felt in their schools every day' - David T Conley, Associate Professor, Educational Leadership and Policy, Director, Center for Educational Policy Research, College of Education, University of Oregon, Eugene, Oregon 'Leadership & Sustainability is a critical breakthrough. Michael Fullan has utilized findings from some of the best research and observations in education over the past fifteen years to brilliantly illuminate the challenges of creating schools capable of continuous organic change and improvement' - James P Comer, Maurice Falk Professor of Child Psychiatry, Yale Child Study Center, Yale University, New Haven, Connecticut Leadership & Sustainability will examine how the opportunity for new leadership can be leveraged to focus on sustainability of reform, and will identify barriers and strategies for moving in new directions. This book will define the meaning of "sustainability" and the large scale it plays in reform. It explains the myriad facets of continuous improvement and the key characteristics of the dynamics in sustainability.This book explores the two-way street relationship between individual leadership and system transformation. It will explain how each must feed on each other in order for the relationship to succeed.
Sklep: Libristo.pl 344,39 zł
Książki / Literatura obcojęzyczna
Learning to Teach in the Early Years Classroom helps teacher education students understand the complexities of teaching in early years' classrooms. It integrates research and theory with practice through authentic classroom case studies, in order to show students how educators make decisions and achieve expected outcomes. Engaging and analytical, the book gives voice to the many stakeholders involved in a child's development: from principals to teachers; from families and children of diverse backgrounds to pre-service teachers on field placement. Key Features Links theory to practice through classroom-based case studies Helps teacher education students see how their role in a child's development fits into that of the broader community through learning devices such as 'Zooming In and Zooming Out' Encourages learning of teaching methods, tools, and procedures for thinking about and doing teaching through the experiences of fictional case study Sam Davis, and Aubrey Primary School Challenges students to reflect critically on certain ideas or practices, how they might think or act differently, and why.
Sklep: Libristo.pl 1043,30 zł
Książki / Literatura obcojęzyczna
"This book combines best practices and the latest approaches in school administration and management by exploring the challenges faced by principals, as well as the impact of new managerial tactics being employed"--
Sklep: Libristo.pl
Sklepy zlokalizowane w miastach: Warszawa, Kraków, Łódź, Wrocław, Poznań, Gdańsk, Szczecin, Bydgoszcz, Lublin, Katowice
Szukaj w sklepach lub całym serwisie
2. Szukaj na wszystkich stronach serwisu
t1=0.023, t2=0, t3=0, t4=0.013, t=0.023