krainaksiazek charles sanders peirce pragmatism and education 20046772
- znaleziono 10 produkty w 2 sklepach 337,57 zł
Książki / Literatura obcojęzyczna
Charles Sanders Peirce (1839
Sklep: Libristo.pl 103,89 zł
Książki / Literatura obcojęzyczna
Charles Sanders Peirce is generally regarded as the founder of pragmatism, North America's most influential philosophical movement. Peirce is also well-known for his theory of signs and with Saussure was a founding figure of "semiotics". Albert Atkin introduces the full spectrum of Peirce's thought for those coming to his work for the first time.
Sklep: Libristo.pl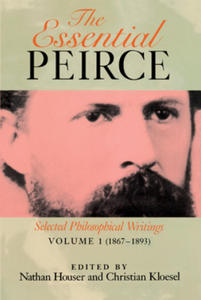 129,78 zł
Książki / Literatura obcojęzyczna
This convenient two-volume reader's edition makes accessible to students and scholars the most important philosophical papers of the brilliant American thinker Charles Sanders Peirce. Volume 1 presents twenty-five key texts, chronologically arranged, beginning with Peirce's "On a New List of Categories" of 1867, a highly regarded alternative to Kantian philosophy, and ending with the first sustained and systematic presentation of his evolutionary metaphysics in the "Monist Metaphysical Series" of 1891-1893. The book features a clear introduction and informative headnotes to help readers grasp the nature and significance of Peirce's thought system. Bringing together all the writings needed for the study of Peirce's systematic philosophy and its development, Volume 1 is ideal for classroom use. Volume 2, covering the period from 1894 until Peirce's death in 1914, will highlight the development of his system of signs and his mature pragmatism.
Sklep: Libristo.pl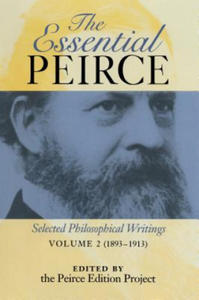 155,84 zł
Książki / Literatura obcojęzyczna
This convenient two-volume reader's edition makes accessible to students and scholars the most important philosophical papers of the brilliant American thinker Charles Sanders Peirce. Volume 2 presents twenty-nine pivotal texts, beginning with "Immortality in the Light of Synechism", in which Peirce proposes synechism, the tendency to regard everything as continuous, as a key advance over the three popular 'isms' materialism, idealism, and dualism, and ending with Peirce's late and unfinished investigations of the relative merits of different kinds of reasoning.Included are selections from Peirce's Harvard lectures on pragmatism, Lowell lectures on logic, and 'Syllabus of Certain Topics of Logic,' all of 1903. During his later years Peirce worked unremittingly to integrate new insights and discoveries into his general system of philosophy, and to make his major doctrines fully coherent within that system. This volume gives the first comprehensive presentation of Peirce's mature philosophy and is required reading for students who want to appreciate the breadth of learning and wisdom of America's greatest pragmatist.
Sklep: Libristo.pl 166,06 zł
Książki / Literatura obcojęzyczna
Pragmatism has been reinvented in every generation since its beginnings in the late nineteenth century. This book, by one of today's most distinguished contemporary heirs of pragmatist philosophy, rereads cardinal figures in that tradition, distilling from their insights a way forward from where we are now. Perspectives on Pragmatism opens with a new accounting of what is living and what is dead in the first three generations of classical American pragmatists, represented by Charles Sanders Peirce, William James, and John Dewey. Post-Deweyan pragmatism at midcentury is discussed in the work of Wilfrid Sellars, one of its most brilliant and original practitioners. Sellars' legacy in turn is traced through the thought of his admirer, Richard Rorty, who further developed James's and Dewey's ideas within the professional discipline of philosophy and once more succeeded, as they had, in showing the more general importance of those ideas not only for intellectuals outside philosophy but for the wider public sphere. The book closes with a clear description of the author's own analytic pragmatism, which combines all these ideas with those of Ludwig Wittgenstein, and synthesizes that broad pragmatism with its dominant philosophical rival, analytic philosophy, which focuses on language and logic. The result is a treatise that allows us to see American philosophy in its full scope, both its origins and its promise for tomorrow.
Sklep: Libristo.pl 82,49 zł
Książki Obcojęzyczne>Angielskie>Humanities>Philosophy>History of Western philosophy
0x0137cd5900000000
Sklep: Gigant.pl 93,50 zł
Książki / Literatura obcojęzyczna
Pragmatism: An Introduction provides an account of the arguments of the central figures of the most important philosophical tradition in the American history of ideas, pragmatism. This wide-ranging and accessible study explores the work of the classical pragmatists Charles Sanders Peirce, William James and John Dewey, as well as more recent philosophers including Richard Rorty, Richard J. Bernstein, Cheryl Misak, and Robert B. Brandom.§Michael Bacon examines how pragmatists argue for the importance of connecting philosophy to practice. In so doing, they set themselves in opposition to many of the presumptions that have dominated philosophy since Descartes. The book demonstrates how pragmatists reject the Cartesian spectator theory of knowledge, in which the mind is viewed as seeking accurately to represent items in the world, and replace it with an understanding of truth and knowledge in terms of the roles they play within our social practices.§The book explores the diverse range of positions that have engendered marked and sometimes acrimonious disputes amongst pragmatists. Bacon identifies the themes underlying these differences, revealing a greater commonality than many commentators have recognized. The result is an illuminating narrative of a rich philosophical movement that will be of interest to students in philosophy, political theory, and the history of ideas.
Sklep: Libristo.pl 145,45 zł
Książki / Literatura obcojęzyczna
"Hailed as the most important overall reassessment of Dewey in several decades" (Sidney Ratner, Journal of Speculative Philosophy), "The Necessity of Pragmatism" investigates the most difficult and neglected aspects of Dewey's thought, his metaphysics and logic. R. W. Sleeper argues for a fundamental unity in Dewey's work, a unity that rests on his philosophy of language, and clarifies Dewey's conception of pragmatism as an action-based philosophy with the power to effect social change through criticism and inquiry. Identifying Dewey's differences with his pragmatist forerunners, Charles Sanders Peirce and William James, Sleeper elucidates Dewey's reshaping of pragmatism and the radical significance of his philosophy of culture. In this first paperback edition, a new introduction by Tom Burke establishes the ongoing importance of Sleeper's analysis of the integrity of Dewey's work and its implications for mathematics, aesthetics, and the cognitive sciences."
Sklep: Libristo.pl 352,08 zł
Książki / Literatura obcojęzyczna
Pragmatism is the view that our philosophical concepts must be connected to our practices - philosophy must stay connected to first order inquiry, to real examples, to real-life expertise. The classical pragmatists, Charles Sanders Peirce, William James, and John Dewey, put forward views of truth, rationality, and morality that they took to be connected to, and good for, our practices of inquiry and deliberation. When Richard Rorty, the best-known contemporary pragmatist, looks at our practices, he finds that we don't aim at truth or objectivity, but only at solidarity, or agreement within a community, or what our peers will let us get away with saying. There is, however, a revisionist movement amongst contemporary philosophers who are interested in pragmatism. When these new pragmatists examine our practices, they find that the trail of the human serpent is over everything, as James said, but this does not toss us into the sea of post-modern arbitrariness, where truth varies from person to person and culture to culture. The fact that our standards of objectivity come into being and evolve over time does not detract from their objectivity. As Peirce and Dewey stressed, we are always immersed in a context of inquiry, where the decision to be made is a decision about what to believe from here, not what to believe were we able to start from scratch - from certain infallible foundations. But we do not go forward arbitrarily. That is, these new pragmatists provide accounts of inquiry that are both recognizably pragmatic in orientation and hospitable to the cognitive aspiration to get one's subject matter right. The best of Peirce, James, and Dewey has thus resurfaced in deep, interesting, and fruitful ways, explored in this volume by David Bakhurst, Arthur Fine, Ian Hacking, David Macarthur, Danielle Macbeth, Cheryl Misak, Terry Pinkard, Huw Price, and Jeffrey Stout.
Sklep: Libristo.pl 158,48 zł
Książki / Literatura obcojęzyczna
Includes such contents as: The Absolute Immigrates to America - The St Louis Hegelians; The Evolutionary Controversy; Charles Sanders Peirce; William James, the Tough-Minded - An Appraisal; Josiah Royce; George Santayana - The Exile at Home; Dewey - Battling Against Dualisms; C I Lewis: Conceptualistic Pragmatism; Epilogue; and, Index.
Sklep: Libristo.pl
Sklepy zlokalizowane w miastach: Warszawa, Kraków, Łódź, Wrocław, Poznań, Gdańsk, Szczecin, Bydgoszcz, Lublin, Katowice
Szukaj w sklepach lub całym serwisie
2. Szukaj na wszystkich stronach serwisu
t1=0.064, t2=0, t3=0, t4=0, t=0.064