krainaksiazek cheer up bryan 20127912
- znaleziono 14 produktów w 3 sklepach 69,86 zł
Cheer Up Bryan Austin & Macauley Publishers
Książki / Literatura obcojęzyczna
Bryan's family are all REALLY talented... But what's his skill? Join this friendly monster as he attempts to find out... Written and illustrated by Mark Wilkinson, Cheer Up Bryan will show children that everyone is good at something, even if they haven't discovered what yet.
Sklep: Libristo.pl 66,99 zł
Książki Obcojęzyczne>Angielskie>Children
0x0021f71f00000000
Sklep: Gigant.pl 67,58 zł
Książki / Literatura obcojęzyczna
Arthur W. Pink Collection Vol 2 includes three Arthur Pink classics; Comfort for Christians, The Beatitudes, and Regeneration or The New Birth. "The work unto which the servant of Christ is called is many-sided. Not only is he to preach the Gospel to the unsaved, to feed God's people with knowledge and understanding (Jer. 3:15), and to take up the stumbling stone out of their way (Isa. 57:14), but he is also charged to "cry aloud, spare not, lift up thy voice like a trumpet, and show My people their transgression" (Isa. 58:1 and cf. 1 Tim. 4:2). While another important part of his commission is stated in, "Comfort ye, My people, said your God" (Isa. 40:1). "What an honorable title, "My people!" What an assuring relationship: "your God!" What a pleasant task: "comfort ye My people!" A threefold reason may be suggested for the duplicating of the charge. First, because sometimes the souls of believers refuse to be comforted (Ps. 77:2), and the consolation needs to be repeated. Second, to press this duty the more emphatically upon the preacher's heart, that he need not be sparing in administering cheer. Third, to assure us how heartily desirous God himself is that His people should be of good cheer (Phil. 4:4)." "Opinion has been much divided concerning the design, scope, and application of the Sermon on the Mount. Most commentators have seen in it an exposition of Christian ethics. Men such as the late Count Tolstoi have regarded it as the setting forth of a "golden rule" for all men to live by. Others have dwelt upon its dispensational bearings, insisting that it belongs not to the saints of the present dispensation but to believers within a future millennium. Two inspired statements, however, reveal its true scope. In Matthew 5:1, 2, we learn that Christ was here teaching His disciples. From Matthew 7:28, 29, it is clear that He was also addressing a great multitude of the people. Thus it is evident that this address of our Lord contains instruction both for believers and unbelievers alike." Two chief obstacles lie in the way of the salvation of any of Adam's fallen descendants: bondage to the guilt and penalty of sin, bondage to the power and presence of sin; or, in other words, their being bound for Hell and their being unfit for Heaven. These obstacles are, so far as man is concerned, entirely insurmountable. This fact was unequivocally established by Christ, when, in answer to His disciples' question, "Who then can be saved?", He answered, "with men this is impossible." A lost sinner might more easily create a world than save his own soul. But (forever be His name praised), the Lord Jesus went on to say, "with God all things are possible" (Matt. 19:25, 26). Arthur Walkington Pink was an English Christian evangelist and Biblical scholar. Born to Christian parents, prior to conversion he migrated into a Theosophical society and quickly rose in prominence. His conversion came from his father's patient admonitions from Scripture. It was Proverbs 14:12, 'there is a way which seemeth right unto a man, but the end thereof are the ways of death,' which particularly struck his heart and compelled him to renounce Theosophy and follow Jesus.
Sklep: Libristo.pl
64,99 zł
Muzyka>Klasyczna
1. Jealousy 2. The Blue Room (The Girl Friend) 3. A Fine Romance (Swing Time) 4. Love Is Here To Stay (Goldwyn Follies) 5. Billy 6. Pick Yourself Up (Swing Time) 7. Night & Day (Gay Divorce) 8. Aurore 9. I Can't Believe That You're In Love With Me 10. These Foolish Things (Spread It Abroad) 11. Oh, Lady, Be Good! (Lady, Be Good!) 12. Cheek To Cheek (Top Hat) 13. The Lady Is A Tramp (Babes In Arms) 14. Errol 15. Jermyn Street 16. Just One Of Those Things (Jubilee) 17. Fascinating Rhythm (Lady, Be Good!) 18. Liza (Show Girl) 19. I Got Rhythm (Girl Crazy) 20. Johnny Aime 21. I Get A Kick Out Of You (Anything Goes) 22. Soon (Strike Up The Band) 23. 'S Wonderful (Funny Face) 101. Summertime (Porgy & Bess) 102. Menuet Pour Menuhin (Yehudi Menuhin Violin) 103. Nice Work If You Can Get It (A Damsel In Distress) 104. Embraceable You (Girl Crazy) 105. Looking At You (Wake Up & Dream) 106. Why Do I Love You? (Show Boat) 107. All The Things You Are (Very Warm For May) 108. Crazy Rhythm (Here's Howe) 109. Limehouse Blues (Andre Charlot's London Revue,1924 110. Between The Devil & The Deep Blue Sea 111. Tea For Two (No, No, Nanette) 112. Yesterdays (Roberta) 113. My Funny Valentine (Babes In Arms) 114. I Didn't Know What Time It Was (Too Many Girls) 115. A Foggy Day (In London Town) (A Damsel In Distress 116. Highgate Village 117. Adelaide Eve 118. Viva Vivaldi 119. Air On A Shoestring 120. The Man I Love (Strike Up The Band) 121. Thou Swell (A Connecticut Yankee) 122. Coucou 201. A Nightingale Sang In Berkeley Square (New Faces) 202. Lullaby Of Birdland 203. When The Red, Red, Robin Comes Bob, Bob, Bobbin' A 204. Skylark 205. Bye, Bye Blackbird 206. Flamingo (Big Top) 207. Dinah (Kid Boots) 208. Rosetta 209. Sweet Sue 210. Once In Love With Amy (Where's Charlie?) 211. Laura 212. Sweet Georgia Brown 213. La Route Du Roi 214. Isn't This A Lovely Day (To Be Caught In The Rain) 215. He Loves & She Loves (Funny Face) 216. Funny Face (Funny Face) 217. They Can't Take That Away From Me (Shall We Dance? 218. They All Laughed (Shall We Dance?) 219. Puttin' On The Ritz (Puttin' On The Ritz) 220. Change Partners (Carefree) 221. Top Hat, White Tie & Tails (Top Hat) 301. The Piccolino (Top Hat) 302. The Way You Look Tonight (Swing Time) 303. The Continental (The Gay Divorcee) 304. The Carioca (Flying Down To Rio) 305. Alison 306. Amanda 307. Winter Set 308. Button Up Your Overcoat (Follow Through) 309. Spring Will Be A Little Late This Year (Christmas 310. April In Paris (Walk A Little Faster) 311. Autumn In New York 312. On The Sunny Side Of The Street (The International 313. The Things We Did Last Summer 314. Autumn Leaves 315. Giboulees De Mars 316. Automne 317. I've Got My Love To Keep Me Warm (On The Avenue) 318. Heat Wave (As Thousands Cheer) 319. I'll Remember April (Ride 'Em Cowboy) 320. September In The Rain (Melody For Two)
Sklep: Gigant.pl 129,99 zł
Muzyka>Electronica>Dance
1. Mr. Probz - Waves - Robin Schulz Radio Edit 2. Bakermat - One Day (Vandaag) - Radio Edit 3. Faul & Wad Ad Vs. Pnau - Changes - Radio Mix 4. Milky Chance - Stolen Dance - Flic Flac Radio Edit 5. Schulz, Robin & Alligatoah - Willst Du - Radio Mix 6. Alle Farben Feat. Graham Candy - She Moves (Far Aw 7. Route 94 Feat. Jess Glynne / Glynne, Jess - My Lov 8. Klangkarussell - Netzwerk (Falls Like Rain) 9. Kalkbrenner, Fritz - Back Home - Radio Edit 10. Zhu - Faded 11. Moby Feat. Damien Jurado - Almost Home - Sebastien 12. Bedouin Soundclash - Brutal Hearts - Flicflac Radi 13. Traum:a - Sunny - Radio Edit 14. Mynga Feat. Cosmo Klein - Back Home - Kayliox Remi 15. Secondcity / Kelli-leigh / Bedingfield, Daniel - I 16. Krinkle, Henry - Stay - Justin Martin Remix Radio 17. Henderson, Ella - Ghost - Switch Remix Radio Edit 18. Chapeau Claque & Pretty Pink - Schoner Moment - Pr 19. Spada Feat. Hosie Neal - Feels Like Home (Red Velv 20. Dr. Kucho! & Gregor Salto - Can't Stop Playing - O 21. Heldens, Oliver & Becky Hill - Gecko (Overdrive) 101. Harris, Calvin / Harris, Calvin - Summer 102. Avicii - Addicted To You 103. Tungevaag, Martin - Wicked Wonderland 104. Sigma - Nobody To Love 105. Rida, Flo - How I Feel 106. Paul, Sean - Turn It Up 107. Odell, Tom / Odell, Tom - Another Love - Dimitri V 108. Ora, Rita - I Will Never Let You Down - R3hab Remi 109. Magic! / Nasri - Rude - Zedd Remix 110. Carlprit Feat. Jaicko - Remember To Forget - Micha 111. Legend, John / Legend, John - All Of Me - Tiesto's 112. Michael Mind Project - Show Me Love - Official Fes 113. Psirico & Pitbull - Lepo Lepo - Radio Edit 114. Dj Antoine - Light It Up - Bodybangers Radio Edit 115. Dr. Alban - It's My Life 2014 - Bodybangers Radio 116. Slazy Feat. J-sun - Enemy (Axel F) - Original Edit 117. Jam & Spoon Feat. Rea / Garvey, Rea - Be.angeled - 118. Bodybangers Feat. Victoria Kern & Godfrey Egbon - 119. Dj Shog / Frohlich, Jens - I Lost Myself - Club Ed 120. Style Of Eye Feat. Soso - Kids - Radio Version 121. Bate, Shaun & Sam Walkertone - Alive - Radio Mix 122. Nero, Mike - Falling - Adrima Remix Edit 123. R.i.o. Feat. U-jean - One In A Million - Cj Stone 201. Garrix, Martin & Jay Hardway - Wizard - Radio Edit 202. Dvbbs & Borgeous - Tsunami - Radio Edit 203. Showtek Feat. We Are Loud & Sonny Wilson - Booyah 204. W&w - Bigfoot - Radio Edit 205. Aoki, Steve, Chris Lake & Tujamo Feat. Kid Ink - D 206. The Chainsmokers - No.selfie 207. Hardwell Feat. Matthew Koma / Koma, Matthew - Dare 208. Van Buuren, Armin - Ping Pong - Radio Edit 209. Vegas, Dimitri & Martin Garrix & Like Mike - Tremo 210. Deorro - Yee - Original Mix 211. Tjr & Vinai - Bounce Generation - Radio Edit 212. New World Sound & Thomas Newson - Flute - Clean Ra 213. Bryce - Bounce - Radio Edit 214. Twoloud - I'm Alive - Radio Edit 215. Holmes & Watson - Jump - Ddei & Estate Remix Edit 216. Emanuel, Dave - Azuria - Original Edit 217. Amfree Vs. Ddei & Estate - Highlander (Acid Folk 2 218. Hoxtones - Are You Ready - Ddei & Estate Remix Edi 219. Fatboy Slim & Riva Starr Feat. Beardyman - Eat Sle 220. Tujamo & Plastik Funk Feat. Sneakbo - Dr. Who! - E 221. New World Sound - Cheer Up 222. Sebjak & Jaz Von D - Into The Wild 223. Dj Snake & Lil Jon - Turn Down For What
Sklep: Gigant.pl 82,07 zł
Książki / Literatura obcojęzyczna
Christmastime...it's the yummiest time of the year! On a snowy day, you'll find us in the kitchen, cozily rolling out sugar cookies, stirring up a hearty, warming soup or sampling homemade jams before wrapping them up for gift-giving. Christmas Kitchen is filled with scrumptious recipes your family & friends will love. Spread the cheer at a holiday brunch with Sour Cream Streusel Coffee Cake and Savory Brunch Cups. Tote along Creamy Chicken Bake to a church bazaar & potluck. Snowy Day Chili with Honey-Corn Muffins is an easy supper after an afternoon of shopping or decorating the tree. For Christmas dinner, there's a mouthwatering feast of Grammy's Beef Brisket, Cheddar Potato Gratin, Creamed Peas & Onions and Cranberry Dream Salad...all special enough for serving on Mom's prettiest holly-trimmed china. Of course it wouldn't be Christmas without delectable treats for sharing, so you'll find lots of sweets like Aunt Julia's Pecan Cookies and Red Velvet Cake, plus giftable goodies like White Chocolate Popcorn. We've tucked in easy tips for festive meals and clever ways to wrap up homemade gifts. So tie up your apron strings and join us in the kitchen! Hardcover, 224 pages. (9-1/4" x 6-1/2")
Sklep: Libristo.pl 120,83 zł
Książki / Literatura obcojęzyczna
May 6, 1986: Nick Popaditch arrives at the Receiving Barracks, Marine Corps Recruit Depot, San Diego, California.returncharacterreturncharacterApril 9, 2003: An AP photographer captures a striking image seen around the world of the Gunny Sergeant smoking a victory cigar in his tank, the haunting statue of Saddam Hussein hovering in the background. Popaditch is immortalized forever as "The Cigar Marine."returncharacterreturncharacterApril 6, 2004: The tanker fights heroically in the battle for Fallujah and suffers grievous head wounds that leave him legally blind and partially deaf. The USMC awards him with a Silver Star for his valor and combat innovation.returncharacterreturncharacterApril 18, 2004: "Gunny Pop" comes home to face the toughest fight of his life-a battle to remain the man and Marine he was. This is the central drama of Nick's inspiring memoir, Once a Marine: An Iraq War Tank Commander's Inspirational Memoir of Combat, Courage, and Recovery.returncharacterreturncharacterReaders in and out of the military will stand up and cheer for this valiant Marine's Marine, a man who embodies everything noble and proud in the Corps' long tradition. Never has modern mechanized combat seemed so immediate and real, or the fight in Iraq seemed so human and worth believing in.returncharacterreturncharacterAt first, Nick fights to get back to where he was in Iraq-in the cupola of an M1A1 main battle tank, leading Marines in combat at the point of the spear. As the seriousness and permanence of his disabilities become more evident, Nick fights to remain in the Corps in any capacity, to help the brothers in arms he so aches to rejoin. Facing the inevitable following a medical retirement, he battles for rightful recognition and compensation for his permanent disabilities. Throughout his harrowing ordeal, Nick fights to maintain his honor and loyalty, waging all these battles the same way-the Marine way-because anything less would be a betrayal of all he holds dear.returncharacterreturncharacterThe real triumph in Once a Marine is its previously untold, behind-the-scenes tale of the day-to-day life of a career Marine noncommissioned staff officer. In most books and movies, a "Gunny" is little more than a cardboard character. Nick's portrayal is a man complete: a husband and father, as well as a warrior and a molder of young warriors. He reveals himself completely, something no memoirist in his position has ever done before. This includes our very personal introduction to his wife April, whose heroics in the story equal Nick's, together with dozens of others who, as Sgt. Popaditch writes, gave so much, so selflessly and freely, to him. Like the man himself, Once a Marine is full of gratitude and refreshingly free of false bravado and braggadocio.returncharacterreturncharacterAll Americans, of all political persuasions, have a duty to meet this courageous and admirable fighting man, an exemplar of all our military men and women who give so much out of love for their nation. Meeting Gunny Sergeant Popaditch through the pages of his inspirational memoir offers up new reasons to be proud and shoulder our own responsibilities as Americans.returncharacterreturncharacterOnce a Marine will instantly take its place among outstanding combat classics. And once you read this remarkable and uplifting book, The Marine's Hymn will never sound the same.returncharacterreturncharacterFINALIST: The Indie Book Awards, Autobiography / Memoirs 2009returncharacterreturncharacterreturncharacterreturncharacter returncharacterreturncharacter REVIEWS returncharacterreturncharacter" Nick Popaditch's transcendent memoir of military service and its personal consequences should be read by every one of our nation's political leaders-to help them understand the incomparable quality of those who fight on the front lines. Read this inspiring story, recommend it to friends-and send a copy to your member of Congress!"returncharacterreturncharacter- Ralph Peters (Lt. Col., ret.), New York Post columnist and author of Looking For Trouble and Wars Of Blood and Faithreturncharacterreturncharacter"Retired Gunny Sergeant Nick Popaditch's narrative will burn through your heart, and then settle deep in your gut. . . . Readers will shed a tear, and simultaneously burst out with eagle, globe and anchor emotive-pride. That, I guarantee!"returncharacterreturncharacter--Leatherneck Magazine (USMC)returncharacterreturncharacter"America has always been blessed by wonderful, patriotic, and often anonymous men and women who have sacrificed so much in defense of liberty and freedom. Once a Marine, Gunny Sergeant Nick Popaditch's heart-wrenching and inspiring memoir, puts a name and a face on this sacrifice. Every American should read this book to remind them of what these brave warriors of freedom endure on our behalf."- Congressman Bob Filner, Chairman of the House Committee on Veterans' Affairs.returncharacterreturncharacter"Gunny Popaditch's story is as inspiring as it is dramatic. This wounded warrior suffered grievous injuries - an RPG to the head! - but refused to give up on life, even when his wounds forced him out of the Corps. Once a Marine is a 'must read' story of one of today's real heroes."- Jerry D. Morelock, PhD, Colonel, U. S. Army (Ret.), Editor in Chief, Armchair General returncharacterreturncharacter"Author Gunny Sergeant Nick Popaditch, a Silver Star recipient and the subject of the world-famous AP photo, has penned what must surely be classed as among the best personal memoirs of any combat soldier in recent memory. Once a Marine is an in-your-face blast of raw emotion and realism that will strike a raw nerve and keep you up at night. This autobiography of combat, courage, and recovery should be required reading for every American, young and old, who yearns to grasp the true cost of freedom." returncharacterreturncharacter- Caspar Weinberger Jr., Military and Current Affairs Columnistreturncharacterreturncharacter"A riveting and inspirational story of the consummate professional warrior. It is impossible to read Once a Marine without being proud of our military and grateful that our Nation produces men like Gunnery Sergeant Nick Popaditch."- Michael F. Nugent, Major, US Army (Ret.), co-author of One Continuous Fight: The Retreat From Gettysburg and the Pursuit of Lee's Army of Northern Virginia, July 4-14, 1863returncharacterreturncharacterreturncharacterreturncharacter"Only a few books leap off the shelves and demand to be read- and "Once a Marine" is one of those few...a spellbinding story...the type of book that the reader will devour in an evening."The Midwest Book Review, 12/2008 returncharacterreturncharacterreturncharacterreturncharacter"Gunny Popaditch's story makes me incredibly proud to have worn the same uniform. Without intending to, Once a Marine articulates life in the modern Marine Corps more clearly than anything I've read. No blindly loyal fanatic, Popaditch candidly acknowledges the bullshit, yet artfully captures the inimitable spirit of camaraderie and commitment that makes the Marine Corps unique. Extraordinarily motivating and compellingly honest book, it made me pine for my own long-finished Marine Corps career."- Jay A. Stout, Lt.Col. USMC (Ret.), author of Hornet's Over Kuwaitreturncharacterreturncharacter"Gunny Pop" Popaditch's courageous memoir of his life in and out of the Marine Corps is intelligently written and imbued with a brazen honesty rarely found elsewhere. His personal courage-and that of his wife, April-gives the term "home of the brave" an entirely new meaning."- Sgt. Michael Volkin, author of The Ultimate Basic Training Guidebook: Tips, Tricks, and Tactics for Surviving Boot Campreturncharacterreturncharacter
Sklep: Libristo.pl 27,00 zł
Folk & Ethno
The Most BeautifulAccordion Melodies CD 11. Can't Help Falling In Love(H. Paretti, L. Creatore, G. Weiss)2. Have You Ever Really Loved a Woman,Terschelling (B. Adams)3. The Smile of a Child,De Glimlach Van Een Kind (A. Hazes)4. Under The Sky of Paris,Sous le ciel de Paris (J. Drejac, H. Giraud, per. By J. Greco)5. You Lied To Me,Je Loog Tegen mij (V. Appeldoorn, C. Peterson)6. A Single,Een Vrijgezel (R.F. Jacobi, B. Neyman)7. Some Broken Hearts Never Mend(W. Holyfield)8. Tulips From Amsterdam(R. Arnie, K. Neumann, E. Bader, E. Franssen, V. Aleda)9. Parisienne a Tirol(folk, arrenged by J. Spranged)10. Treasure Waltz, Roses from the South,Schatywalyer, Rosen aus dem Suden (folk)11. It Is a Night,Het is een Nacht (G. Meeuwis)12. Cry but not for me,Huil maar niet om mij (M. Schreyenberg, E. Hartkamp)13. Good Times Bad Times,Goedde Tijden (H. van Eyck, B. van der Veer)14. All that Can Make a Man Happy,Alles Kan Een Mens Gelukkig Maken (H. Temming, H. Westbroek)15. Tango Caminito(J. de Dios Filiberto, G. Coria Penaloza)16. Tango El Chocio(E.S. Discepolo, C. Marambio Catan, A. Villodo)17. Tango La Cumparsita(G.M. Rodriguez, P. Contursi)18. Jealousy,Jalousie (J.Gade)19. Flower of Love,Fiore di Amore (S. Caltagirone, A. Loppe, E. Lelousong)20. Auld Lang Syne(folk)CD 21. Marina(R. Granta)2. Dance Little Bird(E. Thomas, T. Rendall)3. Comment Ca Va(E. Deheer)4. Amapola(J. Le Calle)5. Julie(D. Popowić, M. Mihaljević)6. On a Train,Per Spoor (kedenge deng) (G. Meeuwis)7. Cheer up,Met de neus Omhoog (J. Poels)8. Come With Me to Rio de Janniero,Kom met mij naar Rio de Janniero9. Come & Dance Tango With Me,Kom Tanz mit Noch einen Tango10. Puppet On a String(P. Coulter, B. Martin)11. Polka Aux Champs(P. A. Sengers, J. Uijthrelst)12. A Kid From Paris,Un Gamin de Paris (A. Mares, M. Micheyl, per. By Yves Montad)13. The Brides of Paris,Les Ponts de Paris (folk, arr. By J. Spranger)14. There Is a Tear,Er Valt Een Traan (H. Williams, J. Hoes)15. On This Side of the Water,Daar Bij die Waterkant (G. Jussenhoven, B. Schlte)16. The Waltz of the Canary,La Valse des Canaris (L. Varlet)17. Feeling Thirsty,On a Soif (Pohlman, Vannick)18. Prestigious,Prestigieuse (J. Darmon, A. Hennebel)19. American Patrol (public domain),String of Pearls (D. Lang),Chattanooga Choo Choo (H. Warren)20. L`accordeoniste(M. Emer, performed by Edith Piaf) ...
Sklep: UNIVOX.pl 65,46 zł
Książki / Literatura obcojęzyczna
Excerpt from Good for Nothing, or All Down Hill, Vol. 2 of 2 Y over, Gilbert! That's a rum one I' cries a cheery voice behind him, as the little bay horse clears a fallen trunk as high as a fair-sized gate. Forward forward I' adds the Speaker, pointing ahead to a żat verdant glade up which the dogs are stretching at a killing pace, nearing their now żagging game; and John Gordon, gaining a few yards On his friend by a judicious turn, comes up alongside. About the Publisher Forgotten Books publishes hundreds of thousands of rare and classic books. Find more at www.forgottenbooks.com This book is a reproduction of an important historical work. Forgotten Books uses state-of-the-art technology to digitally reconstruct the work, preserving the original format whilst repairing imperfections present in the aged copy. In rare cases, an imperfection in the original, such as a blemish or missing page, may be replicated in our edition. We do, however, repair the vast majority of imperfections successfully; any imperfections that remain are intentionally left to preserve the state of such historical works.
Sklep: Libristo.pl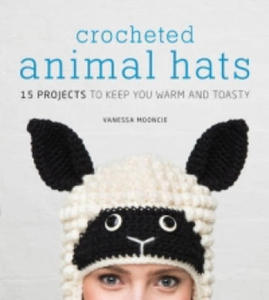 74,09 zł
Książki / Literatura obcojęzyczna
A follow-up to the bestselling Animal Hats, this title features 15 fun patterns to crochet, suitable for all abilities to make. It includes an illustrated techniques section explaining all the crochet know-how. It features colour photographs and step-by-step instructions to guide the reader along. Spread a little animal magic with these adorable animal hats. Adults and children alike will love this collection of eye-catching hats. Even on the coldest of days, your animal antics will raise smiles and spread some warmth and cheer. Why not knit up a whole menagerie of characters to suit every occasion and mood? At the back of the book the basic crochet techniques are clearly explained, including how to add a lining for extra coziness. Sizes are included for children and adults so all the family can have their own hat. It includes 15 clearly presented crochet patterns plus charts. Patterns include: leopard, owl, parrot, zebra, deer, duck, raccoon and sheep.
Sklep: Libristo.pl 49,99 zł
Książki / Literatura obcojęzyczna
This title features 20 projects that will appeal to the young and the young at heart. Each project is clearly set out with easy-to-follow patterns and concise instructions, providing you with all the know-how you need. Sizes are included for children and adults so every member of the family can have their own hat. Liven up your dark winter days and spread a little seasonal cheer with these fun and fabulous animal hats. Adults and children alike will love this collection of absolutely adorable knitted hats, including a funky monkey, a goggle-eyed frog and a buzzing bee. There's a whole range of delightful designs - from the amusing to the cute and the scary - just choose what's most appropriate to express your animal instincts. Animal Hats to Knit features 20 projects that will appeal to the young and the young at heart. Each project is clearly set out with easy-to-follow patterns and concise instructions, providing you with all the know-how you need. Sizes are included for children and adults so every member of the family can have their own hat. Projects include: Armadillo, Elephant, Zebra, Cat, Dog, Ladybird, Shark and Eagle.
Sklep: Libristo.pl 49,99 zł
Książki / Literatura obcojęzyczna
The next exciting title in the popular Secret Fairy Handbook range by well-known illustrator Penny Dann. Open this treasure and enter Blossom's sparkly, festive Christmas world. Blossom is hanging decorations and singing carols - but what's wrong with Nettle? Can Blossom cheer her up in time for the Secret Fairy Christmas party and the decorating of the tree? An enjoyable story in a handbook packed full of gifts and activities to help transform any little girl into a Christmas fairy. Inside you'll find: a mini advent calendar; sparkly pink glitter gel; Secret Fairy Christmas stickers; a party hat; gift tags; stick-on fairy earrings and a Christmas fairy for the top of your tree. The Secret Fairy has become a household name for any family with little girls.
Sklep: Libristo.pl 65,46 zł
Książki / Literatura obcojęzyczna
Excerpt from Jottings of a Gentleman Gardener a Practical Guide to Flower, Gardening for Amateur Gardeners, to Which Is Added, Some Suggestions on Growing Food, Plants During the War Since this book was completed in October, 1916, the question of food production has become one of national importance, and it did not seem right to publish it without some reference to the culture of vegetables. The last two chapters have therefore been added to meet the special circumstances of the time. Although thirty deal with flower growing, and only two with vegetables, it must be remembered that much of the work described under soils and manures holds good alike for flowers and vegetables. Even in War-time, when food is so important, I am convinced that we can hardly do without flowers, for they can do so much to brighten up the hours, days, and weeks which might otherwise to many of us be full of gloom, and, maybe, sorrow. Who will deny that flowers cheer us and help us through our difficulties? So it really needs little apology for bringing out the work at the present time. It may be criticised in some of its details, and I hope critics will not "spare my feelings," if they feel it their duty to pull it to pieces. I am, happily, used to criticism; some years of writing for the Press enable me to enjoy it. Any practical suggestions for making the book more generally useful to amateurs will be most welcome, and my Publishers have kindly undertaken to forward letters to me. I cannot let this book appear without a few words of thanks. I have specially to thank my brother, Mr. Edward Ellis, for the interest he has taken in it; Mr. Lucas for his assistance and advice on several details; and my Publishers for their valuable suggestions during its progress through the Press. About the Publisher Forgotten Books publishes hundreds of thousands of rare and classic books. Find more at www.forgottenbooks.com This book is a reproduction of an important historical work. Forgotten Books uses state-of-the-art technology to digitally reconstruct the work, preserving the original format whilst repairing imperfections present in the aged copy. In rare cases, an imperfection in the original, such as a blemish or missing page, may be replicated in our edition. We do, however, repair the vast majority of imperfections successfully; any imperfections that remain are intentionally left to preserve the state of such historical works.
Sklep: Libristo.pl 84,99 zł
Muzyka>Rock>Rock & Roll
1. Shanon Vale - Star Of Love 2. John Gary - The Bells Ring 3. Robert Smith - Prophecy Of Love 4. Ray Steele - Sugar Coated Lies 5. Jean Garry - Mr.make Believe 6. Jimmy Lane & The Knights - Little Lover 7. Bobby Yorey - That's What I'll Do 8. Jack Kirby - Cheer Up Little Angel 9. Sue Thompson - He's Back 10. Mike Lane - World Of Pretend 11. Phil Wilson - Susan 12. Bill Shaw - Love Me Long 13. Frankie Veltrie - Little Girl Please Come Back 14. Bobby Wallin - New Boy In Town 15. Tommy Frontera - To Be With You 16. Publio & The Valiants - Lonely Guy 17. Richard Moreland & Pyramids - Bells In My Heart 18. Jim Hunter - I Love To Be With You 19. Jerry Mann - First She Loves Me 20. Warren Williams - Too Proud To Cry 21. Linc Bouve - Don't Be 22. Randy Starr - You're Growing Up 23. Jimmy Newman - You're Making A Fool Out Of Me 24. Paul Dino - Will You Marry Me 25. Frank Staro - Frank Staro 26. Jamie Bryan & The Brothers - Little One 27. The Nortones - Susie Jones 28. The Altones - Love Me, Love Me 29. Vickie Spencer - Hello Mr.dream 30. Loren Nichols - Got Me A Girl
Sklep: Gigant.pl
Sklepy zlokalizowane w miastach: Warszawa, Kraków, Łódź, Wrocław, Poznań, Gdańsk, Szczecin, Bydgoszcz, Lublin, Katowice
Szukaj w sklepach lub całym serwisie
2. Szukaj na wszystkich stronach serwisu
t1=0.087, t2=0, t3=0, t4=0.021, t=0.087