krainaksiazek china after mao 20106781
- znaleziono 14 produktów w 2 sklepach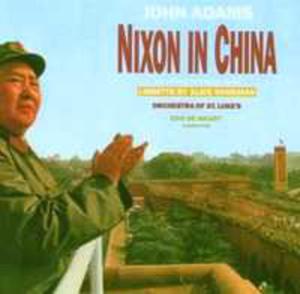 149,99 zł
Muzyka>Klasyczna
1. Craney - Nixon In China (Oper In 3 Akten) (Gesamta 2. (Beginning) (Akt 1, Szene 1) 3. Soldiers Of Heaven Hold The Sky 4. The People Are The Heroes Now 5. Landing Of The Spirit Of '76 6. You Flight Was Smooth, I Hope? 7. News Has A Kind Of Mystery: 8. (Beginning) (Akt 1 Szene 2) 9. You Know We'll Meet With Your Confrere, The Democr 10. You'e Said That Ther's A Certain Well-known Tree 11. Founders Come First, Then Profiteers 12. We No Longer Need Confutius 13. Like The Ming Tombs. 14. (Beginning) (Akt 1 Szene 3) 15. Ladies & Gentlemen, Comrades & Friends 16. Mr. Premier, Distinguished Guests 17. Cheers 101. (Beginning) (Akt 2 Szene 1) 102. Look Down At The Earth 103. This Is Prophetic! 104. At Last The Weather's Warming Up 105. (Beginning) (Akt 2 Szene 2) 106. Oh What A Day I Thought I'd Die! 107. Whip Her To Death! 108. Tropical Storm 109. Flesh Rebels 110. I Have My Brief 111. It Seems So Strange 112. I Am The Wife Of Mao Tse-tung 201. (Beginning) (Akt 3) 202. Some Men You Cannot Satisfy 203. I Am No One 204. The Maos Dance 205. Sitting Around The Radio 206. Let Us Examine What You Did. 207. When I Woke Up I Dimly Realized Th Jap Bombers Had 208. I Have No Offspring 209. I Can Keep Still 210. After That The Sweat Had Soaked My Uniform 211. Peking Watches The Stars 212. You Won At Poker. 213. I Am Old & I Cannot Sleep
Sklep: Gigant.pl 139,77 zł
Książki / Literatura obcojęzyczna
Rise of the Red Engineers explains the tumultuous origins of the class of technocratic officials who rule China today. In a fascinating account, author Joel Andreas chronicles how two mutually hostile groups - the poorly educated peasant revolutionaries who seized power in 1949 and China's old educated elite - coalesced to form a new dominant class. After dispossessing the country's propertied classes, Mao and the Communist Party took radical measures to eliminate class distinctions based on education, aggravating antagonisms between the new political and old cultural elites. Ultimately, however, Mao's attacks on both groups during the Cultural Revolution spurred inter-elite unity, paving the way - after his death - for the consolidation of a new class that combined their political and cultural resources. This story is told through a case study of Tsinghua University, which - as China's premier school of technology - was at the epicenter of these conflicts and became the party's preferred training ground for technocrats, including many of China's current leaders.
Sklep: Libristo.pl 105,19 zł
Książki / Literatura obcojęzyczna
When Mao Zedong proclaimed The People's Republic of China in 1949, China was a poor and wrecked society after years of continuous wars. For centuries, in fact, China had been seen as a sort of plunder-zone to be invaded, and then a backwater until the late 1980s, when domestic policy brought about monumental changes. The result was that in the past quarter-century China has grown to be the second largest economy in the world, and its military has grown proportionately. Successive decades of economic growth have transformed China - in addition to the weapons revolution during the computer age - so that by now the People's Liberation Army (PLA) has become a modern fighting force. No longer having to rely on massed infantry attacks, it now features a formidable arsenal including nuclear submarines, ICBMs, stealth fighters, and modern battle tanks. Perhaps ominously for other maritime powers, the Chinese have also focused on beyond-the-horizon missile technology, as well as anti-aircraft systems, and have also explored the possibilities of cyber-warfare. What is today's PLA really like? What are its traditions and histories, and how is it armed and equipped? How does it recruit and train? This book describes some of the lesser known battles and wars the Chinese have undertaken, and the development of their key weapons systems. The United States, having opened the door to "drone warfare," have had an attentive audience for such technologies in Beijing. The last chapter provides thoughts on how the Chinese view matters of security. It is not yet known whether foreign powers can still enforce their territorial wills on China, but future attempts will meet an increased challenge. This book will be of interest not only to general readers but to policy-makers and militaries in the West, who may not yet realize that a new China has replaced the old.
Sklep: Libristo.pl 95,51 zł
Książki / Literatura obcojęzyczna
Source: Wikipedia. Pages: 74. Chapters: Buildings and structures in Qingdao, Education in Qingdao, History of Qingdao, People from Qingdao, Sport in Qingdao, Transport in Qingdao, Kang Sheng, St. Michael's Cathedral, Qingdao, Shinan District, Hisense, Qingdao Jonoon F.C., Siege of Tsingtao, Kiautschou Bay concession, Bu Xiangzhi, Haier, Tsingtao Brewery, Fan Bingbing, Gunther Plüschow, Tang Guoqiang, Victoria Song, Huang Xiaoming, Su Maozhen, Li Xiaopeng, Li Yu, Jiang Ning, Liu Jindong, Yu Dabao, Celebration China, Wang Dong, Hao Haidong, Li Jianbin, Wang Qishan, Shu Chang, Qingdao Hailifeng F.C., Ren Yongshun, Qingdao Liuting International Airport, Zhang Juanjuan, Wang Yongpo, Qingdao Qianwan Container Terminal, Huang Xiaoxiao, Su Meng, Hachidai Nakamura, Zheng Wei, Qingdao International Sailing Centre, Li Benjian, Ma Jian, Gao Ming, Xu Yang, Lu Siqing, Zhanshan Temple, Yang Kunpeng, Liu Jun, Li Zhaoxing, Liu Zhao, Jiang Chunyun, Wang Ke, Zheng Long, Gao Shuying, Hu Kai, Liu Qing, Liu Zhenli, Wang Weilong, Wang Yameng, Jiang Lin, Qingdao DoubleStar, Xia Ningning, Huang Bo, Sui Feifei, Hu Jun, Wang Yan, Zou Zheng, Li Ming, Jacob Avshalomov, Xu Qun, Li Lei, Qingdao No. 2 High School, Ma Xingyu, Liu Xia, Ma Long, Zhou Yafei, Zhang Tianhan, Li Kai, Sun Bin, Chen Nan, Tang Naixin, Li Shufang, Qingdao dialect, Jiaozhou Governor's Hall, Qingdao Railway Station, Zhu Jianrong, Yu Guohui, Sun Jiangshan, Qingdao Haisha, Gao Xiang, Gao Rui, Jiang Shuai, Qingdao Tiantai Stadium, Qingdao Sunrise, Huangdao District, Zhan Qiao, Oxford International College Qingdao, Zhang Zhiqing, Ba Da Guan, Yu Yanli, Hu Xianqiang, May Fourth Square, Ning Zhenyun, Zhang Peng, Li Xiaoni, Yu Dawei, Jiang Fudong, Li Fei, Gao Siren, Qingdao Port, Hongcheng Stadium, Yizhong Sports Center, Shibei District, Lu Xun Park, Sifang District, Licang District, Sifang Railway Station, Laoshan District. Excerpt: Kang Sheng (Chinese: ; pinyin: Kang Sheng; circa 1898-December 16, 1975), Communist Party of China official, oversaw the work of the People's Republic of China's security and intelligence apparatus at the height of the Cultural Revolution in the late 1960s. He was a close associate of Mao Zedong and remained at or near the pinnacle of power for decades. After his death, Kang Sheng was accused of sharing responsibility with the Gang of Four for the excesses of the Cultural Revolution and expelled posthumously from the Communist Party in 1980. Kang Sheng (żż) was born in Dataizhuang, Jiao County (Chinese: ; pinyin: Jiao xiŕn) to the northwest of Qingdao in Shandong Province to a landowning family, some of whom had been Confucian scholars. Kang was born Zhang Zongke (simplified Chinese: ; traditional Chinese: ; pinyin: Zhang Zongke) but he adopted a number of pseudonyms - most notably Zhao Rong, but also (for his painting) Li Jushi-before settling on Kang Sheng in the 1930s. Some sources give his year of birth as being as early as 1893, but it has also been variously given as 1898, 1899 and 1903. Kang received his elementary education at the Guanhai school for boys and later at the German School in Qingdao. As a teenager, he entered into an arranged marriage with Chen Yi, in 1915, with whom he had two children, a daughter, Zhang Yuying, and a son, Zhang Zishi. After graduating from the German School, Kang taught in a rural school in Zhujiang, Shandong in the early 1920s before leaving, possibly for a sojourn in Germany and France, and ultimately for Shanghai, where he arrived in...
Sklep: Libristo.pl
128,99 zł
Książki / Literatura obcojęzyczna
After the 1949 revolution in China, Chairman Mao famously proclaimed that "women hold up half the sky." In the early years of the People's Republic, the Communist Party sought to transform gender relations with expansive initiatives. Yet those gains are being eroded in China's post-socialist era. Contrary to many claims made in the media, women in China have experienced a dramatic rollback of rights and gains relative to men. Leftover Women lays out the structural discrimination against women and speaks to broader problems with China's economy, politics, and development.
Sklep: Libristo.pl 391,72 zł
Książki / Literatura obcojęzyczna
After the 1949 revolution in China, Chairman Mao famously proclaimed that "women hold up half the sky." In the early years of the People's Republic, the Communist Party sought to transform gender relations with expansive initiatives. Yet those gains are being eroded in China's post-socialist era. Contrary to many claims made in the media, women in China have experienced a dramatic rollback of rights and gains relative to men. Leftover Women lays out the structural discrimination against women and speaks to broader problems with China's economy, politics, and development.
Sklep: Libristo.pl 55,85 zł
Książki / Literatura obcojęzyczna
Although the Chinese contribution to Allied victory in World War II is often ignored, China fought the Japanese Empire for far longer than any other belligerent nation. By the time that the Sino-Japanese War became absorbed into the wider conflict at the end of 1941, Chinese armies had already suffered huge casulties and half the country had been lost. By fighting on with Allied support, China tied down a million Japanese troops. After Japan's defeat in 1945, China was immediately plunged back into civil war between Chiang Kai-shek's Nationalists and Mao Tse-tung's Communists; and the latter's victory in 1949 changed the world for the rest of the 20th century and beyond.
Sklep: Libristo.pl 47,76 zł
Książki / Literatura obcojęzyczna
The autobiography of a young girl growing up in Mao's China. Hong Ying grew up in a slum on the banks of the Yangtze, an area permanently veiled in fog and steeped in superstition. Life was precarious and Hong Ying, the youngest of the six children, grew up afraid that she would be condemned to a life of carrying sand and emptying chamber pots. Gradually, Hong Ying began to try and solve some of the mysteries which had seemed to surround her early life: a stalker who had followed her since she was a child, a VD record in her father's file, and a persistent feeling that there was something strange about her birth. Among her discoveries, Hong Ying learnt that her mother was once married to a Triadman who had died in a labour camp as a counter-revolutionary, while her father, now a blind sailor, had several times barely escaped with his life during the civil war. Under the corrupt rule, her mother had taken extreme measures to keep the children alive while several of her relatives starved to death during the Great Famine. Moreover, Hong Ying's stalker turned out to have an astoundingly close connection with her. After the tragic deaths of both her first lover and her first child, Hong Ying decided she had to take control of her own life: she left home and worked hard to become a published poet and a novelist. After the events in Tian'anmen Square, she left China to live in London.
Sklep: Libristo.pl 109,63 zł
Książki / Literatura obcojęzyczna
The poet Haizi committed suicide in March of 1989, only months before many others died on June 4th of that same year. A relatively obscure poet at the time of his death, Haizi is now hailed as the epitome of the "hero of poetry" whose writings represent the idealistic 1980s. Does Haizi s death coincide with the 1989 pro-democratic movement only in time or are there certain connections? Why are Haizi and his poetry interpreted as representative of the "idealism" of the 1980s? What does this interpretation suggest about culture and society in post-1989 China? This study examines the ongoing canonization of Haizi. It first traces the cultural practices involved with the canonization from 1989 to 2010. After contextualizing Haizi and his writings within discussions of "modernism" and "world literature", this study investigates three literary aspects of his texts contributing heavily to his canonization: the literary theme of minjian to contest the official narratives of "history" and "nation"; the writing of epic to create a national canon; and the rhetorization of Christian symbols and motifs which shares ideological grounds with the "Mao style" in their prescription of a "sublime" poet-hero. Theoretically founded on E. Husserl s phenomenological notion of "sedimentation", this study observes the continuity and changes in Chinese culture from the Maoist era to the 1980s and the post-1989 decades, in particular the increasingly subtle struggle and symbiosis between literature and politics, between the intellectual and the state in China.
Sklep: Libristo.pl 171,51 zł
Książki / Literatura obcojęzyczna
During the first thirty years under communism, China completely banned crime fiction. After Mao, however, crime genres of all kinds old and new, Chinese and Western sprang up in profusion. Crime narrative again became one of the most prolific and best-loved forms of Chinese popular culture, and it often embodied the Chinese people s most trenchant and open critiques of their newly restored socialist legal system. This is the first full-length study in any language of Chinese crime fiction in all eras: ancient, modern, and contemporary. It is also the first book to apply legal scholars law and literature inquiry to the rich field of Chinese legal and literary culture. Familiar Holmesian, quintessentially Chinese, and bizarre East-West hybrids of plots, crimes, detectives, judges, suspects, and ideas of law and corruption emerge from the pages of China s new crime fiction, which is alternately embraced and condemned by the Chinese establishment as it lurches uncertainly toward post-communist society.
Sklep: Libristo.pl 74,99 zł
Książki Obcojęzyczne>Angielskie>Health & personal development>Family & health>Home nursing & caring
To Be Healthy And Happy. In 1948, Just Ten Months Old, Dr Paul Lam's Mother Left Him To His Grandmother In China. He Grew Up Under The Cruel Communist Regime Of Mao Zedong And Nearly Perished During The Great Famine. After Escaping From China, Studying
Sklep: Gigant.pl 115,50 zł
Książki / Literatura obcojęzyczna
Tensions over the 'Tibet Question' - the political status of Tibet - are escalating everyday. The Dalai Lama has gained broad international sympathy in his appeals for autonomy from China, yet the Chinese government maintains a hard-line position against it. What is the history of the conflict? Can the two sides come to an acceptable compromise? In this thoughtful analysis, distinguished professor and longtime Tibet analyst Melvyn C. Goldstein presents a balanced and accessible view of the conflict and a proposal for the future. Tibet's political fortunes have undergone numerous vicissitudes since the fifth Dalai Lama first ascended to political power in Tibet in 1642. In this century, a forty-year period of de facto independence following the fall of the Qing dynasty in 1911 ended abruptly when the Chinese Communists forcibly incorporated Tibet into their new state and began the series of changes that destroyed much of Tibet's traditional social, cultural, and economic system. After the death of Mao in 1976, the rise to power of Deng Xiaoping quickly produced a change in attitude in Beijing and a major initiative to negotiate with the Dalai Lama to solve the conflict. This failed. With the death of Deng Xiaoping, the future of Tibet is more uncertain than ever, and Goldstein argues that the conflict could easily erupt into violence. Drawing upon his deep knowledge of the Tibetan culture and people, Goldstein takes us through the history of Tibet, concentrating on the political and cultural negotiations over the status of Tibet from the turn of the century to the present. He describes the role of Tibet in Chinese politics, the feeble and conflicting responses of foreign governments, overtures and rebuffs on both sides, and the nationalistic emotions that are inextricably entwined in the political debate. Ultimately, he presents a plan for a reasoned compromise, identifying key aspects of the conflict and appealing to the United States to play an active diplomatic role. Clearly written and carefully argued, this book will become the definitive source for anyone seeking an understanding of the Tibet Question during this dangerous turning point in its turbulent history.
Sklep: Libristo.pl 52,99 zł
Książki / Literatura obcojęzyczna
A wonderfully enjoyable storehouse of ancient Chinese history and legends, which also has an important role in understanding 21st century. China 'And remember: Heaven's blessing will cease forever if there's despair and poverty in your lands.' The Most Venerable Book (also known as The Book of History) is one of the Five Classics, a key work of Chinese literature which preserves some of the most ancient and dramatic chronicles of the history, both real and mythological, of the Chinese state. For many centuries it was a central work for anyone wishing to work for the Imperial administration, preserving as it does a fascinating mixture of key Confucian concepts as well as page after page of heroes, benevolent rulers, sagacious ministers, and struggles against flood, corruption and vicious, despotic rulers. The First Emperor tried in 213 BC to have all copies of the book destroyed because of its subversive implication that 'the Mandate of Heaven' could be withdrawn from rulers who failed their people. For similar reasons it was also banned by Chairman Mao. Extraordinarily, the values of The Most Venerable Book have been revived by the Chinese government of the 2010s.
Sklep: Libristo.pl 100,43 zł
Książki / Literatura obcojęzyczna
Source: Wikipedia. Pages: 81. Chapters: Bruce Lee, Jackie Chan, Jet Li, Wong Fei-hung, Sammo Hung, Zhou Tong, Wong Shun Leung, Jeong Yim, Steven Ho, Vincent Zhao, Huo Yuanjia, Donnie Yen, Bolo Yeung, Gordon Liu, Wong Doc-Fai, Chang Dsu Yao, Mars, Lau Kar-leung, Yuen Biao, Shih Kien, Chan Kowk Wai, Hung Yan-yan, Yu Chenghui, Dan Anderson, Yuen Wah, Jason Lau, Mark Cheng, Ark Yuey Wong, Li Li-Qun, Dang Fong, Ten Tigers of Canton, Dong Haichuan, Chu Guiting, Chan Tai San, Lam Sai-wing, Liu Baojun, Chan Heung, Wang Zi-Ping, Li Quan, Wong Kiew Kit, Tang Sang, Stephen M.D. Chang, Shi De Li, Louis Fan, Ashton Chen, Chiu Chi-ling, Zhu Hui, Angela Mao, Jwing-Ming Yang, Chen Weiming, Lam Yiu Gwai, Jimmy H. Woo, Zhang Changxin, Sun Zhijun, Jyu Jik Chuyhn, Sifu Tan Siew Cheng, Sing Lung, Wong Lam Hoi, Ku Yu Cheung, Mok Kwai-lan, Zhao Daoxin, Zhan Zhao, Han Xingqiao, Ip Ching, Qichen Guo, Tao Ping-Siang, Brendan Lai, Yuenü, Huo Endi, Kwan Sai Hung, Daai Yuk, San Te, Jeung Lai Chuen, Sung Wei-I. Excerpt: Jackie Chan, SBS, MBE (born Chan Kong-sang, ; 7 April 1954) is a Hong Kong actor, action choreographer, filmmaker, comedian, director, producer, martial artist, screenwriter, entrepreneur, singer and stunt performer. In his movies, he is known for his acrobatic fighting style, comic timing, use of improvised weapons, and innovative stunts. Jackie Chan has been acting since the 1960s and has appeared in over 100 films. Chan has received stars on the Hong Kong Avenue of Stars and the Hollywood Walk of Fame. As a cultural icon, Chan has been referenced in various pop songs, cartoons, and video games. An operatically trained vocalist, Chan is also a Cantopop and Mandopop star, having released a number of albums and sung many of the theme songs for the films in which he has starred. Chan was born on 7 April 1954, in Victoria Peak, in the former Crown colony of Hong Kong, as Chan Kong-sang, to Charles and Lee-Lee Chan, refugees from the Chinese Civil War. He was nicknamed Paopao (Chinese: , literally meaning "Cannonball") because the high-energy child was always rolling around. Since his parents worked for the French Consul to Hong Kong, Chan spent his formative years within the grounds of the consul's residence in the Victoria Peak district. Chan attended the Nah-Hwa Primary School on Hong Kong Island, where he failed his first year, after which his parents withdrew him from the school. In 1960, his father immigrated to Canberra, Australia, to work as the head cook for the American embassy, and Chan was sent to the China Drama Academy, a Peking Opera School run by Master Yu Jim-yuen. Chan trained rigorously for the next decade, excelling in martial arts and acrobatics. He eventually became part of the Seven Little Fortunes, a performance group made up of the school's best students, gaining the stage name Yuen Lo in homage to his master. Chan became close friends with fellow group members Sammo Hung and Yuen Biao, the three of them later to be known as the Three Brothers
Sklep: Libristo.pl
Sklepy zlokalizowane w miastach: Warszawa, Kraków, Łódź, Wrocław, Poznań, Gdańsk, Szczecin, Bydgoszcz, Lublin, Katowice
Szukaj w sklepach lub całym serwisie
2. Szukaj na wszystkich stronach serwisu
t1=0.073, t2=0, t3=0, t4=0, t=0.073