krainaksiazek christ the dark years 20088266
- znaleziono 10 produkty w 2 sklepach 32,40 zł
Powieści i opowiadania
Blood. That
Sklep: Albertus.pl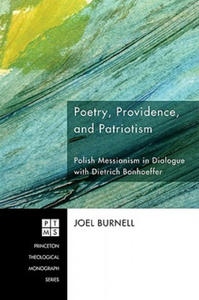 140,62 zł
Książki / Literatura obcojęzyczna
Description: Polish messianism tells the story of a nation struggling to survive and regain its independence. As narrated by the poets Jan Pawe_ Woronicz and Adam Mickiewicz, its vision of patriotism and civil responsibility, first told two hundred years ago, contains promising resources today for a world facing challenged by pluralism, secularization, nationalism and religious fundamentalism. Yet this messianism has a dark side. The romantic philosophy of history that funded this messianism proved an inadequate defense against Prussian and Russian military might, and failed to inoculate Poles against the rising spirit of nationalism, xenophobia and anti-Semitism that swept Europe in the nineteenth and twentieth centuries. In seeking to address the problematic and promising feature of Poland's particular messianism, Burnell draws up on the theology of Dietrich Bonhoeffer, arguing that his theology offers a much-needed critique of the myths and values of romantic national messianism. Where such messianism asks how Christ could serve a nation's cause and freedom, Bonhoeffer declared that by it is by following Christ in discipleship that people and nations become truly free. Recently, a new wave of Polish religio-political fundamentalism has appeared, as a response to the rapid secularization of society since the end of the Cold War. Certain members of the Polish clergy have again joined conservative politicians to promote nationalistic, populist, xenophobic, and anti-Semitic attitudes. Bonhoeffer, in contrast, argued for leaders who ennoble and empower those they serve, and modeled how patriots can honor their nation's achievements while freely confessing its failures. His legacy facilitates dialogue and reconciliation in the ongoing struggle against ethnic, religious and national bigotry. Following his lead, the messianic myth of ""Poland, the Christ of the nations,"" can be recast as a call to follow the One who is ""God-for-us"" and ""the-man-for-others"" by standing with the suffering, by speaking for the disenfranchised, and serving alongside other nations in the cause of freedom and justice. Endorsements: ""Joel Burnell is not only well-versed in the origins of Polish Messianism, but also in more recent, modern Polish history. Here he succeeds in drawing together this rich history with the insights of Dietrich Bonhoeffer in a dynamic, creative, and critical dialogue. His concluding chapter offers solid guidance, not only for Poland, but for anyone interested in navigating the challenging course, as we enter the twenty-first century, between secularism and fundamentalism."" --John W. Matthews President of the International Bonhoeffer Society-English Language Section ""Europe--like other world regions--badly needs models of how faith can interact creatively and not destructively or demonically with national, cultural, and religious traditions so as to create true communities of justice and peace. Joel Burnell's penetrating study on how the thought of one of Europe greatest twentieth-century Christians, Dietrich Bonhoeffer, aided the renewal of one of Europe's most enduring and precious traditions, the Polish, will admirably serve this end."" --Keith Clements Former General Secretary, Conference of European Churches ""This is a book that brings the reader into intimate contact with the hopes and aspirations of a courageous people in their struggles for independence and their eventual post-war and post-communist-control liberation and their eventual taking their place in modern European and world history . . . [It] offers insights not only into the troubled history of the Polish nation but also into the ways in which the theology and ethics of Dietrich Bonhoeffer can impact a society seeking to be a valued partner in a new European community o
Sklep: Libristo.pl 79,10 zł
Inne 1
Tens of millions of people worldwide were exposed to the mystery of Rosslyn in Dan Brown's blockbuster novel "The Da Vinci Code", and hundreds of thousands have since travelled there to marvel at its magnificent carvings and to wonder if some fabulous treasure lies buried beneath its medieval walls. The astonishing story of Rosslyn brings together a host of famous figures from history and legend, including Jesus Christ, the Virgin Mary, King Arthur, Merlin the Wizard, Sir Gawain, Alexander the Great, William Wallace, King Robert the Bruce, Mary Queen of Scots and Joan of Arc. Pseudo-history writers, Grail seekers and conspiracy theorists claim that the secret history of the Holy Bloodline of Christ, the Ark of the Covenant, the Lost Gospels of Christ, the embalmed head of Jesus, and the legendary treasure of the Knights Templar are all buried under Rosslyn Chapel. But what is the truth? Did the Templars really escape to Scotland? Does the enchanted White Lady of Rosslyn actually guard the Holy Grail? Was Rosslyn Chapel built to hide the Treasure of the Temple of Jerusalem? After 500 years shrouded in mystery and legend, the true story of the chapel, the castle and the Knights of the Round Table is revealed. With material culled from Dark Age and medieval sources, this startling book holds the key to the mystery of Rosslyn.
Sklep: Albertus.pl 39,56 zł
Książki / Literatura obcojęzyczna
Caro Ramsay's "Absolution" is the first in her much-loved "Anderson and Costello" series. The Crucifixion Killer is stalking Glasgow...leaving victims' mutilated bodies in a Christ-like pose. DCI Alan McAlpine - a renowned and successful police officer - is drafted in to lead the hunt, supported by local officers DI Anderson and DS Costello. But the past holds horrific memories for McAlpine. He last worked this beat some twenty years earlier, when he was assigned to guard a woman - nameless and faceless after a sadistic acid attack - at a Glasgow hospital. An obsession was born at that hospital room that has never quite left McAlpine ...and now it seems to be resurfacing. For a reason. As the chase to halt the gruesome murders intensifies, so Anderson and Costello find chilling cause for concern uncomfortably close to home...Reissued with a stunning new package, Caro Ramsay's Anderson & Costello thrillers have been widely recognised as one of the most significant new series in the genre in recent years and Ramsay's utterly unique investigators are ready to become the nation's favourite Scottish cop duo. "Absolution" is the amazing opening to this stunning series. Subsequent titles include "Dark Water" and "Singing to the Dead". Fans of Ian Rankin and Val McDermid will love this series. Praise for Caro Ramsay: "Brilliant in twisting the tension tauter with each page". ("Guardian"). "Ramsay handles her characters with aplomb, the dialogue crackles and the search for the killer has surprising twists and turns". ("Observer"). "Many shivers in store for readers, followed by a shattering climax". ("The Times"). Caro Ramsay was born in Glasgow and now lives in a village on the west coast of Scotland. "Absolution" is her first novel, which was shortlisted for the CWA's New Blood Dagger for best debut of the year. This success was followed by two further DI Anderson and DS Costello novels, "Singing to the Dead" and "Dark Water". The fourth book in the same series, "The Blood of Crows", is also released this summer.
Sklep: Libristo.pl 104,68 zł
Książki / Literatura obcojęzyczna
The birth of Christ never occurred. It should have, the elders insist. But it didn't. Some say old Jupiter prevented it the night he descended to seize power in Rome. Others whisper of the Dark Prince, whose minions have grown even as God the Creator's ancient voice has been silenced. Now, after 1500 years of dark ages, Europe's only hope is a sect of divinely gifted warriors known as the Order of the Ash. Their champion is torn between forbidden love and the path to truth and absolution. Little does he know that both will lead him to the same terrible place, where an ancient secret will either destroy mankind...or redeem it.
Sklep: Libristo.pl 45,60 zł
Historia
This is the first English translation of a book written in 1935 in German and translated into 18 languages. Thirty years later, a second German edition was published with a new final chapter. In 40 brief chapters, Gombrich relates the history of humankind from the Stone Age through World War II. In between are historic accounts of such topics as cave people and their inventions (including speech), ancient life along the Nile and in Mesopotamia and Greece, the growth of religion, the Dark Ages, the age of chivalry, the New World, and the Thirty Years' War. Much of this history is told through concise sketches of such figures as Confucius, Alexander the Great, Hannibal, Jesus Christ, Charlemagne, Leonardo da Vinci, Napoleon, and Columbus. Gombrich was asked to write a history geared to younger readers, so the book is filled with innumerable dates and facts, yet it is one to be read by adults. With 41 black-and-white woodcut illustrations and nine maps, it is a timeless and engaging narrative of the human race.
Sklep: Albertus.pl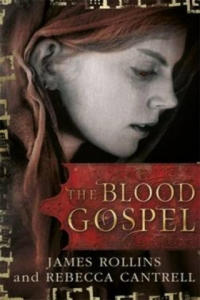 30,17 zł
Książki / Literatura obcojęzyczna
Sent to explore a subterranean temple revealed after a devastating earthquake in Israel, a trio of experts discover the mummified remains of a crucified girl. But as they excavate, a brutal attack sets them on the run and they're thrust in to a race to recover what was once preserved in the sarcophagus. A book rumoured to have been written by Christ's own hand. Hunted by a force of ancient evil, Dr Erin Granger and her two companions must follow the trail back thousands of years, to a time when ungodly beasts hunted the dark spaces of the world. And here they stumble across a secret sect within the Vatican, one whose existence was painted by Rembrandt himself. A shadowy order known simply as The Sanguines.
Sklep: Libristo.pl 54,57 zł
Książki / Literatura obcojęzyczna
Without a hint of exaggeration, says Bill Hybels, the ability to discern divine direction has saved me from a life of sure boredom and self-destruction. God s well-timed words have redirected my path, rescued me from temptation and re-energized me during some of my deepest moments of despair. In The Power of a Whisper, vision is cast for what life can look like when God s followers choose to hear from heaven as they navigate life on earth. Whispers that arbitrate key decisions, nudges that rescue from dark nights of the soul, promptings that spur on growth, urgings that come by way of another person, inspiration that opens once-glazed-over eyes to the terrible plight people face in this world through firsthand accounts spanning fifty-seven years of life, more than thirty of which have been spent in the trenches of ministry, Hybels promotes passion in Christ-followers' hearts for being wide open to hearing from God, and for getting gutsier about doing exactly what he says to do. For more information go to: www.thewhisperwall.com."
Sklep: Libristo.pl 39,56 zł
Książki / Literatura obcojęzyczna
Three thousand years before the birth of Christ. An epic conflict is about to begin. The price of victory? Civilization. The price of defeat, a return to the dark ages. The hopes of civilization rest on one man's shoulders: Eskkar, once a barbarian, now a warrior in charge of defending a small town which lies in the path of a vast barbarian war party. The last time the invaders came to Orak, they spared no one and the tiny candle of trade and agriculture that had begun there, the first in all of human history, was extinguished. But Eskkar and Trella, the beautiful slave girl he has been given by the grateful townsfolk, and the raggle-taggle army he has inherited are not going to flee. They will fight against the overwhelming odds with foolhardy bravery, subtle ingenuity and the last drop of their blood. On this tiny band the lathe of history will turn: victory or darkness?
Sklep: Libristo.pl 39,56 zł
Książki / Literatura obcojęzyczna
1942. Entrenched in the searing sands of Libya, a group of soldiers uncover a tomb. Buried in the ancient dust they find a macabre crown of thorns and the devastatingly powerful Spear of Destiny. They've discovered the last resting place of Christ. 2002 Gerald Usherwood and his old army pal Max Chippendale reunite to trade stories and spread Christmas cheer. But dark shadows visit the old friends in the dead of night and make them pay the ultimate price for the secrets they stole. Gerald's grandson, DCI Ethan Usherwood, is left to piece together the mystery behind the killings and to uncover the treasure they kept hidden for so many years. A desperate hunt for the ultimate truth, "Spear of Destiny" is undeniably Daniel Easterman's most powerful thriller to date.
Sklep: Libristo.pl
Sklepy zlokalizowane w miastach: Warszawa, Kraków, Łódź, Wrocław, Poznań, Gdańsk, Szczecin, Bydgoszcz, Lublin, Katowice
Szukaj w sklepach lub całym serwisie
2. Szukaj na wszystkich stronach serwisu
t1=0.038, t2=0, t3=0, t4=0, t=0.038