krainaksiazek christianity down to earth 20115055
- znaleziono 13 produktów w 2 sklepach 519,99 zł
Książki Obcojęzyczne>Angielskie>Humanities>Religion & beliefs>Hinduism>Hindu life & practiceKsiążki Obcojęzyczne>Angielskie>Human...
Sklep: Gigant.pl 155,08 zł
Książki / Literatura obcojęzyczna
Eternal Humans and the Finite Gods is a comprehensive book that guides the reader into journeys within oneself and beyond. It introduces a mother and daughter who genuinely desire truth, and they first utilized religion to find it. What should have been a path of awakening instead took them down a rabbit hole of diminished choice, knowledge, and freedom. This culminated in Talea's mother being used as a tool to spread the "truth" via prophecies she received, and Talea was being groomed toward a similar path. It took great effort and insight to climb out of that hole and stop the manipulation, which Talea shows in her realizations step-by-step.Popular books derived from otherworldly sources rarely if ever critique the gods or angelic guides of those messages. If criticism is found, people often turn to another religion ruled by similar entities. Talea's book is unique in that she not only analyzes her mother's prophecies, the Bible's, and various other sources, but she also brings us outside of mainstream spiritual beliefs to a more complete picture. Figuring out who was spiritually directing Talea and her mother and the reason why were pivotal steps to gain back themselves. They have learned how to separate truths from lies, which religions and New Age spiritualities are notorious in combining.Research into the roots of Judeo-Christianity shows evidence in Egypt, Sumer, Turkey, and Greece. Talea uncovers historical and otherworldly identities of Judaism's patriarchs and Christianity's demigods, and she uses archaeological and cultural evidence as support. The transition from Judaism to Christianity was generally smooth because, as Talea asserts, their factions interweave almost seamlessly-along with purposeful division-due to a greater agenda. Theories about an Apocalypse and New Earth are key topics for our current time, and real-world politics play a prevalent role toward a one world order "under God."Talea also approaches prevalent scientific beliefs hindered by fractal, quantum mechanics. Is there really a realm based upon eternal life and not death and reincarnation? She says "Yes," showing how she came to that conclusion with theories about other dimensions and universes. Science and religion share multiple similarities.Finally, she expounds upon key aspects of our wonderfully multifaceted selves that include energy "matter" beyond our mainstream understanding. With the extraordinary knowledge presented in this book, there is arguably more security and sense of self gained that ultimately empowers us more than any prevalent religion or spirituality can. We have more abilities and choices than what we have been led to believe, and we can choose our own paths in life, including the afterlife, which this book also explores.
Sklep: Libristo.pl 44,95 zł
Książki / Literatura obcojęzyczna
Who, I ask you, wants to drag his bones out of the earth, reclothed in flesh which, in some foul magic of reversal, is regurgitated by the worms, in order that his eyes may see God? Who, I ask you, wants to live for ever? Sadoc son of Azor, a retired shipping clerk lying diseased and dying on the outreaches of the Roman Empire, sets down for future generations a tale of epic proportions: he is charged with recounting no less an event than the birth of Christianity. And what an account it is - the story of a religion of love, born into the cruelties of the kingdom of the wicked. The Kingdom of the Wicked is one of Anthony Burgess's most ambitious novels. Its ancient setting, recreated in vivid and meticulous detail, is rendered new in this stunning account of the Roman Empire and its clashes with Christianity.
Sklep: Libristo.pl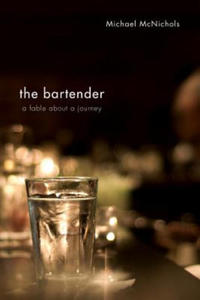 159,93 zł
Bartender Resource Publications (CA)
Książki / Literatura obcojęzyczna
Description: Christian faith is continually challenged by the tension between certainty and mystery. A historic faith can seem threatened by the uncomfortable recognition that God continues to work in a rapidly changing culture. The Bartender is a fable about the messiness and unpredictability of lives being opened up to God through relationships characterized by deep listening and looking for the ongoing work of God in the world. The parallel and sometimes intersecting paths of two men on different spiritual journeys reveal how God seems to be present in the most scandalous of human dramas. When both men take risks that threaten their own religious sensibilities, they find new ways of living out the implications of their faith. Endorsements: Some stories you just read, while others you are drawn into. Mike McNichols has written the latter. It weaves together a collection of characters, each of whom brings important issues that give rise to significant insights for the church to become not just a place but a community of peoples. They become a dispersed people who are both excited and challenged by Jesus, living with curiosity and anticipation as his servants in the world. If Jesus lived life to the full in the world and loved it so much he was prepared to lay down his life for it, how could his followers withdraw into their own little world? That is why the Bartender story is as inspiring as it is disturbing. --Eddie Gibbs, Senior Professor of Church Growth, Fuller Theological Seminary Some stories are told well, some are worth telling. The Bartender is both. And for those struggling with God, Christianity, or the church, worth reading too--well worth it. --Todd Hunter, Founder, Three is Enough Groups Read this book, and you will make the Earth-shaping discovery that . . . there is a better way, and the better way is the different way, and the future will be better for the difference. --Leonard Sweet, Drew Theological School, George Fox University, www.sermons.com About the Contributor(s): Michael McNichols is Director and Adjunct Assistant Professor of Leadership at Fuller Theological Seminary's Regional Center in Irvine, Calfornia. He is a contributor to Proclaiming the Scandal of the Cross (Baker Academic, 2006).
Sklep: Libristo.pl 81,82 zł
Książki / Literatura obcojęzyczna
Synopsis: In 1984, Ron Sider challenged that until Christians are ready to risk everything in pursuit of peace, "we dare never whisper another word about pacifism . . . Unless we are ready to die developing new nonviolent attempts to reduce conflict, we should confess that we never really meant that the cross was an alternative to the sword." From this challenge, Christian Peacemaker Teams was born. Nearly thirty years later, Michael McRay too explored Sider's challenge, interning with CPT in the West Bank city of Hebron. Alongside local and international peacemakers, McRay learned how to resist the violence of occupation, sharing in the stories of a suffering people as he struggled to embody the peaceable spirit of the rabbi from Nazareth. This book tells those stories. Drawing on his personal experience with the land and its history, McRay's raw letters home tackle critical issues relevant to peacemakers everywhere: What is really happening in Palestine that mainstream media fails to report? How are Palestinians' lives being affected? How can one be peaceable amidst such violence and oppression? How should Christian discipleship influence one's pursuits of peacemaking and reconciliation? McRay's letters illustrate both the challenge and promise of the cross in today's world. Endorsements: "Our field needs passionate, on-the-ground, firsthand descriptions of the challenges of constructively engaging settings of deep and painful conflict. McRay's book provides just such a window." --John Paul Lederach, author of The Moral Imagination "Surprisingly invitational. This is a book worth reading and rereading. As a guide for activism, I hope these reflections will have a profound rippling effect." --Kathy Kelly, Nobel Peace Prize nominee "A valuable resource for all who are called to be peacemakers--which should mean all of us." --Brian D. McLaren, author of A New Kind of Christianity "What is hopeful about these letters is the humanity the author shows through his interaction with Jews and Palestinians. In a down-to-earth yet profound way, this book shows Jews a way out of the injustice of occupying another people. What more important lesson do we Jews have to learn before it is too late?" --Marc H. Ellis, author of Toward a Jewish Theology of Liberation "Here is a book as unflinchingly faithful to the Christian gospel as a book can possibly be." --Richard T. Hughes, author of Myths America Lives By Author Biography: Michael T. McRay received his BA in History from Lipscomb University in Nashville, Tennessee, earning regional and national awards for his senior thesis comparing European colonialism and the Israeli occupation. In addition to his internship with Christian Peacemaker Teams, Michael has worked and traveled extensively in the West Bank in various capacities. He is currently pursuing graduate studies in conflict transformation and reconciliation with the Irish School of Ecumenics (Trinity College Dublin) in Belfast, Northern Ireland.
Sklep: Libristo.pl 96,86 zł
Książki / Literatura obcojęzyczna
Excerpt from Historical Collections: Being a General Collection of Interesting Facts, Traditions, Biographical Sketches, Anecdotes, Relating to the History and Antiquities of Every Town in Massachusetts, With Geographical Descriptions In view of the great variety of subjects introduced into this work, and the almost impossibility of producing a publication of this kind without errors and imperfections, it is with a degree of diffidence that it is laid before the public. This is felt in an especial manner when the author considers who will be his readers. A traveller in foreign places may make statements at random, in order to finish up his picture, which may pass for truth, when there is no one at hand who is able to correct his errors. This publication will come before persons many of whom have better means of information, and more knowledge on some subjects introduced, than can be reasonably expected from the author or this work. Massachusetts may justly claim an elevated rank among the states of this Union. She is the "mother state" of New England, and the birthplace of American freedom. A nobler ancestry no people ever yet possessed. "The Puritans (says a celebrated foreign writer, in no wise partial to them) were the most remarkable body of men, perhaps, which the world has ever produced. - They were men whose minds had derived a peculiar character from the daily contemplation of superior beings and eternal interests. Not content with acknowledging in general terms an overruling providence, they habitually ascribed every event to the will of the Great Being, for whose power nothing was too vast, for whose inspection, nothing was too minute. To know him, to serve him, to enjoy him, was with them the great end of existence. They rejected with contempt the ceremonious homage which other sects substituted for the homage of the soul. - On the rich and the eloquent, on nobles and priests, they looked down with contempt; for they esteemed themselves rich in a more precious treasure, and eloquent in a more sublime language; -nobles by the right of an earlier creation, and priests by the imposition of a mightier hand." Let those who sneer at such an ances try go back to the titled robbers of the middle ages, and claim affinity, if they will, with those felons of the human race, who fatten on the sweat and blood of suffering humanity. Travellers who have heard of the "cold and sterile soil of New England" are surprised on finding it the "Garden of the United States." On every hand he sees smiling and prosperous villages, and, to a very great extent, the appearance of public and private happiness. To whatever cause blind politicians may ascribe this, it is because "the Pilgrim spirit has not fled." Under no other system but Christianity does true liberty exist, or are human rights properly respected. By it, the existence of man is invested with dignity and importance; by this levelling and exalting system every human being, in whatever circumstances of degradation he may be placed, stands on an equality with the mightiest potentate of earth, and to his fate is attached a mysterious and inconceivable importance. About the Publisher Forgotten Books publishes hundreds of thousands of rare and classic books. Find more at www.forgottenbooks.com This book is a reproduction of an important historical work. Forgotten Books uses state-of-the-art technology to digitally reconstruct the work, preserving the original format whilst repairing imperfections present in the aged copy. In rare cases, an imperfection in the original, such as a blemish or missing page, may be replicated in our edition. We do, however, repair the vast majority of imperfections successfully; any imperfections that remain are intentionally left to preserve the state of such historical works.
Sklep: Libristo.pl 58,99 zł
Książki Obcojęzyczne>Angielskie>Health & personal development>Mind, Body, SpiritKsiążki Obcojęzyczne>Angielskie>Humanities>Religion ...
In Clear, Down-to-earth Language, The Author Provides Everything Readers Need To Fulfill Their Highest Aspirations.
Sklep: Gigant.pl 41,99 zł
Książki Obcojęzyczne>Angielskie>Humanities>Religion & beliefs>Christianity>Biblical studies & exegesis>Bible readings, selections & ...
Would You Adam And Eve It? Read How Jesus Feeds Five Thousand Geezers With Just Five Loaves Of Uncle Fred And Two Lilian Gish. Or How Noah Built A Bloomin' Massive Nanny. A Very Down-to-earth 'translation' That Brings Scripture Out Of The Pulpit And Back
Sklep: Gigant.pl 60,99 zł
Książki Obcojęzyczne>Angielskie>Humanities>Religion & beliefs>Christianity>Christian Churches & denominations>Protestantism & Protes...
Timothy J. Wengert Shows Luther's Treatise On Good Works To Be One Of The Clearest Introductions To Luther's Reforming Work And Theology. Luther's Goal Was To Commend A New, Down-to-earth Piety To All Christians Through A Radically Different Meaning Of Good Works That Would Transform The Way Believers Practiced Their Faith.
Sklep: Gigant.pl 57,99 zł
Książki Obcojęzyczne>Angielskie>Humanities>Religion & beliefs>Christianity>Christian spirituality & religious experience
O'Malley Looks At 'down-to-earth' Holiness And Calls On Us To Live For God On The Spot Where We're Standing. To Be Holy, He Argues, Is To Be Fully Human And Fully Alive, And He Draws On The Lives Of Jesus And The Saints To Inspire Us To Be What We Already Are - The Children Of God.
Sklep: Gigant.pl 279,99 zł
Książki Obcojęzyczne>Angielskie>Humanities>Religion & beliefs>Christianity>Christian liturgy, prayerbooks & hymnals>Prayerbooks
This Text Aims To Be An Inspirational Resource For Individuals And Clergy. It Is Written In A Down-to-earth Way And With An Enthusiasm Aiming To Inspire Spirituality And Faith Among Its Readers.
Sklep: Gigant.pl 39,99 zł
Książki Obcojęzyczne>Angielskie>Humanities>Religion & beliefs>Christianity>Christian worship, rites & ceremonies>Prayer
Presented In A Simple Format And Small Enough To Be Carried Around Throughout The Day, Mystical Prayer Is For (Almost) Everyone Encourages Thought And Reflection. The Spiritual Seeker Will Benefit From Its Unique Combination Of Solid Scholarship And Plain, Down-to-earth Style.
Sklep: Gigant.pl 117,40 zł
Książki / Literatura obcojęzyczna
How does anyone 'put on the mind of Christ', as Scripture commands? Can people really get so close to Christ that they not only know his mind but also take on his thinking? And what does this mean for Christian discipleship, the Church, the ordinary person of faith? David Scott, writer and poet, has reflected on this central theme of Christianity over a lifetime's ministry in the Anglican church. He writes with engaging honesty about his personal thoughts and yet brings a theological rigour to his analysis. He combines a down-to-earth practicality with profound engagement with the texts of Scripture. The result is a gem of a book. He writes as follows in his introduction. 'Put on the mind of Christ: what that phrase, with its concentration on 'mind', does not immediately evoke is the way in which the rattle-bag of feelings about things, the heartaches, the heart searchings, the lifting up of the heart have coalesced and been informed by the sharper, tougher attitudes of mind. We shall see, in the case of Jesus, that those two concepts heart and mind, become one orientation, attitude, and spring for action. They also provide one unmoveable pointer for us to a destination we trust in, as we set out to know Christ, and be known by him, and so to enter into a creative relationship with the very centre of our faith.'
Sklep: Libristo.pl
Sklepy zlokalizowane w miastach: Warszawa, Kraków, Łódź, Wrocław, Poznań, Gdańsk, Szczecin, Bydgoszcz, Lublin, Katowice
Szukaj w sklepach lub całym serwisie
2. Szukaj na wszystkich stronach serwisu
t1=0.074, t2=0, t3=0, t4=0, t=0.074