krainaksiazek code 4 texts 20114872
- znaleziono 6 produktów w 3 sklepach 199,00 zł
1. Boxy serwisowe > SonyEricsson
CRUISER PRO2 jest pierwszym niezależnym programem umożliwiającym zdjęcie simlocka, zmianę języków, zmianę kustomizacji oraz naprawę nowych modeli Sony Ericsson takich jak: K700i, K700c, K500i, K500c, K506c, K508i, K508c, F500i, S700i, S700c, S710a, Z1010i, Z1010c, V800, V802SE. Kupując oryginalny produkt otrzymujesz bazpłatny dostęp do aktualizacji! Nie potrzebujesz połączenia z internetem czy też kupowania logów. Obsługiwane modele: NOWE MODELE : Sharp V703SH, Sharp V801SH, Sharp V802SH, Sharp V902SH, Sharp V903SH, D750i, F500i, J210i, J210c, J300i, J300c, K300i, K300c, K500i, K500c, K506c, K508i, K508c, K600i, K600c, K608i, K700i, K700c, K750i, K750c, K758c, S700i, S700c, S710a, V600i, V800, V802SE, W550i, W550c, W600a, W800i, W800c, Z500a, Z500i, Z500c, Z520i, Z520c, Z800i, Z800c, Z1010i, Z1010c, LG U8110, LG U8120, LG U8130, LG U8138, LG U8180, LG U8330, LG U8380, including (R)-marked LG phones, and all older SE GSM phones. Supported are these CIDs: 16, 17, 19, 24, 27, 29, 36, 37, 41, 42 and 49 STARE MODELE : T630, T628, T610, T616, T618, Z600, Z608, P800, P802, P900, P908, T600 T602, T226, T226s, T230, T238, T66, T66c, T100, T100c, T102, T105, T106, A3618s, A3618sc R600s, R600sc, T310, T310c, T300, T302, T200, T202, T68i, T68ie, T68m, T68mc, T65s, T65sc T39m, T39mc, T687 Funkcje: pierwsze na świecie oprogramowania do zdejmowania blokady simlock w modelach Sharp V801SH, Sharp V802SH i V902SH pierwsze na świecie oprogramowanie potrafiące odblokowac CID36 nie potrzebujesz połączenia z internetem nie potrzebujesz wykupowania logów odczyt kodów odblokowujących (również o długości 16 znaków) odczyt kodów zabezpieczających zmiana oprogramowania zmiana pakietów językowych od kustomizacji naprawa telefonów uszkodzonych poprzez nieumiejętne serwisowanie, również "mrugające" lub z komunikatem "contact operator" wyłączenie dźwięku kamery zapis kopii bezpieczeństwa wgranie kopii bezpieczeństwa reset wszystkich liczników reset licznika dżojsticka włączenie/wyłączenie informacji o sieci, info o stanie baterii itp. UWAGA : Program działa tylko pod systemem Windows XP Remove RSA protection D750i, J300i, J300c, K300i, K300c, K500i, K500c, K506c, K508i, K508c, K700i, K700c, K750i, K750c, S700i, S700c, S710a, Z500a, Z500i, Z500c, Z1010i, Z1010c, V800, V802SE, W800i, W800c, Z800i, Z800c, T226, T226s, T237, T290i, T290c, T610Â?, T616, T618, T628, T630, Z600, Z608, P910i, P910c, P910a Flash AVR A1018s, A1018sc, A1028s, A1028sc, A2218z, A2228z, A2618s, A2618sc, A2628s, A2628sc, A2638sc, A2668sc, GM518, GM618, GM718, P800, P802, P900, P907, P908, P910i, P910a, P910c, R310s, R310sc, R320 TITAN, R320s CO-WAP, R320s, R320sc, R380 WORLD, R380e, R380s, R380sc, R520m, R520mc, T10s, T10sc, T18s, T18sc, T200, T202, T20e, T20ec, T20s, T20sc, T226, T226s, T230, T237, T238, T28 WORLD, T28s, T28sc, T28z, T290i, T290c, T290a, T29s, T29sc, T300, T302, T306, T310, T312, T316, T39m, T39mc, T610Â?, T616, T618, T628, T62u, T630, T637, T65s, T65sc, T68i, T68ie, T68m, T68mc, Z600, Z608 Flash ARM LG U8110, LG U8120, LG U8130, LG U8138, LG U8180, LG U8330, LG U8380, K500i, K500c, K506c, K508i, K508c, K700i, K700c, S700i, S700c, S710a, Z500a, Z500i, Z500c, Z1010i, Z1010c, V800, V802SE, Z800i, Z800c, A3618s, A3618sc, I888 WORLD, J200i, J200c, R320 CO-WAP, R320 TITAN, R320s, R320sc, R520m, R520mc, R600s, R600sc, SH888, T100, T102, T105, T106, T39m, T39mc, T610Â?, T616, T618, T628, T637, T630, T65s, T65sc, T68i, T68ie, T68m, T68mc, Z200, Z208, Z600, Z608 Flash PDA P800, P802, P900, P907, P908, P910i, P910a, P910c, R380 WORLD, R380e, R380s, R380sc Flash Bluetooth P800, P802, P900, P907, P908 Flash CR T600, T602, T66 Flash Z80 CA638, GA318, GA388, GA628, GF388, GF768, GF788, GF788c, GF788e, GH388, GH398, GH688, GH768c, I888 WORLD, PA388, PF768, PH388, R190 Satellite, R250s PRO, R290 Satellite, Sharp TQ-G400, Sharp TQ-G450, TH688 Direct Unlock LG U8110, LG U8120, K500i, K500c, K506c, K508i, K508c, K700i, K700c, S700i, S700c, S710a, Z500a, Z500i, Z500c, Z1010i, Z1010c, V800, V802SE, Z800i, Z800c, A3618, P800, P802, P900, P907, P908, P910a, P910c, P910i, R520m, R520mc, T100, T102, T105, T106, T200, T202, T226, T226s, T230, T237, T238, T290i, T290c, T290a, T300, T302, T306, T310, T312, T316, T39m, T39mc, T610Â?, T616, T618, T62u, T628, T630, T637, T65s, T65sc, T68i, T68ie, T68m, T68mc, Z200, Z208, Z600, Z608 Unlock via Codes LG U8110, LG U8120, LG U8130, LG U8138, K500i, K500c, K506c, K508i, K508c, K700i, K700c, S700i, S700c, S710a, Z500a, Z500i, Z500c, Z1010i, Z1010c, V800, V802SE, Z800i, Z800c, A3618s, A3618sc, P800, P802, P900, P907, P908, R520m, R520mc, R600s, R600sc, T100, T102, T105, T106, T200, T202, T226, T226s, T230, T238, T300, T302, T306, T310, T312, T316, T39m, T39mc, T600, T602, T610Â?, T616, T618, T628, T62u, T630, T637, T65s, T65sc, T66, T68i, T68ie, T68m, T68mc, Z600, Z608 Make Full GDFS Backup P800, P802, P900, P907, P908, P910a, P910c, P910i, R520m, R520mc, T200, T202, T226, T226s, T230, T237, T238, T290i, T290c, T290a, T300, T302, T306, T310, T312, T316, T39m, T39mc, T610Â?, T616, T618, T628, T62u, T630, T637, T65s, T65sc, T68i, T68ie, T68m, T68mc, Z600, Z608 Empty-board Programming J300i, J300c, K300i, K300c, K750i, K750c, W800i, W800c, K500i, K500c, K506c, K508i, K508c, K700i, K700c, S700i, S700c, S710a, Z500a, Z500i, Z500c, Z1010i, Z1010c, V800, V802SE, Z800i, Z800c, P800, P802, P900, P907, P908, P910a, P910c, P910i, R520m, R520mc, T200, T202, T226, T230, T237, T238, T290i, T290c, T290a, T300, T302, T306, T310, T312, T316, T39m, T39mc, T610Â?, T616, T618, T628, T630, T637, T65s, T65sc, T68i, T68ie, T68m, T68mc, Z600, Z608 Changing Network-Lock Codes P800, P802, P900, P907, P908, P910a, P910c, P910i, R520m, R520mc, T200, T202, T226, T230, T237, T238, T290i, T290c, T290a, T300, T302, T306, T310, T312, T316, T39m, T39mc, T62u, T610Â?, T616, T618, T628, T630, T637, T65s, T65sc, T68i, T68ie, T68m, T68mc, Z600, Z608 Repair damaged by Terminator/Cooler R520m, R520mc, T200, T202, T300, T302, T306, T310, T312, T316, T39m, T39mc, T65s, T65sc, T68i, T68ie, T68m, T68mc, and theoretically all other types... Repair phones with damaged customization/SPA A3618, T100, T102, T105, T106, Z200, Z208, J200i, J200c Remove Operator Customizations K500i, K500c, K506c, K508i, K508c, K700i, K700c, S700i, S700c, S710a, Z500a, Z500i, Z500c, Z1010i, Z1010c, V800, V802SE, Z800i, Z800c, T230, T237, T238, T68m, T68mc, T68i, T68ie, T62u, T610Â?, T618, Z600, Z608, P800, P802, P900, P908, P910i, P910c, P910a, J200i, J200c, Z200, Z208, T630, T628, T100, T102, T105, A3618s Ostatnie aktualizacje: Version 9.63 (13th May 2006): We have decided to release separate Firmware Restoral installer. Added Firmware restore button to the Security page . It automatically looks for proper firmware restoral file and flashes it to the phone. Help file updated. Version 9.61 (12th May 2006): Added support for K510 phones. Version 9.60 (11th May 2006): Added support for reading unlock/relock codes from Z300. Added support for reading flash from Z300. Updated TAC list for Z530i. Updated built-in customizations. Version 9.54 (8th May 2006): Fixed applet selection problem. Should fix the Sending applet problem. Version 9.53 (8th May 2006): Updated TAC list for T230i, T290i, T630, T637, V800, W800i, W810i, Z520i and LG U8138C. Fixed non-English language strings. Version 9.52 (8th May 2006): Full support for downloading files from W810 and Z530 phones. Help file slightly updated - more to come soon. Version 9.51 (8th May 2006): Some operations made faster. Increased flasher verbosity. Fixed minor W900-related bug. Version 9.50 (7th May 2006): Added functionality for non-TP flashing red CID49 phones (including W810 and Z530) with locked-down EROM area. Added functionality for non-TP unlocking/relocking red CID49 phones (including W810 and Z530) with locked-down EROM area. Added non-TP FS functionality for red CID49 phones (including W810 and Z530) with locked-down EROM area. Added support for non-TP IMEI change in red CID49 phones with locked-down EROM area. Added support for converting red CID49 K750, W800 and Z520 phones with unlocked EROM area to brown CID49. Implemented Unlock RSA function for red CID49 phones. The Repair certificate function is now disabled for red CID49 phones by default. There is a way to enable it, though its use is deprecated. Added support for automatic firmware identification in red CID49 phones. Some patchers were analyzing FOTA area by a mistake (i.e. not ignoring it) and therefore not functioning properly for some phone models. Several applets updated. Some built-in customizations were updated. Version 9.23 (5th March 2006): Installer updated. Updated TAC list for T290a, K300a, K750i, LG U8120 and Sharp V703SHF. Swedish language strings updated again. Version 9.22 (1st March 2006): Installer updated. Debug Log functionality updated. Minor changes to boot code. Slightly increased flasher verbosity. Swedish language strings updated. Slovak language strings updated. Version 9.21 (26th February 2006): Installer updated. EROM and FOTA files moved out from the help file. From now on, the Format GDFS function will be unavailable. It was abused too often. From now on, the Flash ARM function will be unavailable in certificate recovery mode. Help file updated. User manual in PDF file format released. Version 9.20 (25th February 2006): Minor changes to EROM area flashing code. Updated K750/W550/W800/W900/Z520 built-in customizations. Version 9.19 (24th February 2006): Fixed a bug regarding Create file package option. Minor changes to booting code. Open/save dialog code updated. Version 9.18 (24th February 2006): Restored the ability to change IMEI on Sharp 3G phones. It was dependent on the Unlock RSA function which was removed for these phones recently. Increased verbosity for operator's mistakes. Changes in TP-handling code. Version 9.17 (23rd February 2006): Updated langpack description for W900. Fixed bug in GDFS access code for phones with baseband IDs 0x8000 and 0x8040. Reduced importance of Unlock RSA function. It should not be needed for brown and blue phones anymore. Version 9.16 (22nd February 2006): Minor changes in RSA phone booting and shutdown code. Updated TAC list for J210i. Redundancy decreased again. Other minor bugfixes. Note: It is recommended to fill all SE emptyboards regardless of their phone type by brown CID49 certificate via CID49 recovery boot and certificate repair. Version 9.15 (22nd February 2006): Added support for unlocking several new U8180 firmwares. Updated ARM 2004/2005 FAQ help-file section. Added FAQ help-file section for Sharp 3G phones. Updated LG U8110/U8120 unlock procedure descriptions. Thanks to Aamir_Zia and DonaldDuck69. Updated LG U813x/U8180/U83x0 unlock procedure descriptions. Fixed bug in langpack description for K700. Version 9.14 (19th February 2006): Added support for unlocking several new U8330 firmwares. Updated TAC list for Siemens C62. Fixed minor T610 bug manifesting itself on some Windows versions. Updated LG U8550 block list combo-box for flash reading. Version 9.13 (19th February 2006): Fixed AVR flashing bug from version 9.10. Updated TAC list for J300i and K300i. New firmware patcher engine implemented. (Applied to LG for now, Sharp and SE later.) Added support for patching newer LG 3G firmwares. Version 9.12 (16th February 2006): Fixed minor RSA unlock bug. Version 9.11 (16th February 2006): Flasher modules updated again. Version 9.10 (16th February 2006): It is possible to open more flash files at once. Note: Just hold the Ctrl key while selecting files. It is possible to customize filesystem automatically right after flashing raw FS. All flasher modules were updated. Minor changes in CID54 configuration analysis code. Modified default state of Extended config options. Phone Firmware Backup (.pfb) files created in this version are not backwards compatible (i.e. should not be used with previous versions). The Lock to network option should not be enabled for red CID41/42 phones. Fixed minor FS customization issue. Fixed minor GDFS/FS bug from version 9.00. W550 (new HW) testpoint picture updated. Updated TAC list for T290a, K300i and K700i. Communication code updated. Startup code modified. A few memory leaks removed. Version 9.03 (9th February 2006): Added special flashing options for new ARM phones. Fixed RSA AVR booting bug from version 9.00. Fixed minor security zone creation bug. Updated V/K60x testpoint pictures. Version 9.02 (8th February 2006): Fixed GDFS and FS access bug from version 9.00. Fixed brown/blue CID37 booting bug from version 9.00. Version 9.01 (8th February 2006): Fixed Sharp 3G flashing bug from version 9.00. Version 9.00 (7th February 2006): Implemented LG U8550 red CID54 unlocking without using testpoint. World's first again! Fixed a bug in flashing raw FS files via EPI USB. Fixed slow-flashing bug for ST Microelectronics chips. Fixed occassional Sharp 3G flashing bug. Changes in Sharp 3G functionality. Changes in LG 3G functionality. Enabled flash reading from new ARM phones for all users. Added full support for Blue CID49 phones with baseband chip ID 0x7100. Some operations on Blue and Brown phones were made faster. Added support for TMS cable autodetection. Fixed bug in Disable/Enable OTP IMEI check function for new ARM phones. The previous code was excessively optimized Fixed minor J300 file selection issue. Updated TAC list for Z300i, Z300a and K750i. Redundancy decreased again. Version 8.11 (30th January 2006): Released flash file for unlocking LG U8550. In this version it has to be flashed via TP. To repair phones damaged by other tools tick Overwrite flash certificate option. It should be no more necessary to unlock RSA before unlocking new Sharp phones via patching. Installer updated. Fixed a bug regarding P910a phones. Updated TAC list for T630i and Sharp V703SH. Several prototype-related updates. Built-in customizations updated. Version 8.10 (22nd January 2006): Ongoing software architectural changes. Redundancy decreased. Added support for programming W810/Cleo/Mulan empty-boards. Downloading files from K750/W800/Z520 enabled for all users. Downloading files from W550/W600 enabled for all users. Downloading files from W900 enabled for all users. Updated TAC list for T230i and J200i. The 'USB interference occurred' message should appear less frequently when using nonconforming cables. Added support for TMS cable. Thrown away the old, sporadically working, help engine. Updated many texts in Cruiser help file. Thanks to Muppet. Help file completely reorganized. Now it seems to be more topologically correct. Help file screenshots updated, descriptions updated too. Help file EROM-files updated. W900i testpoint picture included to the help file. The LangPack info button should be reliable now. The F1 key should reliably invoke the relevant help topic. It works in the Settings window too. Added support for CID19 EROM recovery. Debug Log functionality modified so that it can be used with Windows Notepad. Security I renamed to Security AVR . Built-in customizations updated. Version 8.00 (14th January) Implemented red CID49 unlocking and flashing without using a testpoint. The real standalone way, no EMMA smartcard usage, world's first! Supported phones are W550i/c, W600i, K600i/c, K608i and V600i. More models coming shortly. Loaders updated. Version 7.16 (13th January) Installer updated. New cable driver version (2176) included. Built-in customizations updated. Experimental FOTA support added. Some GDFS-related changes. Changes in unlock functionality. Slightly changed functionality of the phone type filter. Added support for two new flash IDs. RSA configuration analysis code updated again. Loaders were updated. Minor architectural changes. Allowed to change language to Chinese/Malay for non-Chinese and non-Malay card users. Version 7.15 (1st January 2006): Several communication scripts updated. Updated TAC list for W900i, W800c, W550i, Z520i, Z520c, Z520a, K600i, K608i, J210i, T230i and T290a. LG U8380 testpoint included to the help file. Added an option to write replacement unit customization. Btw, happy new year! Version 7.14 (31st December 2005): Another K608i testpoint picture included to the help file. J210 World Generic decustomization has been released. J210 repair file has been released. Remember to recalculate CRCs (the phone should be attached as J200). Repair EROM functionality updated to reflect W900 phones. Brown CID49 phones are supported now. Brown CID49 FOTA (Flash-Over-The-Air) repair files for W550, W600, S600 and W900 have been added to the help file. Some loaders were updated. Note: If your phone freezes right after powering on, try direct unlocking it. Version 7.13 (29th December 2005): Cruiser is now available in English, Chinese, Czech, Greek, Indonesian, Malay, Polish, Russian, Slovak and Swedish languages. Many thanks to 9Volto for preparing Greek translation. Added Language page to the Settings window. This page is not shown for Chinese, Malay and Indonesian cards. Updated TAC list for T290i, K750i, Z520a, W600i, LG U8360, Siemens C62. GDFS configuration bug fixed for Z520a. No need to attach them as Z520i/c anymore. Implemented several FS-related functions for brown CID49 W550/W600 phones. Updated W600i built-in customizations. Updated W900i built-in customizations. New brown CID49 to red CID49 conversion EROM file for W550/W600 phones has been included to the help file. Some prototype-related updates. Version 7.12 (22nd December 2005): Fixed EROM repair issue for brown CID49 K608. Updated W900i langpack info. Some changes to applet upload strategies. Version 7.11 (3rd December 2005): Added support for flashing CID54 phones (LG U8550) without using testpoint. RSA configuration analysis code slightly updated to reflect CID54-related changes. Increased robustness of RSA configuration analysis code to prevent potential crashes on invalid flash content. Added alternate method of replacing RSA certificates. Fixed one bug in low-level communication code. Fixed small bug in Repair certificate function. Fixed one previously introduced bug in GDFS access for P910. Updated K750i built-in customizations. Updated W800i built-in customizations. Updated TAC list for K300i, K700i, T290i, LG U8330 and Sharp V903SH. Version 7.10 (22nd November 2005): From now on it is possible to download files from FS to special archive files in .cfp (Cruiser File Package) format. From now on it is possible to upload .cfp package content to phone FS. An LG U8550 testpoint picture added to the help file. Updated W600i built-in customizations. Updated K608i built-in customizations. Updated K700i built-in customizations. Fixed '5E0W' customization bug from version 7.00. It is now possible to enable GSM/3G selection menu in SE 3G phones (K600, K608,...). Fixed some bugs in Polish translation. The Customize FS button was moved to Flash ARM page. Fixed occassional K600/K608/W900 booting bug. Updated W550i/W550c/W600i langpack info. Updated TAC list for K700i. Version 7.00 (17th November 2005): Added support for fast direct unlock of Sharp V703SH/V903SH/SX313/SX833 phones. Anyway, this is the fastest way of unlocking these phones available on the market. The direct OTP/GDFS check enable/disable function should be much more generic - now it handles Sharp V703SH/V903SH/SX313/SX833 firmwares too. Support for unlocking any-CID ARM phones with baseband chip IDs 0x7000, 0x7100, 0x8000 and 0x8040. Even W900 phones. Support for flashing any-CID ARM phones with baseband chip IDs 0x7000, 0x7100, 0x8000 and 0x8040 without changing primary certificate. New K600/K608 testpoint picture added to the help file. A W550 testpoint picture added to the help file. A W600 testpoint picture added to the help file. The fast LG 3G unlocking functionality via firmware patching was extended to support some LG U8550 firmwares. Added support for locking OTP area in LG 3G and Sharp 3G empty-boards. Added an option to write new Bluetooth MAC address to RSA-protected ARM-based SE phones. It is available among Modify GDFS options. RSA boot options have been modified. Certificate recovery function updated. Repair EROM functionality updated to reflect W550 and W600 phones. Both brown CID49 and red CID49 phones are supported now. Fixed minor bug in RSA configuration analysis code. Updated Customize FS function. Updated TAC list for W600i, J300a and K750i. Some changes in Chinese translation. Version 6.10 (5th November 2005): Added support for unlocking J210 phones. The Recalc DCRCs button was enabled for J210 by a mistake. Notice: Please prefer using reading codes to direct unlocking when possible. Version 6.05 (28th October 2005): W550 built-in customizations list updated. Fixed an issue with unlocking some Siemens C62 phones. Fixed a bug in direct OTP/GDFS check disable/enable function regarding LG 3G phones with old firmwares. Version 6.04 (26th October 2005): Added support for GDFS identity changing for CID17 LG 3G phones. (Not available in Legal Edition) Added support for GDFS identity changing for CID41 and CID42 LG 3G phones via testpoint. (Not available in Legal Edition) Added support for GDFS identity changing for CID24 Sharp 3G phones. (Not available in Legal Edition) Added fast direct OTP/GDFS check disable/enable function for CID17, CID41 and CID42 LG 3G phones and for CID24 Sharp 3G phones. (Not available in Legal Edition) Note: For LG U8360 and LG U8380 it is necessary to unlock phone via patching. Added support for explicit restoring of GDFS identity. Fixed a flashing bug that caused U8380 v10A firmwares to be unlocked incorrectly. Another change to RSA protection unlocking code. Slightly increased verbosity of GDFS access initialization error handling code. Version 6.03 (26th October 2005): K600/K608 testpoint pictures updated. Minor change related to unlocking RSA protection of OTP CID29 phones with baseband chip IDs 0x8000 and 0x8040. Updated direct OTP/GDFS check removal code to support older firmware versions. Slightly increased verbosity of applet error handling code. Added function for fast restoring firmware OTP/GDFS check. Added support for flashing .pfb (Partial Firmware Backup) files that are created before every partial ARM firmware modification (direct LG unlocking or OTP/GDFS check disabling/enabling). Fixed a bug in Polish translation. Version 6.02 (24th October 2005): Fixed an issue with Sharp V703SH phone type autodetection. Fixed a bug regarding flashing Sharp V903SH phones by certain flash files. Another minor updates. Installer updated. Version 6.01 (24th October 2005): Fixed an issue with Siemens C62. Version 6.00 (24th October 2005): Added boot support for Siemens C62 (CID27). Added support for flashing original SSW files into AVR-based phones (e.g. Siemens C62). Added support for direct unlocking Siemens C62 v25, v26, v27 and v28. Added support for relocking Siemens C62 v25, v26, v27 and v28. Z520 built-in customizations list updated. Other changes in built-in customizations. Added GDFS identity changing for ARM phones with baseband chip IDs 0x7000, 0x7100, 0x8000 and 0x8040. (Not available in Legal Edition) Added fast direct OTP/GDFS check removal function for new ARM SE phones. (Not available in Legal Edition) Minor change in file download functionality. It should copy empty directories too. Updated TAC list for W550i, Z520i, W800i, K300i, K700i, Sharp V703SH and V903SH. Removed possibility to change CID41 and CID42 phones to brown color due to a safety reason. Added boot support for J210. Added support for flashing J210. T9 dictionaries removal has been separated from language files removal function. Added displaying of flash certificate name while booting new ARM phones. Internal FW database extended. The Write to OTP function now allows ordinary users to choose from more CIDs. Released Sharp V902SH to SX813 conversion flash file. Released Sharp V903SH to SX833 conversion flash file. Released Sharp V903SH testmode flash files. Added boot support for CID49 phones with baseband chip IDs 0x7000 and 0x7100 (K608, etc). Added Direct unlock for Brown CID49 phones. Added Lock to network for Brown CID49 phones. Added Reading codes from Brown CID49 phones. Added Save security for Brown CID49 phones. Added Restore security for Brown CID49 phones. Added support for booting CID49 phones (red and blue via TP for now). Added support for flashing Brown CID49 phones. Added support for flashing Red/Blue CID49 phones via TP. Added support for changing RSA certificate color of CID49 phones (by using TP for now). A brown CID49 to red CID49 conversion file for K608 has been included to help. It is not necessary to reflash phone firmware after using this file. Added fast LG 3G unlocking functionality via firmware patching. Automatically saves a firmware backup file to the Data/ARM flash backups folder. Supported are these models: U8130, U8138, U8180, U8330, U8360 and U8380. Possibility to upgrade LG U8138 to U8180. Possibility to upgrade LG U8130 to U8330. Czech language strings updated. Polish language strings updated. Help file updated - added Siemens C62 pinout, some LG 3G secret codes, etc. Version 5.02 (1st September 2005): Important notice: Do not attempt to convert OTP CID37 phones to any other CID! Otherwise you will not be able to boot the phone anymore. Cruiser does not allow you to do that, but other software may. Cruiser is now available in English, Chinese, Czech, Indonesian, Malay, Polish, Russian, Slovak and Swedish languages. Fixed one chicken-and-egg situation with Unlock RSA . Fixed one FS-access bug regarding K750/W800 phones that was introduced with version 5.00. From now on the Format GDFS option is protected by a password "KILL THE PHONE". Version 5.01 (31st August 2005): Updated TAC list for W800i and J210i. Fixed an OTP IMEI (non-)insertion bug in the Security I page. RSA unlocking functionality slightly modified. Version 5.00 (30th August 2005): Added function for easier replacing of flash certificates. A list of compatible certificates is displayed in the combo box located below the Replace certificate button. Note: Latest EROMs require you to restore the flash certificate back to its original state to allow the phone to be turned on. Updated TAC list for K750i, W800c, V600i, K608i, K600c, J300i, J300c, T290i and T290c. W800 built-in customizations list updated. Minor CID17-related changes. Write bandlock functionality slightly modified. Added theoretical support for old S988 prototypes. Added support for flashing LG U8360. Added support for flashing Sharp V903SH. The user interface has been modified. Flash BT function has been separated from Flash ARM . Added reading codes for CID37 phones. Recover Certificate function now supports CID37 phones. Note: An attempt to start a CID37 phone containing working firmware in a recovery mode will fail. Implemented Unlock RSA function for CID37 phones. The Unlock RSA button should not be enabled in recovery mode. Flasher functionality modified for CID36 and CID37. Added Customize FS function for CID37. Added Turn camera sound on/off function for CID37. Added Modify GDFS functionality for CID37. Added Write to GDFS functionality for CID37. Added Save security for CID37. Added Restore security for CID37. Added Direct unlock for CID37. Added Lock to network for CID37. Added Read GDFS zones for CID37. Added Upload files to FS for CID37. Added Language operations for CID37. Added Write to security zone for CID37. Lock OTP area now supports CID37. Added Repair EROM function for CID37 phones. Note: Reflash the main firmware when using this function for brown CID37. Added Format GDFS function. Added Remove RSA unlock traces function. It is located among Modify GDFS options. Unused code removed. Help file slightly updated. Version 4.30 (14th July 2005): K600/V600 built-in customizations list updated. K600/V600 flash file handling improved. Help file updated - K600/V600 language pack info added. Added support for direct handling of blue CID36 phones (recovery mode not required anymore). Minor changes in code accessing the FS of brown CID36 phones. Increased verbosity of GDFS error handling code. Conversion to brown CID36 for baseband chip IDs 0x8000 and 0x8040 has been optimized. Conversion to brown CID36 for baseband chip IDs 0x7000 and 0x7100 has been optimized. Introduced detection of data bus interferences for LG phones. About-box information slightly updated. Now 170 phone types are supported. Help file CID information updated. Added Special Files topic to the Additional Info section of the help file. Open-flash-file dialog boxes accept .erom1 and .erom2 file types where appropriate. The Force RSA recovery combo-box now displays manufacturer names too. Minor changes in UI. Version 4.24 (10th July 2005): Allowed direct flashing of normal flashes in recovery mode for CID41 and CID42. Conversion to brown CID36 requires phone analysis performed. Otherwise it displays an error message. Minor changes in K600/V600 functionality. Added support for S600i/S600c/W600a. Some applets updated. Booting code modified. Flashing code modified. Flash file open dialog code updated. File-system functionality for brown CID36 phones reenabled. Fixed some issues with prototype CID36 phones. Fixed a bug in reset life-timer functionality. Updated TAC list for LG U8380. The Turn off phone button should be enabled for unidentified new ARM phones. The Repair certificate button was disabled in some cases. Camera focus sound is now affected by the Camera sound on/off function too. Added support for flashing brown CID19 phones (EMP). Added phone type filter. Version 4.20 (29th June 2005): Added support for converting K750 phones to W800. Added support for Z520i/Z520c. Increased safety when converting red CID36 phones to brown CID36. Sharp 3G flashing speed via Fighter/Cruiser cable slightly improved. The main executable and help file are now stored outside the installer. Version 4.15 (24th June 2005): Fixed one bug introduced in the previous version. Version 4.14 (23rd June 2005): Installer updated. It is possible to use Z800 files for V800/V802SE phones directly. Reading phone certificate caused problems while flashing composite flash files via EPI USB. Version 4.13 (21st June 2005): Added support for cross-CID flashing of CID41 and CID42 phones without testpoint. Minor change in UI. Version 4.12 (20th June 2005): Minor change in Upload files to FS function. K750i/D750i language pack info updated again. New brown CID36 to red CID36 conversion file for K750/D750/W800 has been included to help. It is not necessary to reflash phone firmware after using this file. Flash file format modified. Version 4.11 (18th June 2005): K750i/D750i built-in customizations list updated. K750i/D750i language pack info updated. Built-in EROM recovery function for K750/D750/W800 phones improved. It should be possible to flash more phones at once via EPI USB too. Chinese language strings updated. Help file extended by a description of CID36 phone operations. Brown CID36 to red CID36 conversion file for K750/D750/W800 has been included to help. It is not necessary to reflash phone firmware after using this file. Version 4.10 (13th June 2005, beta version): Added support for red CID36 to brown conversion (without testpoint, of course). K750/D750/W800 red CID36 phones are now fully supported. Added Unlock RSA function for red CID36 and CID24 phones. Added Upload SFA function for red CID36 phones. Added Write raw FS function for red CID36 phones. Added Customize FS function for red CID36 phones. Added Language operations function for red CID36 phones. Added Upload files to FS function for red CID36 phones. Added Camera sound on/off function for red CID36 phones. Added Save security function for red CID36 phones. Added Restore security function for red CID36 phones. Added Read GDFS zones function for red CID36 phones. Added Modify GDFS function for red CID36 phones. Added Write to GDFS from file function for red CID36 phones. Added support for backup of battery calibration zone of new ARM phones. Added support for backup of display calibration zone of new ARM phones. Added support for backup of audio calibration zone of new ARM phones. Added support for backup of radio calibration zone of new ARM phones. Built-in customizations list updated and extended by J300i data. Installer updated. EPI USB driver included to allow faster flashing of LG 3G, Sharp 3G and V800/Z800/Z1010 phones. Added an option to flash faster via EPI USB. Added support for EROM recovery in red/brown CID36 K750/D750/W800. Version 4.02 (8th June 2005): A Sharp V801SH GDFS related issue fixed. Updated TAC list for LG U8330. Version 4.01 (8th June 2005, beta version): Added experimental support for Sharp V801SH. Updated applet for Sharp 3G phones. Added support for flash ID 0x890F. Added support for flash ID 0x8910. Fixed a bug causing some buttons to be disabled for LG phones under certain circumstances. Sharp connector picture updated. Version 4.00 (7th June 2005): Released pinout for Sharp V802SH and V902SH phones. It is in the help file. Added Direct unlock support for Sharp 3G CID24 phones. Added Lock to net support for Sharp 3G CID24 phones. Added Save security and Restore security support for Sharp 3G CID24 phones. Force RSA recovery options now include CID24, CID41 and CID42. Added displaying of flash manufacturer when booting new ARM phones Version 3.94 (5th June 2005, beta version): Added reading codes from CID41 (LG U8180) and CID42 phones via testpoint. Cross-CID flashing extended to CID17/CID41/CID42. Cruiser automatically patches flash files by replacing their RSA certificate. Usage: it is possible to flash U8180 by U8138 firmware. Fixed an issue with flashing R600. Added support for EROM recovery in very rare brown CID16 V800/Z800. Updated TAC list for T610, F500i, K506c, K700i, Z800i, K750i, K750c and D750i. Help file updated. Version 3.93 (3rd June 2005): V800/Z800 CID testpoint released. EMMA smartcard mutex is now released correctly. Flash file open dialog code updated. Due to many requests, Direct unlock and Read codes work now much faster on new ARM phones. Cruiser closing issue fixed. Updated TAC list for Z200, Z600, Z608 and LG U8100, Version 3.92 (1st June, gamma version): K300 CID testpoint released. Built-in customizations list expanded. Fixed an issue with handling Z800 red CID36. Fixed a bug in EROM repair for red CID29 V800/Z800. Fixed a bug causing the Direct unlock to be disabled for J200/Z200/T100/A3618 phones. Repair EROM shall not be enabled in certain situations. LG unlocking functionality was disabled by a mistake. A baudrate-related modification regarding LG phones. Version 3.91 (1st June 2005): Reworked unlocking/relocking of red CID36 phones via testpoint. Added a button for conversion from red CID36 to brown CID36 (via testpoint). Version 3.90 (31st May 2005): Added support for full security zone rebuild of R520/T39/T65 phones (i.e. phones with baseband chip ID 5C05 and 5C06). Throughout last 4 years nobody else was able to manage it. It appeared to be almost impossible. But henceforth you can repair 4 locks closed or any other software-related problem. The Redirect SCRC check to zone II checkbox has been removed. The Security II page was removed as it has been made superfluous by extending the Security I page functionality to R520/T39/T65 phones. Updated TAC list for LG U8180, K500i, K300i, V802SH and V902SH. Installer updated. It enables displaying hidden/nonpresent devices in Device Manager under Windows 2000/XP. Once again, some baudrate-related modifications. Malay and Slovak language strings updated. Direct unlock button was enabled for all LG 3G phones by a mistake. Use read codes instead. Debug Log feature released to public. Help file updated - added info on how to boot unbootable P900 smartphones. An error message is now shown when trying to boot an incorrectly upgraded P900 to a P910. Such phone has to be booted using a testpoint connected to GND. Boot code modified. A few changes in configuration analysis code. Minor modifications to the Settings window, mostly EMMA smartcard related. Be sure to enter correct PIN for your EMMA smartcard. Added a possibility to boot AVR based phones starting from R520m by means of an EMMA smartcard. Added support for changing phone languages in red CID36 phones (J300/K300/Z800/K750/W800/K600/V600/new K700/new V800) by means of an EMMA II smartcard. Added full support for brown CID36 phones (J300/K300/Z800/K750/W800/K600/V600/new K700/new V800). Now it is possible to specify which recovery applet (for which CID) to use when booting the phone. This feature is intended to allow RSA unlocking via testpoint. Added function to repair \"no network\" problem on new T630 phones that have been damaged by downgrading firmware. A few memory leaks removed. Emptyboard programming of new ARM phones (including J300/K300/Z800/K750/W800/K600/V600) released for all users. Added function Repair certificate to simplify phone revival on flash failure. Added function Repair EROM to simplify EROM area repair in red and brown phones of CID29 and CID36. Added detection of CID42 LG 3G phones. Added support for flashing red LG U8xxx with CID42. Fixed an issue causing R380 PDA-part boot problem. Added experimental support for booting, flashing and cloning Hedvig prototypes. The button-enabling system has been modified to reflect smartcard presence and various CID options. Corrected one progressbar update related issue. Some obsolete flashing options removed. Version 3.82 (14th April 2005): Booting baudrate limited to 230400Bd for older phones. Previously the limit was set to 115200Bd, but the version 3.80 removed the boot baudrate constraint, causing occassional boot problems. Removed File System tab bug from version 3.81. Version 3.81 (14th April 2005): Fixed two issues related to built-in customizations. Version 3.80 (13th April 2005): Cruiser is now available in English, Chinese, Indonesian, Malay, Polish, Russian, Slovak and Swedish languages. Now it is possible to put red flashes into brown and blue phones of CID16, CID17 and CID29 without converting them to red. The phone certificate is not affected. Added full support for cross-CID flashing. It is possible to flash CID16, CID17 and CID29 phones by any-CID flashes. The phone CID and color are not affected. Added support for flashing red and blue LG U81xx of CID17 via simple serial cable too. Added support for flashing red LG U81xx of CID41. Baudrate subsystem completely refactored. Baudrate page from the Settings window was replaced by the Limit baudrate combobox in the Primary page of Control window. Baudrates used for flashing PDA part of P80x/P910 are limited to 460800Bd when using USB cables that are not enhanced by adding two resistors. This is not related to DSS-20 nor DSS-25. Installer updated - minor Windows 98 issue fixed. An error message might have been displayed when no error occurred. Customize FS functionality slightly modified. CS applet communication made more verbose. Available free space is now displayed before writing user files to the phone. Help file updated. Zapowiedzi: naprawa telefonów uszkodzych również w przypadku braku kopii bezpieczeństwa programowanie czystych płyt (IMEI, RSA, OPT..) odczyt/zapis plików GDFS pełny odczyt/zapis pamięci telefonu Pakiet zawiera: klucz sprzętowy dostęp do supportu producenta gwarancja Dla Cruisera występują dwie opcje kluczy - w zależności od danej dostawy klient otrzyma jeden z dwóch przedstawionych poniżej kluczy
Sklep: GSM-support.pl 182,30 zł
Inne 1
Intermediate Accounting, 3e, by Spiceland/Sepe/Tomassini will gain support in traditional and technology-driven accounting departments, especially those looking for a more concise, decision-making text that reinforces challenging concepts via CD-ROM. The revision of this text is based around a "Learning System." The revision of this "Learning System" was built on improving the clarity of the chapters, emphasizing more decision-making in order to prepare students for the changes taking place on the CPA exam, acknowledging the diversity of students and their learning styles by creating supplemental materials to assure the success of every student, and creating a consistent text and supplemental package for both students and instructor's giving us the best possible intermediate text on the market. Returning to the Third edition is the award winning "Coach" CD-ROM. The Coach CD-ROM is a multimedia product integrating audio and video clips, animated illustrations, cases, and alternative reading material that helps students comprehend some of the more difficult topics associated with intermediate accounting. Designed specifically for the Spiceland text, instructors and students will find these learning tools placed strategically throughout the text. This is the most comprehensive Learning System in Intermediate Accounting. At only 1120 pages (300 pages less than the average intermediate accounting text), Spiceland/S/T has not sacrificed content for pages. Instead, the authors have created a very flexible text with a student friendly writing style that focuses on explaining not just how to apply a procedure, but why it's applied. GradeSummit(TM) is a dynamic self-assessment and exam preparation service for students and instructors. Detailed diagnostic analysis of strengths and weaknesses enables efficient and effective study for students and effortless information for instructors. Find out more at www.gradesummit.com.|Reorganization of Chapters 3, 4, and 5. Based on extensive market feedback, the authors rearranged these chapters so that the basic financial statements are presented contiguously in Chapters 3 and 4. Consequently, the balance sheet is now covered before presenting the income measurement material.|Chapter 4 - Early coverage of Earnings Management/Earnings Quality. Part "A" of this chapter, the income statement, has been restructured by framing the discussion of income statement presentation within the context of earnings quality/earnings management. As one of the HOTTEST topics in the news today, Earnings Quality refers to the ability of reported earnings (income) to predict a company's future earnings. Financial analysts evaluate a company's earnings quality by attempting to separate a company's transitory earnings effects from its permanent earnings. This analysis is critical to investment decisions.|Update on Pronouncement Drafts FAS No. 132 (revised 2003) - Employers' Disclosures about Pensions and Other Postretirement Benefits-an amendment of FASB Statements No. 87, 88, and 106 FAS No. 150, Accounting for Financial Instruments with Characteristics of both Liabilities and Equity Accounting Changes and Error Corrections -a replacement of APB Opinion 20 Exchanges of Productive Assets - an amendment of APB Opinion No. 29. Accounting for Stock-Based Compensation: A Comparison of FASB Statement No. 123, Accounting for Stock-Based Compensation, and its related interpretations. Expanded coverage of the Sarbanes Oxley Act in Chapter 1|CPA Review IntegrationIn 2004 McGraw-Hill/Irwin will provide you and your students with a true CPA Exam experience By exposing students to those skills now necessary to succeed both in their careers and on the computerized CPA Exam - Research, Analysis, Judgment, Understanding and Communication - your students will now be exposed to these requirements in their intermediate accounting course through our new CPA Review simulations. Several simulations tied to the text will be available on the bookĹźs website. |Decision Makers' Perspective - sections added to various chapters throughout the text to help students learn how to apply the knowledge they learn in class to the real world after graduation. Earnings Management topics are often revisited in these sections of the text. This text addresses the issues of how creditors use information about accounts receivables and inventories, determine which information is useful to investors, and why managers choose a particular accounting method over an allowable alternative. By the end of this course, students will be able to use accounting information to make decisions, understand financial reporting issues, and most importantly, critically evaluate reporting alternatives.|Updated real-world examples featuring a variety of companies such as Microsoft, Ford, and Gap, Inc. help students understand theoretical concepts by studying the decisions made by progressive companies.|Updated FASB Pronouncements - 130, 131, 132, 133, 137, 141-146 all incorporated throughout the text with material detailing the impacts of these pronouncements.|Revenue Recognition - Revenue recognition has become one of the hottest financial reporting issues. The most frequently cited issue in federal class action litigation is improper revenue recognition. Complex business transactions, particularly for high technology companies, make revenue recognition a difficult task, one that needs to be thoroughly understood by students.|Chapter 14, Bonds and Long-Term Notes, has been reorganized to create greater flexibility in the choice of topics to be covered. 3 Parts: Postretirement Benefits Other than Pensions, Stock-Based Compensation Plans, and Other Compensation Prior to Retirement.|Coverage of accounting errors expanded in Chapter 22 - Using Enron's error correction experience as backdrop. These topics will show the relevance of accounting to students.|Updated Computerized Test Bank - Each chapter of the TB has a planning grid that classifies each question according to the primary learning objective and the level of learning that it tests. Learning levels, based on a form of Bloom's educational taxonomy, divides questions as follows: Level One - Knows terms & facts. Level Two - Understands Principles and Concepts. Level Three - Applies Principles and Concepts. Many questions have been revised or updated from the 2e test bank, several redundant ones have been eliminated and many new ones have been included. The new questions emphasize more critical thinking and increased emphasis on interpreting information from real world financial statements and disclosures.|Online Learning Center- The OLC is a dynamic website providing students with added material that traditionally has been available at an additional cost. The Spiceland OLC includes quizzes, practice sets, articles, Excel Templates, PPT Slides, Electronic Cases, Check Figures, FASB Pronouncement Summaries, links to Relevant News and References, and Flash Cards. There are also 60 Real-Time, Real-World Electronic cases. Each case has solutions and links to other websites. The OLC is free with the purchase of a new text. (www.mhhe.com/spiceland3e)|Expanded coverage of comprehensive income. Comprehensive income, as covered in the first and second editions, will now include real-world disclosure examples and presentations.|Coach CD-ROM - The Coach CD-ROM is an interactive CD-ROM that is fully integrated throughout the text, helping students understand some of the more difficult topics surrounding Intermediate Accounting. This CD-ROM includes audio & video clips to help visual learners comprehend difficult topics in an environment that is more suitable to their learning needs. There are also animated illustrations, electronic cases, review exercises, and additional journal readings.|Author-written supplements - The Spiceland author team writes all primary supplements to ensure a perfect fit between the text and supporting materials.|Conceptual Emphasis - Spiceland is more conceptual in how it successfully explains not just how to account for something, but why you account for it in a particular manner.|Flexibility - The author team has organized the chapters modularly so basic concepts are covered early in the chapter, while more difficult concepts can be studied later, or skipped completely. With other encyclopedic texts, this can be very difficult for instructors to accomplish.|Chapter Opening Financial Reporting Cases - Each chapter opens with a Financial Reporting Case that places the students in the role of the decision-maker. These cases help students understand why and how the material covered in a given chapter is applied in business. Questions relating to these cases are placed appropriately throughout the chapter where the learned concepts can be applied. Solutions to these questions are located in the End-of-Chapter material.|Ethical Dilemmas - Ethical boxes are integrated throughout the text and are intended to create an awareness of accounting issues with ethical ramifications. This timely information is great for classroom discussions and ask students to consider situations dealing with fraud, accounting for contingencies, and post-retirement pension plans.|Global Perspectives - International boxes integrated throughout the text to give students a sense of how accounting is use in other countries. Students will get some insight into how income tax regulations are handled in other countries, how investments are reported, and uniformity of accounting standards in a global marketplace.|Additional Consideration Boxes provide students with more detail on selected topics such as understanding ratios, LIFO/FIFO, and goodwill.|Broaden Your Perspective Cases - An integral part of each chapter, these cases prepare students for the New Uniform CPA exam by helping them develop these four critical skills: research, analysis, judgment, and communication. These cases allow students to apply the knowledge they are gaining in the course.|Concept Review Exercises w/Solutions - Reinforces the understanding of chapter material, and allows students to apply concepts and procedures learned in earlier chapters prior to their homework assignment. Some chapters will discuss more than one distinct topic, and in so doing, a concept review exercise will immediately follow.|McGraw-HillĹźs Knowledge Gateway - The Complete Resource for Teaching Online Courses. McGraw-Hill/Irwin, in partnership with Eduprise, is proud to bring this unique service to instructors. This comprehensive Website contains a wealth of information for any professor interested in teaching online. Level one is available to any instructor browsing our Website. Level two is reserved for McGraw-Hill customers and contains access to free technical and instructional design assistance. For more details, visit http://mhhe.eduprise.com/home.nsf|PageOut is McGraw-HillĹźs unique point-and click course Website tool, enabling you to create a full-featured, professional quality course Website without knowing HTML coding. With PageOut you can post your syllabus online, assign McGraw-Hill Online Learning Center or eBook content, add links to important off-site resources, and maintain student results in the online grade book. You can send class announcements, copy your course site to share with colleagues, and upload original files. PageOut is free for every McGraw-Hill/Irwin user and, if youĹźre short on time, we even have a team ready to help you create your site!|You can customize this text with McGraw-Hill/Primis Online. A digital database offers you the flexibility to customize your course including material from the largest online collection of textbooks, readings, and cases. Primis leads the way in customized eBooks with hundreds of titles available at prices that save your students over 20% off bookstore prices. Additional information is available at 800-228-0634.|PowerWeb. This online reservoir of discipline-specific news articles and essays offer a great way to keep your course current, while complementing textbook concepts with real-world applications. Articles and essays from leading periodicals and niche publications in specific disciplines are reviewed by professors like you to ensure fruitful search results every time. PowerWeb also offers current news, weekly updates with assessment, interactive exercises, Web research guide, study tips, and much more! http://www.dushkin.com/powerweb.|BusinessWeek Edition. Your students can subscribe to 15 weeks of Business Week for a specially priced rate of $8.25 in addition to the price of the text. Students will receive a pass code card shrink-wrapped with their new text. The card directs students to a Website where they enter the code and then gain access to BusinessWeekĹźs registration page to enter address info and set up their print and online subscription as well. |Wall Street Journal Edition. Your students can subscribe to the Wall Street Journal for 15 weeks at a specially priced rate of $20.00 in addition to the price of the text. Students will receive a "How To Use the WSJ" handbook plus a pass code card shrink-wrapped with the text. The card directs students to a Website where they enter the code and then gain access to the WSJ registration page to enter address info and set up their print and online subscription, and also set up their subscription to Dow Jones Interactive online for the span of the 15-week period. |Standard & PoorĹźs Educational Version of Market Insight. McGraw-Hill/Irwin is proud to partner with Standard & PoorĹźs to offer access to the Educational Version of Standard & PoorĹźs Market Insight(c). This rich online resource provides six years of financial data for over 370 top companies. The password-protected Website is the perfect way to bring real data into todayĹźs classroom. This is free with selected McGraw-Hill titles, and is available for an extra $5 with additional titles. Contact your rep for more information or visit www.mhhe.com/edumarketinsight.
Sklep: Albertus.pl 173,40 zł
Inne 1
The goal of Fundamental Financial Accounting Concepts is to enable students to understand how any given business event affects the financial statements. The Ĺźfinancial statements modelĹź is a highly praised feature because it allows students to visualize the simultaneous impact of business events on all of the key financial statements (the income statement, the balance sheet, and the statement of cash flows). The mechanics of accounting coverage (debits and credits) is delayed until chapter 4. Instructors have flexibility as to the amount of emphasis they want to place on this topic.Two New Annual Reports Integrated Throughout Text--EdmondsĹź now includes the 2003 Harley- Davidson, Inc. Annual Report and the 2003 Topps Company, Inc Annual Report. In the Annual Report and Financial Statement Analysis Projects section (Appendix D) projects for each of these companies are included as well as a general purpose report project instructors can assign for any companyĹźs annual report. |New Comprehensive Problem Ĺź Chapters 5 through 11 now include a comprehensive problem designed to integrate concepts across chapters. These problems help students understand interrelationships between various accounting concepts. |The text was rewritten and updated with all new pronouncements that were implemented through July 2004. |Ethics Case Ĺź There is an ethics case in the Think, Analyze, Communicate section of the end-of-chapter materials for each chapter. |Topic Tackler Plus DVD--Topic Tackler Plus is unique because it integrates video clips, PowerPoint slides, interactive exercises, and a self-test for the two most difficult and/or important topics in each chapter into a n guided study session. Just as important, it is text-specific and reinforces the core concepts in the text. Icons in the margins of the text highlight the concepts covered in Topic Tackler Plus . The navigation is incredibly simple and no installation is necessary. Also on the DVD are Videos for each chapter as well as audio-narrated PowerPoint slides walking students through the self-review study problem in each chapter of the text. |One Pass integrates all of the textĹźs multimedia resources. With just one access code, students can obtain state of the art study aids, including Homework Manager, NetTutor and an online version of the text. |Homework Manager: This web-based software duplicates problem structures directly from the end-of-chapter material in the textbook. It uses algorithms to provide a limitless supply of self-graded practice for students. It shows students where they made errors. All Exercises and Problems in Series A are available with Homework Manager. |Enhanced discussion of matching concept in chapters 2 and 3. Appropriate adjustments made to later chapters such as replacing the percentage of receivables method of accounting for bad debts with the percentage of sales method. |A Look Back/A Look Forward Ĺź Each chapter ends with a summary of the main points and a preview of the next chapter with an emphasis on how they connect. This approach enhances the stepwise, logical organization of the book and helps students understand how everything connects together. |Distinctive Financial Statements ModelĹźThis pedagogical tool helps students visualize the simultaneous impact of business events on all of the key financial statements (the income statement, the balance sheet, and the statement of cash flows). |Business Transactions are Classified into 4 Logical CategoriesĹźInstead of attempting to memorize transactions, students learn to classify events as belonging to one of four conceptual categories. More specifically, students learn to classify transactions as being a 1) Asset source, 2) Asset use, 3) Asset exchange, or 4) Claims Exchange. This approach encourages students to think about the effects of events rather than the memorization of recording procedures. |Coverage of Multi-Period CyclesĹźTypically, financial accounting texts focus only on one accounting cycle. Edmonds presents the key financial statements in such a way as to demonstrate the impact of related events over multiple accounting cycles. This benefits students by showing them the impact of business decisions over time. Managers of companies rarely make important decisions based on only one accounting cycle. |Integrated Statement of Cash FlowsĹźCoverage of the statement of cash flows begins in the first chapter and continues throughout the text. Students are first asked to analyze the cash account. When the cash account is used as the data source, preparing a statement of cash flows is simply a matter of learning how to classify events as operating, investing or financing activities. More complicated topics such as the indirect method and a T-account approach for the conversion of accruals to cash are covered in Ch. 12. |Decision-Making OrientationĹźConcepts are introduced within a decision-making context. Features such as ĹźCurious AccountantĹź highlight real world accounting issues and decisions. |Extensive and Innovative Problem Material: -Analyze, Think, Communicate-- Updated for this edition. Problems in this section feature a strong critical thinking component and provide opportunities for writing and group assignments. ATC contains Annual Report Problems (featuring the Harley-Davidson and Topps Company annual reports), Financial Ratio Problems (using real data from actual companies), Writing Assignments, Ethical Dilemmas, EDGAR Cases, and Working With Excel and Mastering Excel problems. - Working With Excel and Mastering Excel problems require students to create their own spreadsheets, using information from the text. These are at the end of each chapter. Screen captures and spreadsheet tips are provided on the EdmondsĹź website to help guide students. Excel Templates ĹźA logo identifies end-of-chapter problems that include an Excel template. These help students develop spreadsheet skills. The templates are on the OLC website. Questions, Exercises, and Problems from the previous edition have been thoroughly revised as well. The authors have included more exercises with a variety of lengths to give instructors more flexibility in making assignments and expanded problem materials by adding a B set of exercises that mirror the A set exercises.
Sklep: Albertus.pl 1023,01 zł
Książki / Literatura obcojęzyczna
Digital Imaging Handbook targets anyone with an interest in digital imaging, professional or private, who uses even quite modest equipment such as a PC, digital camera and scanner, a graphics editor such as PAINT, and an inkjet printer. Uniquely, it is intended to fill the gap between the highly technical texts for academics (with access to expensive equipment), and the superficial introductions for amateurs. The four-part treatment spans theory, technology, programs and practice. Theory covers integer arithmetic, additive and subtractive color, greyscales, computational geometry, and a new presentation of discrete Fourier analysis; Technology considers bitmap file structures, scanners, digital cameras, graphic editors, and inkjet printers; Programs develops several processing tools for use in conjunction with a standard Paint graphics editor and supplementary processing tools; Practice discusses 1-bit, greyscale, 4-bit, 8-bit, and 24-bit images for the practice section. Relevant QBASIC code is supplied an accompanying CD and algorithms are listed in the appendix. Readers can attain a level of understanding and the practical insights to obtain optimal use and satisfaction from even the most basic digital-imaging equipment.
Sklep: Libristo.pl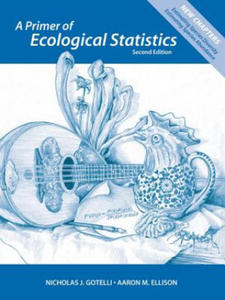 232,06 zł
Książki / Literatura obcojęzyczna
A Primer of Ecological Statistics, Second Edition explains fundamental material in probability theory, experimental design, and parameter estimation for ecologists and environmental scientists. The book emphasizes a general introduction to probability theory and provides a detailed discussion of specific designs and analyses that are typically encountered in ecology and environmental science. Appropriate for use as either a stand-alone or supplementary text for upper-division undergraduate or graduate courses in ecological and environmental statistics, ecology, environmental science, environmental studies, or experimental design, the Primer also serves as a resource for environmental professionals who need to use and interpret statistics daily but have little or no formal training in the subject. The book is divided into four parts. Part I discusses the fundamentals of probability and statistical thinking. It introduces the logic and language of probability (Chapter 1), explains common statistical distributions used in ecology (Chapter 2) and important measures of central tendency and spread (Chapter 3), explains P-values, hypothesis testing, and statistical errors (Chapter 4), and introduces frequentist, Bayesian, and Monte Carlo methods of analysis (Chapter 5). Part II discusses how to successfully design and execute field experiments and sampling studies. Topics include design strategies (Chapter 6), a 'bestiary' of experimental designs (Chapter 7), and transformations and data management (Chapter 8). Part III discusses specific analyses, and covers the material that is the main core of most statistics texts. Topics include regression (Chapter 9), analysis of variance (Chapter 10), categorical data analysis (Chapter 11), and multivariate analysis (Chapter 12). Part IV-new to this edition-discusses two central topics in estimating important ecological metrics. Topics include quantification of biological diversity (Chapter 13) and estimating occupancy, detection probability, and population sizes from marked and unmarked populations (Chapter 14). The book includes a comprehensive glossary, a mathematical appendix on matrix algebra, and extensively annotated tables and figures. Footnotes introduce advanced and ancillary material: some are purely historical, others cover mathematical/statistical proofs or details, and still others address current topics in the ecological literature. Data files and code used for some of the examples, as well as errata, are available online.
Sklep: Libristo.pl 554,07 zł
Książki / Literatura obcojęzyczna
Software developers and computer scientists have eagerly awaited this comprehensive revision of Robert Sedgewick's landmark texts on algorithms for C++. Sedgewick has completely revamped all five sections, illuminating today's best algorithms for an exceptionally wide range of tasks. This shrink-wrapped package brings together Algorithms in C++, Third Edition, Parts 1-4 and his new Algorithms in C++, Third Edition, Part 5. Together, these books are the most definitive, up-to-date, and practical algorithms resource available. The first book introduces fundamental concepts associated with algorithms; then covers data structures, sorting, and searching. The second book focuses entirely on graphing algorithms, which are critical for a wide range of applications, including network connectivity, circuit design, scheduling, transaction processing, and resource allocation. Sedgewick focuses on practical applications, giving readers all the information, diagrams, and real (not pseudo-) code they need to confidently implement, debug, and use the algorithms he presents. Together, these books present nearly 2,000 new exercises, hundreds of new figures, and dozens of new programs.
Sklep: Libristo.pl
Sklepy zlokalizowane w miastach: Warszawa, Kraków, Łódź, Wrocław, Poznań, Gdańsk, Szczecin, Bydgoszcz, Lublin, Katowice
Szukaj w sklepach lub całym serwisie
2. Szukaj na wszystkich stronach serwisu
t1=0.067, t2=0, t3=0, t4=0.022, t=0.067