krainaksiazek cognitive enhancement social and public policy issues 20054856
- znaleziono 7 produktów w 1 sklepie 240,36 zł
Książki / Literatura obcojęzyczna
Policy action is driven, shaped and regulated by the ways in which cognitive frames and interests shape and define issues and analyses - and the involvement of particular authorities, experts, problem-definitions and solutions. To understand these processes is particularly important in the realm of democratic policymaking, where agents driven by divergent interests and alternative principles struggle to preserve or reform policy, law, and institutions. This book analyzes continuity and change in EU policy and provides a systematic understanding of the interactions between ideas, organized actors, and institutions in political, administrative and related social processes. The EU policy studies make up a rich empirical territory, ranging from food security and chemicals to energy, climate change, and gender.
Sklep: Libristo.pl 73,52 zł
Książki / Literatura obcojęzyczna
In Giving Kids a Fair Chance, Nobel Prize-winning economist James Heckman argues that the accident of birth is the greatest source of inequality in America today. Children born into disadvantage are, by the time they start kindergarten, already at risk of dropping out of school, teen pregnancy, crime, and a lifetime of low-wage work. This is bad for all those born into disadvantage and bad for American society. Current social and education policies directed toward children focus on improving cognition, yet success in life requires more than smarts. Heckman calls for a refocus of social policy toward early childhood interventions designed to enhance both cognitive abilities and such non-cognitive skills as confidence and perseverance. This new focus on preschool intervention would emphasize improving the early environments of disadvantaged children and increasing the quality of parenting while respecting the primacy of the family and America's cultural diversity. Heckman shows that acting early has much greater positive economic and social impact than later interventions -- which range from reduced pupil-teacher ratios to adult literacy programs to expenditures on police -- that draw the most attention in the public policy debate. At a time when state and local budgets for early interventions are being cut, Heckman issues an urgent call for action and offers some practical steps for how to design and pay for new programs. The debate that follows delves deeply into some of the most fraught questions of our time: the sources of inequality, the role of schools in solving social problems, and how to invest public resources most effectively. Mike Rose, Geoffrey Canada, Charles Murray, Carol Dweck, Annette Lareau, and other prominent experts participate.
Sklep: Libristo.pl 182,66 zł
Książki / Literatura obcojęzyczna
Neuroscience increasingly allows us to explain, predict, and even control aspects of human behavior. The ethical issues that arise from these developments extend beyond the boundaries of conventional bioethics into philosophy of mind, psychology, theology, public policy, and the law. This broader set of concerns is the subject matter of neuroethics. In this book, leading neuroscientist Martha Farah introduces the reader to the key issues of neuroethics, placing them in scientific and cultural context and presenting a carefully chosen set of essays, articles, and excerpts from longer works that explore specific problems in neuroethics from the perspectives of a diverse set of authors. Included are writings by such leading scientists, philosophers, and legal scholars as Carl Elliot, Joshua Greene, Steven Hyman, Peter Kramer, and Elizabeth Phelps. Topics include the ethical dilemmas of cognitive enhancement; issues of personality, memory and identity; the ability of brain imaging to both persuade and reveal; the legal implications of neuroscience; and the many ways in which neuroscience challenges our conception of what it means to be a person.Neuroethics is an essential guide to the most intellectually challenging and socially significant issues at the interface of neuroscience and society. Farah's clear writing and well-chosen readings will be appreciated by scientist and humanist alike, and the inclusion of questions for discussion in each section makes the book suitable for classroom use.Contributors Zenab Amin, Ofek Bar-Ilan, Richard G. Boire, Philip Campbell, Turhan Canli, Jonathan Cohen, Robert Cook-Degan, Lawrence H. Diller, Carl Elliott, Martha J. Farah, Rod Flower, Kenneth R. Foster, Howard Gardner, Michael Gazzaniga, Jeremy R. Gray, Henry Greely, Joshua Greene, John Harris, Andrea S. Heberlein, Steven E. Hyman, Judy Iles, Eric Kandel, Ronald C. Kessler, Patricia King, Adam J. Kolber, Peter D. Kramer, Daniel D. Langleben, Steven Laureys, Stephen J. Morse, Nancey Murphy, Eric Parens, Sidney Perkowitz, Elizabeth A. Phelps, President's Council on Bioethics, Eric Racine, Barbara Sahakian, Laura A. Thomas, Paul M. Thompson, Stacey A. Tovino, Paul Root Wolpe
Sklep: Libristo.pl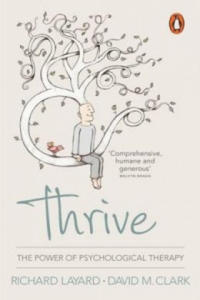 54,57 zł
Książki / Literatura obcojęzyczna
This book offers a ground-breaking argument for better treatment of mental health from Richard Layard (author of Happiness) and David M. Clark. Britain has become a world leader in providing psychological therapies thanks to the work of Richard Layard and David Clark. But, even so, in Britain and worldwide the majority of people who need help still don't get treatment. This is both unjust and a false economy. This book argues for change. It shows that mental ill-health causes more of the suffering in our society than physical illness, poverty or unemployment. Moreover, greater spending on helping people to recover from mental health problems - and stay well - would generate massive savings to national economies, as those who suffer from depression and anxiety disorders account for nearly a half of all disability and are predominantly of working age. Modern talking therapies, such as CBT (Cognitive Behavioural Therapy), are highly effective, and if more sufferers got these treatments, lives would be turned around and the cost would be fully covered by the huge savings. Thrive explores the new effective solutions to the misery and injustice caused by mental illness. It describes how successful psychological treatments have been developed and explains what works best for whom. It also urges us to do all we can to prevent these problems in the first place, through better schools and a better society. And, most importantly, it offers real hope. "This book is an inspiring success story and a stirring call to further action. Its message is as compelling as it is important: the social costs of mental illness are terribly high and the costs of effective treatments are surprisingly low." (Daniel Kahneman). "Extremely easy and pleasurable to read. It's the most comprehensive, humane and generous study of mental illness that I've come across." (Melvyn Bragg). "Remarkable...presents the issues in a style that easy for the professional, the general public, and policy makers to understand." (Aaron T Beck). "Professors Layard and Clark (the Dream Team of British Social Science) make a compelling case for a massive injection of resources into the treatment and prevention of mental illness. This is simply the best book on public policy and mental health ever written." (Martin Seligman). Richard layard is one of the world's leading labour economists, and in 2008 received the IZA International Prize for Labour Economics. A member of the House of Lords, he has done much to raise the public profile of mental health. His 2005 book Happiness has been translated into 20 languages. David M. Clark, Professor of Psychology at Oxford, is one of the world's leading experts on CBT, responsible for much progress in treatment methods. With Richard Layard, he was the main driver behind the UK's Improving Access to Psychological Therapies programme.
Sklep: Libristo.pl 3710,52 zł
Książki / Literatura obcojęzyczna
This series collects essays on the development of foundational dispute resolution theory and practice and their application to increasingly more complex settings of conflicts in the world, including multi-party and multi-issue decision making, and negotiations in political policy formation and governance, and international conflict resolution. Each volume contains an introduction by the editor which explores the key issues in the field. All three volumes feature essays which span an interdisciplinary range of fields - law, political science, game theory, decision science, economics, social and cognitive psychology, sociology and anthropology - and consider issues in the uses of informal and private as well as more formal and public processes. The articles also question whether the development of universal theoretical insights about conflict resolution is possible with variable numbers of parties and issues and in multi-cultural settings. Taken together the three volumes in this series present classic research articles on all aspects of complex dispute resolution and constitute an invaluable reference resource for libraries and academics in political decision making, human rights, international relations and business and commercial law.
Sklep: Libristo.pl 348,83 zł
Książki / Literatura obcojęzyczna
Handbook of the Psychology of Aging, Eighth Edition, tackles the biological and environmental influences on behavior as well as the reciprocal interface between changes in the brain and behavior during the course of the adult life span. The psychology of aging is important to many features of daily life, from workplace and the family, to public policy matters. It is complex, and new questions are continually raised about how behavior changes with age. Providing perspectives on the behavioral science of aging for diverse disciplines, the handbook explains how the role of behavior is organized and how it changes over time. Along with parallel advances in research methodology, it explicates in great detail patterns and sub-patterns of behavior over the lifespan, and how they are affected by biological, health, and social interactions. New topics to the eighth edition include preclinical neuropathology, audition and language comprehension in adult aging, cognitive interventions and neural processes, social interrelations, age differences in the connection of mood and cognition, cross-cultural issues, financial decision-making and capacity, technology, gaming, social networking, and more. Tackles the biological and environmental influences on behavior as well as the reciprocal interface between changes in the brain and behavior during the course of the adult life spanCovers the key areas in psychological gerontology research in one volumeExplains how the role of behavior is organized and how it changes over timeCompletely revised from the previous editionNew chapter on gender and aging process
Sklep: Libristo.pl 418,07 zł
Książki / Literatura obcojęzyczna
This volume presents world-leading ideas and research that explores some of the most prominent topics relevant to detecting terrorism. The book is divided into six key themes: conceptualising terrorism, deception and decision making, social and cultural factors in terrorism, modelling hostile intent, strategies for counter-terrorism, and future directions. Twenty two chapters cover the spectrum of detecting terrorist activities, hostile intent, crowded public spaces and suspicious behaviour. The work draws from high impact research findings and presents case-studies to help communicate concepts. Specific areas of interest include methodological issues in counter-terrorism, counter terrorism policy and its impact on end users, novel research methods and innovative technologies in counter-terrorism. A variety of disciplines are represented by this work, including: ergonomics/human factors, psychology, criminology, cognitive science, sociology, political theory, art/design, engineering and computer science. This book not only expands the knowledge base of the subject area and is therefore of prime relevance to researchers investigating counter-terrorism, but provides a valuable resource to security stakeholders at policy and practitioner levels.
Sklep: Libristo.pl
Sklepy zlokalizowane w miastach: Warszawa, Kraków, Łódź, Wrocław, Poznań, Gdańsk, Szczecin, Bydgoszcz, Lublin, Katowice
Szukaj w sklepach lub całym serwisie
2. Szukaj na wszystkich stronach serwisu
t1=0.059, t2=0, t3=0, t4=0, t=0.059