krainaksiazek community landscape design 20046847
- znaleziono 14 produktów w 4 sklepach 135,00 zł
WYDAWNICTWA ALBUMOWE > Architektura > Miejska
ISBN: 9783832792756 Autor: Flannery John A, Smith Karen M     Rok wydania: 2008-10-17 Ilość stron: 220 Oprawa: twarda Format: 256 x 326 mm This overview of innovative landscaping solutions for urban spaces shows a range of approaches to one key conundrum: making urban spaces livable. Whether echoing a primeval forest, suggesting the slope of a mossy glen or evoking the wondrous shapes of a child's toy box, these environments bring a new dynamic to city living. With examples from around the world, we see how a commute transforms and becomes more enjoyable, a formerly bleak corner more inviting, and a barren vacuum a focus for community gatherings and socializing.
Sklep: Multistore24.pl 119,99 zł
Książki Obcojęzyczne>Angielskie>The arts>Architecture>Landscape art & architecture
Basics Landscape Architecture: Urban Design Is A Comprehensive Guide To The Role Of Landscape Architecture In Urban Design. It Provides A Brief History And Useful Definitions Before Discussing Topics Such As Community And Culture. Packed With Relevant Pho
Sklep: Gigant.pl 592,80 zł
Książki / Literatura obcojęzyczna
'There are thousands of well-educated and highly-qualified landscape designers in this country but only a fraction of them make a decent living. For too long, this talented community has placed its artistry above charging fairly for its services. It is time to figure out a better, fairer way.' Chapter one This hands-on book discusses all the elements of Catherine Wiersema's top rated, semester-long, professional practice course for landscape designers, taught at Radcliffe/Harvard's Landscape Institute and the Boston Architectural Center over the past 15 years. Richly illustrated with lessons learned and war stories from her own and others' practical experiences, the book is a step-by-step guide to building a profitable, client-focused business. Both early-career and advanced landscape designers and landscape architects will find much of value to help them target the best clients, promote and price their services, and above all, manage the multiple phases of happy client relationships. About the Author: This book is the culmination of Catherine's career as landscape designer and educator. For many years, her sought-after design/build practice - Boussard Garden Design - focused on large residential properties. With her professional practice course she addressed a big void in the curriculum for landscape designers - how to build a profitable business. She is a recipient of the Harvard Landscape Institute's Distinguished Faculty award and has been an acclaimed lecturer at numerous conferences including those of the Association of Professional Landscape Designers. Catherine is a graduate of Radcliffe's Program in Landscape Design, is APLD-certified, and holds an MBA. Her earlier career was in marketing/sales in the corporate world and as associate professor of marketing and strategy.
Sklep: Libristo.pl 237,12 zł
Książki / Literatura obcojęzyczna
"The Living Landscape" is a manifesto, resource, and textbook for architects, landscape architects, environmental planners, students, and others involved in creating human communities. Since its first edition, published in 1990, it has taught its readers how to develop new built environments while conserving natural resources. No other book presents such a comprehensive approach to planning that is rooted in ecology and design. And no other book offers a similar step-by-step method for planning with an emphasis on sustainable development. This second edition of "The Living Landscape" offers Frederick Steiner's design-oriented ecological methods to a new generation of students and professionals." The Living Landscape" offers: a systematic, highly practical approach to landscape planning that maximizes ecological objectives, community service, and citizen participation; more than 20 challenging case studies that demonstrate how problems were met and overcome, from rural America to large cities; scores of checklists and step-by-step guides; hands-on help with practical zoning, land use, and regulatory issues; coverage of major advances in GIS technology and global sustainability standards; and, more than 150 illustrations.As Steiner emphasizes throughout this book, all of us have a responsibility to the Earth and to our fellow residents on this planet to plan with vision. We are merely visiting this planet, he notes; we should leave good impressions.
Sklep: Libristo.pl 1049,99 zł
Książki Obcojęzyczne>Angielskie>The arts>Architecture>Landscape art & architecture>City & town planning - architectural aspectsKsiążki ...
Urban Design Interfaces With Many Aspects Of Contemporary Public Policy - Multiculturalism, Economic Development, Climate Change, Energy Conservation, Sustainable Development, Community Livability, And Related Issues. This Title Includes Original Contributions From A Select Group Of Internationally Renowned Scholars And Practitioners.
Sklep: Gigant.pl 317,44 zł
Książki / Literatura obcojęzyczna
There are infinite ways to build a community, yet the defining feature of any community is characteristically the landscape. Whether it is a park, a river corridor, community gardens, a plaza or a streetscape, the public spaces where people interact provide a shared sense of ownership, and the qualities of these spaces influence how the communities evolve.In a systematic overview, following the workflow sequence of open space projects, the book explores the various types and levels of intervention: from masterplanning to guerilla gardening and from land reclamation to building in existing fabric. Case studies mostly from North America, Europe and Asia accompany the introductory essays. The emphasis is on strategies of interaction between landscape projects, building development and urban planning, resulting in neighborhoods and city quarters that offer a higher quality of life.Beyond trendy theories on landscape urbanism or landscape infrastructure, this book offers an unideological view on the pragmatic potentials of landscape design for enhancing the built environment.
Sklep: Libristo.pl 70,56 zł
Książki / Literatura obcojęzyczna
American Architecture is astonishingly varied. From Indian sites in New Mexico and Arizona, and the ancient earthworks of the Mississippi Valley, to the most fashionable contemporary buildings of Chicago and New York, the United States boasts three thousand years of architectural history. It is characterized by the diversity of its builders and consumers who include Native American men and women, African, Asian, and European immigrants, as well as renowned professional architects and urban planners. Dell Upton's revolutionizing interpretation examines American architecture in relation to five themes: community, nature, technology, money, and art. In giving particular attention to indigenous, folk, ethnic and popular architectures like Chaco Canyon, Brooklyn suspension bridge, and native American houses, as well as to the great monuments of traditional histories such as Jefferson's Monticello and Wright's Fallingwater, Architecture in the United States reveals the dazzling richness of America's human landscape. From the pre-publication reviews: Dell Upton: Architecture in the United States - Reviews 'In Architecture in the United States Dell Upton essentially reinvents American architectural history. Employing a series of cultural, economic, and political contexts, his incisive and entertaining narrative examines some 3,000 years of human intervention in the natural landscape, contrasting, comparing and interweaving an astounding range of built forms. This ingenious approach focuses our attention on both the commonality and diversity of human experiences that have shaped this country. Upton's book should be read by everyone with an interest in America's cultural landscape. They will never look at it in the same way again.' Professor Kenneth A. Breisch Southern California Institute of Architecture 'In Architecture in the United States Dell Upton has dismantled the typical chronological history of American architecture and reconceived it as a thematic history, organized according to the compelling themes of "Community", "Nature", "Technology", "Money", and "Art". Upton's very broad definitions of architecture includes traditional high-art monuments like Thomas Jefferson's Monticello or Frank Lloyd Wright's Falling Water, alongside Native American houses and earthworks, typical courthouse squares, recent planned suburbs, bridges, world's fair pavilions, office buildings, and other categories of building that gives the book its freshness and forces readers to reconsider received ideas about American architecture. The book begins with a tour-de-force chapter on Monticello in which all the themes are brought to bear in explaining the meanings embodied in this one site. Upton's inclusive analysis delivers sharp insights about buildings that are so familiar one would have thought there was nothing more to be said. His method invites us to move beyond the limits of aesthetics, and to take more risks to ask more wide-ranging questions about the architecture we inhabit and study.' Professor Elizabeth Cromley Northeastern University 'Dell Upton has written an extraordinarily illuminating book that is a pleasure to read. It synthesizes the existing literature on American architecture while critically exploring fundamental questions about the nature and meaning of architectural, urban, and landscape design. There is a refreshing inclusiveness here about the meaning of both America and its architecture. The book's thematic structure reveals rich new possibilities for understanding American society and culture by scrutinizing its architecture. By-passing conventional chronologies Upton represents cutting-edge historiographical methods but without the cant and jargon of contemporary theory. This important book will usefully transform our historical understanding of American architecture.' Professor Daniel Bluestone University of Virginia 'The originality of Upton's conceptual framework makes everything he considers new, profound, and convincing. We see public and private space, social and individual effort, in a shifting dialectic resolvable into no stable patter. This Is architecture in motion. And at last we understand malls.' Professor Garry Wills Northwestern University 'The organization of the material that the author chose is very intriguing and successfully communicates his ideas' Rebecca L. Binder, FAIA Architect
Sklep: Libristo.pl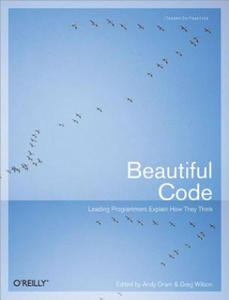 161,44 zł
Książki / Literatura obcojęzyczna
How do the experts solve difficult problems in software development? In this unique and insightful book, leading computer scientists offer case studies that reveal how they found unusual, carefully designed solutions to high-profile projects. You will be able to look over the shoulder of major coding and design experts to see problems through their eyes. This is not simply another design patterns book, or another software engineering treatise on the right and wrong way to do things. The authors think aloud as they work through their project's architecture, the tradeoffs made in its construction, and when it was important to break rules. "Beautiful Code" is an opportunity for master coders to tell their story. All author royalties will be donated to Amnesty International. The book includes the following contributions: "Beautiful Brevity: Rob Pike's Regular Expression Matcher" by Brian Kernighan, Department of Computer Science, Princeton University; "Subversion's Delta Editor: Interface as Ontology" by Karl Fogel, editor of "QuestionCopyright.org", Co-founder of Cyclic Software, the first company offering commercial CVS support; "The Most Beautiful Code I Never Wrote" by Jon Bentley, Avaya Labs Research; "Finding Things" by Tim Bray, Director of Web Technologies at Sun Microsystems, co-inventor of XML 1. 0; "Correct, Beautiful, Fast (In That Order): Lessons From Designing XML Validators" by Elliotte Rusty Harold, Computer Science Department at Polytechnic University, author of "Java I/O, Java Network Programming", and "XML in a Nutshell" (O'Reilly); and, "The Framework for Integrated Test: Beauty through Fragility" by Michael Feathers, consultant at Object Mentor, author of "Working Effectively with Legacy Code" (Prentice Hall). It also includes: "Beautiful Tests" by Alberto Savoia, Chief Technology Officer, Agitar Software Inc; "On-the-Fly Code Generation for Image Processing" by Charles Petzold, author "Programming Windows and Code: The Hidden Language of Computer Hardware and Software" (both Microsoft Press); "Top Down Operator Precedence" by Douglas Crockford, architect at Yahoo! Inc, Founder and CTO of State Software, where he discovered JSON; "Accelerating Population Count" by Henry Warren, currently works on the Blue Gene petaflop computer project Worked for IBM for 41 years; "Secure Communication: The Technology of Freedom" by Ashish Gulhati, Chief Developer of Neomailbox, an Internet privacy service Developer of Cryptonite, an OpenPGP-compatible secure webmail system; and, "Growing Beautiful Code in BioPerl" by Lincoln Stein, investigator at Cold Spring Harbor Laboratory - develops databases and user interfaces for the Human Genome Project using the Apache server and its module API. It also includes: "The Design of the Gene Sorter" by Jim Kent, Genome Bioinformatics Group, University of California Santa Cruz; "How Elegant Code Evolves With Hardware: The Case Of Gaussian Elimination" by Jack Dongarra, University Distinguished Professor of Computer Science in the Computer Science Department at the University of Tennessee, also distinguished Research Staff member in the Computer Science and Mathematics Division at Oak Ridge National Laboratory (ORNL) and Piotr Luszczek, Research Professor at the University of Tennessee; "Beautiful Numerics" by Adam Kolawa, co-founder and CEO of Parasoft; and, "The Linux Kernel Driver Model" by Greg Kroah-Hartman, SuSE Labs/Novell, Linux kernel maintainer for driver subsystems, author of "Linux Kernel in a Nutshell", co-author of "Linux Device Drivers, 3rd Edition" (O'Reilly). It also includes: "Another Level of Indirection" by Diomidis Spinellis, Associate Professor at the Department of Management Science and Technology at the Athens University of Economics and Business, Greece; "An Examination of Python's Dictionary Implementation" by Andrew Kuchling, longtime member of the Python development community, and a director of the Python Software Foundation; "Multi-Dimensional Iterators in NumPy" by Travis Oliphant, Assistant Professor in the Electrical and Computer Engineering Department at Brigham Young University; and, "A Highly Reliable Enterprise System for NASAs Mars Rover Mission" by Ronald Mak, co-founder and CTO of Willard & Lowe Systems, Inc, formerly a senior scientist at the Research Institute for Advanced Computer Science on contract to NASA Ames. It also includes: "ERP5: Designing for Maximum Adaptability" by Rogerio de Carvalho, researcher at the Federal Center for Technological Education of Campos (CEFET Campos), Brazil and Rafael Monnerat, IT Analyst at CEFET Campos, and an offshore consultant for Nexedi SARL; "A Spoonful of Sewage" by Bryan Cantrill, Distinguished Engineer at Sun Microsystems, where he has spent most of his career working on the Solaris kernel; "Distributed Programming with MapReduce" by Jeff Dean and Sanjay Ghemawat, Google Fellows in Google's Systems Infrastructure Group; "Beautiful Concurrency" by Simon Peyton Jones, Microsoft Research, key contributor to the design of the functional language Haskell, and lead designer of the Glasgow Haskell Compiler (GHC); and, "Syntactic Abstraction: The syntax-case expander" by Kent Dybvig, Developer of Chez Scheme and author of the Scheme Programming Language. It also includes: "Object-Oriented Patterns and a Framework for Networked Software" by William Otte, a Ph.D. student in the Department of Electrical Engineering and Computer Science (EECS) at Vanderbilt University and Doug Schmidt, Full Professor in the Electrical Engineering and Computer Science (EECS) Department, Associate Chair of the Computer Science and Engineering program, and a Senior Research Scientist at the Institute for Software Integrated Systems (ISIS) at Vanderbilt University; "Integrating Business Partners the RESTful Way" by Andrew Patzer, Director of the Bioinformatics Program at the Medical College of Wisconsin; and, "Beautiful Debugging" by Andreas Zeller, computer science professor at Saarland University, author of "Why Programs Fail: A Guide to Systematic Debugging" (Morgan Kaufman). It also includes: "Code That's Like an Essay" by Yukihiro Matsumoto, inventor of the Ruby language; "Designing Interfaces Under Extreme Constraints: the Stephen Hawking editor" by Arun Mehta, professor and chairman of the Computer Engineering department of JMIT, Radaur, Haryana, India; "Emacspeak: The Complete Audio Desktop" by TV Raman, Research Scientist at Google where he focuses on web applications; "Code in Motion" by Christopher Seiwald, founder and CTO of Perforce Software and Laura Wingerd, vice president of product technology at Perforce Software, author of "Practical Perforce" (O'Reilly); and, "Writing Programs for 'The Book'" by Brian Hayes who writes the Computing Science column in American Scientist magazine, author of "Infrastructure: A Field Guide to the Industrial Landscape"(W.W. Norton).
Sklep: Libristo.pl 60,48 zł
Książki / Literatura obcojęzyczna
When world-renowned architect Rafael Vinoly was commissioned to design a major new centre for the arts at Duke University, he set about creating his first museum in North America and the first stand-alone museum in Duke's eighty-year history. The resulting 65,000-square-foot building has changed the cultural landscape of the university and indeed the Southeast. This book documents the genesis and design of the new museum, which opens on October 2, 2005. The building is named in honour of the family of Raymond D. Nasher, an internationally prominent art collector who graduated from Duke in 1943. The landmark building takes its place among Vinoly's other distinguished designs, including the new home for Jazz at Lincoln Center in New York and expansion projects for the Cleveland Museum of Art, the John F. Kennedy Center for Performing Arts in Washington, D.C., and the Brooklyn Children's Museum in New York. Among his other cultural projects are the Tokyo International Forum and the Kimmel Center for the Performing Arts in Philadelphia. He is designing the new Tampa Museum of Art and a new museum in the city of Colchester, England. He was part of the team that created the runner-up design for the new World Trade Center site in New York City. The brilliant core of the Nasher at Duke is a 13,000-square-foot glass and steel canopy rising to a height of 45 feet above the central gallery space. The faceted roof soars above the irregular pentagonal great hall, where five concrete pavilions fan out at different angles. The pavilions will house three large gallery spaces, an auditorium, offices, university and community classrooms, a museum shop, and a cafe with outdoor seating overlooking a sculpture garden. Set in the forest on Duke's campus, the museum's full-height glass walls and green slate floor connect the pavilions and further blur the division between building and nature. With an essay by art historian Annabel Jane Wharton, a design statement by museum architect Rafael Vinoly, a foreword by museum namesake Raymond D. Nasher, and photos by Brad Feinknopf and Jerry Blow, this book documents the building that will become a cornerstone for cultural activities for the university and the public. Kimerly Rorschach is the Mary D.B.T. and James H. Semans Director of the Nasher Museum of Art at Duke University. For ten years previously, she was the Dana Feitler Director of the University of Chicago's Smart Museum of Art.
Sklep: Libristo.pl 136,64 zł
Książki / Literatura obcojęzyczna
In a world obsessed with an international cast of ego-driven starchitects, San Francisco architects Elizabeth Ranieri and Byron Kuth are the thoughtful, versatile, low-key, detail-obsessed exceptions. --Diane Dorrans Saeks, San Francisco magazine Byron Kuth and Elizabeth Ranieri have split their time over the last two decades between teaching, building, and research, and have produced a broad spectrum of work, from small-scale objects and installations, to uniquely detailed residential and institutional buildings, to large urban design proposals. With materials like the translucent glass used to sequence a view from Russian Hill, the constellation of domes used to manipulate sound at an AIDS memorial, and the eight hundred pounds of synthetic felt and one thousand C-clamps used to create the Fabrications installation at SFMOMA, the firm brings subtlety and innovation to every project. Kuth/Ranieri has been largely influenced by the uniqueness of the Bay Area--its culture, exceptional beauty, and landscape. At the same time it has earned a national and international reputation for its innovative work that integrates cultural discourse with issues of design, technology, and environmental awareness. Kuth/Ranieri's greatest strength is its vision of sustainability. It is committed to the conservation of natural resources and an informed community, establishing an investment in a future that is viable, healthful, and self-renewing. Kuth/Ranieri Architects presents the breadth of their work, showing both the constructed and the theoretical, in stunning photographs and thought-provoking drawings. Insightful texts by Ila Berman, Aaron Betsky, Rodolphe el-Khoury, and Mitchell Schwarzer form a centerpiece to the book and discuss issues of modernism and meaning.
Sklep: Libristo.pl 182,24 zł
Książki / Literatura obcojęzyczna
Through the conceptual framework of five overlapping themes, readers will consider the following issues: Choreographed Experience. Just as globalization and cultural conformity make the uniqueness of place more essential, so too does our virtual connectedness call for a physical counterweight. The work of Duda/Paine Architects explores how visual, auditory, and tactile perception anchors an individual's physical experience and intellectual understanding of his or her surroundings. Like storytellers, choreographers, and directors, they design meaningful sequences of movement and discovery that add layers of sensory information, giving personal meaning to the architectural experience. Creating Context. Duda/Paine Architects often adapt urban strategies to suburban and edge city settings, creating destinations with a strong sense of place - even in the absence of an existing architectural context of neighboring buildings, sidewalks, and open spaces. Each of these projects uses multiple buildings to strike a balance between built form and open space; each contrasts man-made gardens with the natural landscape; and each looks at the physical qualities of its site and surroundings to inspire an appropriate architectural language. Transformations. Progressive leaders in business, healthcare, and education often aspire to cross disciplinary boundaries, collaborate more effectively, and innovate more freely. Architecture, like alchemy can effect transformation. Duda/Paine's interactive and inclusive design process not only reflects their clients' strategic visions but can also act as a catalyst to help redefine how they live, work, play or learn. The projects in this section establish new paradigms by bringing people together in ways that stimulate fresh ideas and practices. Skyline/Streetscape. A majority of the world's population now lives in cities for the first time, making the tower typology more crucial than ever. Towers make public gestures in the skyline and the streetscape, acting at the scale of the city as well as the more intimate scale of the human body. Whether seen from a distance or experienced close-up, these projects become landmarks in the city skyline while simultaneously responding to the characteristics of the existing urban fabric and amplifying the vibrancy of its' street life. Public Rooms. The benefits of today's virtual connectedness and increased mobility cannot replace the importance of physical gathering places where we share experiences, build collective memories, and see ourselves as part of a larger community. The privatization that leads to suburban sprawl and gated communities reinforces the architect's civic duty to provide public spaces that counteract this tendency. Whether urban or suburban, indoors or out, Duda Paine's public rooms nurture civic life by encouraging social interaction through chance encounters and casual conversations.
Sklep: Libristo.pl 111,04 zł
High Line Farrar, Straus & Giroux Inc
Książki / Literatura obcojęzyczna
How two New Yorkers led the transformation of a derelict elevated railway into a grand--and beloved--open space The High Line, a new park atop an ele-vated rail structure on Manhattan's West Side, is among the most innovative urban reclamation projects in memory. The story of how it came to be is a remarkable one: two young citizens with no prior experience in planning and development collaborated with their neighbors, elected officials, artists, local business owners, and leaders of burgeoning movements in horticulture and landscape architecture to create a park celebrated worldwide as a model for creatively designed, socially vibrant, ecologically sound public space. Joshua David and Robert Hammond met in 1999 at a community board meeting to consider the fate of the High Line. Built in the 1930s, it carried freight trains to the West Side when the area was defined by factories and warehouses. But when trains were replaced by truck transport, the High Line became obsolete. By century's end it was a rusty, forbidding ruin. Plants grew between the tracks, giving it a wild and striking beauty. David and Hammond loved the ruin and saw in it an opportunity to create a new way to experience their city. Over ten years, they did so. In this candid and inspiring book-- lavishly illustrated--they tell how they relied on skill, luck, and good timing: a crucial court ruling, an inspiring design contest, the enthusiasm of Mayor Bloomberg, the concern for urban planning issues following 9/11. Now the High Line--a half-mile expanse of plants, paths, staircases, and framed vistas--runs through a transformed West Side and reminds us that extraordinary things are possible when creative people work together for the common good.
Sklep: Libristo.pl
170,00 zł
Kategorie > Srebrne i złote monety świata
Seria: "Bajki Narodów Świata" "Coins of the Fairy Tales of the Peoples of the World Series" Kraj: Republika Białoruś Emitent: Narodowy Bank Republiki Białoruś Producent: Mennica Polska Stan zachowania: I (menniczy) Nominał: 20 rubli Srebro: Ag 925, srebro oksydowane z niebieską cyrkonią Stempel: zwykły Średnica: 38,61 mm Waga: 28,28 g Nakład: 20.000 szt. Data emisji monet: 22.12.2006 r. Piękno tkwi w szczegółach, a ta moneta ma ich wiele, zachwycając ciekawym projektem i niebanalnym tematem. Dołącz ją do swojej kolekcji już dziś, nim ubiegną Cię inni, ze względu na niski nakład tej wyjątkowej monety! Rewers: w centralnej części monety
Sklep: Numizmatyczny.pl
75,52 zł
Książki / Literatura obcojęzyczna
Part of Penguin's beautiful hardback Clothbound Classics series, designed by the award-winning Coralie Bickford-Smith, these delectable and collectible editions are bound in high-quality colourful, tactile cloth with foil stamped into the design. George Eliot's most ambitious novel is a masterly evocation of diverse lives and changing fortunes in a provincial community. Peopling its landscape are Dorothea Brooke, a young idealist whose search for intellectual fulfillment leads her into a disastrous marriage to the pedantic scholar Casaubon; the charming but tactless Dr Lydgate, whose marriage to the spendthrift beauty Rosamund and pioneering medical methods threaten to undermine his career; and, the religious hypocrite Bulstrode, hiding scandalous crimes from his past. As their stories interweave, George Eliot creates a richly nuanced and moving drama, hailed by Virginia Woolf as 'one of the few English novels written for adult people'.
Sklep: Libristo.pl
Sklepy zlokalizowane w miastach: Warszawa, Kraków, Łódź, Wrocław, Poznań, Gdańsk, Szczecin, Bydgoszcz, Lublin, Katowice
Szukaj w sklepach lub całym serwisie
2. Szukaj na wszystkich stronach serwisu
t1=0.09, t2=0, t3=0, t4=0.038, t=0.09