krainaksiazek comparative legal cultures 20054163
- znaleziono 11 produktów w 1 sklepie 120,18 zł
Książki / Literatura obcojęzyczna
Historians used to imagine empire as an imperial power extending total domination over its colonies. Now, however, they understand empire as a site in which colonies and their constitutions were regulated by legal pluralism: layered and multicentric systems of law, which incorporated or preserved the law of conquered subjects. By placing the study of law in diverse early modern empires under the rubric of legal pluralism, Legal Pluralism and Empires, 1500-1850 offers both legal scholars and historians a much-needed framework for analysing the complex and fluid legal politics of empires. Contributors analyse how ideas about law moved across vast empires, how imperial agents and imperial subjects used law, and how relationships between local legal practices and global ones played themselves out in the early modern world. The book's tremendous geographical breadth, including the British, French, Spanish, Ottoman, and Russian empires, gives readers the most comparative examination of legal pluralism to date. Lauren Benton is Professor of History, Affiliated Professor of Law, and Dean of the Graduate School of Arts and Science at New York University. Her books include A Search for Sovereignty: Law and Geography in European Empires, 1400-1900 andLaw and Colonial Cultures: Legal Regimes in World History, 1400-1900. Richard J. Ross is Professor of Law and History at the University of Illinois (Urbana/Champaign) and Director of the Symposium on Comparative Early Modern Legal History. With Steven Wilf, he is currently working on a book, entitled: The Beginnings of American Law: A Comparative Study.
Sklep: Libristo.pl 376,20 zł
Książki / Literatura obcojęzyczna
An innovative and comparative approach to the study of interconnected legal cultures in the global medieval world.
Sklep: Libristo.pl 561,82 zł
Książki / Literatura obcojęzyczna
Drawing together leading legal historians from a range of jurisdictions and cultures, this collection of essays addresses the fundamental methodological underpinning of legal history research. Via a broad chronological span and a wide range of topics, the contributors explore the approaches, methods and sources that together form the basis of their research and shed light on the complexities of researching into the history of the law. By exploring the challenges posed by visual, unwritten and quasi-legal sources, the difficulties posed by traditional archival material and the novelty of exploring the development of legal culture and comparative perspectives, the book reveals the richness and dynamism of legal history research.
Sklep: Libristo.pl 298,38 zł
Case Law Duncker & Humblot
Książki / Literatura obcojęzyczna
Although the problem of ratio decidendi concerns the essence of law and justice, very little comparative work between the Continental and Anglo-American legal systems has been done on the topic. Legal literature often repeats that it is one of the sharpest points of contrast between the two legal cultures. Within the English speaking legal system, multiple opinions, both concurring and dissenting, prevail where dissent among Continental judges only occurs behind closed doors: the published decision indeed is always presented as the single and incontestable opinion of the whole court. Historical reasons are generally put forward to explain that contrast. Where in the Anglo-American Common Law system judges are asked - and always have been asked - to present the materials and reasons upon which they based their judicial opinions, in Ancien Regime continental Europe it was not considered necessary to formulate the reasons of a decision and in most courts of the European Continent it was even formally forbidden to the judges, until the end of the eighteenth century, to write down or even communicate orally"the secrets of their discussions and deliberations".§To comparatists, this reveals two different cultures among judges and lawyers. In Continental Europe there is much emphasis on the idea of judging as a science which can be learned and reproduced with an impersonal rigour. The Anglo-American judge is not considered to be such a trained scientist, he is merely a practised craftsman. Can the history of ratio decidendi - but also the history of law and justice from the Middle Ages to the nineteenth century - therefore be reduced to a total contradiction between two legal cultures?
Sklep: Libristo.pl 355,42 zł
Książki / Literatura obcojęzyczna
Ever since Karl Jasper's "axial age" paradigm, there have been a number of influential studies comparing ancient East Asian and Greco-Roman history and culture. Most of these have centered on the emergence of the world's philosophical and religious traditions, or on models of empire building. However, to date there has been no comparative study involving literatures of multiple traditions in the ancient East Asian and Mediterranean cultural spheres. At first glance, it would appear that the literary cultures of early Japan and Rome share little in common with each other. Yet both were intimately connected with the literature of antecedent "reference cultures," China and Greece respectively. These connections had far-reaching legal, ethical, material, linguistic, bibliographical, and literary consequences that made for distinctive Sino-Japanese and Greco-Roman dynamics. Exploring writers from Otomo no Yakamochi to Sugawara no Michizane and Sei Shonagon and from Cicero and Virgil to Ovid and Martianus Capella, Classical World Literatures captures the striking similarities between the ways Early Japanese writers wrote their own literature through and against the literary precedents of China and the ways Latin writers engaged and contested Greek precedents. Chapters engage in issues ranging from early narratives of literary history, cultural foundation figures, literature of the capital and poetry of exile, to strategies of cultural comparison in the form of parody and satire or synoptic texts. The book also brings to light suggestive divergences that are rooted in geopolitical, linguistic, sociohistorical, and aesthetic differences between Early Japanese and Roman literary cultures. Author Wiebke Denecke examines how Japanese and Latin writers were affected by an awareness of their own belatedness, how their strategies in telling of the origins of their own literatures evolved, and how notions about simplicity, ornateness, and cultural decline came to be blamed on the influence of their cultural ancestors. Proposing an innovative methodology of "deep comparison" for the cross-cultural comparison of premodern literary cultures and calling for an expansion of world literature debates into the ancient and medieval worlds, Classical World Literatures is both a theoretical intervention and an invitation to reading and re-reading four major literary traditions of the classical world in an innovative and illuminating light.
Sklep: Libristo.pl 135,84 zł
Książki / Literatura obcojęzyczna
The constitutional arrangements in many countries are changing, for a range of reasons, including internal and external pressures, and this set of essays explores how those changes happen. Changes may be formal, involving amendments to the texts of Constitutions or the passage of legislation of a clearly constitutional kind; or informal and organic, as where court decisions affect the operation of the system of government, or where new administrative and other arrangements (eg agencification) affect or articulate or alter the operation of the constitution of the country, without the need to resort to formal change. The volume includes studies of a range of common and civil law systems, presidential, parliamentary and federal systems, a former Communist state and developing countries. In the last two chapters the editors conduct a detailed comparative analysis of the jurisdiction-based chapters and explore the question whether any overarching theory or theories about constitutional change in liberal democracies emerge from the study. "a valuable compendium, making information on a number of less known constitutional systems available in English...comparative public lawyers will no doubt value the information on how constitutions change in the various legal systems assembled and represented in the volume. " Michal Bobek, Cambridge Law Journal " a lively picture is drawn of the different constitutional cultures including historic, political, legal or social aspects...exciting and surprising details about constitutions all over the world...a first approach to a theory of constitutional change. Sebastian Schmid, International Journal of Constitutional Law "authoritative academic commentary and reflections on the evolution of contemporary democratic principles...rich in insights which should encourage researchers to pursue comparative research...a uniquely effective approach to the task." Pier Luigi Petrillo, Percorsi Costituzionali "The Authors note that a constitution totally unsuited for change sooner or later is doomed to become an instrument incapable of serving its purpose, bound therefore to be superseded. In the end, they believe that constitutional patriotism is best served by ensuring that a given set of constitutional arrangements can be adapted and incrementally changed rather than making out of it a petrified object of devotion. And I would agree with them." Prof. Stefano Ceccanti, former Italian MP, www.federalismi.it
Sklep: Libristo.pl 167,16 zł
Książki / Literatura obcojęzyczna
Global business interacts efficiently despite the heterogeneity of social, economic and legal cultures which, according to widespread assumptions, cause insecurities and uncertainties. Breaches of contracts may occur more frequently and business relationships may be terminated more often in international than in domestic trade. But most business people engaged in exporting or importing products or services seem to operate in a sufficiently predictable environment allowing successful ventures into the global market. The apparent paradox presented by cultural/institutional diversity and contractual efficiency in cross-border business transactions is the focus of this volume of essays. The wide range of approaches adopted by contributors to the volume include: the Weberian concept of law as a tool for avoiding the risk of opportunism; economic sociology, which treats networks and relationships between contractual parties as paramount; representatives of new institutional economics who discuss law as well as private governance institutions as most efficient responses to risk; comparative economic sociologists who point to the varieties of legal cultures in the social organisation of trust; and national and international institutions such as the World Bank which try to promote legal certainty in the economy. The purpose of the volume is to build on this interdisciplinary exercise by adding empirical evidence to ongoing debates regarding enabling structures for international business, and by critically reviewing and discussing some of the propositions in the literature which contain interesting hypotheses on the effects of the internationalisation of markets on market co-ordination institutions and on the role of the state in the globalising economy.
Sklep: Libristo.pl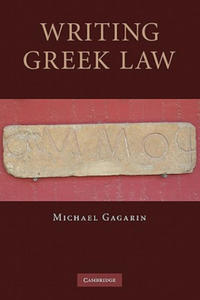 218,93 zł
Książki / Literatura obcojęzyczna
The use of writing in the development of Greek law was unique. In this comparative 2008 study Professor Gagarin shows the reader how Greek law developed and explains why it became so different from the legal systems with which most legal historians are familiar. While other early communities wrote codes of law for academic or propaganda purposes, the Greeks used writing extensively to make their laws available to a relatively large segment of the community. On the other hand, the Greeks made little use of writing in litigation whereas other cultures used it extensively in this area, often putting written documents at the heart of the judicial process. Greek law thereby avoided becoming excessively technical and never saw the development of a specialised legal profession. This book will be of interest to those with an interest in the history of law, as well as ancient historians.
Sklep: Libristo.pl 109,63 zł
Książki / Literatura obcojęzyczna
Blood Narrative is a comparative literary and cultural study of post-World War II literary and activist texts by New Zealand Maori and American Indians, groups who share much in their responses to European settler colonialism. Chadwick Allen reveals the complex narrative tactics employed by writers and activists in these societies that enabled them to realize unprecedented practical power in making both their voices and their own sense of indigeneity heard. Allen shows how both Maori and Native Americans resisted the assimilationist tide rising out of World War II and how, in the 1960s and 1970s, they each experienced a renaissance of political and cultural activism-and literary production-that culminated in the formation of the first general assembly of the World Council of Indigenous Peoples. He focuses his comparison on two fronts: first, the blood/land/memory complex that refers to these groups' struggle to define indigeneity and to be freed from the definitions of authenticity imposed by dominant settler cultures. Allen's second focus is on the discourse of treaties between American Indians and the U.S. government and between Maori and Great Britain, which he contends offer strong legal and moral bases from which these indigenous minorities can argue land and resource rights as well as cultural and identity politics. With its implicit critique of multiculturalism and of postcolonial studies that have tended to neglect the colonized status of indigenous First World minorities, Blood Narrative will appeal to students and scholars of literature, American and European history, multiculturalism, postcolonialism, and comparative cultural studies.
Sklep: Libristo.pl
125,12 zł
Książki / Literatura obcojęzyczna
Over the past three decades, the United States has embraced the death penalty with tenacious enthusiasm. While most of those countries whose legal systems and cultures are normally compared to the United States have abolished capital punishment, the United States continues to employ this ultimate tool of punishment. The death penalty has achieved an unparalleled prominence in American public life and left an indelible imprint on its politics and culture. It has also provoked intense scholarly debate, much of it devoted to explaining the roots of American exceptionalism. America's Death Penalty takes a different approach to the issue by examining the historical and theoretical assumptions that have underpinned the discussion of capital punishment in the United States today. At various times the death penalty has been portrayed as an anachronism, an inheritance, or an innovation, with little reflection on the consequences that flow from the choice of words. This volume represents an effort to restore the sense of capital punishment as a question caught up in history. Edited by leading scholars of crime and justice, these original essays pursue different strategies for unsettling the usual terms of the debate. In particular, the authors use comparative and historical investigations of both Europe and America in order to cast fresh light on familiar questions about the meaning of capital punishment. This volume is essential reading for understanding the death penalty in America.
Sklep: Libristo.pl 219,09 zł
Książki / Literatura obcojęzyczna
Blending political, historical, and sociological analysis, Bernard S. Silberman offers a provocative explanation for the bureaucratic development of the modern state. The study of modern state bureaucracy has its origins in Max Weber's analysis of the modes of social domination, which Silberman takes as his starting point. Whereas Weber contends that the administration of all modern nation-states would eventually converge in one form characterized by rationality and legal authority, Silberman argues that the process of bureaucratic rationalization took, in fact, two courses. One path is characterized by permeable organizational boundaries and the allocation of information by professionals. The other features well-defined boundaries and the allocation of information by organizational rules. Through case studies of France, Japan, the United States, and Great Britain, Silberman demonstrates that this divergence stems from differences in leadership structure and in levels of uncertainty about leadership succession in the nineteenth century. Silberman concludes that the rise of bureacratic rationality was primarily a response to political problems rather than social and economic concerns. Cages of Reason demonstrates how rationalization can have occurred over a wide range of cultures at various levels of economic development. It will be of considerable interest to readers in a number of disciplines: political science, sociology, history, and public administration. Silberman has produced an invaluable, densely packed work that those with deep knowledge of public administrative development will find extremely rewarding. --David H. Rosenbloom, American Political Science Review An erudite, incisive, and vibrant book, the product of intensive study and careful reflection. Given its innovative theoretical framework and the wealth of historical materials contained in it, this study will generate debate and stimulate research in sociology, political science, and organizational theory. It is undoubtedly the best book on the comparative evolution of the modern state published in the last decade.--Mauro F. Guillen, Contemporary Sociology
Sklep: Libristo.pl
Sklepy zlokalizowane w miastach: Warszawa, Kraków, Łódź, Wrocław, Poznań, Gdańsk, Szczecin, Bydgoszcz, Lublin, Katowice
Szukaj w sklepach lub całym serwisie
2. Szukaj na wszystkich stronach serwisu
t1=0.072, t2=0, t3=0, t4=0, t=0.072