krainaksiazek concise guide to entrepreneurship technology and innovation 20110307
- znaleziono 7 produktów w 1 sklepie 168,21 zł
Książki / Literatura obcojęzyczna
The management of technological innovation (MTI) is one of the most important challenges facing businesses today. Innovation has become the fundamental driver of competitiveness for firms of all sizes in virtually all business sectors and nations. The first edition of this book has become one of the most popular texts for students of innovation and technology management. This new edition sees David Gann and Ammon Salter join Mark Dodgson as authors, drawing on their combined experience of 60 years of researching and teaching MTI. It combines the most relevant theoretical analysis with contemporary and historical empirical evidence to provide a comprehensive, yet concise and readable, guide to the challenges of MTI. By explaining the innovation process the book reveals the broad scope of MTI and its importance for company survival, growth and sustainability. It describes how MTI has to be managed strategically and how this is successfully achieved by formulating and implementing strategy and delivering value. Chapters provide frameworks, tools and techniques, and case studies on managing: innovation strategy, communities, and networks, R&D, design and new product and service development, operations and production, and commercialization. Based on robust analysis, the book provides a wide range of empirical evidence from a huge diversity of case studies, with around fifty case studies newly written for this edition. It analyses MTI in all parts of the world, in companies large and small, and in services, manufacturing, and resource-based business sectors. This new edition has been fully revised and updated to reflect the latest teaching and research, and to ensure its continuing relevance to the contemporary world of MTI. It will be an important resource for academics, students, and managers throughout the world, is a recommended text for students of innovation and technology management at postgraduate and undergraduate level, and is particularly valuable for MBA courses.
Sklep: Libristo.pl 149,81 zł
Książki / Literatura obcojęzyczna
This excellent book makes it quite clear that your business has to focus on customer experience for 21st-century business success. It s more than refreshing to read the multiple case studies and well thought out approach and to hear the experienced voices of these authors. You ve spent way too much time reading this endorsement. Read the book instead. It s so worth it. § Paul Greenberg, author of CRM at the Speed of Light §To differentiate yourself and delight your customers, you must manage your customers experience with your goods or services, and your company. This invaluable book will show you why you must do this, and how to do it well. § Henry Chesbrough, author of Open Innovation and Professor at the Haas School of Business, University of California Berkeley §Technology advances are raising the human expectation of what an experience with a company can and should be. Finally, a book has been written that combines behavioral psychological, micro-economic, and technological considerations defining the customer experience edge. § Paul D Alessandro, Partner, PricewaterhouseCoopers §As we move from Customer Experience 1.0 to Customer Experience 2.0, organizations and practitioners need a solid blueprint for success. Reza, Vinay, and Volker have created a clear and concise guide based on global best practices and proven principles. If you are ready to transform your organization, start by reading this book. § Lior Arussy, President, Strativity Group, and author of Customer Experience Strategy § The Customer Experience Edge is an excellent book to gain insights on how to leverage customer experience as a competitive advantage. The case studies serve as recipes that can be added to, modified, or simply baked into business plans to improve or deliver an exceptional customer experience. § Deb Dexter, Customer Service Director, Cardinal Health §About the Book: §Globalization and advanced technologies have given ever greater power to the person who decides if your business will succeed or fail the customer. Whether your company serves consumers or other businesses, you can no longer compete on price and quality alone. To gain profits and market share, you have to deliver an experience that makes customers want to come back and that sets you apart from the competition. You need to seize The Customer Experience Edge. §Drawing on over sixty years of experience in shaping customer centric strategies and technologies for leading companies, three innovators bring you practical and proven ways to create your customer experience programs and overall business strategies. The key is to strike a balance between programs that are effective but prohibitively expensive and programs that fail to dedicate enough resources to be effective. In the middle ground lie the tools that everyone overlooks foundational and disruptive technologies. These are the authors main fields of expertise, and these are what make the customer experience profitable.§The Customer Experience Edge explains how to combine strategy, leadership, organizational change, and technology to:§Develop products and services that are highly valued by customers§Form bonds that keep clients from turning to competitors§Transform customers into your best advocates §It s a new world of business, and customers are keenly aware that their loyalty is valuable currency. The Customer Experience Edge gives you a cost-effective, sustainable way to provide an unforgettable experience that builds loyalty and turns it into real, measurable profits.§
Sklep: Libristo.pl 99,82 zł
Książki / Literatura obcojęzyczna
Web 2.0 makes headlines, but how does it make money? This concise guide explains what's different about Web 2.0 and how those differences can improve your company's bottom line. Whether you're an executive plotting the next move, a small business owner looking to expand, or an entrepreneur planning a startup, "Web 2.0: A Strategy Guide" illustrates through real-life examples how businesses, large and small, are creating new opportunities on today's Web. This book is about strategy. Rather than focus on the technology, the examples concentrate on its effect. You will learn that creating a Web 2.0 business, or integrating Web 2.0 strategies with your existing business, means creating places online where people like to come together to share what they think, see, and do. When people come together over the Web, the result can be much more than the sum of the parts. The customers themselves help build the site, as old-fashioned 'word of mouth' becomes hypergrowth."Web 2.0 : A Strategy Guide" demonstrates the power of this new paradigm by examining how: Flickr, a classic user-driven business, created value for itself by helping users create their own value; Google made money with a model based on free search, and changed the rules for doing business on the Web-opening opportunities you can take advantage of; social network effects can support a business-ever wonder how FaceBook grew so quickly?; and, businesses like Amazon tap into the Web as a source of indirect revenue, using creative new approaches to monetize the investments they've made in the Web. Written by Amy Shuen, an authority on Silicon Valley business models and innovation economics, "Web 2.0: A Strategy Guide" explains how to transform your business by looking at specific practices for integrating Web 2.0 with what you do. If you're executing business strategy and want to know how the Web is changing business, this book is for you.
Sklep: Libristo.pl 105,03 zł
Książki / Literatura obcojęzyczna
'Practical, concise and full of tips that every manager needs to know, The Financial Times Guide to Management provides a powerful guide for leaders at every level.' Arianna Huffington, Chairman, President and Editor-in-Chief, The Huffington Post Media Group 'This is clear, encouraging and packed with good sense - just like its author. A winner.' Eleanor Mills, Editorial Director, The Sunday Times 'Amidst the myriad of books on leadership, this guide presents an unusually concrete, comprehensive and practical set of principles and learnings for managers at every level.' John Pepper, Former CEO & Chairman P Former Chairman Walt Disney From motivating a team and developing star talent to controlling budgets and fostering innovation, The Financial Times Guide to Management is your authoritative guide to becoming an effective manager. Full of practical tips and advice, this defi nitive handbook offers solutions to the everyday challenges of: * Managing yourself * Developing communication skills and emotional intelligence * Managing others * Setting strategic direction * Managing change * Managing money, resources and technology There is also on-the-ground advice from the executive frontline, with insights from leaders including Paul Polman (CEO, Unilever), Steve Marshall (Chairman, Balfour Beatty) and Cilla Snowball (Chairman and CEO, AMV BBDO). Whether you're a new team leader or an experienced director, this book contains everything you need to know to become an outstanding manager.
Sklep: Libristo.pl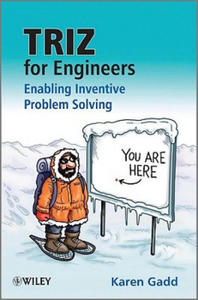 283,67 zł
Książki / Literatura obcojęzyczna
TRIZ is a brilliant toolkit for nurturing engineering creativity and innovation. This accessible, colourful and practical guide has been developed from problem-solving workshops run by Oxford Creativity, one of the world's top TRIZ training organizations started by Gadd in 1998. Gadd has successfully introduced TRIZ to many major organisations such as Airbus, Sellafield Sites, Saint-Gobain, DCA, Doosan Babcock, Kraft, Qinetiq, Trelleborg, Rolls Royce and BAE Systems, working on diverse major projects including next generation submarines, chocolate packaging, nuclear clean-up, sustainability and cost reduction. Engineering companies are increasingly recognising and acting upon the need to encourage successful, practical and systematic innovation at every stage of the engineering process including product development and design. TRIZ enables greater clarity of thought and taps into the creativity innate in all of us, transforming random, ineffective brainstorming into targeted, audited, creative sessions focussed on the problem at hand and unlocking the engineers' knowledge and genius to identify all the relevant solutions. For good design engineers and technical directors across all industries, as well as students of engineering, entrepreneurship and innovation, TRIZ for Engineers will help unlock and realise the potential of TRIZ. The individual tools are straightforward, the problem-solving process is systematic and repeatable, and the results will speak for themselves. This highly innovative book: * Satisfies the need for concise, clearly presented information together with practical advice on TRIZ and problem solving algorithms* Employs explanatory techniques, processes and examples that have been used to train thousands of engineers to use TRIZ successfully* Contains real, relevant and recent case studies from major blue chip companies* Is illustrated throughout with specially commissioned full-colour cartoons that illustrate the various concepts and techniques and bring the theory to life* Turns good engineers into great engineers.
Sklep: Libristo.pl 60,41 zł
Książki / Literatura obcojęzyczna
"A great book everyone can use to understand how tech startups work." - Rene Reinsberg, GM/VP at GoDaddy, CEO and Co-founder at Locu§§"Finally a book non-techies can use to understand the web technologies that are changing our lives." - Paul Bottino, Executive Director, Technology and Entrepreneurship Center, Harvard University§§"Through the simplicity of his presentation, Vinay shows that the basics of technology can be straightforwardly understood by anyone who puts in the time and effort to learn." - Joseph Lassiter, Professor of Management Science, Harvard Business School and Harvard Innovation Lab§§In a way that anyone can understand, How to Speak Tech: The Non-Techie's Guide to Tech Basics in Business spells out the essential technical terms and technologies involved in setting up a company's website or web application. Nontechnical business readers will find their digital literacy painlessly improved with each ten-minute chapter of this illustrative story of one successful technology startup building its Web-based business from scratch.§§Vinay Trivedi - a private equity analyst and startup entrepreneur who works at the intersection of business and tech - employs the startup story line as his frame for explaining in plain language the technology behind our daily user experiences, the successful strategies of social media giants, the bold aspirations of tiny startups, and the competitive adaptations of ordinary businesses of all sizes and sectors. Along the way, he demystifies all those tech buzzwords in our business culture whose precise meanings are so often elusive even to the people using them.§§Internet hardware, application software, and business process: the working premise of this book is that none of it is beyond the basic understanding of nontechnical business readers. Trivedi peels back the mystery, explains it all in simplest terms, and gives his readers the wherewithal to listen intelligently and speak intelligibly when the subject turns to technology in business.§§
Sklep: Libristo.pl 695,16 zł
Książki / Literatura obcojęzyczna
At last, a comprehensive, systematically organized Handbook which gives a reliable and critical guide to all aspects of one of the world's leading industries: the hospitality industry. The book focuses on key aspects of the hospitality management curriculum, research and practice bringing together leading scholars throughout the world. Each essay examines a theme or functional aspect of hospitality management and offers a critical overview of the principle ideas and issues that have contributed, and continue to contribute, within it. Topics include: * The nature of hospitality and hospitality management * The relationship of hospitality management to tourism, leisure and education provision * The current state of development of the international hospitality business * The core activities of food, beverage and accommodation management * Research strategies in hospitality management * Innovation and entrepreneurship trends * The role of information technology The SAGE Handbook of Hospitality Management constitutes a single, comprehensive source of reference which will satisfy the information needs of both specialists in the field and non-specialists who require a contemporary introduction to the hospitality industry and its analysis. Bob Brotherton formerly taught students of Hospitality and Tourism at Manchester Metropolitan University. He has also taught Research Methods to Hospitality and Tourism students at a number of international institutions as a visiting lecturer; Roy C. Wood is based in the Oberoi Centre of Learning and Development, India
Sklep: Libristo.pl
Sklepy zlokalizowane w miastach: Warszawa, Kraków, Łódź, Wrocław, Poznań, Gdańsk, Szczecin, Bydgoszcz, Lublin, Katowice
Szukaj w sklepach lub całym serwisie
2. Szukaj na wszystkich stronach serwisu
t1=0.032, t2=0, t3=0, t4=0, t=0.032