krainaksiazek conducting an effective and successful training programme 20125230
- znaleziono 7 produktów w 1 sklepie 160,01 zł
Książki / Literatura obcojęzyczna
'This book will be really useful to all teachers of upper Primary/lower Secondary pupils but will be especially useful as a resource for using with gifted children of 9 to12 years, as it will promote and support the type of self-directed, investigative enquiry that they enjoy. The author also emphasises the importance of the research process rather than the written product, which will appeal to all those children who dislike the written presentation of work! Each chapter outlines the learning outcomes, has a timed teaching content, and suggests a core activity; it also suggests differentiation and includes some simple 'games'. It is fully supported by photocopiable resources, making it a complete programme of work. Although written for a specific age group, this is such an excellent basic guide, it would be of use to anyone conducting research for the first time' - Eve Wilson, Education Consultant, National Association for Gifted Children 'This inspirational and innovative programme will be welcomed by all those who want to teach research skills to children. Clear discussion notes, activities and games provide everything a busy teacher needs to be able to deliver the programme. No prior knowledge of research is necessary. This is an ideal resource for those who want to offer pupils the opportunity to make their voice heard through the research process' - Dr. Ruth MacConville, Head of SENS, London Borough of Ealing 'An excellent book...a very informative guide to supporting teachers in delivering a comprehensive research training package to children and young people' - Children & Society Why teach research methodology to children? An effective and meaningful way of enhancing children's learning, doing research, empowers children to participate actively in their own education and to make original contributions to knowledge. The research carried out by children is also a vital key to improving our own understanding of children and childhood. This book's unique child-centred perspective provides an easy-to-follow model for teaching research methodology to children aged 10 and upwards. Packed with practical tips and photocopiable resources for the classroom, each chapter contains: " a core activity designed to distil the teaching content and engage children with the main learning objectives " ideas for supplementary activities and games " follow-up homework " mini boxed glossaries containing key research terms and their definitions " and suggestions for further reading. Key topics covered include: research design, data collection techniques, data analysis, dissemination, and children as active researchers.
Sklep: Libristo.pl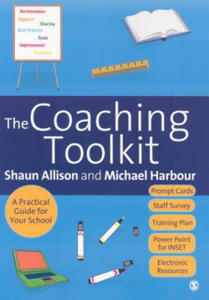 160,01 zł
Książki / Literatura obcojęzyczna
Do you want to know how to establish a coaching programme in your school? Using lots of examples of successful coaching in practice to set you on the road to coaching success, this book guides you through the process of setting up and running an effective coaching programme in your school. The authors are both secondary specialists, but the principles they set out in this book are broadly applicable to all schools. There is clear advice on: introducing coaching in your school; choosing your coaches; training your coaches; measuring the positive impact of coaching on the school; making coaching part of professional development for all staff; and a suggested timeline for implementing a coaching programme. Features of the book include chapter objectives, questions for reflection to use in training activities, a number of short case studies from secondary schools and further education colleges showing how coaching has worked in practice, suggestions for further reading and pointers to useful websites. There are useful photocopiable materials provided to use with most chapters, and there is a PowerPoint presentation available entitled "Coaching for Performance" that you can use to explain ideas to colleagues. This bank of resources that accompanies the book is available to download from the SAGE website, and you can adapt the materials for any setting. This book is an ideal resource for anyone looking to establish a coaching programme in their school, and offers you all the support, guidance and resource materials you will need.
Sklep: Libristo.pl 175,92 zł
Książki / Literatura obcojęzyczna
'Overall, and as one has come to expect from Fink, this is a readable text that thinks outside the box of leadership theory...I have no doubt that the text will be welcomed by many readers for an engaging style that places human interest at the heart of the discourse in the field' - Mark Brundrett, writing in Educational Management Administration and Leadership 'It is a 'must read' for those in educational leadership roles in schools, both to gain invaluable insights and to draw on a framework for individual reflection' - Professor Brent Davies, University of Hull 'I enjoyed reading this book. The combination of critical reflection of his experience in the light of relevant literature makes for a lively and thought-provoking book. I was going to say "little" book, because at times I would have liked to have read more. But on the other hand, it is the sort of book one - the academic and the leader - could read in one sitting, enjoy and come back to for some ideas. I recommend you to do so' - ESCalate 'This book provides a refreshing alternative to the rhetoric about 'superheads', and 'mavericks' that has been prevalent in some of the recent discourse about leadership. Dean Fink draws heavily upon the work of Andy Hargreaves, Michael Fullan and his own research with Louise Stoll so some of the ideas are familiar. However, what makes Leadership for Mortals interesting is the way in which he untangles the complexities of leadership by using genuine examples alongside the theory. Dean Fink's writing is accessible and his anecdotal style should resonate with his intended audience of current and prospective leaders' - LDR, The Magazine for School Leaders 'This book is a welcome antidote to the notion of school leaders as heroic figures. Dean Fink's commitment to enhancing the life chances of young people shines through the pages' - Kate Myers, Times Educational Supplement 'With great wisdom and insight, Dean Fink invites us into his leadership stories to masterfully illustrate that school leadership is no longer a person but an intricate network of 'mortals' working together to enhance learning experiences for students. They are truly leaders of learning, where commitment to successful learning for all students is the locus of their passion, perseverance and persuasion. Balanced with connections to respected leadership literature, this lucid and eloquent book will inspire current and future school leaders to reflect and develop their leadership practice to higher levels of effectiveness. An outstanding and optimistic read for all school leadership mortals, practitioners and scholars alike. I enjoyed it immensely' - David Eddy, Director, First-time Principals Programme, The University of Auckland 'Practitioners will find this book at the same time reassuring and challenging. Fink includes stories of leadership that highlight effective strategies and some approaches that have gone wrong. They are real and ring true and therefore credible and instructive' - Ken Thompson Principal, Gladstone Park Secondary College, Australia 'A great story about schools and their leaders progressing towards a knowledge driven world and the roads they choose to travel. Building sustainable communities of practice and the credible and varied examples of how the combination of leadership behaviour and enabling and disabling processes can make or break a successful school are clearly illustrated in Leadership for Mortals. A significant read for all aspirant and accomplished leaders' - - Jenny Lewis,Executive Officer, Australian Council for Educational Leaders 'Dean Fink brings together a wealth of learning from his own experience as a leader and learner to provide some powerful messages. This is a well-informed book with a strong theoretical basis but it is also personal and real, making sense of educational leadership in a way that is both profound and down-to-earth. School leaders in the UK and elsewhere will find inspiration, reassurance and challenge in this book' - Steve Munby, Chief Executive, National College for School Leadership 'Grounded in solid knowledge base and profound lived experience, Dean Fink's Leadership for Mortals provides deep insights on how ordinary practitioners could become great and sustainable leaders of learning. Fink's book is not a "quick-fix" how-to-do-it manual. It stimulates us to reflect on education leadership both as a personalized, value-laden journey and an art as well as reminds us of the imperative issues of extraordinary commitment, effort and determination in making a difference on leading students and teachers' learning. This is a must-read book for aspiring and serving leaders in the field of education' - Professor John Chi-kin Lee, Dean of Education, The Chinese University of Hong Kong, Hong Kong 'Its style is conversational and unpatronizing, yet it makes powerful statements about the key components that contribute to successful leadership. It is always practical, and readers will come away from this book knowing they have learned something that they will be keen to try out for themselves...Readers will recognise leaders good and bad that they have come across, at times being reassured that they are getting it right and at others despairing as they identify situations in which they, too, got it wrong. Fink's writing makes it clear that leadership is not exact science! He reminds us that, although we are mortals, with good mentoring and better training our own potential has a better chance of being realised, and that this is the best way to enable our students to achieve their own potential.' Journal of Research in International Education Leadership in recent years has become a growth industry. Politicians demand more of it, academics decry the lack of it, and potential school leaders are deciding 'to hell with it' ...we are making the business of leadership so complicated that we seem to need John Wayne at his mythological best or Xena the Warrior Princess to run a school. Most educational leaders are not 'heroic' but rather ordinary people who through extraordinary commitment, effort, and determination have become extraordinary, and have made the people around them exceptional. Educational leadership is more art than science; it is more about character than technique; it is more about inspiration than charisma; it is more about leading students and teachers' learning than the management of things This resource for prospective and practising school leaders: - motivates and inspires - addresses the challenges of contemporary school leadership - presents a model for leadership development, selection and succession - challenges existing and prospective leaders to develop and live by a set of core values based on students' learning - describes and explains the 'learnings' required by effective leaders of learning - describes the intellectual 'tool kit' that leaders can develop - describes the trajectories through which leaders proceed, and the 'learnings' required at each stage of the leaders evolution - presents a template for leadership development and succession.
Sklep: Libristo.pl 88,77 zł
Książki / Literatura obcojęzyczna
From the author of the hugely successful titles How Your Horse Moves and Horse Anatomy for Performance, comes a completely different training manual, also based on the Horses Inside Out philosophy: 'Understanding Anatomy Improves Performance and Reduces the Risk of Injury'. Divided into three main parts: Principles of Anatomical Riding and Training; Exercises for Horse and Rider; Troubleshooting, the book contains a wealth of practical tips and exercises broken down into easy to follow, well-illustrated steps showing how riders can improve their riding skills and potential. The author suggests ways to improve horses' physique, posture, flexibility, stability, core strength, performance and movement and how to reduce muscular and movement problems, and reduce the risk of injury. This beautifully illustrated book looks at how to deliver a safe, varied, fun, effective and achievable training programme. It provides all the ingredients for riders to make informed decisions to maximise their own and their horse's potential, gain more enjoyment, satisfaction and improve their skills.
Sklep: Libristo.pl 72,08 zł
Książki / Literatura obcojęzyczna
"I've learned so much from Richard about marathon running. If you want to run a marathon, or a faster one, you have to read his book!" Haile Gebrselassie, first athlete to run a sub-2:04 Marathon "Richard's achievements as a world-class distance runner speak for themselves. His success came from a meticulous approach to training and from knowing how to get the best out of himself in his races." Paula Radcliffe, women's marathon world record holder (2:15:25, London 2003) Written by Richard Nerurkar, Britain's most successful marathon runner of the 1990s, the fourth edition of this classic, invaluable guide will help you get the most from your distance training. From the complete beginner enchanted by the challenge of the London Marathon, to the experienced runner wishing to improve on racing strategy, its authoritative pages reveal a wealth of information on: structuring an effective build-up and taper training harder without doing too much improving your endurance and pace judgement producing your best on race-day. This new edition has been fully updated to take account of the latest developments in running science and programme design. Also included are tips on how to choose a good marathon and the pitfalls of bad ones, as well as more insights from Richard and other leading runners.
Sklep: Libristo.pl 49,77 zł
Książki / Literatura obcojęzyczna
Parenting is one of the most joyous jobs in the world but is definitely not for the faint hearted. Tears, tantrums, adolescent anxiety and potty training are but a few slices from life's rich cake of parenting - so why not feast on The A to Z of Parenting, an essential guide to being a successful parent. Nourish your parenting skills with this invaluable pocket-sized easy to digest, guide to happy parenting. The recipes include emotions, the critical areas of communication and relationships. Also included are the ingredients for effective listening skills, praising and quality time which are outlined in clear and simple practical 'What to do' terms. Karlene Rickard has a background in education and community work. She began her career as a teacher and then went into community work and counselling. She has over fifteen years of expertise as a parent facilitator, trainer and counsellor with international experience. In 2000 Karlene was awarded a Millennium Award by a pre school alliance. This has laid the foundation for Empowerment for Parents. The quality of the programme has been recognised by eminent individuals including Baroness Howells who wrote the foreword and nation bodies such as Dfes. The programme has been piloted both nationally and internationally and currently being delivered in the United Kingdom. Underpinning The A to Z of Parenting is a common set of principles identified by the Every Child Matters agenda.
Sklep: Libristo.pl 103,03 zł
Książki / Literatura obcojęzyczna
Appraisals are vital to any modern organisation. They keep the company vision in place; set standards and objectives; offer two-way feedback; and, identify training & development needs. All vital issues for a successful organization. No matter what stage you are at - about to conduct your first appraisal or an experienced manager seeking a more effective way of conducting appraisals - this book is for you.
Sklep: Libristo.pl
Sklepy zlokalizowane w miastach: Warszawa, Kraków, Łódź, Wrocław, Poznań, Gdańsk, Szczecin, Bydgoszcz, Lublin, Katowice
Szukaj w sklepach lub całym serwisie
2. Szukaj na wszystkich stronach serwisu
t1=0.036, t2=0, t3=0, t4=0, t=0.036