krainaksiazek consciousness where science and spirituality meet 20122851
- znaleziono 5 produktów w 2 sklepach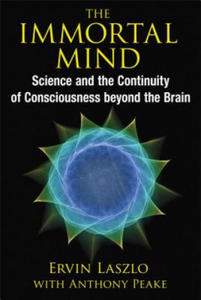 68,44 zł
Immortal Mind Inner Traditions Bear and Company
Książki / Literatura obcojęzyczna
Evidence now points to consciousness existing beyond the brain, such as when the brain is temporarily incapacitated, as well as to the survival of consciousness after death. Conventional science prefers to dismiss these findings because they cannot be accommodated by a materialist view of reality. Spirituality and religion embrace the continuity of consciousness and ascribe it to a nonmaterial spirit or soul that is immortal. As such, spirituality/religion and science continually find conflict in their views. But what if there truly is no conflict? Based on a new scientific paradigm in sync with experience-based spirituality, Ervin Laszlo and Anthony Peake explore how consciousness is continually present in the cosmos and can exist without connection to a living organism. They examine the rapidly growing body of scientific evidence supporting the continuity of consciousness, including near-death experiences, after-death communication, reincarnation, and neurosensory information received in altered states. They explain how the persistence of consciousness beyond the demise of the body means that, in essence, we are not mortal--we continue to exist even when our physical existence has come to an end. This correlates precisely with cutting-edge physics, which posits that things in our plane of time and space are not intrinsically real but are manifestations of a hidden dimension where they exist in the form of superstrings, information fields, and energy matrices. With proof that consciousness is basic to the cosmos and immortal in its deeper, nonmanifest realm, Laszlo and Peake reveal the purpose of consciousness is to manifest in living beings in order to continuously evolve.
Sklep: Libristo.pl 103,54 zł
Książki / Literatura obcojęzyczna
Life is full of challenges, both big and small. Spirituality is here to offer solutions. §Over the course of his career as physician, teacher, and bestselling author, Deepak Chopra has received thousands of questions from people facing every kind of challenge. They have asked how to lead more fulfilling lives, how to overcome relationship problems and personal obstacles. What's the best way to deal with a passive-aggressive friend? Can a stagnant career be jump-started? In a world full of distractions and stress, how does one find time for meditation?§Hidden among all of these questions are answers waiting to be uncovered.§In this groundbreaking book, Chopra shows you how to expand your awareness, which is the key to the confusion and conflict we all face. "The secret is that the level of the problem is never the level of the solution," he writes. By rising to the level of the solution in your own awareness, you can transform obstacles into opportunities. Chopra leads the reader to what he calls "the true self," where peace, clarity, and wisdom serve as guides in times of crisis. For Chopra, spirituality is primarily about consciousness, not about religious dogma or relying on the conventional notion of God. "There is no greater power for success and personal growth than your own awareness." With practical insight, Spiritual Solutions provides the tools and strategies to enable you to meet life's challenges from within and to experience a sense of genuine fulfillment and purpose.
Sklep: Libristo.pl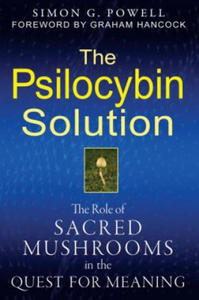 88,96 zł
Książki / Literatura obcojęzyczna
How psilocybin mushrooms facilitate a direct link to the wisdom of Nature and the meaning of life - Examines the neurochemistry underlying the visionary psilocybin experience - Explains how sacred mushrooms help restore our connection to the natural intelligence of Nature - Reviews the research on psilocybin's ability to dispel anxiety in the terminally ill and its helpful effects on obsessive-compulsive disorder It has been more than 50 years since sacred mushrooms were plucked from the shamanic backwaters of Mexico and presented to the modern world by R. Gordon Wasson. After sparking the psychedelic era of the 1960s, however, the divine mushroom returned underground from whence it mysteriously originated. Yet today, the mushroom's extraordinary influence is once again being felt by large numbers of people, due to the discovery of hundreds of wild psilocybin species growing across the globe. In "The Psilocybin Solution," Simon G. Powell traces the history of the sacred psilocybin mushroom and discusses the shamanic visionary effects it can induce. Detailing how psilocybin acts as a profound enhancer of consciousness and reviewing the research performed by the Multidisciplinary Association for Psychedelic Studies (MAPS), Johns Hopkins University, and the Heffter Research Institute on psilocybin's ability to dispel anxiety in the terminally ill and its helpful effects on obsessive-compulsive disorder, he examines the neurochemistry, psychology, and spirituality underlying the visionary psilocybin experience, revealing the interface where physical brain and conscious mind meet. Showing that the existence of life and the functioning of mind are the result of a naturally intelligent, self-organizing Universe, he explains how sacred mushrooms provide a direct link to the wisdom of Nature and the meaning of life.
Sklep: Libristo.pl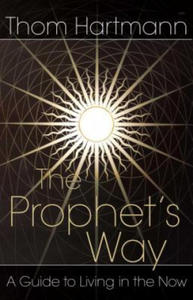 87,51 zł
Książki / Literatura obcojęzyczna
Thom Hartmann's own dramatic spiritual journey that illuminates specific techniques for achieving spiritual transformation - Recounts travels to the farthest corners of the earth in pursuit of universal spiritual truths - Reveals the teachings of Hartmann's spiritual guides, providing an intimate glimpse into his relationship with German mystic Herr Muller - Offers practices and techniques for readers seeking to grow spiritually In the course of his work for the charitable organization Salem, Thom Hartmann personally witnessed famine in Uganda, chaos in Russia, and genocide in Colombia--all signs that modern cultures have lost the connection to the sacred, both within and without, that was emblematic of older cultures. To truly flourish, the human spirit needs to be present in its surroundings and attuned to the Now. It needs to act on what it knows is possible and to experience how the smallest actions can have massive consequences. This is the reality of the Prophet's Way, a path--both literal and figurative--that the author walked with his spiritual mentor Herr Muller that skirts the edge of the precipice, where one can experience a truly spontaneous life under seemingly overwhelming and impossible circumstances. In "The Prophet's Way," Thom Hartmann shares his intense spiritual journey, a story that melds recent discoveries in science with ancient truths. Through insightful and engaging vignettes Hartmann teaches that accepting the challenge to have faith means living on the edge--remaining in the moment--because it is here where the material and spiritual worlds meet. He offers readers a unique view into his experiences of expanded consciousness, providing a powerful example of how we can re-create our future by reconnecting to the sacred heartbeat of the world.
Sklep: Libristo.pl 52,99 zł
Książki Obcojęzyczne>Nieprzypisane
Hilary, A Young Psychology Researcher At A Brain-science Institute, Is Nursing A Private Sorrow And A Troubling Question At Work, Where Psychology And Biology Meet. If There Is Nothing But Matter, What Is Consciousness? This Is 'the Hard Problem' Which Puts Hilary At Odds With Her Colleagues.
Sklep: Gigant.pl
Sklepy zlokalizowane w miastach: Warszawa, Kraków, Łódź, Wrocław, Poznań, Gdańsk, Szczecin, Bydgoszcz, Lublin, Katowice
Szukaj w sklepach lub całym serwisie
2. Szukaj na wszystkich stronach serwisu
t1=0.027, t2=0, t3=0, t4=0, t=0.027