krainaksiazek country wit and wisdom 20090567
- znaleziono 6 produktów w 1 sklepie 306,36 zł
Książki / Literatura obcojęzyczna
After the publication in 1932 of Angela Thirkell's first Barsetshire novel, her fans eagerly awaited a new book in the series, and they were rewarded annually for the next 27 years. Drawing upon the entire body of Barsetshire novels (set in Trollope's imaginary county whose seat, Barchester, is a cathedral town), Laura Collins shows Angela Thirkell's larger purposes in chronicling the daily lives of the rural English. English Country Life demonstrates Thirkell's conviction that loyalty to family, county, and country is the essential bond that strengthens middle-class culture; her close acquaintance with the English countryside, her high regard for the wit and wisdom of its people, and her firm conviction that the strong family unit is the backbone of the nation, are recurrently illustrated in the Barsetshire series. Collins traces the development of representative county families and their responses to the forces of political and economic decline. The book conveys Thirkell's mastery of detail in recreating life on the county's estates and farms, and in towns and villages, reflecting the cultural changes forced upon all social classes by the two World Wars and their aftermath. Collins shows how Thirkell's own life is reflected in her county chronicles. Perhaps most significantly, Collins believes Thirkell's own experiences as a daughter and as a mother to three sons is reflected throughout the novels, revealing largely in hindsight the touching ironies as well as the comedy of these relations. In the course of these narratives, her sharp sense of human nature is seen at its best when she introduces readers to the many babies, toddlers, and adolescents who grow up in Barsetshire. Making extensive use of the series, Collins demonstrates convincingly that Thirkell presents an authentic record of upper middle-class English country life. For public libraries and research collections where Angela Thirkell's novels are read, enjoyed, and studied.
Sklep: Libristo.pl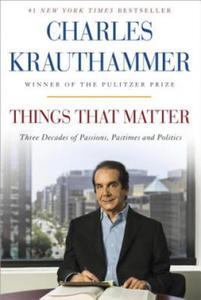 73,62 zł
Książki / Literatura obcojęzyczna
From America's preeminent columnist, named by the Financial Times the most influential commentator in the nation, the long-awaited collection of Charles Krauthammer's essential, timeless writings.§§A brilliant stylist known for an uncompromising honesty that challenges conventional wisdom at every turn, Krauthammer has for decades daz zled readers with his keen insight into politics and government. His weekly column is a must-read in Washington and across the country. Now, finally, the best of Krauthammer's intelligence, erudition and wit are collected in one volume.§§Readers will find here not only the country's leading conservative thinker offering a pas sionate defense of limited government, but also a highly independent mind whose views-on feminism, evolution and the death penalty, for example-defy ideological convention. Things That Matter also features several of Krautham mer's major path-breaking essays-on bioeth ics, on Jewish destiny and on America's role as the world's superpower-that have pro foundly influenced the nation's thoughts and policies. And finally, the collection presents a trove of always penetrating, often bemused re flections on everything from border collies to Halley's Comet, from Woody Allen to Win ston Churchill, from the punishing pleasures of speed chess to the elegance of the perfectly thrown outfield assist.§§With a special, highly autobiographical in troduction in which Krauthammer reflects on the events that shaped his career and political philosophy, this indispensible chronicle takes the reader on a fascinating journey through the fashions and follies, the tragedies and triumphs, of the last three decades of American life.
Sklep: Libristo.pl 52,51 zł
Książki / Literatura obcojęzyczna
"To Build a Fire and Other Stories" is a classic collection of some of Jack London's most loved short stories. In this volume you will find the following stories: To The Man On The Trail, The White Silence, In A Far Country, The Wisdom Of The Trail, An Odyssey Of The North, The Law Of Life, The God Of His Fathers, Bâtard, The League Of The Old Men, Love Of Life, The Wit Of Porportuk, To Build A Fire, All Gold Canyon, The Apostate, South Of The Slot, The Chinago, A Piece Of Steak, Mauki, Koolau The Leper, The Strength Of The Strong, War, The Mexican, Told In The Drooling Ward, The Water Baby, and The Red One.
Sklep: Libristo.pl
81,23 zł
Książki / Literatura obcojęzyczna
Written with A. D. Livingston's signature wit and wisdom, Chili provides a wealth of recipes, expertise, and outspoken opinion on making the best, most bodacious bowl of red. A chili-head's delight, this book wrestles with the chili arguments that rage in cookoffs and home kitchens country-wide--with beans or without, tomatoes yes or no, ground meat or cubed, and more. Recipes include chili made with beef, pork, venison, fowl, elk, bison, and "what-ya-got?"; also jerky chili for camp or trail; chili dogs; regional renditions, and more. Whether you're in the mood for Crock-Pot Chili Con Carne, Easy Deer Camp Chili, Chili Meatloaf, or A.D.'s Jerky Chili, you're in for a treat.
Sklep: Libristo.pl 50,29 zł
Książki / Literatura obcojęzyczna
Clever wit & wisdom for the 24-hour reading room You've heard of bathroom readers . . .well, here is the Outhouse Reader, filled with country quips and amusing advice for romantic relationships, playing fair, raising kids, and just plain getting along. It's sure to entertain everyone who makes a pit stop at the little wood shack out back. Just don't get caught with your pants down! Life is not about how fast you run or how high you climb, but how well you bounce.-Roy English There's no difference between a slim chance and a fat chance.-Texas Bix Bender More than a million copies of Bender and English books sold!
Sklep: Libristo.pl 76,31 zł
Książki / Literatura obcojęzyczna
NMD Books is proud to publish this complete and unabridged Special Collectors Edition of the final "Deathbed Version" of Walt Whitman's literary classic, "Leaves Of Grass." (1892), and includes a Preface to the original 1855 Edition by Whitman himself. Leaves of Grass has its genesis in an essay called The Poet by Ralph Waldo Emerson, published in 1845, which expressed the need for the United States to have its own new and unique poet to write about the new country's virtues and vices. Whitman, reading the essay, consciously set out to answer Emerson's call as he began work on the first edition of Leaves of Grass. Few works of literature have as controversial and difficult a history. Unable to find a publisher willing to take on his pioneering and unusual work, he initially self-published it in 1855. Throughout it's turbulent history, the book was both praised and reviled by critics, many of whom took issue with its occassional emphasis on sensuality and references to same-sex attraction, something that was considered taboo during the mid-to-late 1800's. Eventually, 'Leaves of Grass' was accepted as a groundbreaking and innovative work of literary art, one which inspired other poets to express more universal themes of love, attraction, and stream-of-consciousness imagery. Whitman continued to write and re-write Leaves of Grass until his death in 1892, and by the time this last edition was completed, the manuscript had grown from a small book of 12 poems to a hefty tome of almost 400 poems. It has since enjoyed massive success and stood the test of time to become one of the greatest literary works of all time and taken its rightful place in literary history. "The most extraordinary piece of wit and wisdom America has yet contributed" - Ralph Waldo Emerson "A work of great beauty, power and imagination." - Saturday Evening Post "Alive with the mythical strength and vitality that epitomized the American experience in the nineteenth century, Leaves of Grass continues to inspire, uplift, and unite those who read it." - New York Times
Sklep: Libristo.pl
Sklepy zlokalizowane w miastach: Warszawa, Kraków, Łódź, Wrocław, Poznań, Gdańsk, Szczecin, Bydgoszcz, Lublin, Katowice
Szukaj w sklepach lub całym serwisie
2. Szukaj na wszystkich stronach serwisu
t1=0.038, t2=0, t3=0, t4=0, t=0.038