krainaksiazek creating and marketing your birth related business a practical guide 20123417
- znaleziono 12 produktów w 3 sklepach 107,37 zł
Książki / Literatura obcojęzyczna
Savvy advice for adding video to your marketing plan Video marketing is rapidly gaining popularity in online marketing and this fun-but-practical guide presents you with all aspects of video marketing from planning to production to distribution. You'll learn how to create a video strategy, produce an effective video, put it online, and get your video to the right consumers so you can help your business succeed. The author team has vast experience in video creation and marketing and explores ten video campaigns so you can learn from their successes and challenges.* Offers an overview of the video marketing process, how to build it into an existing marketing plan, and create a video outline* Covers the necessary steps for creating the video, from scripting to shooting to editing* Walks you through the process of sharing video on a company site, social site, or other hosts and then draw the right audience* Details the new frontiers of video marketing including mobile video and measuring results Featuring invaluable advice for creating an effective video marketing campaign, Video Marketing For Dummies is essential reading on this marketing trend.
Sklep: Libristo.pl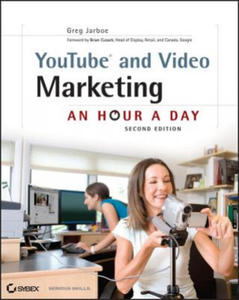 140,13 zł
Książki / Literatura obcojęzyczna
Fully updated with new information, including the latest changes to YouTube! If you're a marketer, consultant, or small business owner, this is the guide you need to understand video marketing tactics, develop a strategy, implement the campaign, and measure results. You'll find extensive coverage of keyword strategies, tips on optimizing your video, distribution and promotion tactics, YouTube advertising opportunities, and crucial metrics and analysis. Avoid errors, create a dynamite campaign, and break it all down in achievable tasks with this practical, hour-a-day, do-it-yourself guide. Shows you how to successfully develop, implement, and measure a successful video marketing strategy Written in the popular An Hour a Day format, which breaks intimidating topics down to easily approachable tasks Thoroughly updated with the latest YouTube functionality, helpful new case studies, the latest marketing insights, and more Covers optimization strategies, distribution techniques, community promotion tactics, and more Explores the crucial keyword development phase and best practices for creating and maintaining a presence on YouTube via brand channel development and customization Shows you how to optimize video for YouTube and search engine visibility Give your organization a visible, vital, video presence online with YouTube and Video Marketing: An Hour a Day, Second Edition .
Sklep: Libristo.pl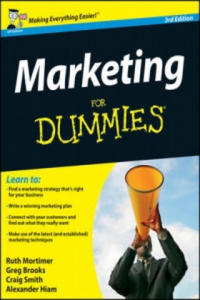 87,30 zł
Książki / Literatura obcojęzyczna
Smart marketing techniques to get your business noticed. Plan a successful marketing campaign and move your business forward with this fully updated edition of an established bestseller. Packed with practical advice from a team of industry experts, this readable guide features all the latest tools and techniques to help you connect with new customers and retain existing ones. From choosing the right strategy and preparing a marketing plan, to igniting your imagination and producing compelling advertising, you'll be creating a buzz and increasing profits in no time.
Sklep: Libristo.pl 177,59 zł
Książki / Literatura obcojęzyczna
The Consultant's Quick Start Guide offers a practical approach to setting up a consulting business. Throughout the guide, Elaine Biech--author of the best-selling The Business of Consulting--shares both her own secrets as well as those of numerous other successful consultants. With a focus on the business side of consulting, Biech takes you through a painless, fill-in-the-blanks, step-by-step process for setting up your consulting firm. New sections include: Why A Consulting Career-Five Reasons Why You May Be a Good Investment How Much Will Clients Pay? Your first "To Do" List What to call your business Creating and writing Business Plans Office Location Options Setting up your office, including Furnishing Your Office and planning your Technical Needs Electronic Records, including Monthly Expense Records, Revenue Projections, and Invoicing Staying Organized, including a Session Planner Determining your market niche Creating your marketing plan Developing your website Reviewing your first year with your family Electronic resource list, available online Skills And Knowledge Required of Consultants
Sklep: Libristo.pl 173,40 zł
Biznes
This best-selling introductory survey text provides comprehensive coverage ofall functional areas within the field including management, marketing, accounting, economics, finance, law, and computer information systems. The Seventh Edition integrates an appealing design, innovative features, and extensive revisions to remain both accessible and relevant. Topical issues such as entrepreneurship, gender and diversity, change, social responsibility, and the growth of technology are included throughout to prepare students for today's business environment. The pedagogical framework continually reinforces the material, and places abstract concepts into a practical context. The combination of chapter-opening cases involving well-known companies, end-of-chapter discussions which reference these cases, Spotlights that provide a visual "snapshot" of factual data, and actual advertisements allows students to understand the material's real-world application. To maintain the length of past editions, sections addressing Risk Management and Insurance have been moved to the appendix, while the appendices on law and government have been merged together. The inexpensive, flexible looseleaf format allows students to organize the material according to their individual needs and class schedule. New! E-business issues appear in various discussions, features, and examples throughout including Chapter 4, Navigating the World of E-Business. New! Each chapter contains a Using the Internet box, highlighting web sites that address pertinent concepts, companies, or topics. New! End-of-part cases feature a video segment, encouraging students to apply learned knowledge in reality-based activities. New! A US News and World Report Career Guide accompanies each text, and compiles career-related information and appropriate articles from the magazine including "Charting Your Own Course" and "Flip-of-the-coin Jobs." New! The extensive technology package includes several study aids such as a set of 4 Audio CD-ROMs and the Real Deal CD-ROM.
Sklep: Albertus.pl 300,78 zł
Książki / Literatura obcojęzyczna
Are you often faced with confusing and complex copyright questions about digital media? Do you need the basic knowledge and confidence to make quick and effective decisions? Do you want to know who to approach, how to approach them and how to negotiate the best deal? This pragmatic and no-nonsense practical working tool will make digital media copyright issues simple to understand and solve when you're struggling with daily deadlines. Providing a happy medium between a 'fingers-crossed' approach and a 'copyright police' stance, both of which can stymie creativity and undermine your organization, this handbook explores the principles of copyright for those with little or no experience. It will help you to develop good practice in clearing and negotiating licenses for use of third-party content in all types of media including video, images and music. With guidelines on the legal side of copyright, it recommends ways to implement a risk management approach using examples and cases which highlight common problems and solutions. Each chapter offers an accessible introduction to the key areas of relevant copyright and how to approach them including: intellectual property; restricted acts; fair dealing; moral rights; production of content and negotiating licenses; the internet and implicit and explicit licensing; user-generated content including Creative Commons licensing; frequently asked questions related to Copyright in an online environment; overview of the UK Digital Economy Act 2010. This is a vital handbook for anyone creating or using digital media, or those advising on its use, including librarians, academics, FE lecturers and institutional managers. It's also a useful introduction for e-learning content producers and marketing personnel.
Sklep: Libristo.pl 107,99 zł
Książki / Literatura obcojęzyczna
Finally a go-to guide to creating and publishing the kind of content that will make your business thrive. Everybody Writes is a go-to guide to attracting and retaining customers through stellar online communication, because in our content-driven world, every one of us is, in fact, a writer. If you have a web site, you are a publisher. If you are on social media, you are in marketing. And that means that we are all relying on our words to carry our marketing messages. We are all writers. Yeah, but who cares about writing anymore? In a time-challenged world dominated by short and snappy, by click-bait headlines and Twitter streams and Instagram feeds and gifs and video and Snapchat and YOLO and LOL and #tbt...does the idea of focusing on writing seem pedantic and ordinary? Actually, writing matters more now, not less. Our online words are our currency; they tell our customers who we are. Our writing can make us look smart or it can make us look stupid. It can make us seem fun, or warm, or competent, or trustworthy. But it can also make us seem humdrum or discombobulated or flat-out boring. That means you're got to choose words well, and write with economy and the style and honest empathy for your customers. And it means you put a new value on an often-overlooked skill in content marketing: How to write, and how to tell a true story really, really well. That's true whether you're writing a listicle or the words on a Slideshare deck or the words you're reading right here, right now...And so being able to communicate well in writing isn't just nice; it's necessity. And it's also the oft-overlooked cornerstone of nearly all our content marketing. In Everybody Writes , top marketing veteran Ann Handley gives expert guidance and insight into the process and strategy of content creation, production and publishing, with actionable how-to advice designed to get results. These lessons and rules apply across all of your online assets -- like web pages, home page, landing pages, blogs, email, marketing offers, and on Facebook, Twitter, LinkedIn, and other social media. Ann deconstructs the strategy and delivers a practical approach to create ridiculously compelling and competent content. It's designed to be the go-to guide for anyone creating or publishing any kind of online content -- whether you're a big brand or you're small and solo. Sections include: How to write better. (Or, for "adult-onset writers": How to hate writing less.) Easy grammar and usage rules tailored for business in a fun, memorable way. (Enough to keep you looking sharp, but not too much to overwhelm you.) Giving your audience the gift of your true story, told well. Empathy and humanity and inspiration are key here, so the book covers that, too. Best practices for creating credible, trustworthy content steeped in some time-honored rules of solid journalism. Because publishing content and talking directly to your customers is, at its heart, a privilege. "Things Marketers Write": The fundamentals of 17 specific kinds of content that marketers are often tasked with crafting. Content Tools: The sharpest tools you need to get the job done. Traditional marketing techniques are no longer enough. Everybody Writes is a field guide for the smartest businesses who know that great content is the key to thriving in this digital world.
Sklep: Libristo.pl 607,21 zł
Książki / Literatura obcojęzyczna
Let ASHP's Building a Successful Ambulatory Care Practice: A Complete Guide for Pharmacists, be your blueprint to a thriving ambulatory care practice, whether it's health-system, physician, or community-based. Get comprehensive, practical guidance on all your questions in this single, easy-to-use guide that covers ambulatory care practice from the ground up. With this new, essential resource, get comprehensive guidance on creating and managing an ambulatory care clinic, from building a business model to clinical practice, risk management and liability, reimbursement, marketing, and credentialing. Topics integrated in a challenging case study throughout the book include: How do I write a business plan? What do I need to do to manage risk and liability? Why do we need a marketing strategy? Who handles reimbursements? What credentials do we need? Led by editors Mary Ann Kliethermes and Tim Brown, with contributions from experts in ambulatory practice, you can get everything you and your team needs in one place - and you'll know the information is tested and trusted. Included with the book is a complementary online toolkit with forms, templates, and additional resources for a truly interactive experience. (A password is required and is on the inside cover of your book.)
Sklep: Libristo.pl 378,21 zł
Książki / Literatura obcojęzyczna
The definitive guide to a successful career as a professional personal chef The job of professional personal chef is one of the fastest growing careers in foodservice. People are choosing to become personal chefs in order to have a culinary career on their own terms, with a self-determined schedule and freedom from restaurant strictures. Not only do personal chefs have the chance to work with food in a more creative, personalized way, they are also able to approach their careers with a more entrepreneurial business sense. Written by Candy Wallace, the founder and Executive Director of the American Personal and Private Chef Association (APPCA) and Greg Forte, CEC, CCE, AAC, The Professional Personal Chef offers the definitive guide for starting and growing a successful professional personal chef business. It covers the skills and competencies required for the American Culinary Federation's Personal Certified Chef certification, and lays out a practical road map for this challenging but rewarding career. Filled with resources rich in detail, this useful and engaging text covers:* The evolution of the professional personal chef career path* The benefits and disadvantages of various forms of business ownership* Operating legally* Writing an effective business plan* Creating a vision statement, mission statement, and elevator speech for your personal chef business* Managing and securing finances* Identifying target markets and revenue streams* Developing marketing and sales plans and quality customer service* A day in the life of a personal chef In each chapter, learning outcomes, key terms, and review questions reinforce the key concepts. From the Field features present interviews and real world experiences from working personal chefs. A complete instructor support package providing business resources, syllabi, and project suggestions is posted on a companion Web site at www.wiley.com, and also offers sample business plans, recipes for menus, forms, and other useful documents. Culinary arts instructors seeking a classroom text, as well as individual culinary professionals and amateurs interested in starting or growing a personal chef business, will find The Professional Personal Chef the essential A-to-Z guide to this exciting career.
Sklep: Libristo.pl 350,16 zł
Książki / Literatura obcojęzyczna
This book provides a concise and authoritative guide to corporate social responsibility (CSR) and related paradigms, including environmental responsibility, corporate sustainability and responsibility, creating shared value, strategic CSR, stakeholder engagement, corporate citizenship, business ethics and corporate governance, among others. This publication offers a useful guide for students, as it explains CSR theory and practice in a structured manner. It also features case studies on international policies and principles, exploring corporate businesses' environmental, social and governance reporting. The book reveals how stakeholder engagement and sustainability strategies (including the circular economy approach) can unlock synergistic value for both business and societies in a global context, and suggests that business practitioners could employ social responsibility and environmental management to achieve long-term corporate sustainability. The book includes a foreword by Professor Emeritus Archie B. Carroll, who is one of the pioneers of the CSR paradigm. It also features numerous endorsements from accomplished academic researchers, including: Prof. Charles J. Fombrun, Prof. Adam Lindgreen, Prof. Diane L. Swanson and Prof. Donald Siegel. It is primarily intended for advanced undergraduate and / or graduate students. Moreover, it is highly relevant for future entrepreneurs, small business owners, non-profit organisations and charitable foundations, as it addresses the core aspects of contemporary strategies, public policies and practices. "Mark Camilleri's new book provides an excellent overview of the eclectic academic literature in this area, and presents a lucid description of how savvy companies can embed themselves in circular systems that reduce system-wide externalities, increase economic value, and build reputation. A valuable contribution." Charles J. Fombrun, Founder of Reputation Institute and a former Professor of Management at New York University and The Wharton School, University of Pennsylvania, USA. "I am pleased to recommend Dr. Camilleri's latest book, Corporate Sustainability, Social Responsibility, and Environmental Management. The book is a rich source of thought for everyone who wants to get deeper insights into this important topic. The accompanying five detailed case studies on a wide array of corporate sustainable and responsible initiatives are helpful in demonstrating how theoretical frameworks have been implemented into practical initiatives. This book is a critical companion for academics, students, and practitioners." Adam Lindgreen, Professor and Head of Department of Marketing, Copenhagen Business School, Denmark. "Mark's latest book is lucid, insightful, and highly useful in the classroom. I strongly recommend it." Donald Siegel, Dean of the School of Business and Professor of Management at the University at Albany, State University of New York, NY, USA.
Sklep: Libristo.pl 165,52 zł
Książki / Literatura obcojęzyczna
Yahoo! Web Analytics teaches readers how to collect data, report on that data, and derive useful insights using Yahoo!'s free Web analytics tool . This detailed resource from Yahoo!'s Director of Data Insights discusses the why of Web analytics as well as the how while revealing secrets and tricks not documented elsewhere. The thorough book also offers step-by-step instructions and advanced techniques on everything from using data collection groupings to creating compelling data visualizations. It's a must-read for all analytics professionals and those who want to be. Turn Data into Insight and Action with Yahoo! Web Analytics§Turn website data into powerful insights and profitable actions with the new Yahoo! Web Analytics tool and this unique, in-depth book. Yahoo! insider and Internet analytics expert Dennis R. Mortensen provides detailed tips and techniques for successfully using Yahoo! Web Analytics to gain the competitive advantages you seek.§Learn the "why" as well as the "how" of web analytics and discover Yahoo! Web secrets and tricks not found anywhere else. Inside, you'll also find:§Detailed data collection advice, including how to use data collection groupings and track almost everything, from simple page views to custom-created fields§How to best implement campaign tracking, including paid search setup, multiple campaign categories, and merchandising tracking and reporting§In-depth explanations of advanced filtering capabilities, including powerful ways to customize reports§Powerful data visualization tools and optimal dashboard configurations, which are illustrated in the 16-page color insert§Exclusive and expert-level optimization techniques for everything from pay-per-click campaigns to Flash- and Ajax-based objects§Time-saving tips, hands-on exercises, and fascinating examples using real client experiences§"As the individual who drove the initial development of Yahoo!'s Web Analytics tool, Dennis managed to conquer mind-numbingly complex issues by presenting them in a simple and useful way. It's no wonder that he did it again with his Yahoo! Web Analytics book."§--Bryan Eisenberg, New York Times bestselling author of Call to Action and Always Be Testing and cofounder of FutureNow, Inc.§"Dennis provides the details about the impact Yahoo! Web Analytics can have on your business, with a laser-like focus on moving from data to true business insight and action."§--Jason Burby, Chief Analytics & Optimization Officer, ZAAZ§"If you want to actually derive value from these tools rather than just look at the pretty reports, Dennis lays it all out. This is a book you can count on."§--Jim Sterne, Founder, eMetrics Marketing Optimization Summit§"This is a detailed and practical guide to using Yahoo! Web Analytics to turbo-charge your business performance. Get this book before your competitors do!"§--Tim Ash, CEO of SiteTuners.com and author of Landing Page Optimization
Sklep: Libristo.pl 99,99 zł
Książki Obcojęzyczne>Angielskie>Economics, finance, business & management>Business & management>Sales & marketing
A Smart, Practical Guide To Rocket-powered Business Growth Aligned To Achieve Puts Sales And Marketing On The Same Page, Creating A Revenue 'dream Team' That Will Drive Your Organization To New Heights.
Sklep: Gigant.pl
Sklepy zlokalizowane w miastach: Warszawa, Kraków, Łódź, Wrocław, Poznań, Gdańsk, Szczecin, Bydgoszcz, Lublin, Katowice
Szukaj w sklepach lub całym serwisie
2. Szukaj na wszystkich stronach serwisu
t1=0.059, t2=0, t3=0, t4=0, t=0.059