krainaksiazek creation vs evolution a scientific view 20170016
- znaleziono 7 produktów w 3 sklepach 63,40 zł
Inne 1
Almost eighty years after the Scopes trial, the debate over the teaching of evolution continues to rage. There is no easy resolution--it is a complex topic with profound scientific, religious, educational, and legal implications. How can a student or parent understand this issue, which is such a vital part of education? Evolution vs. Creationism provides a badly needed, comprehensive, and balanced survey. Written by one of the leading advocates for the teaching of evolution in the United states, this accessible resource provides an introduction to the many facets of the current debate--the scientific evidence for evolution, the legal and educational basis for its teaching, and the various religious points of view--as well as a concise history of the evolution-creationism controversy. Each of the four sections of Evolution vs. Creationism provides a resource that will assist the reader in better understanding these issues. The first section addresses the nature of how evolution works as part of the scientific enterprise, as well as a summary of the relationship between religious beliefs and science. A section on the history of the controversy provides a handy synopsis of the lengthy struggles, from before Darwin to the present day, between advocates of creationism and the proponents of evolution. A collection of primary source documents addressing cosmology, law, education, and religious issues from all sides of the debate constitute the third section. The book concludes with a selection of resources for further information for those who wish to study the topic in more depth.
Sklep: Albertus.pl 132,12 zł
Książki / Literatura obcojęzyczna
More than eighty years after the Scopes trial, the debate over teaching evolution continues in spite of the emptiness of the creationist positions. This accessible resource, now completely revised and updated, provides an essential introduction to the ongoing disputes many facets - the scientific evidence for evolution, the legal and educational basis for its teaching, and the various religious points of view - as well as a concise history of the evolution-creationism controversy. This second edition also contains a discussion of the legal history, updated to include the seminal case of Kitzmiller v. Dover as well as a new chapter on public opinion and media coverage.
Sklep: Libristo.pl 129,99 zł
Książki Obcojęzyczne>Angielskie>Mathematics & science>Biology, life sciences>Life sciences: general issues>Evolution
An Introduction To Many Facets Of Scopes Trial - The Scientific Evidence For Evolution, The Legal And Educational Basis For Its Teaching, And The Various Religious Points Of View - As Well As A Concise History Of The Evolution-creationism Controversy.
Sklep: Gigant.pl 79,47 zł
Faith Vs. Science First Edition Design eBook Publishing
Książki / Literatura obcojęzyczna
This is not a book on theology, nor is it a highly technical scientific analysis. It's really just a conversation-between me and a hypothetical, non-hostile unbeliever. My purpose is to help scientific people see that religion is not just for kooks and to help religious people see that science is not just for atheists. Persons skilled in debate will quickly notice that I have utilized a variety of methods to advance my arguments such as logic, rhetoric, presentation of scientific/experimental data, and even narrative. I realize this mixture of methods is in itself a fault and sometimes appears self-contradictory. However, keep in mind that this book is written in a conversational tone. In real life conversations, people utilize a variety of methods to make their points. That's what I'm doing here-opening up a reasonable, educated conversation about God, science, and life itself in ways that work best for me. AUTHOR BIO - He received his bachelor's and master's degrees in biological science from the University of Mississippi in 1979 and 1981, and his Ph. D. degree in medical entomology from Mississippi State University in 1984. In December of 1985 he was commissioned as an officer in the U.S. Air Force and served as a medical entomologist in the Epidemiology Division of the USAF School of Aerospace Medicine, Brooks AFB, Texas, for three and a half years. In 1988 he was named Best Academic Instructor in the Residents in Aerospace Medicine Course and Company Grade Officer of the Year. For two decades, Dr. Goddard served in the capacity of State Medical Entomologist at the Mississippi Department of Health, Jackson, Mississippi, where he designed, implemented, and supervised all vector control programs relating to public health throughout the state of Mississippi. Dr. Goddard has authored or co-authored over 160 scientific publications in the field of medical entomology and is the author of Ticks and Tick-borne Diseases Affecting Military Personnel, published by the U.S. Air Force, Infectious Diseases and Arthropods, Second Edition, published by Humana Press, and Physician's Guide to Arthropods of Medical Importance, Fifth Edition, published by Taylor and Francis (CRC). In 2003, the physician's guide won an award in the British Medical Association's "best medical book of the year" competition. Dr. Goddard has been featured in Reader's Digest and on a series entitled "Living with Bugs" on the Learning Channel. In 2001, Dr. Goddard published a novel about a mosquito-borne disease outbreak entitled, The Well of Destiny, and in 2006-07, published two more novels, this time about virus behavior (Vital Forces) and unethical scientific research (Endless Present). Dr. Goddard frequently presents seminars and guest lectures nationally and internationally on "Arthropods and Medicine" and related topics. He is a member of the American Association for the Advancement of Science, the Mississippi Mosquito and Vector Control Association, and the Mississippi Entomological Association. His main research interests are the ecology and epidemiology of tick-borne diseases, but he also publishes on a wide range of medically important arthropods. Keywords - Faith, Science, Religion, Evolution, String Theory, Fossils, Prophets, God, Human, Universe, Bible, Creation
Sklep: Libristo.pl 36,60 zł
Fantastyka i fantasy
The acclaimed Science of Discworld centred around an original Pratchett story about the Wizards of Discworld. In it they accidentally witnessed the creation and evolution of our universe, a plot which was interleaved with a Cohen and Stewart non-fiction narrative about Big Science. In The Science of Discworld II our authors join forces again to see just what happens when the wizards meddle with history in a battle against the elves for the future of humanity on Earth. London is replaced by a dozy Neanderthal village. The Renaissance is given a push. The role of fat women in art is developed. And one very famous playwright gets born and writes The Play. Weaving together a fast-paced Discworld novelette with cuttingedge scientific commentary on the evolution and development of the human mind, culture, language, art, and science, The Globe presents a fascinating and brilliantly original view of the world we live in. The scene of the final epic battle is the first production of A Midsummer's Night Dream at the Globe Theatre...About the Author:Terry Pratchett is one of the most successful authors in Britain today. His 26th Discworld novel was published in 2001. Ian Stewart won the Royal Society's 1995 Michael Faraday Medal for outstanding contributions to the public understanding of science. Jack Cohen is a biologist and science writer and long-time collaborator of Ian Stewart.
Sklep: Albertus.pl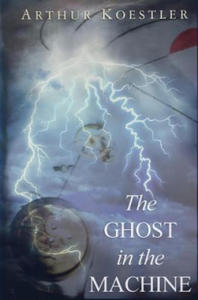 97,07 zł
Książki / Literatura obcojęzyczna
In The Sleepwalkers and The Act of Creation Arthur Koestler provided pioneering studies of scientific discovery and artistic inspiration, the twin pinnacles of human achievement. The Ghost in the Machine looks at the dark side of the coin: our terrible urge to self-destruction... Could the human species be a gigantic evolutionary mistake? To answer that startling question Koestler examines how experts on evolution and psychology all too often write about people with an 'antiquated slot-machine model based on the naively mechanistic world-view of the nineteenth century. His brilliant polemic helped to instigate a major revolution in the life sciences, yet its 'glimpses of an alternative world-view' form only the background to an even more challenging analysis of the human predicament. Perhaps, he suggests, we are a species in which ancient and recent brain structures - or reason and emotion - are not fully co-ordinated. Such in-built deficiencies may explain the paranoia, violence and insanity that are central strands of human history. And however disturbing we find such issues, Koestler contends, it is only when we face our limitations head-on that we can hope to find a remedy.
Sklep: Libristo.pl 90,65 zł
Książki / Literatura obcojęzyczna
Source: Wikipedia. Pages: 61. Chapters: Demon's Souls, Hellgate: London, Enslaved: Odyssey to the West, Warhammer: Mark of Chaos, Eternal Sonata, Dragon Ball Z: Budokai Tenkaichi, Soulcalibur IV, Klonoa, Fragile Dreams: Farewell Ruins of the Moon, MagnaCarta II, The Sky Crawlers: Innocent Aces, Noby Noby Boy, Mario Super Sluggers, Culdcept Saga, Soulcalibur Legends, Flash Focus: Vision Training in Minutes a Day, Dead to Rights: Retribution, Splatterhouse, Afro Samurai, Retro Game Challenge, Snoopy vs. the Red Baron, Pac-Man Championship Edition DX, Soulcalibur: Broken Destiny, Clash of the Titans, Gods Eater Burst, Tamagotchi Connection: Corner Shop 2, Food Network: Cook or Be Cooked, We Ski & Snowboard, Knights Contract, Majin and the Forsaken Kingdom, Dragon Ball Z: Tenkaichi Tag Team, We Cheer, Dark Souls, Summon Night X: Tears Crown, We Cheer 2, PowerUp Forever, Sword of Legendia, Minna de Kitaeru Zenno Training, Muscle March, Tank! Tank! Tank!, Tamagotchi: Party On!, Tamagotchi Connection: Corner Shop 3, Korogashi Puzzle Katamari Damacy, Invincible Tiger: The Legend of Han Tao, Dragonball Evolution, Pac-Man & Galaga Dimensions, Ridge Racer 3D, Space Station Tycoon, Ridge Racer Unbounded, The Munchables, Mr. Driller W, Inversion, Dig Dug Island. Excerpt: Demon's Souls Demonzu Soru) is an action role-playing game video game developed primarily by From Software (with assistance from SCE Japan Studio) exclusively for the PlayStation 3. It was released in Japan on February 5, 2009 and published by Sony Computer Entertainment. In North America it was released on October 6, 2009 and published by Atlus while in Europe it was released on June 25, 2010 and published by Namco Bandai Games. Set in a dark fantasy world, players take control of a custom hero who has journeyed to the fictional kingdom of Boletaria, which is being ravaged by an accursed fog that brings forth demons that feast on the souls of mortals. The game has been described as a spiritual successor to the King's Field series, a previous series of games from the same developer. The gameplay involves a character creation system with emphasis on gathering loot through combat with enemies in a non-linear series of varied locations. It also has a unique online multiplayer system integrated into the single-player where players can leave useful messages and warnings for other players' game worlds. Upon its release in Japan and North America, Demon's Souls was met with a positive response from critics, winning numerous awards. Praised for its dark fantasy art design, variation in combat choice and integrated online multiplayer, the game is particularly notable for its high difficulty level with many critics noting it as a genuine challenge. The player confronting a red dragon. The light tint around the player character indicates that they have previously died resulting in a cut health bar and stronger foes.Players take control of the main character in a third-person view who, at the start of the game, can be customized in their gender, appearance, name and starting class. There are 10 starting classes ranging from knights and barbarians to thieves and mages, each with their own set of statistics, starting gear, weapons and type of magic used that emphasize certain app
Sklep: Libristo.pl
Sklepy zlokalizowane w miastach: Warszawa, Kraków, Łódź, Wrocław, Poznań, Gdańsk, Szczecin, Bydgoszcz, Lublin, Katowice
Szukaj w sklepach lub całym serwisie
2. Szukaj na wszystkich stronach serwisu
t1=0.038, t2=0, t3=0, t4=0.029, t=0.038