krainaksiazek crippled america how to make america great again 20168892
- znaleziono 8 produktów w 2 sklepach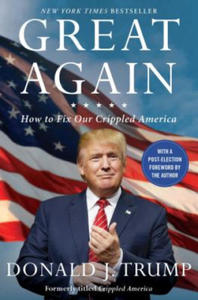 55,66 zł
Książki / Literatura obcojęzyczna
n this book (previously published as Crippled America), we're going to look at the state of the world right now. It's a terrible mess, and that's putting it mildly. There has never been a more dangerous time. The politicians and special interests in Washington, DC are directly responsible for the mess we are in. So why should we continue listening to them? It's time to bring America back to its rightful owners-the American people. I'm not going to play the same game politicians have been playing for decades-all talk, no action, while special interests and lobbyists dictate our laws. I am shaking up the establishment on both sides of the political aisle because I can't be bought. I want to bring America back, to make it great and prosperous again, and to be sure we are respected by our allies and feared by our adversaries. It's time for action. Americans are fed up with politics as usual. And they should be! In this book, I outline my vision to make America great again, including: how to fix our failing economy; how to reform health care so it is more efficient, cost-effective, and doesn't alienate both doctors and patients; how to rebuild our military and start winning wars-instead of watching our enemies take over-while keeping our promises to our great veterans; how to ensure that our education system offers the resources that allow our students to compete internationally, so tomorrow's jobseekers have the tools they need to succeed; and how to immediately bring jobs back to America by closing our doors to illegal immigrants, and pressuring businesses to produce their goods at home. This book is my blueprint for how to Make America Great Again. It's not hard. We just need someone with the courage to say what needs to be said.
Sklep: Libristo.pl 66,33 zł
Książki / Literatura obcojęzyczna
"The United States is more vulnerable today than ever before-including during the Great Depression and the Civil War-because the pillars of democracy that once supported a booming middle class have been corrupted, and without them, America teeters on the verge of the next Great Crash." The United States is in the midst of an economic implosion that could make the Great Depression look like child's play. In THE CRASH OF 2016, Thom Hartmann argues that the facade of our once-great United States will soon disintegrate to reveal the rotting core where corporate and billionaire power and greed have replaced democratic infrastructure and governance. Our once-enlightened political and economic systems have been manipulated to ensure the success of only a fraction of the population at the expense of the rest of us. The result is a "for the rich, by the rich" scheme leading to policies that only benefit the highest bidders. Hartmann outlines the destructive forces-planted by Lewis Powell in 1971 and come to fruition with the "Reagan Revolution"-that have looted our nation over the past decade, and how their actions fit into a cycle of American history that lets such forces rise to power every four generations. However, a backlash is now palpable against the "economic royalists"-a term coined by FDR to describe those hoarding power and wealth-including the banksters, oligarchs, and politicians who have plunged our nation into economic chaos and social instability. Although we are in the midst of what could become the most catastrophic economic crash in American History, a way forward is emerging, just as it did in the previous great crashes of the 1760s, 1856, and 1929. The choices we make now will redefine American culture. Before us stands a genuine opportunity to embrace the moral motive over the profit motive-and to rebuild the American economic model that once yielded great success. Thoroughly researched and passionately argued, THE CRASH OF 2016 is not just a roadmap to redemption in post-Crash America, but a critical wake-up call, challenging us to act. Only if the right reforms are enacted and the moral choices are made, can we avert disaster and make our nation whole again.
Sklep: Libristo.pl 147,60 zł
Biznes
This book is about strategic thinking in Hispanic marketing. The size and economic importance of the Hispanic market in the US are attracting enormous attention. The buying power of the US Hispanic market is now larger than the GDP of the entire country of Mexico, and it is the second largest Hispanic market in the world. Businesses and institutions have launched major initiatives to reach this important segment. Yet, the number of qualified individuals who understand the market is small; and many of those already catering to the market still struggle to learn about its intricacies. This book is a cultural approach to Hispanic marketing. Each of the chapters describes and explains the cultural principles of Latino marketing. Recent case studies help marketers relate to the material pragmatically. The book integrates concepts and practical examples and provides critical guidance to discern between alternative courses of action. This book is not about repeating well-known statistics, but about the Hispanic market as a cultural target. It takes a profound look at the values, beliefs, and emotions of US Hispanics, which impact consumer behaviour. Each of the chapters has been the subject of public presentations and lectures to marketing professionals. It is their positive reactions as well as the authors
Sklep: Albertus.pl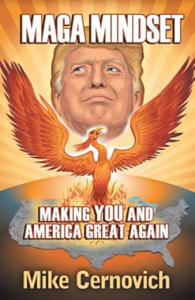 58,45 zł
Książki / Literatura obcojęzyczna
MAGA MINDSET: How to Make YOU and America Great Again is not a traditional political analysis of Donald Trump or the success of his political campaign, which would be boring and useless to you. MAGA Mindset is an overview of the cultural forces that have propelled Trump forward while using the example of his candidacy as a case study for your own life. MAGA MINDSET will give you a deeper understanding of America, the challenges it is facing, and how those challenges created the conditions for Donald Trump's inevitable rise. You will understand how Mike Cernovich was able to successfully predict Donald Trump would be the Republican nominee at a time when all the professional political pundits considered his campaign to be a joke, and why, win or lose, the Trump revolution will continue beyond the 2016 election. In MAGA Mindset you will learn: The cultural forces behind Trump's rise How Trump and other masters of social media are able to drive the news cycle The mindset techniques and strategies YOU need to succeed at life, even when it seems hopeless Mike Cernovich is the bestselling author of GORILLA MINDSET. He is a lawyer, a journalist who has broken several news stories of international interest, and the producer of the film documentary SILENCED.
Sklep: Libristo.pl 174,85 zł
Książki / Literatura obcojęzyczna
THE ROAD TO BIG WEEK The Struggle for Daylight Air Supremacy Over Western Europe July 1942 - February 1944 By Eric Hammel The Road to Big Week begins with a thorough examination of American development of a strategic bombing doctrine from its earliest conception in the years after World War I. Balancing the demands of the ground army's desire and need for air support and the visionary outlook of such early Air Corps leaders as General Billy Mitchell with the cash-strapped circumtances of the Great Depression and the limitations imposed by the Congressional peace lobbies, the Air Corps was able to deliver a fully formed doctrine that could not at first be supported by adequate aircraft nor even a public acknowlegement that the drive to perfect strategic bombing was even on. Before the doctrine or a fully funtional heavy strategic bomber were quite perfected, the United States was drawn into World War II. Facing numerous obstacles unperceived during peacetime, not the least being simple bad weather, the early American efforts to mount a strategic bombing campaign in northern Europe nearly failed in the face of unsustainable casualties and ineffective strategic direction. Only the belated modernization of escort-fighter policy saved the strategic bombing force from failure and, indeed, formed the foundation upon which the strategic bombing campaign ultimately reached maturity and achieved success. In this exciting and complete accounting of the transition from idea to near failure to ultimate success, distinguished military historian Eric Hammel sets out all the dots, then connects them in a conversational style approachable by all readers. What the Experts Are Saying About THE ROAD TO BIG WEEK . . . Eric Hammel has done it again, with a lucid portrayal of the growth of American bomber theory from the 1918 Armistice to the crucial days over Germany when the Eighth Air Force broke the Luftwaffe's back. Some books have told what happened during Big Week-Hammel tells you why, driving home points that are as vital today as they were in 1944. --Col. Walter J. Boyne, National Aviation Hall of Fame Honoree In The Road to Big Week, Eric Hammel cleverly connects a widely disparate collection of dots that are the development of America as the world's preeminent air power. These connections describe how the U.S. Army Air Forces-just barely in time-evolved in size and capability such that America's airmen prevailed in the iconic air battle that ultimately ensured the defeat of Nazi Germany. Hammel's meticulous research and eminently readable style make this definitive work a compelling read. --Lt.Col. Jay A. Stout, author of Fortress Ploesti Eric Hammel has a special gift for combining musty war records and intimate personal accounts into a gripping history . . . If you think there's nothing new to learn about World War II, if you think there was never a possibility the Allies might lose, if you think one side was smarter than the other, The Road to Big Week will unnerve you and change forever your perception of what happened in those high, embattled skies. --Robert F. Dorr, co-author of Hell Hawks!
Sklep: Libristo.pl 40,80 zł
Literatura faktu
'Only with the greatest of simplifications, for the sake of convenience, can we say Africa. In reality, except as a geographical term, Africa doesn't exist'. Ryszard Kapuscinski has been writing about the people of Africa throughout his career. In a study that avoids the official routes, palaces and big politics, he sets out to create an account of post-colonial Africa seen at once as a whole and as a location that wholly defies generalised explanations. It is both a sustained meditation on the mosaic of peoples and practises we call 'Africa', and an impassioned attempt to come to terms with humanity itself as it struggles to escape from foreign domination, from the intoxications of freedom, from war and from politics as theft. The Beginning: Collision, Ghana 1958 More than anything, one is struck by the light. Light everywhere. Brightness everywhere. Everywhere, the sun. Just yesterday, an autumnal London was drenched in rain. The airplane drenched in rain. A cold, wind, darkness. But here, from the morning
Sklep: Albertus.pl 172,55 zł
Książki / Literatura obcojęzyczna
Description: The temptation to give up while running the race of faith is all too real. Despite our best attempts to be faithful witnesses of the gospel of Christ, we oftentimes feel overwhelmed by discouragement and doubt. Empowered by Joy is a devotional inspired by Paul's letter to the Philippians. It focuses on how we can enjoy an endless stream of joy through our relationship with Christ and thus experience power to fulfill our calling to make known the good news of God! Endorsements: ""Empowered by Joy makes the message of Philippians come alive! Dr. Jeon's devotionals remind us that Saint Paul's messages is just as urgent today as it was for the early Christians. You will never read Philippians the same way again."" --Alex Lee, Assistant Professor of Law, USC Gould School of Law ""As Christians, we all need encouragement, and nowhere in the New Testament will you find more encouragement than in Paul's Letter to the Philippians. Dr. Jeon's book Empowered by Joy opens our minds and hearts to the great joy that flows from the encouragement embodied in this letter. I strongly recommend Dr. Jeon's book for all who are looking to find God's daily encouragement."" --Hugh Whelchel, Executive Director, Institute of Faith Work & Economics Paul Jeon's book Empowered by Joy: Reflections on Paul's Letter to the Philippians, is an outstanding devotional work. Unlike many devotional books of its length, Dr. Jeon focuses on the interpretation of the passage and explains this through a clear exposition of the passage. In addition, his questions for reflection are extremely thoughtful and relevant to anyone in the 21st century. This devotional will be a true ""joy"" for anyone to go through for growth in his Christian life. --Benjamin C. Shin is associate professor of Bible Exposition at Talbot School of Theology, Biola University. ""Dr. Jeon has written a devotional in God's own words for God's own ends . . . there is reflection and real-world application worthy of a devotional intended to edify and empower Christian (servant) leaders-in-the-making, but that is done without forsaking a deeper dive into the text. In an age of sound bites and 140-character limits, it would have been easy, especially in a devotional, to choose feel-good slogans over serious study. Thankfully, Dr. Jeon doesn't succumb."" --from the Foreword by Paul E. Kim, Faculty Member, GLDI About the Contributor(s): Paul S. Jeon (PhD, Catholic University of America) is the lead pastor of NewCity Church in northern Virginia. He is also Visiting Professor of New Testament at Reformed Theological Seminary, an ordained minister for the Presbyterian Church in America, and author of Introducing Romans,True Faith, and To Exhort and Reprove.
Sklep: Libristo.pl 129,54 zł
Książki / Literatura obcojęzyczna
"At long last, a book that pays homage to television's unsung heroes -- those wit wizards who face a blank page every day and somehow manage to create something John Barrymore claimed was more difficult than dying: laughter. In his book, Bob Mills not only keeps the reader laughing, but -- like a comedic Houdini revealing his secrets -- shows us how it's done. The Laugh Makers is a "must read" for anyone even thinking about a career in comedy. " - Shelley Berman (Curb Your Enthusiasm, Boston Legal) "In the 70s and 80s, Hollywood Squares often taped next to The Bob Hope Show studio. Judging from the laughter we often heard in the hallway, I always suspected Hope's writers were having a great time over there and now I know why. The Laugh Makers is a fascinating, heartwarming and revealing book on the day-to-day life of comedy writers working for a legend. It also revives long-ago memories of an era and that was so much fun and that I'm sure we'll never see again." - Peter Marshall (Host of The Hollywood Squares) "The author and I have lots in common -- we're both San Franciscans, our comedy careers were launched by a KSFO disc jockey named Don Sherwood, and we're fellow college alumns. Now that I've laughed my way through his backstage stories and priceless recollections of a long and exciting tenure on the road with Bob Hope, I can finally say definitively and without fear of contradiction that Bob Mills is the second-funniest graduate of S.F. State." - Ronnie Schell (Good Morning, World, Gomer Pyle, U.S.M.C.) "When I was first introduced to the author, I said "How do you do?" and he replied, "I make a nice living." Though an incurable smart ass, Bob Mills is one of the warmest, most talented members of our comedy fraternity -- attributes clearly evident on every page of his landmark homage to Bob Hope and his gag writers. So buy his book... please. He's gotten used to that nice living."" - Jack Reilly (Mr. Carlin on The Bob Newhart Show, Stu Pickles on The Rugrats) "It's hard to praise the work of a longtime friend without sounding like you're angling for a free lunch. But Mills has really created something unique here -- an accurate, compellingly readable, hilarious and heartwarming inside view of one of America's most popular variety shows, its legendary host, and its guest stars. And I say that not because I got a free advance copy. Actually, it wasn't from the author -- a hotel where I was staying ran out of Gideon Bibles." - Chuck McCann (The Projectionist, Boston Legal) "In The Laugh Makers, Bob Mills takes us on an exciting backstage journey from London to Stockholm... Bora Bora to Beijing, covering thousands of miles and nearly as many laughs. Today, Mills has more milage on him than Bob Hope's luggage. His book is a real gem that's got sex, violence, intrigue -- and the second page is good, too. Actually, that's a joke Mills wrote for Hope, but I couldn't resist. I have to confess, I read the book in one sitting -- stuck in traffic on the 405." - Pat Harrington (The Steve Allen Show, One Day at a Time)
Sklep: Libristo.pl
Sklepy zlokalizowane w miastach: Warszawa, Kraków, Łódź, Wrocław, Poznań, Gdańsk, Szczecin, Bydgoszcz, Lublin, Katowice
Szukaj w sklepach lub całym serwisie
2. Szukaj na wszystkich stronach serwisu
t1=0.057, t2=0, t3=0, t4=0.028, t=0.057