krainaksiazek critical thinking and reflection for mental health nursing students 20167727
- znaleziono 11 produktów w 2 sklepach 96,74 zł
Książki / Literatura obcojęzyczna
The ability to reflect critically is a vital nursing skill. It will help your students to make better decisions, avoid errors, identify good and bad forms of practice and become better at learning from their experiences. The challenges they will face as a mental health nurse are complex so this book breaks things down to the foundations helping them to build critical thinking and reflection skills from the ground up. Key features: * Covers the theory and principles behind critical thinking and reflection * Explores the specific mental health context and unique challenges students are liekly to face as a mental health nurse * Applies critical thinking to practice but also to academic study, showing how to demonstrate these skills in assignments
Sklep: Libristo.pl 499,59 zł
Książki / Literatura obcojęzyczna
The ability to reflect critically is a vital nursing skill. It will help your students to make better decisions, avoid errors, identify good and bad forms of practice and become better at learning from their experiences. The challenges they will face as a mental health nurse are complex so this book breaks things down to the foundations helping them to build critical thinking and reflection skills from the ground up. Key features: * Covers the theory and principles behind critical thinking and reflection * Explores the specific mental health context and unique challenges students are liekly to face as a mental health nurse * Applies critical thinking to practice but also to academic study, showing how to demonstrate these skills in assignments
Sklep: Libristo.pl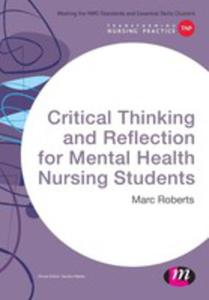 109,99 zł
Książki Obcojęzyczne>Angielskie>Medicine>Nursing & ancillary services>Nursing>Nursing fundamentals & skillsKsiążki Obcojęzyczne>Angi...
0x004fcbf500000000
Sklep: Gigant.pl 144,28 zł
Książki / Literatura obcojęzyczna
Social Work and Mental Health offers a fresh approach to addressing mental health issues across all aspects of social work practice, emphasising the relevance of mental health for all social workers, not just those in specialist mental health settings. The book provides critical engagement with the complexities of contemporary theory, policy and practice in this area, recognising developments in user and carer involvement and interprofessional working. Key chapters focus on issues of inequality and diversity, drawing attention to the social determinants of health and the important contribution of social work in promoting social perspectives in mental health. Practice issues addressed include the mental health of children, young people and families, and older people, as well as a range of mental health conditions that are likely to be encountered. Promoting rights, recovery and social justice - and balancing these with considerations of risk - are core themes that run throughout the text. The book contains a number of practice examples and points for reflection intended to encourage critical thinking and further exploration of the issues raised. Suggestions for additional reading and resources are also offered at the end of each chapter. Overall the book provides a valuable framework for understanding and responding to mental health issues that will be useful for all social work students and practitioners as well as a wider audience.
Sklep: Libristo.pl 96,74 zł
Książki / Literatura obcojęzyczna
From reviews: "...There are good sections on writing academically at master's level, how to get published and the benefits for postgraduates and the profession of sharing work. The authors conclude with a useful chapter on applying postgraduate skills in the workplace. This excellent guide will also be an invaluable resource in areas of study other than the intended health and social care field." Nursing Standard, Nov 13-19, 2013 This revised and updated edition of Study Skills for Master's Level Students adopts a reflective approach using exercises that are related to the development of the skills required to make the transition from undergraduate to postgraduate thinking and writing. Questions and activities encourage students to identify the skills that the postgraduate student should possess and to demonstrate an understanding of how those skills are developed. Topics covered include: * Critical thinking * Developing independent study skills * Finding and using literature * Applying postgraduate skills in the workplace * Writing at Master's level * How to get published. The book is easy to use and jargon-free with clearly defined learning goals. Reflection points are included in order to support independent learning and enquiry, and there are also suggestions for additional reading throughout the book. Study Skills for Master's Level Students can therefore be used as an independent student study tool or by lecturers in workshop settings. Here's what lecturers thought of the first edition: "A very comprehensive and accessible guide which is contemporary and related to application within the workplace." "Easy to read and well presented." " Very useful; activities excellent." "I thought the complete book is a must for all postgraduate students." "This book is excellent and I wish I had had a chance to read [it] pre my MSc course."
Sklep: Libristo.pl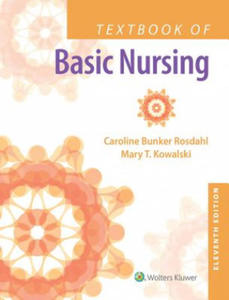 475,79 zł
Książki / Literatura obcojęzyczna
Provide your students with the knowledge and skills they need to practice nursing safely as LPN/LVNs.   Fully updated to reflect current medical and nursing practice, this Eleventh Edition of Textbook of Basic Nursing covers all areas of the curriculum, including Anatomy & Physiology, Fundamentals, Skills, Adult Health, Growth and Development, Mental Health, Maternity and Pediatrics, and Geriatric Considerations. Based on the NCLEX-PN framework, this engaging and comprehensive text provides everything students need to succeed, including short chapters with easy-to-understand content, striking photos and illustrations that bring the content to life, and a wide range of practice-oriented, mastery-focused learning tools both in the book and online, and an available hands-on workbook. *Concept Mastery Alerts use data from prepU quizzing to highlight common misconceptions and difficult-to-understand material.*Nursing Alerts ensure that students obtain the critical information they need to safely practice nursing as LPN/LVNs and succeed on the NCLEX-PN.*NCLEX Alerts highlight critical NCLEX-relevant content in each key area.*In Practice: Nursing Care Plans present a case study using NANDA terminology and the Nursing Process to illustrate how to develop a care plan.*Special Considerations highlight key culture, lifespan, homecare, or nutrition information.*In Practice: Nursing Procedures present step-by-step instructions with full-color illustrations and rationales.*In Practice: Nursing Care Guidelines contain summaries of important concepts, teaching, skills performance, or nursing considerations.*In Practice: Educating the Client boxes highlight important teaching concepts.*In Practice: Data Gathering in Nursing summarizes the key information needed in gathering data for nursing observations.*In Practice: Nursing Process boxes use the steps of the nursing process to guide the LPN/LVN in effective data collection.*In Practice: Important Medications boxes summarize common medications used in treating specific conditions, diseases, and disorders.This leading content is also incorporated into Lippincott CoursePoint, a dynamic learning solution that integrates this book's curriculum, adaptive learning tools, real-time data reporting, and the latest evidence-based practice content together into one powerful student learning solution. Lippincott CoursePoint improves the nursing students' critical thinking and clinical reasoning skills to prepare them for practice. Learn more at www.NursingEducationSuccess.com/CoursePoint.
Sklep: Libristo.pl 170,61 zł
Książki / Literatura obcojęzyczna
A Unique Blend of Digital and Print Learning Resources! Essentials of Nursing Practice is a ground-breaking new resource which introduces nursing students to the core topics they need to master during their first year and beyond. It brings the study of nursing to life across all four fields of nursing, in all settings, focussing on what it takes to be the best nurse you can be through person-centred compassionate care. Unlike any other book it uniquely blends digital and print learning resources to engage all styles of learners and to provide lecturers with helpful resources to use in their teaching. More than just a book! An accompanying interactive eBook links to extra resources including videos, case studies, interactive revision quizzes, flashcards, study plans and more. Students can use the eBook to study where and when they want, and read, annotate and search the book on a tablet, laptop or PC. All these resources are also available through SAGE edge - visit https://edge.sagepub.com/essentialnursing to find out more. Key features of the print and eBook help students to: * Understand: Colourful easy-to-navigate design, chapter topic lists, study plans and knowledge links help students to quickly grasp what they need to know and how topics are interrelated. * Apply: Real voices from students, patients and nurses, case studies with questions, clinical skills videos, and anatomy and physiology revision help students apply knowledge in placements or practical assessments. * Go further: 'What's the Evidence' summaries of research, critical thinking activities, links to SAGE journal articles, useful websites and further reading help students prepare for essays or for the next stage of their course. * Revise: Chapter summaries, test-yourself interactive questions and key term flashcards help students do their best at assessments and exams. Advisory Editors Learning Disabilities: Robert Jenkins and Ruth Northway, University of South Wales Child Nursing: Carol Hall, The University of Nottingham Mental Health: Steven Trenoweth, University of Bournemouth Adult Nursing: Karen Elcock, Kingston University London Clinical Skills: Fiona Everett and Wendy Wright, University of the West of Scotland
Sklep: Libristo.pl 107,34 zł
Książki / Literatura obcojęzyczna
Nurses of the future need to accurately assess people of all ages, with varying mental and physical problems, across different settings and with changing health needs. This book introduces student nurses and novice practitioners to the assessment process enabling them to identify patient problems in order for solutions to be planned and implemented. The book introduces the different stages of the assessment process and takes a holistic approach and person centred approach throughout. It encourages critical thinking and urges students to consider the social, cultural, psychological and environmental factors as well as the physical symptoms that may be present when making assessments. Key features * A new chapter on person-centred assessment and practice * Detailed case studies and scenarios demonstrating practical application of key theory * Introduces clinical decision-making within assessment * Activities help build critical thinking, independent learning and other transferable graduate skills * Linked to the NMC Standards and Essential Skills Clusters for degree-level education
Sklep: Libristo.pl 336,43 zł
Książki / Literatura obcojęzyczna
Paediatric Nursing in Australia equips students with the essential skills and knowledge to become paediatric, child and youth health nurses across a variety of clinical and community settings. It prepares students for critical thinking and problem solving within this field by emphasising contemporary issues impacting on the health of children, young people and their families. Written by a team of experienced paediatric nurses, the content is based on themes that align with Australian standards of competence and expectations of paediatric nursing: communication, family involvement and evidence-based practice. Comprehensive yet concise, the text examines the integration of theoretical and clinical components of nursing knowledge. To enhance learning, chapters feature case studies, reflection points and learning activities. An essential resource for nursing students, this text is grounded in current care delivery and professional issues for care of the child to prepare future nurses for evidence-based practice in paediatric settings throughout Australia.
Sklep: Libristo.pl 96,74 zł
Książki / Literatura obcojęzyczna
From Reviews: "...In this book the clinical psychologist Natius Oelofsen describes the processes of learning and the three-step reflective cycle, explaining how keeping a reflective journal offers insights into self and behaviour, and using critical analysis to reflect on even ordinary, everyday incidents. He shows how the insights of understanding help our interactions with patients and colleagues. Reflection helps us work together, offer support and see where we are able to fit in as team members. The chapter 'All for one and one for all: building supportive teams' is particularly illuminating. There is so much in this book, including getting the most from supervision, ethical issues and dealing with work-based stress, as well as exercises, activities and case examples." Nursing Standard, Vol. 26, No. 48, August 2012 "Developing Reflective Practice is a thorough and concise book enabling students, qualified nurses and any other health professional to become confident reflective practitioners within their own field...A well-written and educational tool particularly for a nursing student and even a social work student." Nursing Times, 11 October 2012 Developing Reflective Practice is suitable for students and practitioners in a variety of fields, including nursing, psychology, social work, therapeutic child care, and education. What all of these fields have in common is that practitioners deal with fundamental human needs such as physical and mental health, housing, and education. Students on placement as well as qualified and experienced practitioners can benefit from reading this book and working through the reflective exercises that accompany the text. The goal of the book is to help the reader feel confident and competent when confronted with complex and emotionally demanding situations in the workplace. By working through the numerous and varied activities and exercises detailed in this book, the reader will acquire the skills needed to make sense of their experiences in a professional context.
Sklep: Libristo.pl 351,06 zł
Yatdjuligin Cambridge University Press
Książki / Literatura obcojęzyczna
Yatdjuligin: Aboriginal and Torres Strait Islander Nursing and Midwifery Care introduces students to the fundamentals of the healthcare of Indigenous Australians, from the perspective of both the patient and the professional. Aboriginal Elder Ivy Molly Booth gifted the word Yatdjuligin to the authors to use as the title of this textbook. The word Yatdjuligin literally translates to 'talking in a good way'. For Wakgun people the process of Yatdjuligin is deeply embedded in learning. Written by a team of Aboriginal and Torres Strait Islander nursing and midwifery academics, and practising nurses, this book is designed for both non-Indigenous and Indigenous nurses, who will work with Aboriginal and Torres Strait Islander patients. The book includes chapters on the history of health service provision for Australian Indigenous people, gender, midwifery, community-controlled health services, remote area nursing, mental health and caring for Indigenous Elders, and features case studies and critical thinking questions.
Sklep: Libristo.pl
Sklepy zlokalizowane w miastach: Warszawa, Kraków, Łódź, Wrocław, Poznań, Gdańsk, Szczecin, Bydgoszcz, Lublin, Katowice
Szukaj w sklepach lub całym serwisie
2. Szukaj na wszystkich stronach serwisu
t1=0.051, t2=0, t3=0, t4=0, t=0.052