krainaksiazek d a t life decisions after temptation 20092084
- znaleziono 9 produktów w 3 sklepach 39,41 zł
Książki / Literatura obcojęzyczna
Sparky writing, true-to-life characters and a rollercoaster of a plot that will get you thinking about the 'What Ifs' in your own life - all make for an unmissable read.' Abby Clements Ever wondered what life would be like if you'd made different decisions? Chosen another career? Said yes to that date? Or married someone else? Jennifer Wright is full of 'what if' questions. If she'd stayed with unconventional, carefree Aidan, would she be enjoying life in sun-kissed Australia? Should she have married fabulously wealthy, workaholic Tim? Could she have found happiness after all with kind, gentle Steve? Jennifer's about to find out. After a terrible row with her husband, she runs out of the house and straight into the path of a car. Whilst in a coma she's given the gift of seeing exactly how each choice she's made has dramatically altered her life. But maybe those answers leave her with even more life-changing decisions to make...
Sklep: Libristo.pl 419,99 zł
Muzyka>Jazz
1. Twice The Lovin' 2. Crying Steel Guitar Waltz 3. Keep It A Secret 4. Nobody Else Can Love You Like I Do 5. I'd Rather Die Young 6. A Dear John Letter 7. My Wedding Ring 8. With All These Memories 9. Forgive Me, John 10. Why Did You Wait 11. Why Did You Wait 1954 12. You'll Come Crawlin' 13. The Mysteries Of Life 14. Let's Kiss And Try Again 15. The Class That Stands Beside You 16. Two Whoops And A Holler 17. Don't Fall In Love With A Married Man 18. What'll You Have 19. It Tickles 20. Please Don't Divorce Me 21. Did You Tell Her About Me 22. Don T Rush Me 23. You Sent Her An Orchid 24. Take Possession 25. A Satisfied Mind 26. Beautiful Lies 27. I Thought Of You 28. Cd2 You're Calling Me Sweetheart Again 29. He Loved Me Once And He'll Loved Me Again 30. Girls In Disgrace 31. This Has Been Your Life 32. Just Give Me Love 33. Thank You Just The Same 34. Over And Over 35. Tell Me What I Want To Hear 36. Shadows On The Wall 37. I'll Thank You All My Life 38. I Learned It All My Life 39. Hello Old Broken Heart 40. Sad Singin' And Slow Ridin' 41. It's Hard To Tell The Married From The Free 42. Did I Turn Down A Better Deal 43. A Passing Love Affair 44. I Married You For Love 45. I'm Thinking Tonight Of My Blue Eyes 46. Be Honest With Me 47. Under Suspicion 48. I Want To Go Where No One Knows Me 49. Tomorrow I'll Be Gone 50. If You Can Walk Away 51. Go On, Go On 52. I Lost You After All 53. It Scares Me Half To Death 54. You're Just The Kind Of Guy 55. Too Late With The Roses 56. The Other Woman 57. Act Lka A Married Man 58. I Used To Love You 59. Cd3 60. You'd Better Go 61. A Thief In The Night 62. Memory 63. I Love You Because 64. You Win Again 65. You Can't Break The Chains Of Love 66. Secret Of Life 67. Jealous Heart 68. Sweet Temptation 69. I'll Take The Blame 70. I'll Never Be Free 71. I'll Hold You In My Heart 72. I Hate Myself 73. You're Telling Me Sweet Lies Again 74. He's My Baby 75. Just Another Girl 76. Jeopardy 77. Are You Certain 78. Better Love Next Time 79. Have Heart, Will Love 80. Heartaches, Teardrops And Sorrow 81. I Didn't Mean To Make You Cry 82. Sweetheart Don't Come Back 83. How Do I Tell It To A Child 84. The One You Slip Around With 85. The Mysteries Of Life 86. Did I Turn Down A Better Deal 87. The Root Of All Evil 88. I'd Like To Know 89. Lonley Little World 90. Cd4 I Don't Apologize For Loving You 91. Mockin' Bird Hill 92. Another 93. Blues Stat Away From Me 94. If You Haven't, You Can't Feel The Way I Do 95. Uner Your Spell Again 96. The Waltz Of The Angels 97. One White Rose 98. Big Midnight Special
Sklep: Gigant.pl
34,47 zł
Książki / Literatura obcojęzyczna
The dream is all white from a memory that is too real, and its melody has continued to haunt Alpha, even though she has moved as far away from temptation as possible. Eight years after she was exposed to her first and only addictive musical track from the Corp, Alpha has established a new life with a band of her own in a city that has given her the space she was seeking, Los Angeles. However, it only takes one urgent call to bring Alpha back home to Anthem, the older brother who raised her as well as a revolution, and Omega, her twin brother whose contrasting personality makes her feel whole. As Alpha spends more time in the Web, she notices that the number of people who look sickly and addicted seems to be rising. With Anthem's health declining, Alpha and her friends will have to dig deeper into the mainframe than ever before in order to find the root of the Corp's re-emergence. Emma Trevayne's sequel to Coda concludes the series with a crescendo of unexpected twists, hard-earned triumphs, and agonizing decisions--all coming together as a symphony of pure emotion.
Sklep: Libristo.pl 39,08 zł
Książki / Literatura obcojęzyczna
'Scotland's answer to E.L. James' - Sunday Post When Hannah Nichols last saw Marco D'Alessandro five long years ago, he broke her heart. The bad boy with a hidden sweet side was the only guy Hannah ever loved-and the only man she's ever been with. After one intense night of giving in to temptation, Marco took off, leaving Scotland and Hannah behind. Shattered by the consequences of their night together, Hannah has never truly moved on. Leaving Hannah was the biggest mistake of Marco's life - something he has deeply regretted for years. So when fate reunites them, he refuses to let her go without a fight. Determined to make her his, Marco pursues Hannah, reminding her of all the reasons they're meant to be together ...But just when Marco thinks they're committed to a future together, Hannah makes a discovery that unearths the secret pain she's been hiding from him-a secret that could tear them apart before they have a real chance to start over again ...Praise for Samantha Young: 'This steamy romance is mysterious, all-consuming and pretty damn good' Closer 'A true gift for storytelling with a liberal dose of racy encounters. But what really sets it apart is exquisite characterisation, so vivid that the cast seeps into the reader's psyche' - Daily Record "Ridiculously incendiary chemistry." -Dear Author ..."Heartwarming, sizzling and captivating...[Young's characters] are complex, a little flawed, and at their core good people struggling to make it in this crazy world...Young creates steamy scenes that sizzle with just the right amount of details." -Caffeinated Book Reviewer "Ms. Young dives deep into the psyche of what makes a person tick emotionally, what stirs their vulnerability, and ultimately provides them the courage to be better individuals as well as partners...The one thing you can count on from Ms. Young is some of the best steamy, sexual chemistry." -Fiction Vixen Book Reviews "A deceptively complex romantic contemporary romance that will have you laughing, crying, and swooning with delight." -Smexy Books "Just as hot and sexy as the first book...Smart and sexy, Young writes stories that stay with you long after you flip that last page." -Under the Covers "Passion, romance, angst, LUST, major heat, mistakes, personal growth, and the power of love all combine perfectly in Down London Road." -Bookish Temptations "Down London Road delivers on all fronts-charismatic characters, witty dialogue, blazing-hot sex scenes and real-life issues make this book an easy one to devour. Samantha Young is not an author you should miss out on!" -Fresh Fiction "Another flirty, modern, and sexy story...Thanks to the characters' special connection and snappy dialogue, readers will feel the pull of Young's story from the get-go and root for a happy ending." -RT Book Reviews
Sklep: Libristo.pl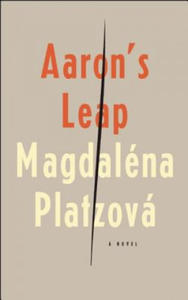 67,28 zł
Książki / Literatura obcojęzyczna
"Told in clear and beautiful prose, "Aaron's Leap" is a deeply moving portrait of love, sacrifice, and the transformative power of art in a time of brutal uncertainty." --SIMON VAN BOOY, author of "The Illusion of Separateness" Based on the real-life story of Bauhaus artist Friedl Dicker-Brandeis, "Aaron's Leap" is framed by the lens of a twenty first-century Israeli film crew delving into the extraordinary life of a woman who taught art to children in the Nazi transport camp of Terezin and died in Auschwitz. Aided by the granddaughter of one of the artist's pupils, the filmmakers begin to uncover buried secrets from a time when personal and artistic decisions became matters of life-and-death. Spanning a century of Central European history, the novel evokes the founding impulses, theories, and personalities of the European Modernist movement (with characters modeled after Oskar Kokoschka, Alma Mahler and Franz Werfel) and shows what it takes to grapple with a troubled history, "leap" into the unknown, and dare to be oneself. Magdalena Platzova was raised in Prague and has lived in Washington, DC and New York City, where she taught literature at NYU, and now lives in Lyon, France. She is the author of a children's book, two collections of short stories, and three novels, including "Aaron's Leap, " a Lidove Noviny Book of the Year Award finalist, hailed by the "Frankfurter Allgemeine Zeitung" as a novel that "must be counted among the best written by contemporary Czech writers." It is her first book to be published in English.
Sklep: Libristo.pl 187,20 zł
Inne 1
Contemporary Advertising, 10/e, is one of the best-selling advertising texts in this field. Known as the Ĺźcoffee table bookĹź for Advertising, it is known for its current examples, the authorĹźs ability to pull from real-world experiences, and the clear writing style. Taking a comprehensive view of the industry, this text presents advertising from the creative stand-point and Arens draws from his own industry experience to lend life to the examples. Author Bill Arens continues to address the importance of Integrated Marketing Communications (IMC) in the field of Advertising and how it impacts advertising strategy through featured examples of IMC campaigns. Excellent IMC coverage: an increased focus on Integrated Marketing Communications. IMC is introduced early in the text and numerous examples illustrate and reinforce its importance throughout showing students how various marketing and promotional elements must be coordinated to communicate effectively.|The Advertising Experience. These new end-of-chapter exercises are hands-on in application and place the student in the advertisersĹź shoes. Effective as outside assignments or in-class discussion starters, The Advertising Experience allows students to effectively apply their knowledge of each chapter. |New Teaching Video: The International Advertising Festival at Cannes, France, is the largest and most prestigious advertising competition in the world. For one week, thousands of advertising executives from around the world descend on the French Riviera to network, party, show their best work, and take home the gold. Held every year right after the famous Cannes Film Festival, the Ĺźfestival de film publicitaireĹź features thousands of entries in every medium and every language Ĺź all competing for the coveted Gold Lion statues. This video features over 100 award-winning commercials and ads hand-picked by the author to illustrate various topics from the text. The video segments are aligned with each part of the text to easily facilitate in-class discussions.|Campaign Video Series: With the tenth edition, Contemporary Advertising introduces a new campaign video. Each video in this series focuses on a campaign and gives insights into both the agency and client roles in its development. Each video follows the step-by-step development of a complete advertising campaign and are ideal for compare and contrast discussions of each campaign.|Excellent Website: Includes more resources for students and instructors. Student resources include student quizzing. the Advertising Reference Library, Career Planning in Advertising, Industry Resources, Advertising and IMC Plan outlines, and clips from the video package. The InstructorĹźs side includes the InstructorĹźs Manual, PowerPoint, Video Clips and Video InstructorĹźs Manual, link to industry resources and link to PageOut for access to test materials. |Chapter-opening vignettes: capture and hold students' interest. The vignettes are closely tied to chapter content and provide real world examples that show advertising in action. Opening vignettes feature companies like Altoids, Kodak, Abercrombie & Fitch, Gateway, and Dell.|Award-winning graphic design: an important feature for a book that teaches students about the importance of quality in advertising art and production.|Full-color advertising portfolios: These portfolios bring students real-life examples of the best advertising example in the field. These examples provide unique insight into the world of advertising and how it weaves relevance to the world we live inĹźfrom the groundbreaking historical ads of Kodak and Coca-Cola to modern images from Target and Motorola.|The Evolution of Advertising: Chapter 2 examines the socio-economic impact of advertising over the years. An interesting historical portrait is created that gives students a more objective view of why advertising has moved in the direction that it has, how and why it has evolved, and where the future of advertising is headed. |Creative Department: this feature shows how print and television ads are produced. Transvision mylar inserts effectively illustrate the production process by featuring the many phases in the creation of a print ad.|Ethical Issues: these boxed readings introduce students to current topics and controversies in advertising, showing them the thought processes and decisions advertisers make each day.|Checklists: located throughout the text, this feature stimulates memory, organize thinking, and reinforce important chapter topics, tools, and skills.|Internet Exercises: each chapter features exercises that require students to access the World Wide Web and research the answers to questions relevant to the chapter topic.
Sklep: Albertus.pl 394,29 zł
Książki / Literatura obcojęzyczna
The twentieth century witnessed the rise of the United States as the preeminent player on the world stage. While many individuals were responsible for the American ascension, few have left a larger legacy in the arena of foreign policy than Henry L. Stimson. Serving nearly every American president from Theodore Roosevelt to Harry S. Truman, Stimson shaped America's worldview and influenced America's foreign affairs decisions for over 40 years. A Republican, Stimson served as Secretary of War under William H. Taft (1911-13), Secretary of State under Herbert Hoover (1929-33), and Secretary of War for Franklin D. Roosevelt and Harry S. Truman (1940-45); in addition, he fought in World War I, initiated the Good Neighbor Policy in Central America, and served as Governor General of the Philippines (1927-29). In this new book, David Schmitz reveals how the life of Stimson provides a unique framework for analyzing America's foreign policy development from the imperialism of the 1890s to the origins of the Cold War and the emergence of the United States as the world's leading power after World War II. The author also explains the continuities in foreign policy over this period and the emergence of the internationalist perspective over isolation-ism, showing how Stimson was able to pass along his perspec-tives to the next generation of American policymakers who after World War II established the internationalist mindset of the Cold War years. Stimson's crucial role in the development and use of the atomic bomb is also examined. Henry L. Stimson: The First Wise Man is useful for courses in United States foreign policy, World War II, American history from 1900-1945, and survey courses in U.S. history.
Sklep: Libristo.pl 97,63 zł
Książki / Literatura obcojęzyczna
Nelson has two pet tortoises, one called Wellington and one called Napoleon. Wellington is twice as old as Napoleon. In 10 years, the sum of their ages will be 47. How old is Wellington? A 27 B 18 C 17 D 9 E 11. Think you could answer 50 questions like this in 90 minutes? Every day we think, draw conclusions and make decisions. But how critically do we really think about things? Do we always make logical choices? Do we spot flaws and assumptions in arguments? Do we question what we read or do we let statistics and spin startle us? How do we really think? After a lot of thinking, the team behind "So You Want To Go To Oxbridge? Tell Me About a Banana..." brings you the guide to tackling numerical and verbal reasoning problems effectively and efficiently. Written for students, parents and teachers (and everyone who likes to think), "Think You Can Think?" explores the art of critical thinking and the logic of solving problems. From choosing the cheapest cherries in a supermarket, to scrutinising political debates, this book discusses how to take the most logical approach every time. "Think You Can Think?" is a practical guide to cracking the Thinking Skills Assessment (TSA), an admissions test required for a number of courses at Oxford and Cambridge universities. Packed full of juicy advice and in-depth analysis, this book gives students the opportunity to pit their logical wits against challenging critical thinking questions and complex exercises. The book includes three mock tests that replicate the real thing - each has a separate answer section and an extensive commentary, enabling students to see the different methods of finding answers as well as understanding the theory and logic behind the questions. Written by Minesh Tanna and a team of Oxbridge graduates and edited by Oxbridge Applications, the independent research consultancy that has helped over 50,000 applicants, "Think You Can Think?" equips you with the skills and expertise required for a logical, enquiring mind, both in the heat of the examination room and in everyday life. And as for Nelson's pet tortoises...? You'll find out if you got it right on the inside back cover.
Sklep: Libristo.pl 73,30 zł
Biznes
This 208
Sklep: Albertus.pl
Sklepy zlokalizowane w miastach: Warszawa, Kraków, Łódź, Wrocław, Poznań, Gdańsk, Szczecin, Bydgoszcz, Lublin, Katowice
Szukaj w sklepach lub całym serwisie
2. Szukaj na wszystkich stronach serwisu
t1=0.079, t2=0, t3=0, t4=0.022, t=0.079