krainaksiazek data analytics with r a hands on approach 20044797
- znaleziono 14 produktów w 3 sklepach 279,71 zł
Książki / Literatura obcojęzyczna
This book is a complete introduction to the power of R for marketing research practitioners. The text describes statistical models from a conceptual point of view with a minimal amount of mathematics, presuming only an introductory knowledge of statistics. Hands-on chapters accelerate the learning curve by asking readers to interact with R from the beginning. Core topics include the R language, basic statistics, linear modeling, and data visualization, which is presented throughout as an integral part of analysis.§§Later chapters cover more advanced topics yet are intended to be approachable for all analysts. These sections examine logistic regression, customer segmentation, hierarchical linear modeling, market basket analysis, structural equation modeling, and conjoint analysis in R. The text uniquely presents Bayesian models with a minimally complex approach, demonstrating and explaining Bayesian methods alongside traditional analyses for analysis of variance, linear models, and metric and choice-based conjoint analysis.§§With its emphasis on data visualization, model assessment, and development of statistical intuition, this book provides guidance for any analyst looking to develop or improve skills in R for marketing applications.§
Sklep: Libristo.pl 604,32 zł
Książki / Literatura obcojęzyczna
Incorporating an innovative focus on data visualization and time series forecasting, "Data Mining for Business Intelligence" supplies insightful, detailed guidance on fundamental data mining techniques. The book guides readers through the use of JMP(R) (now in a newly revised student version) for developing predictive models and techniques in order to describe and find patterns in data. The authors use interesting, real-world examples to build a theoretical and practical understanding of key data mining methods. The book includes free access to the student edition of SAS Institute's JMP(R), allowing readers to work hands-on with the provided data. Throughout the book, applications of the discussed topics focus on the business problem as motivation and avoid unnecessary statistical theory. Each chapter concludes with exercises that allow readers to expand their comprehension of the presented material. Over a dozen cases that require use of the different data mining techniques are introduced, and a related Web site features over two dozen data sets, exercise solutions, PowerPoint slides, and case solutions. Modern topics include text analytics, recommender systems, social network analysis, getting data from a database into the analytics process, and scoring and employing the results of an analysis to a database.
Sklep: Libristo.pl 334,92 zł
Książki / Literatura obcojęzyczna
In digital marketing, your goal is to funnel your potential customers from the point of making them aware of your website, through engagement and conversion, and ultimately retaining them as loyal customers. Your strategies must be based on careful analysis so you know what is working for you at each stage. Adobe Analytics with SiteCatalyst Classroom in a Book teaches effective techniques for using Adobe SiteCatalyst to establish and measure key performance indicators (KPIs) tailored to your business and website. For each phase of marketing funnel analytics, author Vidya Subramanian walks you through multiple reports, showing you how to interpret the data and highlighting implementation details that affect data quality. With this essential guide, you'll learn to optimize your web analytics results with SiteCatalyst. Adobe Analytics with SiteCatalyst Classroom in a Book contains 10 lessons. The book covers the basics of learning Adobe SiteCatalyst and provides countless tips and techniques to help you become more productive with the program. You can follow the book from start to finish or choose only those lessons that interest you. Classroom in a Book(R), the best-selling series of hands-on software training workbooks, helps you learn the features of Adobe software quickly and easily. Classroom in a Book offers what no other book or training program does-an official training series from Adobe Systems Incorporated, developed with the support of Adobe product experts.
Sklep: Libristo.pl 167,38 zł
Książki / Literatura obcojęzyczna
Yahoo! Web Analytics teaches readers how to collect data, report on that data, and derive useful insights using Yahoo!'s free Web analytics tool . This detailed resource from Yahoo!'s Director of Data Insights discusses the why of Web analytics as well as the how while revealing secrets and tricks not documented elsewhere. The thorough book also offers step-by-step instructions and advanced techniques on everything from using data collection groupings to creating compelling data visualizations. It's a must-read for all analytics professionals and those who want to be. Turn Data into Insight and Action with Yahoo! Web Analytics§Turn website data into powerful insights and profitable actions with the new Yahoo! Web Analytics tool and this unique, in-depth book. Yahoo! insider and Internet analytics expert Dennis R. Mortensen provides detailed tips and techniques for successfully using Yahoo! Web Analytics to gain the competitive advantages you seek.§Learn the "why" as well as the "how" of web analytics and discover Yahoo! Web secrets and tricks not found anywhere else. Inside, you'll also find:§Detailed data collection advice, including how to use data collection groupings and track almost everything, from simple page views to custom-created fields§How to best implement campaign tracking, including paid search setup, multiple campaign categories, and merchandising tracking and reporting§In-depth explanations of advanced filtering capabilities, including powerful ways to customize reports§Powerful data visualization tools and optimal dashboard configurations, which are illustrated in the 16-page color insert§Exclusive and expert-level optimization techniques for everything from pay-per-click campaigns to Flash- and Ajax-based objects§Time-saving tips, hands-on exercises, and fascinating examples using real client experiences§"As the individual who drove the initial development of Yahoo!'s Web Analytics tool, Dennis managed to conquer mind-numbingly complex issues by presenting them in a simple and useful way. It's no wonder that he did it again with his Yahoo! Web Analytics book."§--Bryan Eisenberg, New York Times bestselling author of Call to Action and Always Be Testing and cofounder of FutureNow, Inc.§"Dennis provides the details about the impact Yahoo! Web Analytics can have on your business, with a laser-like focus on moving from data to true business insight and action."§--Jason Burby, Chief Analytics & Optimization Officer, ZAAZ§"If you want to actually derive value from these tools rather than just look at the pretty reports, Dennis lays it all out. This is a book you can count on."§--Jim Sterne, Founder, eMetrics Marketing Optimization Summit§"This is a detailed and practical guide to using Yahoo! Web Analytics to turbo-charge your business performance. Get this book before your competitors do!"§--Tim Ash, CEO of SiteTuners.com and author of Landing Page Optimization
Sklep: Libristo.pl 197,20 zł
Informatyka
For undergraduate, graduate , and MBA courses in Business Data Communications, Introduction to Data Communications, Telecommunications, and Introduction to Networking. The most current data communications text on the market, this comprehensive book uses a unique modular approach. Most teachers will want to cover the material in the 12 core chapters. This will leave time for hands-on work or additional conceptual material. The 8 advanced modules have extra material that some teachers will wish to cover depending on their particular course goals. Companion Website offers even more material. This approach allows selective emphasis without requiring the teacher to assemble his or her own additional material. Features and Benefits NEW - Modular approach - Book has 12 core chapters for a well-structured course with some free time plus 8 advanced modules for selective emphasis depending on the teachers course goals, highly regarded, this modular approach allows for selective emphasis enabling full focus upon the professors course goals. NEW - More but smaller core chapters, although there are more core chapters, they are smaller for easier reading. The total material is about the same in the two previous editions.Case studies with discussion questions. Kept at the companion Website to allow recent cases. Up-dates for new information since the book went to press. Downloads- PowerPoint presentations and End-of-Chapter questions, ensures that course material is current and provides an Instructor-only portion of the Website for special material. NEW - End-of-chapter questions and Test Your Knowledge subsections, allow students to review all key points in the chapter. Graded into core review questions, detailed review questions, and thought questions. By assigning particular questions, teachers can direct student learning. Also, at the end of each section in the book, the Test Your Knowledge subsection lists end-of-chapter questions to answer for that section. NEW - Instructor CD - Contains PowerPoint presentations, Transparencies (Word files), Test bank, and Instructor Manual with model syllabus and end-of-chapter answer keys. NEW - 85% Rewrite - Although the topic flow is largely the same as the second edition, the chapters and modules have been rewritten, not simply edited. Many changes are due to new developments in the field and to adopters comments. NEW - Transparencies, for every figure in the book. Some figures have builds. NEW - More open book design, for easier readability. NEW - Vignette at the beginning of each chapter raises issues that must be resolved using information in the chapter, thought question at end of chapter usually asks for student solutions. Begins with the familiar - The book begins with Internet standards (Chapters 1-5) and then small PC networks on simple LANs (Chapters 6-7), allows students to learn abstract concepts in concrete and familiar contexts. Detailed PowerPoint presentations - Full pre-made lecture presentations. Not just a few selected slides, provides instructors and students with a multimedia guide for every chapter and module. Created by the author. Modifiable by the teacher. MORE - Case studies at the companion Website so that they can be kept hot and fresh, now provided for all chapters and some modules. -UP-TO-DATE MATERIAL. Internet and TCP/IP - Heavy emphasis in Chapters 1-3, considerable emphasis throughout book. Module A. MORE - Quality of Service (QoS). Introduced in Chapter 1, strong treatment in Chapter 8. NEW - Telephony - Now integrated into the core chapters. Hierarchical circuit switching (Chapter 1), IP telephony (Chapter 11), cellular service (Chapter 12). MORE - Stronger focus on LAN switching, which now dominates in large LANs. In Ethernet, switches and hubs are introduced equally, and Chapter 8 has a strong section on LAN switching. VLANs, Layer 3 switching. COMPLETELY REVISED - Security now has a full chapter (Chapter 10) and a full module (Module F). Very up-to-date coverage. SSL, IPsec, Kerberos, etc. Even more on Frame Relay - Now dominates WANs. Full chapter on Internet access, including ADSL and cable modems (Chapter 5). NEW - Web-Host Integration, IBM Mainframe Systems, and SNA (Chapter 11). NEW - Analysis of alternative products with Net Present Value (NPV) analysis and multicriteria product selection
Sklep: Albertus.pl 408,06 zł
Książki / Literatura obcojęzyczna
Data Center Virtualization Fundamentals For many IT organizations, today's greatest challenge is to drive more value, efficiency, and utilization from data centers. Virtualization is the best way to meet this challenge. Data Center Virtualization Fundamentals brings together the comprehensive knowledge Cisco professionals need to apply virtualization throughout their data center environments. Leading data center expert Gustavo A. A. Santana thoroughly explores all components of an end-to-end data center virtualization solution, including networking, storage, servers, operating systems, application optimization, and security. Rather than focusing on a single product or technology, he explores product capabilities as interoperable design tools that can be combined and integrated with other solutions, including VMware vSphere. With the author's guidance, you'll learn how to define and implement highly-efficient architectures for new, expanded, or retrofit data center projects. By doing so, you can deliver agile application provisioning without purchasing unnecessary infrastructure, and establish a strong foundation for new cloud computing and IT-as-a-service initiatives. Throughout, Santana illuminates key theoretical concepts through realistic use cases, real-world designs, illustrative configuration examples, and verification outputs. Appendixes provide valuable reference information, including relevant Cisco data center products and CLI principles for IOS and NX-OS. With this approach, Data Center Virtualization Fundamentals will be an indispensable resource for anyone preparing for the CCNA Data Center, CCNP Data Center, or CCIE Data Center certification exams. Gustavo A. A. Santana, CCIE(R) No. 8806, is a Cisco Technical Solutions Architect working in enterprise and service provider data center projects that require deep integration across technology areas such as networking, application optimization, storage, and servers. He has more than 15 years of data center experience, and has led and coordinated a team of specialized Cisco engineers in Brazil. He holds two CCIE certifications (Routing & Switching and Storage Networking), and is a VMware Certified Professional (VCP) and SNIA Certified Storage Networking Expert (SCSN-E). A frequent speaker at Cisco and data center industry events, he blogs on data center virtualization at gustavoaasantana.net. * Learn how virtualization can transform and improve traditional data center network topologies * Understand the key characteristics and value of each data center virtualization technology * Walk through key decisions, and transform choices into architecture * Smoothly migrate existing data centers toward greater virtualization * Burst silos that have traditionally made data centers inefficient * Master foundational technologies such as VLANs, VRF, and virtual contexts * Use virtual PortChannel and FabricPath to overcome the limits of STP * Optimize cabling and network management with fabric extender (FEX) virtualized chassis * Extend Layer 2 domains to distant data center sites using MPLS and Overlay Transport Virtualization (OTV) * Use VSANs to overcome Fibre Channel fabric challenges * Improve SAN data protection, environment isolation, and scalability * Consolidate I/O through Data Center Bridging and FCoE * Use virtualization to radically simplify server environments * Create server profiles that streamline "bare metal" server provisioning * "Transcend the rack" through virtualized networking based on Nexus 1000V and VM-FEX * Leverage opportunities to deploy virtual network services more efficiently * Evolve data center virtualization toward full-fledged private clouds -Reviews - "The variety of material that Gustavo covers in this work would appeal to anyone responsible for Data Centers today. His grasp of virtualization technologies and ability to relate it in both technical and non-technical terms makes for compelling reading. This is not your ordinary tech manual. Through use of relatable visual cues, Gustavo provides information that is easily recalled on the subject of virtualization, reaching across Subject Matter Expertise domains. Whether you consider yourself well-versed or a novice on the topic, working in large or small environments, this work will provide a clear understanding of the diverse subject of virtualization." -- Bill Dufresne, CCIE 4375, Distinguished Systems Engineer, Cisco (Americas) "..this book is an essential reference and will be valuable asset for potential candi-dates pursuing their Cisco Data Center certifications. I am confident that in reading this book, individuals will inevitably gain extensive knowledge and hands-on experience dur-ing their certification preparations. If you're looking for a truly comprehensive guide to virtualization, this is the one!" -- Yusuf Bhaiji, Senior Manager, Expert Certifications (CCIE, CCDE, CCAr), Learning@Cisco "When one first looks at those classic Cisco Data Center blueprints, it is very common to become distracted with the overwhelming number of pieces and linkages. By creating a solid theoretical foundation and providing rich sets of companion examples to illustrate each concept, Gustavo's book brings hope back to IT Professionals from different areas of expertise. Apparently complex topics are demystified and the insertion of products, mechanisms, protocols and technologies in the overall Data Center Architecture is clearly explained, thus enabling you to achieve robust designs and successful deployments. A must read...Definitely!" -- Alexandre M. S. P. Moraes, Consulting Systems Engineer - Author of "Cisco Firewalls"
Sklep: Libristo.pl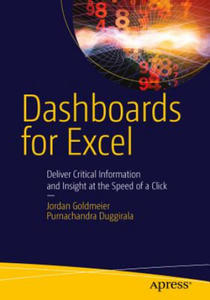 198,64 zł
Książki / Literatura obcojęzyczna
Dashboards for Excel is your key to creating informative, actionable, and interactive dashboards that will have your managers singing your praises. The book takes a hands-on approach to developing dashboards, from instructing users on advanced Excel techniques to addressing dashboard pitfalls common in the real world. Throughout the book, the reader is challenged to think about Excel and data analytics differently that is, to think outside the cell. This book will show you how to create dashboards in Excel quickly and effectively. Don t wait get started today.§§Covers advanced Excel techniques mixing formulas and Visual Basic for Applications (VBA) to create interactive dashboards §Shows how dynamic charts and tables can be used to create dashboards that are constantly up-to-date and providing fresh information. §Demonstrates how to display important data summaries, analytics, and visualization all in the same Excel window! §Builds on a firm foundation of industry best practices and the author s hard won real-world experience
Sklep: Libristo.pl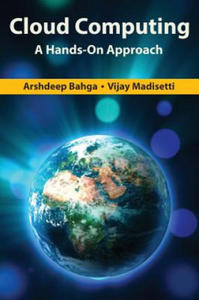 298,75 zł
Książki / Literatura obcojęzyczna
Recent industry surveys expect the cloud computing services market to be in excess of $20 billion and cloud computing jobs to be in excess of 10 million worldwide in 2014 alone. In addition, since a majority of existing information technology (IT) jobs is focused on maintaining legacy in-house systems, the demand for these kinds of jobs is likely to drop rapidly if cloud computing continues to take hold of the industry. However, there are very few educational options available in the area of cloud computing beyond vendor-specific training by cloud providers themselves. Cloud computing courses have not found their way (yet) into mainstream college curricula. This book is written as a textbook on cloud computing for educational programs at colleges. It can also be used by cloud service providers who may be interested in offering a broader perspective of cloud computing to accompany their own customer and employee training programs. The typical reader is expected to have completed a couple of courses in programming using traditional high-level languages at the college-level, and is either a senior or a beginning graduate student in one of the science, technology, engineering or mathematics (STEM) fields. We have tried to write a comprehensive book that transfers knowledge through an immersive "hands-on approach", where the reader is provided the necessary guidance and knowledge to develop working code for real-world cloud applications. Additional support is available at the book's website: www.cloudcomputingbook.info Organization The book is organized into three main parts. Part I covers technologies that form the foundations of cloud computing. These include topics such as virtualization, load balancing, scalability & elasticity, deployment, and replication. Part II introduces the reader to the design & programming aspects of cloud computing. Case studies on design and implementation of several cloud applications in the areas such as image processing, live streaming and social networks analytics are provided. Part III introduces the reader to specialized aspects of cloud computing including cloud application benchmarking, cloud security, multimedia applications and big data analytics. Case studies in areas such as IT, healthcare, transportation, networking and education are provided.
Sklep: Libristo.pl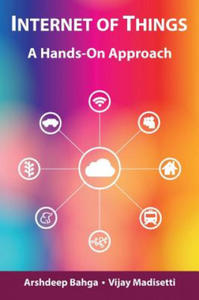 298,75 zł
Książki / Literatura obcojęzyczna
Internet of Things (IoT) refers to physical and virtual objects that have unique identities and are connected to the internet to facilitate intelligent applications that make energy, logistics, industrial control, retail, agriculture and many other domains "smarter". Internet of Things is a new revolution of the Internet that is rapidly gathering momentum driven by the advancements in sensor networks, mobile devices, wireless communications, networking and cloud technologies. Experts forecast that by the year 2020 there will be a total of 50 billion devices/things connected to the internet. This book is written as a textbook on Internet of Things for educational programs at colleges and universities, and also for IoT vendors and service providers who may be interested in offering a broader perspective of Internet of Things to accompany their own customer and developer training programs. The typical reader is expected to have completed a couple of courses in programming using traditional high-level languages at the college-level, and is either a senior or a beginning graduate student in one of the science, technology, engineering or mathematics (STEM) fields. Like our companion book on Cloud Computing, we have tried to write a comprehensive book that transfers knowledge through an immersive "hands on" approach, where the reader is provided the necessary guidance and knowledge to develop working code for real-world IoT applications. Additional support is available at the book's website: www.internet-of-things-book.com The book is organized into 3 main parts, comprising of a total of 11 chapters. Part I covers the building blocks of Internet of Things (IoTs) and their characteristics. A taxonomy of IoT systems is proposed comprising of various IoT levels with increasing levels of complexity. Domain specific Internet of Things and their real-world applications are described. A generic design methodology for IoT is proposed. An IoT system management approach using NETCONF-YANG is described. Part II introduces the reader to the programming aspects of Internet of Things with a view towards rapid prototyping of complex IoT applications. We chose Python as the primary programming language for this book, and an introduction to Python is also included within the text to bring readers to a common level of expertise. We describe packages, frameworks and cloud services including the WAMP-AutoBahn, Xively cloud and Amazon Web Services which can be used for developing IoT systems. We chose the Raspberry Pi device for the examples in this book. Reference architectures for different levels of IoT applications are examined in detail. Case studies with complete source code for various IoT domains including home automation, smart environment, smart cities, logistics, retail, smart energy, smart agriculture, industrial control and smart health, are described. Part III introduces the reader to advanced topics on IoT including IoT data analytics and Tools for IoT. Case studies on collecting and analyzing data generated by Internet of Things in the cloud are described.
Sklep: Libristo.pl 239,41 zł
Książki / Literatura obcojęzyczna
This is a book about how ecologists can integrate remote sensing and GIS in their daily work. It will allow ecologists to get started with the application of remote sensing and to understand its potential and limitations. Using practical examples, the book covers all necessary steps from planning field campaigns to deriving ecologically relevant information through remote sensing and modelling of species distributions. All practical examples in this book rely on OpenSource software and freely available data sets. Quantum GIS (QGIS) is introduced for basic GIS data handling, and in-depth spatial analytics and statistics are conducted with the software packages R and GRASS. Readers will learn how to apply remote sensing within ecological research projects, how to approach spatial data sampling and how to interpret remote sensing derived products. The authors discuss a wide range of statistical analyses with regard to satellite data as well as specialised topics such as time-series analysis. Extended scripts on how to create professional looking maps and graphics are also provided. This book is a valuable resource for students and scientists in the fields of conservation and ecology interested in learning how to get started in applying remote sensing in ecological research and conservation planning.
Sklep: Libristo.pl 397,27 zł
Książki / Literatura obcojęzyczna
A complete configuration manual for MPLS, MPLS VPNs, MPLS TE, QoS, Any Transport over MPLS (AToM), and VPLS * Understand the crucial Cisco commands for various MPLS scenarios * Understand fundamentals of MPLS operation and learn to configure basic MPLS in Frame Relay and ATM-based environments * Master fundamentals of MPLS VPN operation including Multiprotocol BGP (MBGP) operation, VPNv4 route exchange, and basic MPLS VPN configuration in the provider network * Understand and configure various PE-CE routing protocols in MPLS VPN networks * Understand MPLS VPN provisioning in an Inter-provider VPN (Inter-AS) and Carrier Supporting Carrier (CSC) environment * Learn MPLS TE and its advanced features * Examine AToM with configuration examples for like-to-like and any-to-any L2 VPN implementations and VPLS components and operation, VPLS configuration and verification, and VPLS topologies * Learn about MPLS QoS, including configuration and implementation of uniform and short pipe modes MPLS Configuration on Cisco IOS Software is a complete and detailed resource to the configuration of Multiprotocol Label Switching (MPLS) networks and associated features. Through its practical, hands-on approach, you'll become familiar with MPLS technologies and their configurations using Cisco IOS(R) Software. MPLS Configuration on Cisco IOS Software covers basic-to-advanced MPLS concepts and configuration. Beyond its emphasis on MPLS, you'll learn about applications and deployments associated with MPLS, such as traffic engineering (TE), Layer 2 virtual private networks (VPN), and Virtual Private LAN Service (VPLS). You'll receive practical guidance and deployment scenarios that can be enhanced by re-creation of the setups and configurations demonstrated within this book. You'll move quickly from a brief overview of MPLS technology and basic MPLS configuration on Cisco(R) routers to more advanced topics. Several chapters provide instruction on VPN connectivity options, including implementing Border Gateway Protocol (BGP) in MPLS VPNs. You'll receive configuration guidelines for advanced MPLS implementations such as MPLS TE, quality of service (QoS), and extranet VPNs. You'll learn about implementation of Layer 2 VPNs versus Layer 3 VPNs with Cisco Any Transport over MPLS (AToM). And you'll see demonstrations of implementing VPLS on Cisco routers complete with the configurations and platform support. "I highly recommend MPLS Configuration on Cisco IOS Software as required reading for those in search of practical guidance of the technology and nuances of configuring MPLS for next-generation networks for voice, video, data, and application service offerings across a wide variety of deployment scenarios." -Carlos Dominguez, Senior Vice President, Worldwide Service Provider Operations, Cisco Systems(R) This book is part of the Networking Technology Series from Cisco Press(R), which offers networking professionals valuable information for constructing efficient networks, understanding new technologies, and building successful careers.
Sklep: Libristo.pl 24,99 zł
Muzyka>Electronica
1. Neophyte - Anybody Out There? 2. Hard Creation - Bang The Drums 3. Bodylotion - Nasty 4. Dj Rob - Boy's Interface 5. Masochist, The - Anticipation 6. Chaosphere - Religion Attack 7. Wasteland - Is It Acceptable 8. Black Night - Hardcore Rhyme 9. Bass Reaction - Technophobia 10. Masochist, The - Won't Love 'Em 11. Dj Vince / Dark Raver, The - Intelligent Hardcore 12. G-town Madness - Silence 13. Dj Neophyte / Dj Attic / Styllzz - As We Approach 14. Stunned Guys, The - Love Really Sucks 15. Dj Paul / Dj Panic - Up Yours 16. Evil Activities - Demons, Darkness & Evil 17. Damage Inc. - Turn Around (The Viper Remix) 18. Hard Creation - Are You Down? 19. G-town Madness / Viper, The - Buck 'Em Down 20. Tha Playah - The Rule Of Cool 21. Sons Of Aliens - Deeper (Dj Niel Remix) 22. Bodylotion - How Much Can You Take 23. Chaosphere - The Devil's Crown 24. Kelly, Darrien / Unknown Mc, The - The People Want 25. Dj Lars / Dj Panic - Weak Motherfucker 26. Dyewtness - Only If I Had One More 27. Feranzano, Bertocucci - Xtc Love 28. Euromasters - Clap Your Hands 29. Tha Playah / Dj Dazzler - Beat U 2 Death 30. Dj Paul / Dj Panic - Fuck It 31. Masochist, The - No New Style 32. Too Fast For Mellow - In My House 33. Bodylotion - Make You Dance 34. Kelly, Darrien / Bass-d / King Matthew - Put Ya Ha 35. Diss Reaction - Jileehaa 36. Hard Creation - Hard From The Heart 37. Hard Creation - I Will Have That Power 38. Rave A Graphixx - There Is No Other 39. Two Terrorists - The Fly 40. Wedlock - I'm The Fuck You Man 41. Masters Of Ceremony - A Way Of Life 42. Predator - Mind Of A Lunatic 43. Forze Dj Team, The - Now Hear This 44. Porphet, The - Allright Now Here We Go 45. Bodylotion - Hurt You Bad 46. Santana, Omar / Headbanger - Wicked Style 47. Lownoise, Charly / Mental Theo - Dj Fuck 48. Brown, Scott / Dj Paul - Smoke This Mf 49. Kelly, Darrien / Stunned Guys, The - Party Rico 50. 3 Steps Ahead - Drop It 101. Evil Activities - God Is A Sadist 102. Nightraver, The - So (Stunned Guys Remix) 103. Tha Playah - I Call Tha Shots 104. Thrilogy Allstars - Thrilogy 2007 (Neophyte Remix) 105. G-town Madness / Viper, The - Here It Comes 106. Brown, Scott / Dj Paul - Feel The Music (Charly Ma 107. G-town Madness - Put Your Hands Up 108. Brother In Law - Happy Motherfucker 109. Dj Buzz Fuzz - Let's Go 110. Juggernaut - World Of The Lsd User 111. Neophyte - Number One Fan 112. Kelly, Darrien / Brown, Scot - Meer Kaas 113. Nightraver - We Are From Rotterdam (Evil Activitie 114. Dj Isaac - Bad Dreams 115. Too Fast For Mellow - We Gonna Get This Place 116. Kelly, Darrien / Bass-d / King Matthew - To The Ma 117. Dj Waxweazle - This Is How It Started 118. Dj Paul - Play My Game 119. Dj Isaac - The Party Is Mine 120. Santana, Omar - Hype The Happiness 121. Dj Gizmo / Buzz Fuzz - Drummz (Gizmo Remix) 122. Masters Of Ceremony - Hardcore To Da Bone 123. Wedlock - Bass For Yer Face 124. Prophet, The - I Wanna Rock You 125. Evil Activities - Bang Bang 126. Forze Dj Team, The - Get The Fuck Outta My Face 127. Dj Paul Elstak - My Name Is The Lord 128. Lownoise, Charly / Mental Theo - Verotted 129. 3 Steps Ahead - Motherfuckers You're Gonna Die 130. Euromasters - Alles Naar De Klote 131. Santana, Omar - Brute Force 132. Simstim - Basic Loudness 133. Dj Gizimo - Dopeman 134. Neophyte - Recession 135. Square Dimensione - Brand New Dance 136. Dj Rob / Mc Joe - The Beat Is Flown (Nasty Django 137. Masters Of Ceremony - Mass Hysteria 138. Hard Creation - 2 All The People 139. Juggernaut - Don't Fuck With A Ruffneck 140. Santana, Omar - Stab Your Brain 141. Neophyte - Mickey 142. Buzz Fuzz - Horrorz (Button Up Remix) 143. Prophet, The - Dominatin' 144. T.o.p.d.r.o.p. - Achtung! (Charly Lownoise & Menta 145. Buzz Fuzz - Countdown (Less Than Zero Workout) 146. Simstim - One Hundred, Two Hundred 147. Dano - Welcome To The Hunderdome 148. Buzz Fuzz - 3 The Hard Way 149. Kelly, Darrien / Brown, Scott - Geleihoofd 150. Bodylotion / Brown, Scott / Kelly, Darrien - Alway
Sklep: Gigant.pl 820,72 zł
Książki / Literatura obcojęzyczna
A Classic adapted to modern times Rewritten and updated, this new edition of Statistics for Experimenters adopts the same approaches as the landmark First Edition by teaching with examples, readily understood graphics, and the appropriate use of computers. Catalyzing innovation, problem solving, and discovery, the Second Edition provides experimenters with the scientific and statistical tools needed to maximize the knowledge gained from research data, illustrating how these tools may best be utilized during all stages of the investigative process. The authors' practical approach starts with a problem that needs to be solved and then examines the appropriate statistical methods of design and analysis. Providing even greater accessibility for its users, the Second Edition is thoroughly revised and updated to reflect the changes in techniques and technologies since the publication of the classic First Edition. Among the new topics included are: * Graphical Analysis of Variance * Computer Analysis of Complex Designs * Simplification by transformation * Hands-on experimentation using Response Service Methods * Further development of robust product and process design using split plot arrangements and minimization of error transmission * Introduction to Process Control, Forecasting and Time Series * Illustrations demonstrating how multi-response problems can be solved using the concepts of active and inert factor spaces and canonical spaces * Bayesian approaches to model selection and sequential experimentation An appendix featuring Quaquaversal quotes from a variety of sources including noted statisticians and scientists to famous philosophers is provided to illustrate key concepts and enliven the learning process. All the computations in the Second Edition can be done utilizing the statistical language R. Functions for displaying ANOVA and lamba plots, Bayesian screening, and model building are all included and R packages are available online. All theses topics can also be applied utilizing easy-to-use commercial software packages. Complete with applications covering the physical, engineering, biological, and social sciences, Statistics for Experimenters is designed for individuals who must use statistical approaches to conduct an experiment, but do not necessarily have formal training in statistics. Experimenters need only a basic understanding of mathematics to master all the statistical methods presented. This text is an essential reference for all researchers and is a highly recommended course book for undergraduate and graduate students.
Sklep: Libristo.pl 94,99 zł
Książki Obcojęzyczne>Angielskie>Humanities>Archaeology>Archaeological science, methodology & techniquesKsiążki Obcojęzyczne>Angielskie&...
This Fully Revised Second Edition Retains The Hands-on Simple Approach Of The First Edition But With Some Significant Modifications. Still Covered In Detail Are Descriptive And Inferential Techniques With Each One Worked Through By Hand On A Common Data-s
Sklep: Gigant.pl
Sklepy zlokalizowane w miastach: Warszawa, Kraków, Łódź, Wrocław, Poznań, Gdańsk, Szczecin, Bydgoszcz, Lublin, Katowice
Szukaj w sklepach lub całym serwisie
2. Szukaj na wszystkich stronach serwisu
t1=0.059, t2=0, t3=0, t4=0, t=0.06