krainaksiazek dead in her tracks 20169814
- znaleziono 12 produktów w 1 sklepie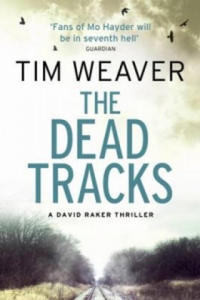 39,57 zł
Książki / Literatura obcojęzyczna
The Dead Tracks is the second in the David Raker series from Tim Weaver. A serial killer more terrifying than you could ever imagine...Seventeen-year-old Megan Carver was an unlikely runaway. A straight - A student from a happy home, she studied hard and rarely got into trouble. Six months on, she's never been found. Missing persons investigator David Raker knows what it's like to grieve. He knows the shadowy world of the lost too. So, when he's hired by Megan's parents to find out what happened, he recognizes their pain - but knows that the darkest secrets can be buried deep. And Megan's secrets could cost him his life. Because as Raker investigates her disappearance, he realizes everything is a lie. People close to her are dead. Others are too terrified to talk. And soon the conspiracy of silence leads Raker towards a forest on the edge of the city. A place with a horrifying history - which was once the hunting ground for a brutal, twisted serial killer. A place known as the Dead Tracks...Hot on the heels of Chasing the Dead, The Dead Tracks by Tim Weaver revisits David Raker and his complex missing persons cases. Fans of Mo Hayder's Gone and Michael Marshall Smith's The Straw Men should look this way. Praise for Tim Weaver: "Impressive debut...Fans of Mo Hayder will be in seventh hell". (Guardian). "Perfect plotting, great characterisation, and the kind of payoff that a thriller of this calibre deserves". (Bookgeeks). "A taut thriller". (Barry Forshaw). Tim Weaver was born in 1977. After working in magazine journalism, writing about films, TV, sport, games and technology for seventeen years, he is now a full time novelist. He is married with a young daughter, and lives near Bath. Never Coming Back is Tim's fourth David Raker novel, which follows his highly acclaimed debut Chasing the Dead, its sequel The Dead Tracks and Vanished.
Sklep: Libristo.pl 32,57 zł
Książki / Literatura obcojęzyczna
Professor Karen Pelletier has made a name for herself as one of the leading scholars of literature at exclusive Enfield College. But when an offhand comment sets off a firestorm of controversy, she finds herself embroiled in a scandal that began with a notorious novel from the 1950s -- and ends with a very real murder....When a New York Times reporter ends an interview with Karen by asking her to name the best novel of the twentieth century, she glibly picks the steamy potboiler Oblivion Falls, a long-forgotten tome that caused a sensation forty years ago. After Karen's comment renews interest in Oblivion Falls, the book quickly climbs onto the bestseller charts -- and now everyone wants to know what became of the book's long-vanished author, Mildred Deakin. The reporter who broke the story finally tracks her down -- and is rewarded for his efforts by being shot dead in the writer's driveway. When Mildred is arrested for murder, Karen feels obligated to investigate further. And what she discovers, as she probes the long-forgotten publishing drama surrounding Oblivion Falls, is almost as shocking as the book itself -- and far more deadly.
Sklep: Libristo.pl 32,57 zł
Książki / Literatura obcojęzyczna
A year 2000 computer glitch got her $1 million and a cowboy--and the wildest adventure of her life . . . P.R. whiz Tess O'Mara is burned out. She's looking for a change. Something wild and crazy. The year 2000 has arrived. And that's when the trouble begins. A computer glitch has deposited one million dollars into her bank account. Problem is, it's somebody else's money, somebody who's willing to kill to find it--and Tess has already spent a big chunk of it on a new wardrobe and a powder-blue Mercedes convertible. Suddenly Tess is running for her life, as fast and as far as she can go . . . . . . until she reaches the sleepy desert town of Almost, Arizona. Sheriff Jake McCall, a dead ringer for Mel Gibson, is there to catch her as she careens into town and collapses from heatstroke in his arms. Jake's prepared for anything--except the spoiled city slicker with trouble in her wake. The last thing he expects is to fall for her. But as danger tracks Tess to her door, something unexpected happens that will transform two very different people, and one dusty, dead-end town, forever . . .
Sklep: Libristo.pl 44,46 zł
Książki / Literatura obcojęzyczna
'Like a silent fall of snow; suddenly, the reader is enveloped...visually acute, skilfully written; it won't easily erase its tracks in the reader's mind.' HILARY MANTEL, author of Wolf Hall and Bring Up The Bodies A brilliantly written and gripping historical Nordic Noir thriller with all the intrigue and atmosphere of Burial Rites, the pent-up passion of The Piano and the suspense of The Tenderness of Wolves. There are six homesteads on Blackasen Mountain. A day's journey away lies the empty town. It comes to life just once, in winter, when the Church summons her people through the snows. Then, even the oldest enemies will gather. But now it is summer, and new settlers are come. It is their two young daughters who find the dead man, not half an hour's walk from their cottage. The father is away. And whether stubborn, or stupid, or scared for her girls, the mother will not let it rest. To the wife who is not concerned when her husband does not come home for three days; to the man who laughs when he hears his brother is dead; to the priest who doesn't care; she asks and asks her questions, digging at the secrets of the mountain. They say a wolf made those wounds. But what wild animal cuts a body so clean?
Sklep: Libristo.pl 52,60 zł
Książki / Literatura obcojęzyczna
If the Night Stalker is watching, you're already dead... In the dead of a swelteringly hot summer's night, Detective Erika Foster is called to a murder scene. The victim, a doctor, is found suffocated in bed. His wrists are bound and his eyes bulging through a clear plastic bag tied tight over his head. A few days later, another victim is found dead, in exactly the same circumstances. As Erika and her team start digging deeper, they discover a calculated serial killer - stalking their victims before choosing the right moment to strike. The victims are all single men, with very private lives. Why are their pasts shrouded in secrecy? And what links them to the killer? As a heat wave descends upon London, Erika will do everything to stop the Night Stalker before the body count rises, even if it means risking her job. But the victims might not be the only ones being watched... Erika's own life could be on the line. The global bestselling author of The Girl in the Ice is back with a heart-racing, electrifying thriller. If you love Angela Marsons, Rachel Abbott and Karin Slaughter, you'll be hooked on Robert Bryndza. Watch out for more from DCI Erika Foster. She's fearless. Respected. Unstoppable. Detective Erika Foster will catch a killer, whatever it takes. What people are saying about Robert Bryndza 'Oh my gosh!...gripping, grimy, hardcore, thrilling...I was hooked!!!...I loved this book...You Have GOT To Read This!' A Page of Fictional Love 'I freakin' LOVED it! . . . Once in a while a book stops you in your tracks . . . this is THAT book!' Crime Book Junkie 'A non-stop, edge-of-your-seat, rollercoaster of a thriller! The ending, oh the ending! My mind is still blown! This book does not disappoint!' The Book Addicted Boy 'I loved, loved, loved this book and Erika Foster is most definitely my kind of heroine. She is smart, tenacious, direct and passionate...I found the writing tight, evocative and enthralling. I CAN NOT wait for the next installment.' Angela Marsons 'An intriguing web of lies, secrets and suspense. I really enjoyed getting to know DCI Foster and am already looking forward to the next book.' Mel Sherratt 'A compelling read - once you've started, it's hard to put down.' Rachel Abbott 'Hands-down, one of the most exciting, dramatic, tense and compelling thrillers that I think I have ever read.' Bookaholic Confessions 'Absolute perfection!...Boy are there some sharp turns! There were a few moments when I felt like I had it all figured out and I was so wrong! Fantastic book!...' The Eternal Optimist 'The Girl In The Ice is a brilliantly clever crime thriller...Had me hurtling at full speed, until WHAM!!!! with an ending that just totally blew me away! An absolute must read for all you crime fanatics out there.' By The Letter Book Reviews
Sklep: Libristo.pl 39,90 zł
Książki / Literatura obcojęzyczna
Dyed-in-the-wool country girl Kate Webster seems not to have a care in the world: playing hard, drinking even harder, she tells herself that she will worry about the consequences later. But there is one consequence she cannot escape: the result of a wild dare she undertook when she was nineteen, her little daughter, Nell. Now she seems hell-bent on self-destruction: fighting with her father over the future of their farm after the death of her mother and his remarriage, refusing to reveal the identity of Nell's father, while remaining in love with him, and all too often neglecting Nell herself, while she parties the night away. But destiny is about to take a hand and stop Kate dead in her tracks. As in all Rachael Treasure's novels, tragedy and violence are only ever a heartbeat away. And back into her life, too, is about to walk the father of her child. How can she ever admit the truth to him?
Sklep: Libristo.pl 39,57 zł
Książki / Literatura obcojęzyczna
The Glass Room is the fifth book in Ann Cleeves' Vera Stanhope series - which is now a major ITV detective drama starring Brenda Blethyn, VERA. DI Vera Stanhope is not one to make friends easily, but her hippy neighbours keep her well-supplied in homebrew and conversation. But when one of them goes missing, her path leads her to more than a missing friend ...Vera tracks the young woman down to the Writer's House, a country retreat where aspiring authors work on their stories. Things get complicated when a body is discovered and Vera's neighbour is found with a knife in her hand. Calling in the team, Vera knows that she should hand the case over. She's too close to the main suspect. But the investigation is too tempting and she's never been one to follow the rules. There seems to be no motive. When another body is found, Vera suspects that someone is playing games with her. Somewhere there is a killer who has taken murder off the page and is making it real ...Also available in the Vera Stanhope series are The Crow Trap, Telling Tales, Hidden Depths and Silent Voices. Ann Cleeves' Shetland series (BBC television drama SHETLAND) contains five titles, of which Dead Water is the most recent.
Sklep: Libristo.pl 44,94 zł
Książki / Literatura obcojęzyczna
Melanie McGrath's critically acclaimed East End family memoir now in paperback. In this remarkable book, award-winning writer Melanie McGrath has given us a vivid and poignant memoir of the East End. McGrath spent years wondering about her East End roots. At the turn of the twenty-first century the places where her grandparents lived out their lives Poplar, East Ham and Silvertown -- are virtually unrecognisable; her grandparents, Jenny and Len Page, long since dead and already half forgotten. Silvertown teems with stories of life in the docks and pubs and dog tracks of the old East End where Melanie McGrath's grandparents scraped a living. Here are the bustling alleys and lanes of Poplar in 1914, where eleven year old Jenny watches the men go off to fight; the Moses sweatshop on the Mile End Waste; the London docks, then the largest port in the world; and Jenny having her teeth pulled out on her seventeenth birthday. Here too is the Cosy Cafe, opened full of hope by Jenny and Len -- later a home to their troubled marriage -- and an East End landscape which is altered forever by the closure of the docks and the disintegration of this close knit community. The places Melanie McGrath describes have largely vanished now. This evocative and deeply moving family memoir recreates the lost East End and the struggles of those who live there.
Sklep: Libristo.pl 77,35 zł
Książki / Literatura obcojęzyczna
A hard-faced woman clad in a blue mink stole and dripping with diamonds hires Lew Archer to track down her former maid, who she claims has stolen her jewelry. Archer can tell he's being fed a line, but curiosity gets the better of him and he accepts the case. He tracks the wayward maid to a ramshackle motel in a seedy, run-down small town, but finds her dead in her tiny room, with her throat slit from ear to ear. Archer digs deeper into the case and discovers a web of deceit and intrigue, with crazed number-runners from Detroit, gorgeous triple-crossing molls, and a golden-boy shipping heir who's gone mysteriously missing.
Sklep: Libristo.pl 33,87 zł
Książki / Literatura obcojęzyczna
Dr Harry Corbett is on his way to visit his estranged wife, Evie, who is scheduled for surgery the next day, for what he hopes will be a quiet evening of reconciliation. In recent weeks Evie, never quick to share her feelings, has been more closed and distant than ever. But, without warning, he arrives to find her dead in her hospital bed. The police suspect murder, and Corbett is their only suspect...Harry is unprepared for the stunning revelations that follow. Leading a double life, his beautiful wife had uncovered a deadly secret, and when the killer strikes again, Harry is once more the sole suspect. Medically sophisticated, coolly arrogant, moving undetected through a busy urban hospital, it is clear to Harry that the killer, can only be a doctor. But can he stop the killer in his tracks before any more patients receive his lethal silent treatment?
Sklep: Libristo.pl 34,20 zł
Książki / Literatura obcojęzyczna
Shelby Foxworth lost her husband. Then she lost her illusions. The man who took her from Tennessee to an exclusive Philadelphia Suburb left her in crippling debt. He was an adulterer and a liar, and when Shelby tracks down his safe-deposit box, she finds multiple IDs. The man she loved wasn't just dead. He never really existed.
Sklep: Libristo.pl 49,50 zł
Książki / Literatura obcojęzyczna
Bestselling author Helen Dunmore's third novel, "A Spell of Winter" won the 1996 Orange Prize. Catherine and her brother, Rob, don't know why they have been abandoned by their parents. Incarcerated in the enormous country house of their grandfather - 'the man from nowhere' - they create a refuge against their family's dark secrets, and against the outside world as it moves towards the First World War. As time passes, their sibling love deepens and crosses into forbidden territory. But they are not as alone in the house as they believe ..."A marvellous novel about forbidden passions and the terrible consequences of thwarted love. Dunmore is one of the finest English writers". ("Daily Mail"). "A hugely involving story which often stops you in your tracks with the beauty of its writing". ("Observer"). "An electrifying and original talent, a writer whose style is characterized by a lyrical, dreamy intensity". ("Guardian"). Helen Dunmore has published eleven novels with Penguin: "Zennor in Darkness", which won the McKitterick Prize; "Burning Bright"; "A Spell of Winter", which won the Orange Prize; "Talking to the Dead"; "Your Blue-Eyed Boy"; "With Your Crooked Heart"; "The Siege", which was shortlisted for the 2001 Whitbread Novel of the Year Award and for the Orange Prize for Fiction 2002; "Mourning Ruby"; "House of Orphan"; "Counting the Stars" and "The Betrayal", which was longlisted for the Man Booker Prize 2010. She is also a poet, children's novelist and short-story writer.
Sklep: Libristo.pl
Sklepy zlokalizowane w miastach: Warszawa, Kraków, Łódź, Wrocław, Poznań, Gdańsk, Szczecin, Bydgoszcz, Lublin, Katowice
Szukaj w sklepach lub całym serwisie
2. Szukaj na wszystkich stronach serwisu
t1=0.083, t2=0, t3=0, t4=0, t=0.083