krainaksiazek deadly little secrets 20090036
- znaleziono 13 produktów w 1 sklepie 38,76 zł
Książki / Literatura obcojęzyczna
From the critically acclaimed writer who Ann Rule has called Oone of the best in the true crime genreO comes the story of a cold-blooded Texas pastor who killed the mother of his children. Original.
Sklep: Libristo.pl 48,20 zł
Książki / Literatura obcojęzyczna
Seven emotionless princesses. Three ghostly sirens. A beautiful, malicious witch haunted by memories. A handsome, self-mutilating prince. Belonging to a race that is mostly animal with little humanity, a world obsessed with beauty where morality holds no sway, a little mermaid escapes to the ocean's surface. Discovering music, a magnificent palace of glass and limestone, and a troubled human prince, she is driven by love to consult the elusive sea-witch who secretly dominates the entire species of merfolk. Upon paying an enormous price for her humanity, the little mermaid begins a new life, uncovering secrets of sexuality and the Immortal Soul. As a deadly virus threatens to contaminate the bloodstreams of the whole merfolk race, the little mermaid must choose between the lives of her people, the man she loves, or herself. A complete reinvention of Hans Christian Andersen's classic fairy tale, this is a magical-realist fable that captures the essence of sacrifice and the price of humanity.
Sklep: Libristo.pl 72,30 zł
Książki / Literatura obcojęzyczna
His captive has issued a most unusual ultimatum . . . He must make love to her. . . Little does he know that giving her what she needs may bind him to her forever . . . Rystani star pilot Xander is willing to use unusual methods, no matter how unorthodox, to save the galaxy from a deadly virus. He's already resorted to kidnapping bio-geneticist Alara Calladar in the hopes that her psi-talent of identifying DNA will help find a cure to save both their worlds. But now his sworn enemy has revealed that her biology requires her to periodically regenerate her cells by making love or she'll die. Really die. Xander is stunned, yet fascinated, by her admission and wonders what other secrets she's keeping. While he has little choice but to agree to trade his life-saving love making for her psi powers, he's determined to keep an emotional distance. No way is he falling for her, a woman from a race who invaded and occupies his home world. Soon their desperate bargain becomes a turbulent but all-consuming passion. Her body isn't just rejuvenating each time they make love, it's adapting to his on a genetic level. Before long she will be unable to make love to any man but Xander. Xander resists becoming her conquest, but not even the dangerous mission can distract him from Alara's appeal. She's just the kind of woman he admires. Intelligent, resourceful, and passionate. If only he trusted her. If only she wasn't the enemy. If only his heart didn't have a mind of its own. When together they must merge their talents to fight the most powerful forces in the galaxy, will trust win out, or will they lose each other forever? The much-awaited sequel to The Challenge and The Dare.
Sklep: Libristo.pl 34,20 zł
Riptide LITTLE BROWN BOOKS GROUP
Książki / Literatura obcojęzyczna
For centuries, treasure hunters have sought the lost horde of the notorious English pirate Edward Ockham. Clues led to the mysterious Water Pit on Ragged Island, Maine-but a curse left behind by the long-dead Ockham seems to be working. Every expedition has failed; the treasure seekers died in gruesome fashions. Now a new expedition has been mounted, using state-of-the-art computer technology and backed by tens of millions of dollars. It will all be worth it, if the treasure estimated to be worth $2 billion can be found. But modern technology, no matter how expensive, may not be enough to overcome the deadly secrets of the Water Pit.
Sklep: Libristo.pl 49,99 zł
Książki / Literatura obcojęzyczna
Horace the Haggis, homeless and hunted, finds refuge among the animals of Acre Valley. But Angus McPhee, chief of the haggis-hunters, and his deadly cat are out to trap him. Can a flower-eating fox, a loyal mouse, a gossipy rook, two magpies on Twitter and the bumbling efforts of the Mole Patrol help Horace escape before he is caught in a net and boiled for dinner? With his bagpipes (which, to the alarm of his new friends he has just begun learning), his trusty hair-gel and his fondness for eating heather, Horace will find a place in any child's heart. Friendly, timid, a little bit greedy and ever so slightly vain, he spends much of the Battle of Nettle Farm with his eyes tight shut, as he and his friends try to escape the clutches of Angus McPhee and The Cat With No Name. "Horace the Haggis" gives children a world of fun, adventure, secrets and unforgettable characters and is both comfortingly timeless and engagingly modern. And in Acre Valley the exploits of Horace and his friends will have you laughing one minute and on the edge of your seat the next. Illustrated by the author's husband and based on ideas from their own children, this is a family book for other families to read together and enjoy.
Sklep: Libristo.pl 147,86 zł
Książki / Literatura obcojęzyczna
All along the eastern seaboard, the American struggle for independence rages. In the British-held southern port of Mobile, Alabama, the conflict brewing is quieter--though no less deadly. The lovely Frenchwoman Lyse Lanier is best friends with the daughter of the British commander. Rafael Gonzalez is a charming young Spanish merchant with a secret mission and a shipment of gold to support General Washington. As their paths cross and their destinies become increasingly tangled, Lyse and Rafael must decide where their true loyalties lie--and somehow keep Lyse's family from being executed as traitors to the British Crown. With spectacular detail that brings the Colonial South alive, Beth White invites readers into a world of intrigue and espionage from a little-known side of the American Revolutionary War. Her richly textured settings and characters delight while fast pacing and closely held secrets will keep readers turning the pages.
Sklep: Libristo.pl 78,98 zł
Książki / Literatura obcojęzyczna
Massachusetts State Investigator Win Garano is given one of his most challenging cases yet when he is asked to investigate the death of a young British woman murdered more than forty years ago. Assumed to be a victim of the Boston Strangler, blind Janie Brolin was raped and left for dead in 1962. With no DNA and sketchy police records, this is a case that will test Garano to his limits. It will take him on a journey through the archives, into the latest innovations in forensic technology, and into partnership with senior officers at London's New Scotland Yard. And as Garano unearths deadly secrets from the past, his hard-nosed boss Monique Lamont is putting both their lives in jeopardy with her lust for power and success. With past and present colliding, the tension mounts with every page...
Sklep: Libristo.pl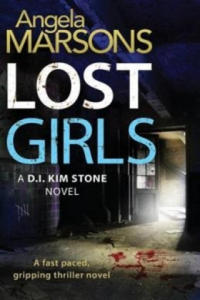 52,60 zł
Książki / Literatura obcojęzyczna
Two girls go missing. Only one will return. The couple that offers the highest amount will see their daughter again. The losing couple will not. Make no mistake. One child will die. When nine-year-old best friends Charlie and Amy disappear, two families are plunged into a living nightmare. A text message confirms the unthinkable; that the girls are the victims of a terrifying kidnapping. And when a second text message pits the two families against each other for the life of their children, the clock starts ticking for D.I. Kim Stone and the squad. Seemingly outwitted at every turn, as they uncover a trail of bodies, Stone realises that these ruthless killers might be the most deadly she has ever faced. And that their chances of bringing the girls home alive, are getting smaller by the hour... Untangling a dark web of secrets from the families' past might hold the key to solving this case. But can Kim stay alive long enough to do so? Or will someone's child pay the ultimate price? The latest utterly addictive thriller from the No.1 bestseller Angela Marsons. Read what reviewers are saying about Angela Marsons 'I don't think I've been so hooked by a new author since the discovery of Mark Edwards or Mark Billingham ... if you finish a crime thriller feeling like you just need to have a lie-down and a cup of tea to get your breath back, then the writer has done their job. Angela Marsons, I still don't have my breath back.' Reading Room with a View 'I absolutely loved it! ... This one is one of the best crime thrillers I've read in a long time, and that includes mainstream authors such as James Patterson! I would seriously put this book in the same league.' Fiona's Book Reviews 'I'm a little bit speechless to be honest at just how incredible this book was... one of the best new crime authors of 2015, maybe even the decade.' Book Addict Shaun 'I have not been so impressed by a debut novel in a long time... this one was a top-notch crime thriller.' Leah Loves 'Angela Marsons is fast becoming THE one to watch in this genre and I would defy anyone not to read and enjoy her writing... This story has everything, it is riveting, emotional. sad and most of all it has a depth that not many novels can claim to have. I highly recommend this one, Simply brilliant.' Postcard Reviews 'I love Kim. I cannot remember a female detective I've loved so much since Kay Scarpetta - a creation of Patricia Cornwall ... Angela Marsons is fast becoming one of my favourite authors.' A Bookseller Blabbering
Sklep: Libristo.pl 72,30 zł
Książki / Literatura obcojęzyczna
"A thriller that grabs readers and doesn't let go, skillfully twisting, turning, and manipulating its plot for maximum impact." Donovan, eBook Reviewer, Midwest Book Review ~~~ Evolved Publishing presents a gripping glimpse of the near future, in which a twisted serial killer finds power in a corrupt political culture. [Thriller, Suspense, Crime, Serial Killer, Vigilante Justice, Psychological, Vengeance] ~~~ When her 19-year-old son Jack miraculously recovers from a serious head trauma, Maggie is sure her luck has changed. But when she's abducted by a shadow from her past - a phantom with dangerous sapphire eyes - it's up to Jack and his younger brother Tom to unravel the mystery and save their mom from a deadly psychological battle. ~ The brothers seek help from their colorful great aunt, who exposes them to a world of nefarious family secrets, explosive government conspiracies, and a series of horrific murders. Together they must navigate a dark underworld full of political subterfuge and class warfare. ~ Yet as they search for their mother, Jack changes-raked by skull splitting headaches and weird visions. How exactly did he recover from his coma, and how does this tie into the psychopath who's abducted their mother? ~ Will Jack and Tom save Maggie before her abductor reaches his shatter point? Does Jack have enough time left? ~~~ 'Shatter Point' is an exciting novel of suspense, action, drama and even a little bit of horror.... It's definitely one of the best novels out there right now." - Next Page Reviews ~~~ "When I reached the last 100 pages no one was going to be able to stop me reading until I knew the ending!" - Olivia's Catastrophe
Sklep: Libristo.pl 69,86 zł
Książki / Literatura obcojęzyczna
The Branch is in shambles, but Anna, Sam, Cas, and Nick can't rest easy. Remnants of the organization lurk unseen and the flashbacks to their old lives are only getting stronger--especially Nick's.Following scattered memories and clues from his Branch file, Nick sets off alone in search of answers and in search of the girl who haunts his dreams. But the sleepy town where she lives in full of secrets and Nick soon learns that uncovering their shared past may have deadly consequences.
Sklep: Libristo.pl 74,26 zł
Książki / Literatura obcojęzyczna
Forget cute fairies in pretty dresses. In the world of Aluvia, most fairies are more like irritable, moody insects. Almost everyone in the world of Aluvia views the fairy keeper mark as a gift, but not fourteen-year-old Sierra. She hates being a fairy keeper, but the birthmark is right there on the back of her neck. It shows everyone she was born with the natural ability to communicate, attract, and even control the tiny fairies whose nectar is amazingly powerful. Fairy nectar can heal people, but it is also a key ingredient in synthesizing Flight, an illegal elixir that produces dreaminess, apathy and hallucinations. She's forced to care for a whole hive of the bee-like beasties by her Flight-dealing, dark alchemist father. Then one morning, Sierra discovers the fairies of her hatch are mysteriously dead. The fairy queen is missing. Her father's Flight operation is halted, and he plans to make up for the lost income by trading her little sister to be an elixir runner for another dark alchemist, a dangerous thug. Desperate to protect her sister, Sierra convinces her father she can retrieve the lost queen and get his operation up and running. The problem? Sierra's queen wasn't the only queen to disappear. They're all gone, every single one, and getting them back will be deadly dangerous. Sierra journeys with her best friend and her worst enemy - assigned by her father to dog her every step - to find the missing queens. Along the way, they learn that more than just her sister's life is at stake if they fail. There are secrets in the Skyclad Mountains where the last wild fairies were seen. The magic Sierra finds there has the power to transform their world, but only if she can first embrace her calling as a fairy keeper.
Sklep: Libristo.pl 160,23 zł
Książki / Literatura obcojęzyczna
* The most complete look yet at the tradition of the noble longsword Written before 1500, Additional Manuscript 39564, Cottonian Titus A XXV, and Harleian MS 3542 on the art and lore of the longsword together represent the entire known surviving martial arts texts of medieval England. Here they are transcribed, translated, and boldly interpreted for the modern student of the medieval combat arts. Authors Heslop and Bradak combine dedicated scholarship with years of rigorous physical training to provide the most complete look yet at the little-known English tradition of the noble longsword. Included are insights into training methods in medieval England; a useful lexicon of terms; a convincing case for a pan-European art of the longsword, linking the techniques and training of the English tradition with the better-known German and Italian traditions; set training forms and the facing of multiple opponents and a separate chapter on the cryptic poem Man Yt Wol, unlocking the mysteries of the "Leichtenauer's verses" of medieval England. This is the deadly art of knights born and made, battle-hardened squires and hired champions fighting to the death in trials by combat, masters of defence, men-at-arms, and mercenaries, robber barons, outlaws, murderous brigands and the private yeoman defending his lifeblood, family, and property. Learn their secrets of steel in Lessons on the English Longsword.
Sklep: Libristo.pl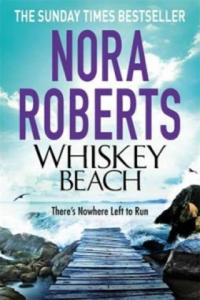 44,94 zł
Książki / Literatura obcojęzyczna
Eli Landon seems to have the perfect life. A beautiful wife, a wonderful house, a dazzling legal career. But when his wife is brutally murdered after confessing to an affair, Eli is named prime suspect. After a year-long ordeal the case is dropped for lack of evidence, but Eli's world is in tatters. Abandoned by his friends, hounded by the media and a detective with a grudge, Eli retreats to the small-town sanctuary of Whiskey Beach. Camping out in his grandmother's atmospheric house by the sea he meets Abra Walsh - compassionate, courageous and hiding secrets of her own. But as Abra and Eli take their first tentative steps towards each other, a deadly enemy is watching them from the shadows. An enemy determined to make sure Eli Landon will never have that 'perfect life' - whatever the cost ...
Sklep: Libristo.pl
Sklepy zlokalizowane w miastach: Warszawa, Kraków, Łódź, Wrocław, Poznań, Gdańsk, Szczecin, Bydgoszcz, Lublin, Katowice
Szukaj w sklepach lub całym serwisie
2. Szukaj na wszystkich stronach serwisu
t1=0.047, t2=0, t3=0, t4=0, t=0.047