krainaksiazek death on demand a mystery 20169957
- znaleziono 8 produktów w 4 sklepach 43,99 zł
Książki Obcojęzyczne>Angielskie>Fiction & related items>Crime & mystery
Tito Ihaka, The Maverick Maori Cop, Dances Through A Minefield Of Police Politics, Old Grudges, Blackmail, And Gangs As He Hunts A Faceless Killer In Auckland.
Sklep: Gigant.pl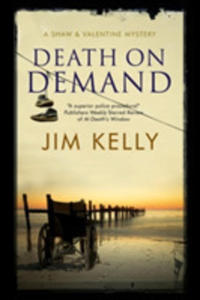 89,99 zł
Książki Obcojęzyczne>Angielskie>Fiction & related items>Crime & mystery
When The Newspapers Turn Up To Cover Ruby Bright's 100th Birthday, They Find Her Seaside Care Home Is A Murder Scene. Someone Spirited Ruby Away By Wheelchair To The Water's Edge And Strangled Her. But Why Kill A Harmless Centurion? As Shaw And Valentine Investigate, It's Clear Ruby Wasn't The First Victim - And Nor Is She The Last.
Sklep: Gigant.pl 75,95 zł
ROZSZERZENIA DO GIER PLANSZOWYCH
PRODUKT DOSTĘPNY JEDYNIE DLA KLIENTÓW ZAGRANICZNYCH. Historia zaczyna się od przechwałek w cichym i spokojnym pubie w Innsmouth. Ale to, co na pierwszy rzut oka wydaje się lekko nieprzyjemną pijacką knajpą, w mgnieniu oka zmienia się w prawdziwy koszmar, po środku którego znajdujesz się Ty i Twoja drużyna! Albo zdołasz rozwiązać tajemnicę, kryjącą się za makabrycznym rytuałem, albo staniesz się ofiarą ich plugawych rytuałów.  
Sklep: AlleDinge 58,95 zł
Gry planszowe > Dodatki do gier > Posiadłość Szaleństwa
It started out as a harmless boast in a quiet Innsmouth pub. But what seemed an unlikely drunken yarn will quickly become a living nightmare, as you and your fellow investigators set out to find the truth behind rumors of ghastly human reanimation! Can you solve the mystery behind these gruesome rituals, or will become their next unholy sacrifice?  
Sklep: Morgad.pl 78,49 zł
Książki / Literatura obcojęzyczna
Source: Wikipedia. Pages: 49. Chapters: The Mysterious Mr. Quin, Partners in Crime, Parker Pyne Investigates, The Listerdale Mystery, The Hound of Death, The Adventure of the Christmas Pudding, Star Over Bethlehem and other stories, The Regatta Mystery, Miss Marple's Final Cases and Two Other Stories, Three Blind Mice and Other Stories, While the Light Lasts and Other Stories, Double Sin and Other Stories, Problem at Pollensa Bay and Other Stories, The Witness for the Prosecution and Other Stories, The Golden Ball and Other Stories, The Harlequin Tea Set, Surprise! Surprise!. Excerpt: The Mysterious Mr. Quin is a short story collection written by Agatha Christie and first published in the UK by William Collins & Sons on April 14 1930 and in the US by Dodd, Mead and Company later in the same year. The UK edition retailed at seven shillings and sixpence (7/6) and the US edition at $2.00. Each chapter or story involves a separate mystery that is solved through the interaction between the characters of the elderly Mr. Satterthwaite and the eponymous Mr. Quin who appears almost magically at the most opportune moments and disappears just as mysteriously. Mr. Satterthwaite is a small, observant man who is able to wrap up each mystery through the careful prodding and apposite questions of Mr. Quin. In Agatha Christie's Autobiography, she claims that Mr. Quin and the diminutive Mr. Satterthwaite became two of her favourite characters. The latter character reappeared in the 1935 novel Three Act Tragedy. Outside of this collection, Mr Quin appeared in two further short stories The Harlequin Tea Set and The Love Detectives which were both included in the 1992 UK collection Problem at Pollensa Bay. In the US, the former story appeared as the title story in the 1997 collection The Harlequin Tea Set and the latter in the earlier 1950 collection Three Blind Mice and Other Stories. It is New Year's Eve and a house party is taking place at a country house called Royston. Mr Satterthwaite is one of the guests. His hosts are Tom Evesham and his wife, Lady Laura. Among the other guests are Sir Richard Conway and Alex Portal and his Australian wife of two years, Eleanor. Mr Satterthwaite finds her intriguing on many counts, not least of which is the question as to why a blonde-haired woman would dye her hair dark when the usual convention is the reverse. The clocks strike midnight and as the older members of the guests gather their chairs round the fire, mention is made of Derek Capel, the previous owner of Royston, who committed suicide ten years previously seemingly
Sklep: Libristo.pl 170,82 zł
Książki / Literatura obcojęzyczna
Quelle: Wikipedia. Seiten: 188. Kapitel: Black Sabbath, Megadeth, Scorpions, Motörhead, W.A.S.P., Nazareth, Accept, Volbeat, Manowar, Darkthrone, Mötley Crüe, Judas Priest, Blue Cheer, Running Wild, Rata Blanca, Twisted Sister, Arija, Grave Digger, Dio, Def Leppard, Dokken, Mercyful Fate, Lizzy Borden, Rage, Timo Rautiainen ja Trio Niskalaukaus, Blue Öyster Cult, Mägo de Oz, Pretty Maids, Danzig, The Melvins, Axxis, Death SS, Black Label Society, Keel, Mezarkabul, Teräsbetoni, L. A. Guns, Sigh, Morgana Lefay, U.D.O., Great White, Saratoga, Magnum, Designer of Death, Trancemission, Warlock, Leatherwolf, The Mystery, Wildside, Mustasch, Thunder, Phenomena, Tarot, Troja, Anvil, Heaven and Hell, Cynic, No Bros, London, Macbeth, Sacred Steel, Regenbogen, Nashville Pussy, Sinner, Beatallica, Viikate, Emerald, Steelwing, Metal Church, Bitch, Metal Inquisitor, Bloodgood, Cockney Rejects, Blaze Bayley, Solemnity, Loudness, Kotiteollisuus, Biest, Non-Fiction, Manilla Road, Custard, Almafuerte, Formel I, Ivory Night, Tang Dynasty, Dream Evil, King Kobra, Zeni Geva, The Carburetors, Hevisaurus, Armored Saint, The Damned Things, Bad News, Sanctuary, Mephisto, Sturm und Drang, Impellitteri, Phantom Blue, Killer, Enforcer, White Spirit, Alcatrazz, Zed Yago, Black Tide, Wizard, The Traceelords, Glenmore, Randalica, Embraze, Heaven s Gate, Valhalla, Sons of Liberty, Pump, Rebel Meets Rebel, Alabama Thunderpussy, Astral Doors, Samhain, Dezperadoz, Steeler, Iron Angel, Stormwind, Paragon, Grand Magus, White Wizzard, Abattoir, Metalucifer, In Solitude, Helicon, Bullet, Noisehunter, Cauldron, Animal, Chastain, Crucified Barbara, Man Raze, Riot, Northern Kings, Machine Men, Spring Autumn, Resorte, Warrior Soul, Sworn Amongst, The Rods, Laaz Rockit, Chrome Division, Mastercastle, Gravestone, Circle II Circle, Empire, Fallout, Audiovision, Ram Jam, V
Sklep: Libristo.pl 43,99 zł
Książki Obcojęzyczne>Angielskie>Fiction & related items>Crime & mystery
Cambridge Is Recovering From The Black Death And Matthew Bartholomew, A Physician, Is In Great Demand. A Series Of Murders Force Him To Divert His Attention From The Community, As He Discovers A Breakaway Sect From The Church Will Stop At Nothing To Overt
Sklep: Gigant.pl 77,35 zł
Książki / Literatura obcojęzyczna
Indias First Astro-Detective Series Join Sonia Samarth and her Stellar Investigations Detective Agency, as they confront a rash of baffling misdeeds plaguing the city of Pune and solve them as only they can, with a unique combination of traditional Indian wisdom, modern-day detection and ancient astrology. After a slow start to the new year, Sonia Samarths crime-solving services are in high demand. There is the bride whose arranged marriage may include murderous in-laws, the theatrical team whose death scene was no act, and the deceptively happy couple whose stars foretell domestic danger. Good thing Sonia has her opinionated assistant Jatin to help, except that even he may be caught up in the unlawful fray. Fortunately, it takes more than a few misguided souls, not to mention a preposterous proposal from the worlds most notorious diamond thief, to rattle this yoga-practicing, astrologically inspired sleuth. MANJIRI PRABHU lives in Pune, India. She has been a filmmaker and television producer for several years and a writer of romances, mystery novels and a non-fiction book on Hindi films. Her book The Cosmic Clues has been optioned to be made into a movie
Sklep: Libristo.pl
Sklepy zlokalizowane w miastach: Warszawa, Kraków, Łódź, Wrocław, Poznań, Gdańsk, Szczecin, Bydgoszcz, Lublin, Katowice
Szukaj w sklepach lub całym serwisie
2. Szukaj na wszystkich stronach serwisu
t1=0.025, t2=0, t3=0, t4=0.018, t=0.025