krainaksiazek death sets sail 20043387
- znaleziono 7 produktów w 3 sklepach 16,92 zł
Książki & Multimedia > Książki
Opis - Książka ta powstała z myślą o spopularyzowaniu wśród dzieci legend, gawęd i podań powtarzanych na terenie Górnego Śląska od wieków. Opowieści te odzwierciedlają ludową mądrość Ślązaków, uczą morałem, pokazują ważne w życiu wartości. Współczesne opracowane literackie i piękne ilustracje sprawiają, że Legendy śląskie zainteresują każde dziecko. Nazwa - Legendy śląskie Autor - Sylwia Chmiel Oprawa - Twarda Wydawca - Damidos Kod ISBN - 9788378554479 Kod EAN - 9788378554479 Wydanie - 1 Rok wydania - 2014 Język - polski Seria wydawnicza - Damidos bajki Format - 23.5x30.0cm Ilość stron - 64 Podatek VAT - 5% Premiera - 2014-04-29
Sklep: InBook.pl 159,99 zł
Muzyka>Filmowa
1. The Seer Gives Lagertha A Prophecy 2. The Vikings Set Sail For Wessex 3. Kwenthrith's Story 4. Vikings Battle Brihtwulf's Army 5. Torstein Loses An Arm 6. A Cloaked Figure Arrives In Kattegat 7. Battle For The Hill Of The Ash 8. Judith 9. Sacrifice For The Corps 10. Siggy Sacrifices Herself To Save Ragnar's Son 11. Rollo Learns Of Siggy's Sacrifice 12. Bjorn Fights To Save Rollo 13. Helga Tells Floki Of Harbard 14. The Seer Laughs At Rollo's Misery 15. Aethelwulf Attacks 16. Ragnar Kills The Messenger 101. Athelstan Is Reborn 102. Floki Appears To Kill Athelstan 103. Ragnar Honors Athelstan's Death 104. Ecbert Sends Athelwulf On A Journey 105. Aethelwulf Meets With Kwenthrith 106. Floki's Siege Towers Revealed 107. Vikings Reach Paris 108. The Attack Begins 109. The Walls Are Breached; The French Lose Hope 110. Ragnar Knows Floki Killed Athelstan 111. Vikings Attempt To Rip Open Gates 112. Floki Melt Down 113. Floki Curses The Gods 114. Kalf & Lagertha Make A Pact 115. Lagertha's Stealth Assault On The Bridge 116. The French Counter Attack 117. Ragnar Hallucinates, Sees Gods 118. The Vikings Are Told Of Ragnar's Death 119. Vikings Attack Paris 120. Ragnar Sets Sail For Home
Sklep: Gigant.pl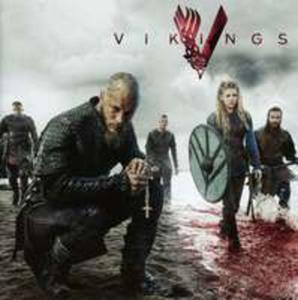 29,99 zł
Muzyka>Filmowa
1. The Seer Gives Lagertha A Prophecy 2. The Vikings Set Sail For Wessex 3. Kwenthrith's Story 4. Vikings Battle Brihtwulf's Army 5. Torstein Loses An Arm 6. A Cloaked Figure Arrives In Kattegat 7. Battle For The Hill Of The Ash 8. Judith 9. Sacrifice For The Corps 10. Siggy Sacrifices Herself To Save Ragnar's Songs 11. Rollo Learns Of Siggy's Sacrifice 12. Bjorn Fights To Save Rollo 13. Helga Tells Floki Of Harbard 14. The Seer Laughs At Rollo's Misery 15. Aethelwulf Attacks 16. Ragnar Kills The Messenger 17. Athelstan Is Reborn 18. Floki Appears To Kill Athelstan 19. Ragnar Honors Athelstan's Death 20. Ecbert Sends Aethelwulf On A Journey 21. Aethelwulf Meets With Kwenthrith 22. Floki's Siege Towers Revealed 23. Vikings Reach Paris 24. The Attack Begins 25. The Walls Are Breached; The French Lose Hope 26. Ragnar Knows Floki Killed Athelstan 27. Vikings Attempt To Rip Open Gates 28. Floki Melt Down 29. Floki Curses The Gods 30. Kalf & Lagertha Make A Pact 31. Lagertha's Stealth Assault On The Bridge 32. The French Counter Attack 33. Ragnar Hallucinates, Sees Gods 34. The Vikings Are Told Of Ragnar's Death 35. Vikings Attack Paris 36. Ragnar Sets Sail For Home
Sklep: Gigant.pl 209,99 zł
Muzyka>Filmowa
1. The Seer Gives Lagertha A Prophecy 2. The Vikings Set Sail For Wessex 3. Kwenthrith's Story 4. Vikings Battle Brihtwulf's Army 5. Torstein Loses An Arm 6. A Cloaked Figure Arrives In Kattegat 7. Battle For The Hill Of The Ash 8. Athelstan Is Reborn 9. Floki Appears To Kill Athelstan 10. Ragnar Honors Athelstan's Death 11. Ecbert Sends Athelwulf On A Journey 12. Aethelwulf Meets With Kwenthrith 13. Floki's Siege Towers Revealed 14. Vikings Reach Paris 15. The Attack Begins 16. The Walls Are Breached; The French Lose Hope 17. Ragnar Knows Floki Killed Athelstan 101. Judith 102. Sacrifice For The Corps 103. Siggy Sacrifices Herself To Save Ragnar's Sons 104. Rollo Learns Of Siggy's Sacrifice 105. Bjorn Fights To Save Rollo 106. Helga Tells Floki Of Harbard 107. The Seer Laughs At Rollo's Misery 108. Aethelwulf Attacks 109. Ragnar Kills The Messenger 110. Vikings Attempt To Rip Open Gates 111. Floki Melt Down 112. Floki Curses The Gods 113. Kalf & Lagertha Make A Pact 114. Lagertha's Stealth Assault On The Bridge 115. The French Counter Attack 116. Ragnar Hallucinates, Sees Gods 117. The Vikings Are Told Of Ragnar's Death 118. Vikings Attack Paris 119. Ragnar Sets Sail For Home
Sklep: Gigant.pl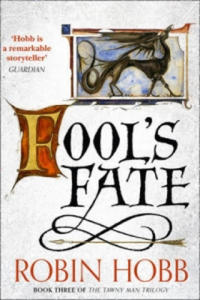 50,40 zł
Książki / Literatura obcojęzyczna
The triumphant conclusion to our three thrilling fantasy series, from the author of the bestselling Farseer and Liveship traders trilogies. The moving end to the tale of the Farseers, in which kingdoms must stand or fall on the beat of a dragon's wings, or a Fool's heart. A small and sadly untried coterie - the old assassin Chade, the serving-boy Thick, Prince Dutiful, and his reluctant Skillmaster, Fitz - sail towards the distant island of Aslevjal. There they must fulfil the Narcheska's challenge to her betrothed: to lay the head of the dragon Icefyre, whom legends tell is buried there deep beneath the ice, upon her hearth. Only with the completion of this quest can the marriage proceed, and the resulting alliance signal an end to war between the two kingdoms. It is not a happy ship: tensions between the folk of the Six Duchies and their traditional enemies, the Outislanders, lie just beneath the surface. Thick is constantly ill, and his random but powerful Skilling has taken on a dark and menacing tone, while Chade's fascination with the Skill is growing to the point of obsession. Having ensured that his beloved friend the Fool is safely left behind in Buckkeep, Fitz is guilt-stricken; but he is determined to keep his fate at bay, since prophecy foretells the Fool's death if he ever sets foot on the isle of the black dragon. But as their ship draws in towards Aslevjal a lone figure awaits them...
Sklep: Libristo.pl 87,49 zł
Muzyka>Rock>Heavy / Hard
1. The Ashes Of A Life 2. Until My Heart Corrodes With Rust 3. Into The Cold 4. Grace Of The Grave 5. When The Sun Sets For The Last Time 6. Blank Stare, Dead Eyes 7. Dawn 8. Through The Rusted Gates Of Time 9. Gone 101. A Reflection In Dust 102. The Frozen Soil 103. The Death Of Hope
Sklep: Gigant.pl 45,28 zł
Książki / Literatura obcojęzyczna
Singapore in the 1860s is exotic and yet terrifying for a penniless Englishwoman, alone and vulnerable after her mother's death. Too pretty to obtain a governess's job, Isabella Saunders accepts an offer from Singapore merchant Mr Lee to teach him English and live with his family. Two years later Bram Deagan arrives in Singapore, determined to make his fortune as a trader. Mr Lee sees a way to expand his business connections and persuades Isabella to marry Bram. Bravely, she sets sail for a new land and life. But the past casts a long shadow and together she and Bram face unexpected dangers. Will they find a way to achieve their dreams of a successful trading business? And will their marriage turn out to be more of a love match than they ever could have dreamed?
Sklep: Libristo.pl
Sklepy zlokalizowane w miastach: Warszawa, Kraków, Łódź, Wrocław, Poznań, Gdańsk, Szczecin, Bydgoszcz, Lublin, Katowice
Szukaj w sklepach lub całym serwisie
2. Szukaj na wszystkich stronach serwisu
t1=0.046, t2=0, t3=0, t4=0.027, t=0.046