krainaksiazek demons love and hope 20091274
- znaleziono 6 produktów w 1 sklepie 44,36 zł
Książki / Literatura obcojęzyczna
The popular series from the New York Times bestselling author and creator of the beloved McCarthys of Gansett Island and thrilling Fatal series continues with the fifth Green Mountain novel. Fans of Bella Andre, Jill Shalvis and Kristen Proby will fall madly in love with the Abbotts and the heartwarming, sexy romance of the Green Mountain series. Ella Abbott has long been secretly in love with Gavin Guthrie. A few recent encounters have only added to her infatuation, especially the kiss they shared at her sister's wedding. It doesn't matter to Ella that Gavin is in a bad place. He says there's no hope for a future with him, that he has nothing to offer her. But all Ella cares about is the love she feels. It's been seven long years since Gavin lost his brother. He'd kept himself under control and moving forward until his brother's beloved dog died and his brother's widow re-married. Since then, he's been drinking, fighting, and even getting arrested. It seems the only time his demons leave him alone is when Ella is around. Gavin knows it wouldn't be fair to drag Ella into his darkness, but when she inserts herself into his life, what choice does he have but to allow her to soothe his aching heart? Bonus Content: Featuring a brand new Green Mountain short story! ***Published in the USA as It's Only Love*** For more spellbinding Green Mountain romance, check out Your Love Is All I Need, Let Me Hold Your Hand, I Saw You Standing There and And I Love You.
Sklep: Libristo.pl 64,15 zł
Książki / Literatura obcojęzyczna
Samuel Johnson is not in a happy place.He is dating the wrong girl, demons are occupying his spare room, and the town in which he lives appears to be cursed. But there is some good news on the horizon. After years of neglect, the grand old building that once housed Wreckit & Sons is about to reopen as the greatest toyshop that Biddlecombe has ever seen, and Samuel and his faithful dachshund Boswell are to be guests of honour at the big event. A splendid time will be had by all, as long as they can ignore the sinister statue that keeps moving around the town, the Shadows that are slowly blocking out the stars, the murderous Christmas elves, and the fact that somewhere in Biddlecombe a rotten black heart is beating a rhythm of revenge. A trap has been set. The Earth is doomed. The last hope for humanity lies with one young boy and the girl who's secretly in love with him. Oh, and a dog, two demons, four dwarfs and a very polite monster.
Sklep: Libristo.pl 48,81 zł
Książki / Literatura obcojęzyczna
'A tremendously evocative debut, a love story set in the hallucinatory atmosphere of war, described in translucent, fever-dream prose.' Janice Y. K. Lee, author of the bestselling 'The Piano Teacher' Winner of the James Tait Black Memorial Prize for Fiction, 2011 As the fall of Saigon begins in 1975, two lovers make their way through the streets, desperately trying to catch one of the last planes out. Helen Adams, a photojournalist, must leave behind a war she has become addicted to and a devastated country she loves. Linh, her lover, must grapple with his own conflicting loyalties to the woman from whom he can't bear to be parted, and his country. Betrayal and self-sacrifice follows, echoing the pattern of their relationship over the war-torn years, beginning in the splendour of Angkor Wat, with jaded, cynical, larger-than-life war correspondent Sam Darrow, Helen's greatest love and fiercest competitor, driven by demons she can only hope to vanquish. Spurred on by the need to get the truth of the war out to an international audience, and the immense personal cost this carries, Sam and Helen's passionate and all-consuming love is tested to the limit. This mesmerising novel carries resonance across contemporary wars with questions of love and heart-breaking betrayal interwoven with the conflict.
Sklep: Libristo.pl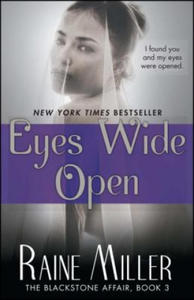 49,31 zł
Książki / Literatura obcojęzyczna
The third part in The Blackstone Affair series: A love on the brink of being destroyed. The fight of a lifetime to keep it alive. Big surprises are on the horizon for Ethan and Brynne as they struggle to adjust to what life has thrown at them. Demons from the past are threatening to destroy the passionate bond they've forged despite their vow that nothing will ever keep them apart. A truly devastating loss coupled with the promise of a new hope opens their eyes to what is most important, but is it possible for the lovers to move on from the painful histories that continue to haunt them? A stalker is still lurking in the shadows, plotting evil amidst the distraction of the 2012 Olympic games in London. Brynne and Ethan are on the cusp of losing everything as the stakes rise. Will they yield to circumstances beyond their control or will they give every ounce of fight they have left to save each other and win the ultimate prize of a life together? Eyes Wide Open is a passion-wrought story that shows us what pure love can achieve when tested and what the heart can accomplish despite danger and adversity.
Sklep: Libristo.pl 39,41 zł
Książki / Literatura obcojęzyczna
Thirteen-year-old Dan hasn't returned home and his parents don't know whether he's run away, been kidnapped - or something worse. For one family the world as they know it is about to fall apart. At first Dan is sleeping rough, revelling in his independence. But with every passing day, his world is becoming darker and more frightening. A hundred thousand children run away each year. Most come back. But will Dan? Dan's mother, Eve, a drama teacher, can't focus; his father, Max, only knows how to flee his own demons; and his aunt, Martha, while trained to control difficult situations as a prison officer, struggles to hold it all together. Dan's story is told against a grown-up drama of love and shifting loyalties and two sisters who were best friends until Max came between them. Gradually, all three begin to recognise just how badly they have failed the missing boy. Rachel Billington has written a tense and emotional novel about the day-to-day existence of a contemporary family living through their worst nightmare. Anguish and hope move across the pages until the final breath-taking denouement.
Sklep: Libristo.pl 34,47 zł
Książki / Literatura obcojęzyczna
Twenty years have passed since the end of Apartheid in South Africa. Eighteen-year-old Grace and her friends Brett and Louisa are ;Born Frees;: children born after the election of Nelson Mandela, and whose lives are supposedly full of hope and endless opportunities.§§But beneath the happy surface of the Born Free spirit, all is not as it seems. Haunted by her personal demons, Grace is falling deeper into the dark. On holiday in a fishing village on the South African coast, Grace meets Spook, a charismatic and charming surfer, who has spent most of his life running away from the responsibilities of the real world - just like Grace.§§Their attraction is instant, but Grace quickly realises Spook is hiding something. And when he disappears, leaving Grace behind with a bag full of money and increasingly violent threats from a gang of mysterious men, she will have to work out just who to trust - herself, or her first love...
Sklep: Libristo.pl
Sklepy zlokalizowane w miastach: Warszawa, Kraków, Łódź, Wrocław, Poznań, Gdańsk, Szczecin, Bydgoszcz, Lublin, Katowice
Szukaj w sklepach lub całym serwisie
2. Szukaj na wszystkich stronach serwisu
t1=0.029, t2=0, t3=0, t4=0, t=0.029