krainaksiazek developing lean leaders at all levels a practical guide korean 20111833
- znaleziono 6 produktów w 2 sklepach 126,82 zł
Książki
Sklep: KrainaKsiazek.pl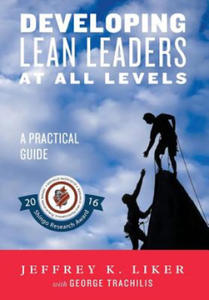 180,08 zł
Książki / Literatura obcojęzyczna
2016 winner of the SHINGO RESEARCH AND PROFESSIONAL PUBLICATION AWARD, Developing Lean Leaders at all Levels: A Practical Guide is a management Must Read. The Lean Leadership Development Model (LLDM) presented in this book is intuitive, and aligns well with accepted principles of operational excellence. It expands significantly on the elements of Lean, structuring them in a more specific way that can be operationalized by lean practitioners. You can learn everything you want about the Toyota Way; you can implement the tools they have created, but if you do not have the behaviors established within your culture, it will not be successful for long-term sustainment of operational excellence. Leadership must walk the talk of true north in every aspect of the Lean Leadership Development Model (LLDM) as conveyed in detail by Dr. Liker in this recent Shingo Award Winning Book. In Developing Lean Leaders at all Levels we build on the theory in the original book, The Toyota Way to Lean Leadership, and answer the questions: How can I apply this in my organization? What concrete actions can I take to begin the journey of becoming a lean leader? How can I spread this learning to all parts of the organization? What critical tools are needed to turn the theory to practice? This book adds examples from over twenty years of experience by Dr. Liker in working with companies outside of Toyota. The book treats you as a student who will be actively engaged in developing lean leader skills as you read. It acts as a tutorial for beginning the journey!
Sklep: Libristo.pl 244,06 zł
Książki / Literatura obcojęzyczna
"Companies have been implementing large agile projects for a number of years, but the 'stigma' of 'agile only works for small projects' continues to be a frequent barrier for newcomers and a rallying cry for agile critics. What has been missing from the agile literature is a solid, practical book on the specifics of developing large projects in an agile way. Dean Leffingwell's book Scaling Software Agility fills this gap admirably. It offers a practical guide to large project issues such as architecture, requirements development, multi-level release planning, and team organization. Leffingwell's book is a necessary guide for large projects and large organizations making the transition to agile development." -Jim Highsmith, director, Agile Practice, Cutter Consortium, author of Agile Project Management"There's tension between building software fast and delivering software that lasts, between being ultra-responsive to changes in the market and maintaining a degree of stability. In his latest work, Scaling Software Agility, Dean Leffingwell shows how to achieve a pragmatic balance among these forces. Leffingwell's observations of the problem, his advice on the solution, and his description of the resulting best practices come from experience: he's been there, done that, and has seen what's worked." -Grady Booch, IBM Fellow Agile development practices, while still controversial in some circles, offer undeniable benefits: faster time to market, better responsiveness to changing customer requirements, and higher quality. However, agile practices have been defined and recommended primarily to small teams. In Scaling Software Agility, Dean Leffingwell describes how agile methods can be applied to enterprise-class development. * Part I provides an overview of the most common and effective agile methods. * Part II describes seven best practices of agility that natively scale to the enterprise level. * Part III describes an additional set of seven organizational capabilities that companies can master to achieve the full benefits of software agility on an enterprise scale. This book is invaluable to software developers, testers and QA personnel, managers and team leads, as well as to executives of software organizations whose objective is to increase the quality and productivity of the software development process but who are faced with all the challenges of developing software on an enterprise scale. Foreword Preface Acknowledgments About the Author Part I: Overview of Software Agility Chapter 1: Introduction to Agile Methods Chapter 2: Why the Waterfall Model Doesn't Work Chapter 3: The Essence of XP Chapter 4: The Essence of Scrum Chapter 5: The Essence of RUP Chapter 6: Lean Software, DSDM, and FDD Chapter 7: The Essence of Agile Chapter 8: The Challenge of Scaling Agile Part II: Seven Agile Team Practices That Scale Chapter 9: The Define/Build/Test Component Team Chapter 10: Two Levels of Planning and Tracking Chapter 11: Mastering the Iteration Chapter 12: Smaller, More Frequent Releases Chapter 13: Concurrent Testing Chapter 14: Continuous Integration Chapter 15: Regular Reflection and Adaptation Part III: Creating the Agile Enterprise Chapter 16: Intentional Architecture Chapter 17: Lean Requirements at Scale: Vision, Roadmap, and Just-in-Time Elaboration Chapter 18: Systems of Systems and the Agile Release Train Chapter 19: Managing Highly Distributed Development Chapter 20: Impact on Customers and Operations Chapter 21: Changing the Organization Chapter 22: Measuring Business Performance Conclusion: Agility Works at Scale Bibliography Index
Sklep: Libristo.pl 128,30 zł
Książki / Literatura obcojęzyczna
Find your company's unique innovation style, and nurture it into a powerful competitive advantage§§Praised by business leaders worldwide, Agile Innovation is the authoritative guide to survival and success in today's "innovate-or-die" business world. This revolutionary approach combines the best of Agile with the world's leading methods of Innovation to present a crisp, articulate, and proven system for developing the breakthrough capabilities every organization must master to thrive today and tomorrow.§§You already know that effective innovation doesn't happen by accident--it is achieved by careful design. Agile Innovation addresses the three critical drivers of innovation success: accelerating the innovation process; reducing the risks inherent in innovation; and engaging your entire organization and your broader ecosystem in the innovation effort.§§The key frameworks described here build on the proven success of Agile to provide a comprehensive and customizable Innovation Master Plan approach to sustained innovation improvement in the five critical performance areas: strategy, portfolio, process, culture and infrastructure.§§Major topics include: the power of Agile in the innovation process, how to overcome innovation risk, the best tools to evoke engagement and collaboration, branding as an integral element of innovation, and the best leadership skills and practices that create the special environment that enables transformative growth. Readers will learn specifically how to create better ideas, develop them more efficiently, and work together more profitably and effectively to achieve breakthroughs.§§The insights offered in this book are highlighted in 11 detailed case studies illustrating the world's best innovation practices at Wells Fargo, Nike, Volvo, Netflix, Southwest Airlines, NASA,The New York Times, and others, in dozens of specific business examples, in two dozen powerful and unique techniques and methods, and a full set of implementation guidelines to put these insights into practice.§§Key Insights:§Understand how to implement the many ways that innovation efforts can be accelerated to achieve even greater competitive advantage§Learn to create a culture of innovation, greater engagement, and rich collaboration throughout your organization§Discover how to reduce risk and accelerate learning§Implement your own unique plan to enhance collaborative innovation, from leadership through operations§Integrate key agility principles into your strategic planning decisions for sustained improvement§Explore dramatic new approaches to open innovation that optimize large scale innovation§Apply the latest and best technology tools to enhance innovation, reduce risk, and promote broad participation.§§This is a must read book, a practical guide for fostering a culture of innovation, nurturing creativity, and efficiently developing the ideas that drive strategic growth.§§And since innovation is not imitation, you know that copying the ideas and strategies of other successful organizations will not produce the desired outcomes. Hence, all leaders must develop their own way of innovating and nurture the right style of collaborating for their own organization. This book will guide you to find your own unique pathways to success.§§Blaze your own trail to the high levels of innovativeness and organizational agility by learning from the expert guidance and practical, actionable advice offered throughout this important book.
Sklep: Libristo.pl 479,55 zł
Książki / Literatura obcojęzyczna
Drive to provide high value healthcare has created a field of medical quality improvement and safety. A Quality Improvement (QI) project would often aim in translate medical evidence (e.g. hand hygiene saves lives) into clinical practice (e.g. actually washing your hands before you see the patient, suffice it to say that not all hospitals are able to report 100% compliance with hand-hygiene). All doctoral residents in the United States must now satisfy a new requirement from the American College of Graduate Medical Education that they participate in a QI initiative. However, few departments are equipped to help their residents develop and implement a QI initiative. Resident's Handbook is a short, not fussy, and practical introduction to developing a QI initiative. Meant not only for residents seeking to jump-start a QI initiative but also for attending physicians looking to improve their clinical practice, residency program directors and even medical students already eyeing what residency training holds for them; the book introduces and explains the basic tools needed to conduct a QI project. It provides numerous real-life examples of QI projects by the residents, fellows and attendings who designed them, who discuss their successes and failures as well as the specific tools they used. Several chapters provide a more senior perspective on resident involvement in QI projects and feature contributions from several QI leaders, a hospital administration VP and a residency program director. Though originally designed with physicians in mind, the book will also be helpful for physician assistants, nurses, physical, occupational and speech language pathology therapists, as well as students in these disciplines. Since no QI intervention is likely to be successful if attempted in isolation more non-physician clinicians are joining the ranks of quality and safety leadership. Therefore several non-physician clinician led initiatives included in the manuscript constitute an integral part of this book. The book serves as a short introduction to the field of medical quality improvement and safety emphasizing the practical pointers of how to actually implement a project from its inception to publication. To our knowledge this is the first concise do-it-yourself publication of its kind. Some of the topics covered include: how to perform an efficient literature search, how to get published, how to scope a project, how to generate improvement ideas, effective communication, team, project management and basic quality improvement tools like PDCA, DMAIC, Lean, Six Sigma, human factors, medical informatics etc.. Although no substitute for the services of a trained clinical statistician, chapters on statistics and critical assessment of the medical literature familiarizes residents with basic statistical methodologies, clinical trials and evidence based medicine (EBM). Since no QI project is complete without providing evidence for post-intervention improvement we provide a short introduction to the free statistical language R, which helps residents independently run basic statistical calculations. Because much of QI involves assessment of subjective human experiences, there is also a chapter on how to write surveys. Resident's Handbook of Medical Quality and Safety is not an exhaustive QI textbook but rather a hands-on pocket guide to supplement formal training by other means.§
Sklep: Libristo.pl 190,63 zł
War for Talent Harvard Business School Publis
Książki / Literatura obcojęzyczna
In 1997, a groundbreaking McKinsey study exposed the "war for talent" as a strategic business challenge and a critical driver of corporate performance. Then, when the dot-com bubble burst and the economy cooled, many assumed the war for talent was over. It's not. Now the authors of the original study reveal that, because of enduring economic and social forces, the war for talent will persist for the next two decades. McKinsey&Company consultants Ed Michaels, Helen Handfield-Jones, and Beth Axelrod argue that winning the war for leadership talent is about much more than frenzied recruiting tactics. It's about the timeless principles of attracting, developing, and retaining highly talented managers-applied in bold new ways. And it's about recognizing the strategic importance of human capital because of the enormous value that better talent creates. Fortified by five years of in-depth research on how companies manage leadership talent-including surveys of 13,000 executives at more than 120 companies and case studies of 27 leading companies-the authors propose a fundamentally new approach to talent management. They describe how to:§§ Create a winning EVP (employee value proposition) that will make your company uniquely attractive to talent§§ Move beyond recruiting hype to build a long-term recruiting strategy§§ Use job experiences, coaching, and mentoring to cultivate the potential in managers§§ Strengthen your talent pool by investing in A players, developing B players, and acting decisively on C players Central to this approach is a pervasivetalent mindset-a deep conviction shared by leaders throughout the company that competitive advantage comes from having better talent at all levels. Using practical examples from companies such as GE, The Home Depot, PerkinElmer, Amgen, and Enron, the authors outline five imperatives that every leader-from CEO to unit manager-must act on to build a stronger talent pool. Written by recognized authorities on the topic, this is the definitive strategic guide on how to win the war for talent. §
Sklep: Libristo.pl
Sklepy zlokalizowane w miastach: Warszawa, Kraków, Łódź, Wrocław, Poznań, Gdańsk, Szczecin, Bydgoszcz, Lublin, Katowice
Szukaj w sklepach lub całym serwisie
2. Szukaj na wszystkich stronach serwisu
t1=0.072, t2=0, t3=0, t4=0, t=0.072