krainaksiazek discover new york city destination relaxation 20169574
- znaleziono 7 produktów w 2 sklepach 38,83 zł
Książki / Literatura obcojęzyczna
Experience all of New York's attractions with this up-to-date, authoritative guide, packed with Insider Tips. Most holidaymakers want to have fun and feel relaxed from the moment they arrive at their holiday destination - that's what Marco Polo Guides are all about. Discover great hotels and restaurants, the city's trendiest places and night spots, and also get tips on what to do with a limited budget, shopping and ideas for travel with kids. Also contains: the Perfect Day, Festivals & Events, Travel Tips, Links, Blogs, Apps & more, and a comprehensive index. New York is the symbol of the American dream: a giant, busy, exciting metropolis. But if you want to understand its attraction you have to experience it yourself first hand - that perpetual hum, the honking of horns and sirens, in short: the New York feeling. With MARCO POLO New York you will feel the city's creative energy, the excitement, the very special atmosphere created by its skyscrapers and street canyons. This practical, pocket-sized guide shows you everything that the City that Never Sleeps has to offer, as the Insider Tips reveal where you can discover the secrets of Grand Central Station and why you might visit the Polish National Home. The Best Of pages highlight unique aspects of New York, recommend places to go for free even in the most expensive city of the world, and have tips for rainy days and where you can relax and chill out. On top of that it tells you What's Hot in the Big Apple - such as roving gourmet food trucks and events in the city's parks. The extensive City Walks through Chinatown and Little Italy, Downtown and along Fifth Avenue demonstrate that no other city is as easy to explore on foot. Last but not least the Dos and Don'ts point out some of the things you need to be aware of and watch out for when visiting the city. MARCO POLO New York provides comprehensive coverage of the city. To help you find your way around there's a detailed street atlas inside, a useful map of the Subway in the backcover, plus a handy folding pull-out map.
Sklep: Libristo.pl 153,67 zł
Książki / Literatura obcojęzyczna
Need to get out? There are many exciting cities in the United States to drive and fly to, so read on and choose your next vacation destination! Read about these captivating cities and all they have to offer with beauty, entertainment, theater, sports, recreation, relaxation, and more. Choose among cities such as San Francisco, Seattle, New York City, Nashville, Orlando, and many more!Project Webster represents a new publishing paradigm, allowing disparate content sources to be curated into cohesive, relevant, and informative books. To date, this content has been curated from Wikipedia articles and images under Creative Commons licensing, although as Project Webster continues to increase in scope and dimension, more licensed and public domain content is being added. We believe books such as this represent a new and exciting lexicon in the sharing of human knowledge.
Sklep: Libristo.pl 71,36 zł
Książki / Literatura obcojęzyczna
Lonely Planet: The world's leading travel guide publisher Lonely Planet Best of Rome is your passport to the most relevant, up-to-date advice on what to see and skip, and what hidden discoveries await you. Imagine the roar of the crowds in the Colosseum, crane your neck at the Sistine Chapel, and sample every single flavour of pizza and gelato the city offers, all with your trusted travel companion. Discover the best of Rome and begin your journey now! Inside Lonely Planet's Best of Rome Travel Guide:Zoom-in maps and images Inbuilt dictionary for quick referencing Full-color maps and images throughout Highlights and itineraries help you tailor your trip to your personal needs and interests Insider tips to save time and money and get around like a local, avoiding crowds and trouble spots Essential info at your fingertips - hours of operation, phone numbers, websites, transit tips, prices Honest reviews for all budgets - eating, sleeping, sight-seeing, going out, shopping, hidden gems that most guidebooks miss Cultural insights give you a richer, more rewarding travel experience - food & drink, art, architecture, history, politics, music & nightlife. Free, convenient pull-out Rome map (included in print version), plus over 37 color maps Covers Ancient Rome, Centro Storico, Tridente, Trevi, Quirinale, Vatican City, Borgo, Prati, Trastevere, Gianicolo, Monti, Esquilino, San Lorenzo, San Giovanni, Testaccio, Villa Borghese, and moreThe Perfect Choice: Lonely Planet's Best of Rome , our easy-to-use guide, filled with inspiring and colorful photos, focuses on Rome's most popular attractions for those looking for the best of the best.Looking for a comprehensive guide that recommends both popular and offbeat experiences and extensively covers all of the city's neighborhoods? Check out Lonely Planet's Romeguide. Or check out Pocket Rome, a handy-sized guide focused on the can't-miss sights for a quick trip. Looking for more extensive coverage? Check out Lonely Planet's Italy guide for a comprehensive look at all Italy has to offer, or Best of Italy, a photo-rich guide to Italy's most popular attractions.About Lonely Planet: Since 1973, Lonely Planet has become the world's leading travel media company with guidebooks to every destination, an award-winning website, mobile and digital travel products, and a dedicated traveller community. Lonely Planet covers must-see spots but also enables curious travellers to get off beaten paths to understand more of the culture of the places in which they find themselves. The world awaits! Lonely Planet guides have won the TripAdvisor Traveler's Choice Award in 2012, 2013, 2014, 2015, and 2016. 'Lonely Planet. It's on everyone's bookshelves; it's in every traveller's hands. It's on mobile phones. It's on the Internet. It's everywhere, and it's telling entire generations of people how to travel the world.' -- Fairfax Media 'Lonely Planet guides are, quite simply, like no other.' - New York Times
Sklep: Libristo.pl 71,36 zł
Książki / Literatura obcojęzyczna
Lonely Planet: The world's leading travel guide publisher Lonely Planet Best of London is your passport to the most relevant, up-to-date advice on what to see and skip, and what hidden discoveries await you. Gallery hop along the Thames, explore dark history and glittering crown jewels in the Tower of London, and sample real ale in historic pubs, all with your trusted travel companion. Discover the best of London and begin your journey now! Inside Lonely Planet's Best of London Travel Guide:Zoom-in maps and images Inbuilt dictionary for quick referencing Full-color maps and images throughout Highlights and itineraries help you tailor your trip to your personal needs and interests Insider tips to save time and money and get around like a local, avoiding crowds and trouble spots Essential info at your fingertips - hours of operation, phone numbers, websites, transit tips, prices Honest reviews for all budgets - eating, sleeping, sight-seeing, going out, shopping, hidden gems that most guidebooks miss Cultural insights give you a richer, more rewarding travel experience - history, art, music, architecture, food & drink, literature, politics. Free, convenient pull-out London map (included in print version), plus over 39 color maps Covers Westminster, the West End, the City, the South Bank, Camden, Islington, Notting Hill, Kensington, Clerkenwell, Shoreditch & Spitalfields, East London, and moreThe Perfect Choice: Lonely Planet's Best of London, our easy-to-use guide, filled with inspiring and colorful photos, focuses on London's most popular attractions for those looking for the best of the best.Looking for a comprehensive guide that recommends both popular and offbeat experiences and extensively covers all of the city's neighborhoods? Check out Lonely Planet's Londonguide. Or check out Pocket London, a handy-sized guide focused on the can't-miss sights for a quick trip. Looking for more extensive coverage? Check out Lonely Planet's Great Britain andEngland guides for a comprehensive look at all England has to offer.About Lonely Planet: Since 1973, Lonely Planet has become the world's leading travel media company with guidebooks to every destination, an award-winning website, mobile and digital travel products, and a dedicated traveller community. Lonely Planet covers must-see spots but also enables curious travellers to get off beaten paths to understand more of the culture of the places in which they find themselves. The world awaits! Lonely Planet guides have won the TripAdvisor Traveler's Choice Award in 2012, 2013, 2014, 2015, and 2016. 'Lonely Planet. It's on everyone's bookshelves; it's in every traveller's hands. It's on mobile phones. It's on the Internet. It's everywhere, and it's telling entire generations of people how to travel the world.' -- Fairfax Media 'Lonely Planet guides are, quite simply, like no other.' - New York Times
Sklep: Libristo.pl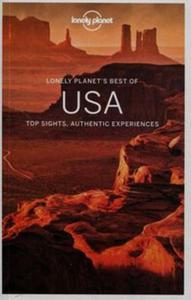 88,10 zł
AmerykaPrzewodniki turystyczne
Lonely Planet?s Best of USA is your passport to the most relevant, up-to-date advice on what to see and skip, and what hidden discoveries await you.Be awed by the Grand Canyon, revel in the glitz and glamour of New York City, or eat your way through the diverse cuisines of New Orleans; all with your trusted travel companion. Discover the best of the USA and begin your journey now! Inside Lonely Planet?s Best of USA: Full-color images throughout Highlights and itineraries help you tailor your trip to your personal needs and interests Insider tips to save time and money and get around like a local, avoiding crowds and trouble spots Essential info at your fingertips - hours of operation, phone numbers, websites, transit tips, prices Honest reviews for all budgets - eating, sight-seeing, going out, shopping, hidden gems that most guidebooks miss Cultural insights give you a richer, more rewarding travel experience - history, art, literature, music, cinema, architecture, landscapes, wildlife, cuisine, wine, outdoor adventures, Native American culture, sports Easy-to-use color maps to help you navigate your destination
Sklep: Booknet.net.pl 96,25 zł
Książki / Literatura obcojęzyczna
Lonely Planet: The world's leading travel guide publisher Lonely Planet Best of Paris is your passport to the most relevant, up-to-date advice on what to see and skip, and what hidden discoveries await you. Promenade down the Champs Elysees, lose yourself in the Louvre, and work your way through a feast of food and wine, all with your trusted travel companion. Discover the best of Paris and begin your journey now! Inside Lonely Planet's Best of Paris Travel Guide:Zoom-in maps and images Inbuilt dictionary for quick referencing Full-color maps and images throughout Highlights and itineraries help you tailor your trip to your personal needs and interests Insider tips to save time and money and get around like a local, avoiding crowds and trouble spots Essential info at your fingertips - hours of operation, phone numbers, websites, transit tips, prices Honest reviews for all budgets - eating, sleeping, sight-seeing, going out, shopping, hidden gems that most guidebooks miss Cultural insights give you a richer, more rewarding travel experience - food & drink, art, music & nightlife, architecture, history, politics. Free, convenient pull-out Paris map (included in print version), plus over 36 color maps Covers Eiffel Tower, Champs-Elysees, Louvre & Les Halles, Montmartre, Le Marais, Menilmontant, Belleville, Bastille, Latin Quarter, St-Germain & Les Invalides, Montparnasse, and moreThe Perfect Choice: Lonely Planet's Best of Paris , our easy-to-use guide, filled with inspiring and colorful photos, focuses on Paris's most popular attractions for those looking for the best of the best.Looking for a comprehensive guide that recommends both popular and offbeat experiences and extensively covers all of the city's neighborhoods? Check out Lonely Planet's Parisguide. Or check out Pocket Paris, a handy-sized guide focused on the can't-miss sights for a quick trip. Looking for more extensive coverage? Check out Lonely Planet's France guide for a comprehensive look at allFrance has to offer, or Best of France, a photo-rich guide to France's most popular attractions.About Lonely Planet: Since 1973, Lonely Planet has become the world's leading travel media company with guidebooks to every destination, an award-winning website, mobile and digital travel products, and a dedicated traveller community. Lonely Planet covers must-see spots but also enables curious travellers to get off beaten paths to understand more of the culture of the places in which they find themselves. The world awaits! Lonely Planet guides have won the TripAdvisor Traveler's Choice Award in 2012, 2013, 2014, 2015, and 2016. 'Lonely Planet. It's on everyone's bookshelves; it's in every traveller's hands. It's on mobile phones. It's on the Internet. It's everywhere, and it's telling entire generations of people how to travel the world.' -- Fairfax Media 'Lonely Planet guides are, quite simply, like no other.' - New York Times
Sklep: Libristo.pl 71,36 zł
Książki / Literatura obcojęzyczna
Lonely Planet: The world's leading travel guide publisher Lonely Planet Best of Barcelona is your passport to the most relevant, up-to-date advice on what to see and skip, and what hidden discoveries await you. Gaze in wonder at Gaudi's Sagrada Familia, stroll along La Rambla and the ancient streets of the Barri Gotic, and take your pick of tapas joints, all with your trusted travel companion. Discover the best of Barcelona and begin your journey now! Inside Lonely Planet's Best of Barcelona Travel Guide:Zoom-in maps and images Inbuilt dictionary for quick referencing Full-color maps and images throughout Highlights and itineraries help you tailor your trip to your personal needs and interests Insider tips to save time and money and get around like a local, avoiding crowds and trouble spots Essential info at your fingertips - hours of operation, phone numbers, websites, transit tips, prices Honest reviews for all budgets - eating, sleeping, sight-seeing, going out, shopping, hidden gems that most guidebooks miss Cultural insights give you a richer, more rewarding travel experience - cuisine, history, art, music, architecture, Catalan culture, politics. Free, convenient pull-out Barcelona map (included in print version), plus over 35 color maps Covers Barri Gotic, La Rambla, La Ribera, La Sagrada Familia & L'Eixample, Parc Guell, El Raval, Barceloneta & the Waterfront, and more.The Perfect Choice: Lonely Planet's Best of Barcelona, our easy-to-use guide, filled with inspiring and colorful photos, focuses on Barcelona's most popular attractions for those looking for the best of the best. Looking for a comprehensive guide that recommends both popular and offbeat experiences and extensively covers all of the city's neighborhoods? Check out Lonely Planet's Barcelona guide. Or check out Pocket Barcelona, a handy-sized guide focused on the can't-miss sights for a quick trip. About Lonely Planet: Since 1973, Lonely Planet has become the world's leading travel media company with guidebooks to every destination, an award-winning website, mobile and digital travel products, and a dedicated traveller community. Lonely Planet covers must-see spots but also enables curious travellers to get off beaten paths to understand more of the culture of the places in which they find themselves. The world awaits! Lonely Planet guides have won the TripAdvisor Traveler's Choice Award in 2012, 2013, 2014, 2015, and 2016. 'Lonely Planet. It's on everyone's bookshelves; it's in every traveller's hands. It's on mobile phones. It's on the Internet. It's everywhere, and it's telling entire generations of people how to travel the world.' -- Fairfax Media 'Lonely Planet guides are, quite simply, like no other.' - New York Times
Sklep: Libristo.pl
Sklepy zlokalizowane w miastach: Warszawa, Kraków, Łódź, Wrocław, Poznań, Gdańsk, Szczecin, Bydgoszcz, Lublin, Katowice
Szukaj w sklepach lub całym serwisie
2. Szukaj na wszystkich stronach serwisu
t1=0.035, t2=0, t3=0, t4=0.02, t=0.035