krainaksiazek don t tell mum 20054614
- znaleziono 13 produktów w 3 sklepach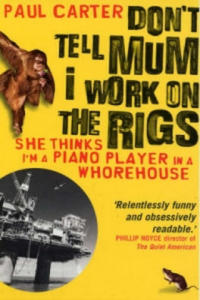 49,99 zł
Książki / Literatura obcojęzyczna
A take no prisoners' approach to life has seen Paul Carter heading to some of the world's most remote, wild and dangerous places as a contractor in the oil business. Amazingly, he's survived (so far) to tell these stories from the edge of civilization. He has been shot at, hijacked and held hostage; almost died of dysentery in Asia and toothache in Russia; watched a Texan lose his mind in the jungles of Asia; lost a lot of money backing a scorpion against a mouse in a fight to the death, and been served cocktails by an orang-utan on an ocean freighter. And that's just his day job. Taking postings in some of the world's wildest and most remote regions, not to mention some of the roughest rigs on the planet, Paul has worked, got into trouble, and been given serious talkings to, in locations as far-flung as the North Sea, Middle East, Borneo and Tunisia, as exotic as Sumatra, Vietnam and Thailand, and as flat-out dangerous as Columbia, Nigeria and Russia, with some of the maddest, baddest and strangest people you could ever hope not to meet.
Sklep: Libristo.pl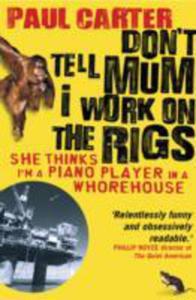 48,99 zł
Książki Obcojęzyczne>Angielskie>Lifestyle, sport & leisure>Travel & holiday>Travel writingKsiążki Obcojęzyczne>Angielskie>Economics,...
0x00ba188800000000
Sklep: Gigant.pl 39,90 zł
Książki / Literatura obcojęzyczna
"The email home is an essential part of every gap-year backpackers journey. Where once the news of narrowly surviving a bus crash on the dirt-roads of India, waking up to gunfire in Honduras or fending off marriage proposals from complete strangers would have would have made it home only on the back of a slow-moving battered postcard, these days those tantalising details and terrible mistakes are now recorded immediately and distributed liberally for every friend and family member to wince at. In Don't Tell Mum, Simon Hoggart and Emily Monk have collected together the funniest, most surreal, most alarming gap-year emails into a treasure-trove of correspondence. Accompanied by their wicked commentary, Don't Tell Mum gives the aspiring traveller the low-down on what not to do when trotting the globe."
Sklep: Libristo.pl 50,99 zł
Książki Obcojęzyczne>Nieprzypisane
0x00652ea400000000
Sklep: Gigant.pl 72,49 zł
Muzyka>Pop
1. Dale, Bob - Wanted 2. Templeman, Beryl - If I Give My Heart To You 3. Hurley, Bill - My Friend 4. Browne, Sam - Chapel In The Moonlight 5. Williams, Rita - Little Things Mean A Lot 6. Dale, Bob - The Story Of Tina 7. Templeman, Beryl - Don't Take Me For Granted 8. Hurley, Bill - Tenderly 9. Williams, Rita - Smile 10. Maple Leaf Four, The - Dreamboat 11. Williams, Rita - True Love 12. Lee, Benny - Hernando's Hideaway 13. Carr, Pearl - Love Me Or Leave Me 14. Dale, Bob - The Man From Laramie 15. Williams, Rita - Hey There 16. Browne, Sam - The Great Pretender 17. Harris, Doreen - Softly, Softly 18. Canadians, The - Rock Around The Clock 19. Williams, Rita / Dale, Bob - Relax-ay-yoo 20. Dale, Bob - The Yellow Rose Of Texas 21. Templeman, Beryl - A Tear Fell 22. Skyliners, The - The Happy Wanderer 23. Carr, Pearl - I'll Never Stop Loving You 24. Ross, David - The Garden Of Eden 25. Williams, Rita / Dale, Bob - Love & Marriage 101. Mcwilliams, Billy - My September Love 102. Lombard, Eve - Whatever Will Be Will Be 103. Ross, David - Singing For The Blues 104. Forbes, Patti - Mr. Wonderful 105. Templeman, Beryl - Cinco Robles (Five Oaks) 106. Dale, Bob - Robin Hood 107. Lombard, Eve - The Birds & The Bees 108. Ross, David - Happiness Street 109. Four-in-a-chord - Wake The Town & Tell The People 110. Ross, David - Diana 111. Templeman, Beryl - We Kiss In A Shadow 112. Dale, Bob - Mary's Boy Child 113. Dames, Julie - Tammy 114. Ross, David - Last Train To San Fernando 115. Forbes, Patti - Chapel Of The Roses 116. Ross, David - Green Door 117. Nicholls, Penny - The Rock & Roll Waltz 118. Grant, Gerry - We Will Make Love 119. Dames, Julie - With All My Heart 120. Templeman, Beryl - Lay Down Your Arms 121. Grant, Gerry - Man On Fire 122. Dale, Bob - April Love 123. Lombard, Eve - Alone 124. Mccormack, Billy - A Woman In Love 125. Dale, Bob - Happy Days & Lonely Nights
Sklep: Gigant.pl 39,90 zł
Książki / Literatura obcojęzyczna
'There was a lot that we kept from my mother. My dad would say to me as a teenager "Don't tell your mother." We couldn't face the disapproval.' Sue Johnston always seemed to be disappointing her mother. As a girl she never stayed clean and tidy like her cousins. As she grew older, she spent all her piano lesson money on drinks for her mates down the pub, and when she discovered The Cavern she was never at home. The final straw was when Sue left her steady job at a St Helen's factory to try her hand at that unsteadiest of jobs: acting. Yet when Sue was bringing up her own child alone, her mother was always there to help. And playing her much-loved characters Sheila Grant in Waking the Dead and Barbara in The Royle Family- although her mum wouldn't say she was proud as such, she certainly seemed to approve. And in her mother's final months, it was Sue she needed by her side. The relationship with your mother is perhaps the most precious and fraught of any woman's life. When she began writing, Sue set out to record 'all the big things, and all the small things. Everything I wanted to tell my mother but felt I never could'. The result is a warm, poignant and often very funny memoir by one of Britain's favourite actresses.
Sklep: Libristo.pl 26,99 zł
Książki Obcojęzyczne>Angielskie>Children
Sean Is Always Shouting And Rushing About. But When He Gets Stuck In A Cupboard With Miss Green, His Noisiness Comes In Handy! No One's Taking Any Notice Of Daisy Today. But When Her Wobbly Tooth Comes Out, She's Got Plenty To Show And Tell! Lily Is Feeling Sad. Her Mum And Dad Don't Live Together Any More And Everything's Different.
Sklep: Gigant.pl 36,60 zł
Inne 1
'She's mad. There has to be something wrong with her. She's insane.' Nobody wants Tulip in their gang. She skives off school, cheeks the teachers, and makes herself unpopular with her classmates by telling the most awful lies. None of this matters to Natalie. Natalie finds Tulip exciting, and at first she doesn't care that other people are so upset and unnerved by Tulip's bizarre games like Stinking Mackerel and Road of Bones. It's funny to watch their reactions, and there's always the delicious fear that the two girls might be caught. But as the games become increasingly sinister and dangerous, Natalie realizes that Tulip is going too far. Much too far. Natalie could try to change things. But deep inside she knows that, once crossed, Tulip won't rest until she's won the most dangerous game of all. In this compelling story Anne Fine explores the dark side of a friendship bordering on obsession, and sensitively depicts one girl's gradual decline into hostility and violence. The Tulip Touch is a powerful novel, gripping and mesmerizing. It is truly a story that touches the heart - I couldn't put it down, I had to know what happened next to Tulip and Natalie! A real read, recommended for all young readers from the age of about nine. Jade You shouldn
Sklep: Albertus.pl 62,37 zł
Książki / Literatura obcojęzyczna
It was a very hot day - dazzling sunshine! - and Mum - she was wiping sweat from her neck. No, not wiping. Dabbing ...Dab ...Dab. Mum was a beauty. Not like me. And don't tell me I am because you'll be lying and I won't thank you for it. Not today. Not when this whole thing - us, here - is about me telling the truth. The latest from Philip Ridley is a beautiful, breathtaking new drama about one girl's craving for family and home, and the lengths she will go to achieve them. Dark Vanilla Jungle embarked on a national tour of Great Britain in spring 2014. This edition also features a selection of previously unpublished monologues by Philip Ridley alongside the play.
Sklep: Libristo.pl 39,90 zł
Książki / Literatura obcojęzyczna
The best jokes, gags and scenes from a true British comedy classic. 'They don't like it up 'em!' 'People shout the "Don't tell him, Pike!" line at me regularly - and I didn't even say it!' Philip Madoc. In the annals of British television, no finer example of classic comedy exists than in the shape of Dad's Army, the Home Guard-based sitcom written by veteran writers Jimmy Perry and David Croft. Although they penned many other sterling programmes, including Hi-De-Hi! and the underrated You Rang, M'Lord?, they'll forever be remembered for their brilliant wartime comedy spotlighting the antics of the Walmington-on-Sea Home Guard, led by the irascible and pompous Captain Mainwaring. Between 1968 and '77, nine series and three Christmas Specials - totalling 80 instalments - were screened, much to the delight of the millions of fans who tuned in; but the show's popularity has continued unabated and even today, four decades since the platoon marched onto the scene, it remains one of the golden offerings from the sitcom genre. With the 40th anniversary of Dad's Army in 2008, what better time to celebrate the magic of this show. The Best of British Comedy - Dad's Army includes: / The History: an overview of how Dad's Army was born and developed / Gags and Catchphrases: a collection of classic quotes from the programme / Did You Know?: snippets of info about the show, cast, etc. / Favourite scenes: the most memorable scenes in full / A Dad's Army quiz Episode: 'Something Nasty in the Vault' Mainwaring and Wilson are stuck in the bank's strong room. There has been an air raid and they've ended up holding an unexploded bomb. Pike arrives. Pike: Uncle Arthur? Wilson: Oh, what it is, Frank? Pike: Do you think I ought to phone mum and tell her you're holding a bomb? Wilson: No! Pike: But she might get cross if she found out that you'd been holding a bomb and she wasn't told about it.
Sklep: Libristo.pl 59,27 zł
Książki / Literatura obcojęzyczna
Twitchy and his family eat carrots and live in a burrow just like an ordinary rabbit family. But one day Milfoil the cow and Sedge the horse decide to tell Twitchy they are not his real rabbit mum and dad. Twitchy is so upset he is convinced that he must turn himself into a horse or a cow so Sedge and Milfoil will still love him. So he pegs up his ears like a cow's and makes his tail long like a horse's; and he moos and he neighs just like his adoptive parents. But Milfoil and Sedge don't want him to change. They love him just as he is, as much as if they were his real mum and dad. And they always will!
Sklep: Libristo.pl 57,81 zł
Książki / Literatura obcojęzyczna
I feel this ...thing inside me. Just here. Next to my heart. It's small. The size of sparrow. I don't know what it looks like. But I know it's got claws because it scratches. And I imagine it to be dark blue - mauve almost - like the veins on my mum's hands. I hear it talking. Its voice is high pitched and screeching. It's talking about all the things we've done. A wickedly comic satire about a young couple offered a way out of the housing crisis, and just how far they're prepared to go for it. Ollie and Jill want to tell you about their dream home. Some of the things they did to get it, you might find shocking. But they want you to know they did it all for their baby ...A hilarious and outrageous black comedy from internationally acclaimed 'master of modern myth' (Guardian) Philip Ridley. Playful, provocative and viciously sharp, Radiant Vermin is a meditation on how far we will go to satisfy our materialistic greed. The play received its world premiere on 10 March 2015 at Soho Theatre, London.
Sklep: Libristo.pl 82,49 zł
Muzyka>Pop
1. Tell Your Mum 2. Sing Them Songs 3. You Don't Have To Drink From Here 4. Too Late For Dancing 5. Time Has Practically Stopped 6. I Need An Outlet 7. 23 & Rizing 8. The Hit Parade 9. Old Worlds
Sklep: Gigant.pl
Sklepy zlokalizowane w miastach: Warszawa, Kraków, Łódź, Wrocław, Poznań, Gdańsk, Szczecin, Bydgoszcz, Lublin, Katowice
Szukaj w sklepach lub całym serwisie
2. Szukaj na wszystkich stronach serwisu
t1=0.042, t2=0, t3=0, t4=0.024, t=0.042