krainaksiazek down and out today notes from the gutter 20051243
- znaleziono 10 produkty w 5 sklepach 48,99 zł
Książki Obcojęzyczne>Angielskie>Society & social sciences>Society & culture: general>Social issues & processes>Poverty & unemployment
Sklep: Gigant.pl 54,10 zł
Powieści i opowiadania
Orlando Figes
Sklep: Albertus.pl 45,80 zł
Nauki humanistyczne
Alain de Botton, best-selling author of How Proust can Change Your Life, has set six of the finest minds in the history of philosophy to work on the problems of everyday life. Here then are Socrates, Epicurus, Seneca, Montaigne, Schopenhauer and Nietzsche on some of the things that bother us all; lack of money, the pain of love, inadequacy, anxiety, the fear of failure and the pressure to conform.
Sklep: Albertus.pl 84,99 zł
Ep's BIG BEAT UK
Muzyka>Rock
1. Country Joe & The Fish - Bass Strings 2. Country Joe & The Fish - Thing Called Love 3. Country Joe & The Fish - Section 43 4. Frumious Bandersnatch - Hearts To Cry 5. Frumious Bandersnatch - Misty Cloud 6. Frumious Bandersnatch - Cheshire 7. Mad River - A Gazelle 8. Mad River - Orange Fire 9. Mad River - Windchimes 10. Notes From The Underground - Where Does Love Go 11. Notes From The Underground - Down In The Basement 12. Notes From The Underground - What Am I Doing Here 13. Notes From The Underground - Got To Get Out Of Thi 14. Notes From The Underground - You Don't Love Me 15. Notes From The Underground - Let Yourself Fllly 16. Notes From The Underground - Where I'm At Today
Sklep: Gigant.pl 229,99 zł
Muzyka>Rock
1. Titanic Overture 2. 10 Minutes Before The Worm 3. Swing Low Sweet Cheerio 4. Today Mueller 5. Living 6. Fields Of Regret 7. No Longer Umpire 8. Levity Ball 9. B.b. On Mars 10. Refelcted 11. Apple Bush 12. Earwigs To Eternity 13. Changing Arranging 101. Mr. & Misdeameanor (Japan 2011 Remaster) 102. Shoe Salesman (Japan 2011 Remaster) 103. Still No Air (Japan 2011 Remaster) 104. Below Your Means (Japan 2011 Remaster) 105. Return Of The Spiders (Japan 2011 Remaster) 106. Laughing At Me (Japan 2011 Remaster) 107. Refrigerator Heaven (Japan 2011 Remaster) 108. Beautiful Flyaway (Japan 2011 Remaster) 109. Lay Down & Die, Goodbye (Japan 2011 Remaster) 201. Caught In A Dream (Japan 2011 Remaster) 202. I'm Eighteen (Japan 2011 Remaster) 203. Long Way To Go (Japan 2011 Remaster) 204. Black Juju (Japan 2011 Remaster) 205. Is It My Body (Japan 2011 Remaster) 206. Hallowed Be My Name (Japan 2011 Remaster) 207. Second Coming (Japan 2011 Remaster) 208. Ballad Of Dwight Fry (Japan 2011 Remaster) 209. Sun Arise (Japan 2011 Remaster) 301. Under My Wheels (Japan 2011 Remaster) 302. Be My Lover (Japan 2011 Remaster) 303. Halo Of Flies (Japan 2011 Remaster) 304. Desperado (Japan 2011 Remaster) 305. You Drive Me Nervous (Japan 2011 Remaster) 306. Yeah, Yeah, Yeah (Japan 2011 Remaster) 307. Dead Babies (Japan 2011 Remaster) 308. Killer (Japan 2011 Remaster) 401. School's Out (Japan 2011 Remaster) 402. Luney Tune (Japan 2011 Remaster) 403. Gutter Cat Vs. The Jets (Japan 2011 Remaster) 404. Street Fight (Japan 2011 Remaster) 405. Blue Turk (Japan 2011 Remaster) 406. My Stars (Japan 2011 Remaster) 407. Public Animal No.9 (Japan 2011 Remaster) 408. Alma Mater (Japan 2011 Remaster) 409. Grande Finale (Japan 2011 Remaster) 501. Hello Hooray (Japan 2011 Remaster) 502. Raped & Freezin' (Japan 2011 Remaster) 503. Elected (Japan 2011 Remaster) 504. Billion Dollar Babies (Japan 2011 Remaster) 505. Unfinished Sweet (Japan 2011 Remaster) 506. No More Mr. Nice Guy (Japan 2011 Remaster) 507. Generation Landslide (Japan 2011 Remaster) 508. Sick Things (Japan 2011 Remaster) 509. Mary Ann (Japan 2011 Remaster) 510. I Love The Dead (Japan 2011 Remaster) 601. Big Apple Dreamin' (Hippo) (Japan 2011 Remaster) 602. Never Been Sold Before (Japan 2011 Remaster) 603. Hard Hearted Alice (Japan 2011 Remaster) 604. Crazy Little Child (Japan 2011 Remaster) 605. Working Up A Sweat (Japan 2011 Remaster) 606. Muscle Of Love (Japan 2011 Remaster) 607. Man With The Golden Gun (Japan 2011 Remaster) 608. Teenage Lament '74 (Japan 2011 Remaster) 609. Woman Machine (Japan 2011 Remaster) 701. Welcome To My Nightmare 702. Devil's Food 703. The Black Widow 704. Some Folks 705. Only Women Bleed 706. Department Of Youth 707. Cold Ethyl 708. Years Ago 709. Steven 710. The Awakening 711. Escape 801. Go To Hell (Japan 2011 Remaster) 802. You Gotta Dance (Japan 2011 Remaster) 803. I'm The Coolest (Japan 2011 Remaster) 804. Didn't We Meet (Japan 2011 Remaster) 805. I Never Cry (Japan 2011 Remaster) 806. Give The Kid A Break (Japan 2011 Remaster) 807. Guilty (Japan 2011 Remaster) 808. Wake Me Gently (Japan 2011 Remaster) 809. Wish You Were Here (Japan 2011 Remaster) 810. I'm Always Chasing Rainbows (Japan 2011 Remaster) 811. Going Home (Japan 2011 Remaster) 901. It's Hot Tonight (Japan 2011 Remaster) 902. Lace & Whiskey (Japan 2011 Remaster) 903. Road Rats (Japan 2011 Remaster) 904. Damned If You Do (Japan 2011 Remaster) 905. You & Me (Japan 2011 Remaster) 906. King Of The Silver Screen (Japan 2011 Remaster) 907. Ubangi Stomp (Japan 2011 Remaster) 908. (No More) Love At Your Convenience (Japan 2011 Rem 909. I Never Wrote Those Songs (Japan 2011 Remaster) 910. My God (Japan 2011 Remaster) 1001. From The Inside (Japan 2011 Remaster) 1002. Wish I Were Born In Beverly Hills (Japan 2011 Rema 1003. The Quiet Room (Japan 2011 Remaster) 1004. Nurse Rozetta (Japan 2011 Remaster) 1005. Millie & Billie (Japan 2011 Remaster) 1006. Serious (Japan 2011 Remaster) 1007. How You Gonna See Me Now (Japan 2011 Remaster) 1008. For Veronica's Sake (Japan 2011 Remaster) 1009. Jackknife Johnny (Japan 2011 Remaster) 1010. Inmates (We're All Crazy) (Japan 2011 Remaster) 1101. Talk Talk 1102. Clones (We're All) 1103. Pain 1104. Leather Boots 1105. Aspirin Damage 1106. Nuclear Infected 1107. Grim Facts 1108. Model Citizen 1109. Dance Yourself To Death 1110. Headlines 1201. Who Do You Think We Are 1202. Seven & Seven Is 1203. Prettiest Cop On The Block 1204. Don't Talk Old To Me 1205. Generation Landslide '81 (Live) 1206. Skeletons In The Closet 1207. You Want It, You Got It 1208. You Look Good In Rags 1209. You're A Movie 1210. Vicious Rumours 1301. Zorro's Ascent 1302. Make That Money (Scrooge's Song) 1303. I Am The Future 1304. No Baloney Homosapiens 1305. Adaptable (Anything For You) 1306. I Like Girls 1307. Remarkably Insincere 1308. Tag, You're It 1309. I Better Be Good 1310. I'm Alive (That Was The Day My Dead Pet Returned T 1401. Dada 1402. Enough's Enough 1403. Former Lee Warmer 1404. No Man's Land 1405. Dyslexia 1406. Scarlet & Sheba 1407. I Love America 1408. Fresh Blood 1409. Pass The Gun Around
Sklep: Gigant.pl
117,22 zł
2003 EPs Books LLC, Reference Series
Książki / Literatura obcojęzyczna
Source: Wikipedia. Pages: 102. Chapters: Verve Remixed, Animals Should Not Try to Act Like People, 10.000 Watts of Artificial Pleasures, The Twin EP, Ruff Draft, Memorial Address, (There's Gotta Be) More to Life, Fight Test, Running Up That Hill, Darts of Pleasure, Famureuta, Wizard of the Hood, Untitled 1, Won't You Come Around, Reason EP, Seven Ways to Scream Your Name, Exordium, Futile, I Killed the Prom Queen / Parkway Drive: Split CD, Get Yourself High, Takatalvi, The Beautiful Mistake, Straight from the Lab, Justin & Christina, Posthumous, Comeandgetit, Reclaim, 7 Series Sampler, Sunny 16, The No Fun EP, Demo 2002, Arcade Fire, Lisa's Song, Tell Balgeary, Balgury Is Dead, In the Fishtank 10, The Peter Saville Show Soundtrack, The Black EP, Live, The Vinyl Countdown, Fixxations, Trigger, Revolusongs, Translating the Name, Speak and Destroy, Holy Roller Novocaine, Love Is Hell pt. 1, A Calculated Use of Sound, Ego Tripping at the Gates of Hell, The Heartless Control Everything, World Citizen, The Bled, October EP, The Lost & Found, Here Comes That Weird Chill, Falling Out into the Night, This Is Meant to Hurt You, Deadwater Drowning, The Holiday EP, The Bootleg of the Bootleg EP, Conjuration, A Who's Who Road of Living, Exclusive, La Muerte Viva, Holding Patterns, Driving for the Storm / Doctor Doctor, Aesthetic, The Reckoning, Weatherproof, Love Is Hell pt. 2, Dulling Occams Razor, The Make Yourself at Home EP, Cursed, Unshaven and Misbehavin': Live Infinity, Live at the Hollywood Bowl, Don't Look Back into the Sun/Death on the Stairs, Live from the SoHo & Santa Monica Stores, The Pepsi E.P., Speed Graphic, When Fire Rains Down from the Sky, Mankind Will Reap as It Has Sown, Ambulance LTD, Vancouver Rehearsal Tapes, Anamorphosis, The Boyracer EP, Four Ways to Scream Your Name, Instant 0 in the Universe, La Última Hora, Man Alive/Useless ID, Legalize Crime, Chasing Angels, Hospital Music for the Aesthetics of Language, Extinguished: Outtakes, World Dirtnap, Smojphace EP, A Six Pack of Judd, Songs for Silent Movies, The Permanent Bruise, Little Birdy, Feeling Sideways, The Torn Instances, Rumors Laid Waste, Officially Dead, Summer 2003, As Jy Met Vuur Speel Sal Jy Brand, Another 700 Miles, In Vivo, Hellview, The Bens, Sands of Time EP, A Twist of Fate, Fall Awake, It's a Shame a Family Can Be Torn Apart by Something as Simple as a Pack of Wild Dogs, Live Bootleg, Visions Of..., Fan Club CD Vol. 4, The Secret of Elena's Tomb, Vęn, The Tick Tock Companion, Bed, Bed, Bed, Home Sweet Home, Cockayne Soup, The Return of the Chlorophyll Bunny, Hold On, Plans for a Better Day, I Get Along EP, Saucy Haulage Ballads, Young Liars, Spermargarita, Pelican, Akuyuukai, Notes & Photographs, Verbal Remixes & Collaborations, Nighttime Anytime, 05/03, Extended Play, The Shape of Things to Come..., New Mexican Disaster Squad / Western Addiction, Makeshift Patriot, Live in Detroit EP, Reverie Sound Revue, What I Saw, Do Something Wrong, We Sing Sin, Not Penis Cream, Is The Alabama Boys Choir, Today Is the Day, Merry&Hell Go Round, Broken Down: The EP, Seven Easy Pieces, Underneath Acoustic, Regaining Unconsciousness, Whispering to the Shadows, 13 Stitches, The Six Parts Seven/The Black Keys EP, The Sunrise EP, Christmas Eve I and II + 6, After Dark, Live in Atlanta, Murderer, Don't Be Shallow, Holy Shit EP, Not One Word Has Been Omitted, Spatial/Design, Dance of the Wicked, My Own Way EP, The Leftovers EP, Welcome Race Fans, All Got Our Runnins, The Four...
Sklep: Libristo.pl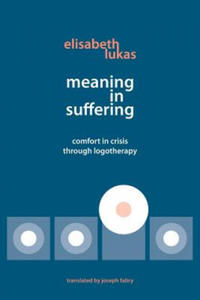 77,46 zł
Książki / Literatura obcojęzyczna
This 1986 classic has been renewed with fresh graphics and crisp typesetting. Elisabeth Lukas' artistic discovery of the uniqueness of each individual shines across dozens of case studies and examples; thus she illuminates the potential for meaning in the presence of even intractable pain, guilt, and suffering. Lukas demonstrates a living logotherapy, not by standardized techniques, but by the compassion and insight she brings into each therapeutic relationship. "The true heroes of life are not the triumphant victors, but the defeated who find a ray of hope" (p. 52). As Lukas notes in the introduction: "For thousands of years, people have done pretty well without the science of psychotherapy. Yet, something like psychotherapy has always existed-through persons who, with charisma, persuasiveness, and force of conviction, were able to bring comfort to those looking for help. Such help was usually based on a specific philosophy of life. "The afflicted were promised eternal well-being and justice in the hereafter, their suffering was presented as a test on their way to happiness, or philosophical-ethical images were invoked to make blows of fate bearable. Psychotherapy was religion and vice versa. "This embeddedness in mysticism made it difficult for psychotherapy to find a scientific approach. Today, if we try to find rational explanations for irrational behavior and offer rational help for irrational psychological problems, we stand on a narrow ridge between two abysses: On the one side lies the danger of reverting to mysticism; on the other, slipping into a mechanized manipulation of the human person. "Has psychology, on its long development through magic, exorcism, trickery, and fanaticism, finally attained the status of science? In recent decades, great strides have been made in that direction. Successes were conspicuous and resulted in a great variety of tools in a giant psychological workshop to serve people, but unfortunately the specifically human dimension--the spirit--was left out. "Psychotherapy without magic" has been replaced by "psychotherapy without spirit." What was gained in the field of science was lost from humanity. Psychotherapists may choose from a great number of methods, but are forced to walk on that narrow ridge between old views and new perspectives, between speculative interpretations and human programming. It is a path illuminated by alarmingly few firm criteria. "This book is written for those who trust psychotherapy to find comfort. The trust of patients is valuable but must not be blindly given, or they may be pushed into one of the abysses on either side. They may fall under the spell of speculative [psychoanalytic] hypotheses from which they cannot free themselves, or they may be wrecked by a cold, impersonal [behavioral] conditioning process because they no longer can sense the meanings of their lives. "The book is also for psychotherapists who walk that narrow ridge, weighed down by responsibility for those who trust them. Few are the guideposts, many the contradictory theories, the confusions, the criticisms. What school are they to believe, what concepts to make their own? "This book suggests a path for both lay reader and professional, a path through the maze of psychological schools to a psychotherapy that no longer is a myth. To do so, it must include the human spi
Sklep: Libristo.pl 50,06 zł
Książki / Literatura obcojęzyczna
Excerpt from Monetary and Banking Systems: A Comprehensive Account of the Systems of the United States With Complete Statistical Information and Brief Accounts of the Systems of Other Nations; Also Abstracts of Plans for Currency Reform in the United States The recent financial crisis has turned public attention actively toward the study of the subject of currency reform, and the need for a compendium, presenting the data requisite to a thorough understanding of the question, has manifested itself. I have therefore completed a revision, begun last summer, of my "Monetary Systems" (published in 1897), and brought the statistics, which proved so useful a decade ago, down to the present time, adding thereto much other valuable material. The scope of the work has been altered considerably; in 1896-7 the coinage question was under discussion and the design then was chiefly to give concise and accurate information bearing specifically upon that phase of our money question. Today we are called upon to consider the paper currency feature, and the present volume accordingly deals more extensively with the facts which relate to note-issuing and banking. Our own monetary system, and the volume of our money-supply, are, however, given the fullest treatment; I have in fact accorded them a much larger space in this volume than in the previous one, including data relative to the enormous credit expansion in recent years. Upon the other hand, much of the needlessly detailed information respecting foreign countries has been eliminated, and particular attention has been given to those features in the monetary systems of other civilized people, likely to prove more useful in the present discussion. The topics of the world's money-supply and international exchanges are included, as also the chapter on international monetary affairs, a brief view of the world's banking power and of its savings banks. The operations of our banking and sub-treasury systems, and of the New York Stock Exchange, and the question of bank reserves, are new features of interest. The Panic of 1907 and its influence upon the financial conditions abroad, receive special attention. As before, the many plans proposed to remedy the defects in our system are presented in a concise manner, and brought out more definitely by contrast with the systems of other countries. There has been added a presentation of the case for credit bank-notes and a Central Bank, the introduction of both of which, in the United States, I have advocated since 1900; and the data, while not originally collected for that purpose, appear to bear out the contention that these are the essential lines upon which true reform should proceed. About the Publisher Forgotten Books publishes hundreds of thousands of rare and classic books. Find more at www.forgottenbooks.com This book is a reproduction of an important historical work. Forgotten Books uses state-of-the-art technology to digitally reconstruct the work, preserving the original format whilst repairing imperfections present in the aged copy. In rare cases, an imperfection in the original, such as a blemish or missing page, may be replicated in our edition. We do, however, repair the vast majority of imperfections successfully; any imperfections that remain are intentionally left to preserve the state of such historical works.
Sklep: Libristo.pl 54,99 zł
Kultura. Sztuka. >Muzyka Taniec Śpiew
The prolific Domenico Alberti squeezed a surprising number of works out of a short and eventful life, achieving fame across Western Europe, particularly for the socalled
Sklep: Prolibri.pl 48,33 zł
Muzyka na CD
The prolific Domenico Alberti squeezed a surprising number of works out of a short and eventful life, achieving fame across Western Europe, particularly for the socalled 'Alberti bass', an arpeggiated style of left‐hand keyboard playing. Yet his presentday reputation does not equal these heights, his fame largely limited today to his Eight Sonatas. This recording puts this to rights, showcasing Alberti as a composer who deserves to be remembered for centuries to come, as a musical poet possessed of remarkable invention and imagination. Alberti's compositions display the simplicity and sensitivity of Clementi, the vigour of Mozart and, in the briefest of moments, an almost Schubertian or Chopinesque pre‐Romanticism. His keyboard compositions are generally individual movements or twopart toccatas or sonatas, the whole full of melodic echoes and intentional reworkings, which form intriguing bridges between the pieces. The three distinct periods in the composer's output of keyboard music are mirrored here by the use of organ, fortepiano and harpsichord (all of which Alberti would have had to hand in his day) – corresponding also to the period practice of 'playing on all manner of instruments', with individual pieces often not tied down to a specific instrument. This combination adds a Talented keyboardist and international award‐winner Manuel Tomadin has a particular interest in Renaissance and Baroque music and historical organs. He brings all of his expertise to bear on this superb album. This 4CD set contains the complete keyboard music by Domenico Alberti, a First Recording! Domenico Alberti lived a short but very productive life, from 1710‐1740. He was famous as a composer, cembalo player and singer (the world famous castrato Farinelli heard him sing, and recognised in him a fearful rival). Alberti claim to fame is his "discovery" of the so-called Alberti-bass: the accompanying left hand chord broken in a certain way (like c-g-e-g etc). This figure forms the basis of the Viennese classical style, and was used by all composers of keyboard sonatas and sonatinas. Alberti's Sonatas and Toccatas are in two movements, the first an allegro in free form, followed by a mellow andante in arioso style. In order to achieve maximum variety Manuel Tomadin performs these works on three instruments: an historic organ (1773 Francesco Dacci organ), a harpsichord and a fortepiano. Manuel Tomadin already recorded successfully for Brilliant Classics, notably the Leipziger Chorale by Bach (BC94456). Recorded in Italy in 2013 and 2014. Contains liner notes written by the artist in Italian and English. Contains a biography of the artist. Contains a full organ specification.
Sklep: Literacka.pl
Sklepy zlokalizowane w miastach: Warszawa, Kraków, Łódź, Wrocław, Poznań, Gdańsk, Szczecin, Bydgoszcz, Lublin, Katowice
Szukaj w sklepach lub całym serwisie
2. Szukaj na wszystkich stronach serwisu
t1=0.097, t2=0, t3=0, t4=0.03, t=0.098