krainaksiazek dynamic business law 20129010
- znaleziono 14 produktów w 5 sklepach 1043,48 zł
Książki
Sklep: KrainaKsiazek.pl 835,79 zł
Książki
Sklep: KrainaKsiazek.pl 210,53 zł
Książki
Sklep: KrainaKsiazek.pl 210,53 zł
Książki
Sklep: KrainaKsiazek.pl 254,75 zł
Książki
Sklep: KrainaKsiazek.pl 1439,33 zł
Książki / Literatura obcojęzyczna
Give your students the authoritative, in-depth treatment of today's business law topics in this concise, cost-effective paperback by best-selling business law author Roger LeRoy Miller. Designed for the contemporary one-semester course, "Modern Principles of Business Law, 1E" provides the rigor and seriousness of a classic black letter law-type text with a brief 18-chapter table of contents that was developed based on extensive research with almost 200 instructors. "Modern Principles Of Business Law" offers excerpted cases to familiarize your students with the language of the court and delves deeper into specific topics, such as contracts, sales, and the UCC. Student-friendly, dynamic learning features throughout the book encourage critical thinking, illustrate how business law is constantly changing, guide review and offer insights into ethics. Trust best-selling author Roger Miller's "Modern Principles Of Business Law" to deliver an engaging, well-written, black and white text, with a comprehensive, time-saving teaching and learning resource package, as an economical solution for your one-semester business law course.
Sklep: Libristo.pl 240,80 zł
Inne 1
Summary Aimed at key decision makers and those responsible for global strategy, this book is about changing markets and the complexity of undertaking business in a fast paced technological and knowledge based age in a dynamic and strategic context. Trends show a renaissance in entrepreneurial activity that is fuelling innovation particularly in the so called BRIC nations of Brazil, Russia, China and India. For example, both China and India have benefited immensely from Foreign Direct Investment (FDI) and as a direct consequence both nation states are reshaping the way global business is conducted and the way investment decisions are made. Evidence would suggest that Europe and the United States are more dependent on the BRIC trading nations for earnings and profits. Geographical distance is no longer a barrier between nations; however, the challenges of ethic diversity in domestic markets are multiplied by the difficulties of delivering goods and services into global markets with different cultures and languages. This book examines the issues associated with undertaking global business in complex and knowledge related markets.Key Features Written by highly knowledgeable and well-respected practitioners and academics in their field Provides practical insight and realistic answers to global and strategic problems Provides progressive constructs of trends and thoughts to take the reader from the current paradigm to the broader yet application-specific view of global business Provides diverse channels of thinking, and gives historical and new perspectives on the factors that drive global strategy Provides insight into the BRIC nations and their rise to prominence within global markets Provides insight into the sociological and political climate that is shaping global markets by examining how nation states and firms conduct business in challenging markets The Authors Dr John McManus is Rushmore Professor in Management Sciences (USA) and Senior Research Fellow at the University of Lincoln (UK). He is the author of several business software and strategy related text books. Prior to becoming an academic, Dr McManus worked within the global software industry. Dr Don White is Dean of Faculty Business and Law, University of Lincoln.Dr White has lectured extensively, on management information systems and has acted as a consultant to the National Health Service (HNS). Neil Botten is Principal Lecturer, Strategic Management at Westminster Business School. He is the author/co-author of several highly successful textbooks. Readership The readership for this book is aimed at key decision makers in multi-national and corporate firms globally in both public and private ownership. Primary audiences include CEO's, senior managers, consultants, researchers and academics. Contents The rapid change in international and global business The market and competitive forces that shape international and global business The socio-cultural forces that shape international and global business The forces that shape strategic effectiveness in global markets Emergent global and international business strategies Managing the strategic process in a global and international business environment Case study: China, India and Russia - a strategic and market perspective within the global software industry Case study: evaluating the commercial aerospace industry of the BRIC nations Conclusions
Sklep: Albertus.pl 269,99 zł
Książki Obcojęzyczne>Nieprzypisane
Commercial Law: Text, Cases And Materials Provides Students With An Extensive And Valuable Range Of Extracts From Key Cases And Writings In This Most Dynamic Field Of Law. The Authors' Expert Commentary And Questions Enliven Each Topic While Emphasizing The Practical Application Of The Law In Its Business Context.
Sklep: Gigant.pl 1999,99 zł
Książki Obcojęzyczne>Angielskie>Economics, finance, business & management>Business & management>Corporate governance>Boards & directors...
The Second Edition Of This Leading Work On Company Directors Has Been Expanded To Cover New Areas Such As Tax And Provides Even Greater Analysis On Dynamic Areas Including Derivative Claims, Unfair Prejudice Litigation, And Corruption Under The Bribery Act 2010.
Sklep: Gigant.pl 115,38 zł
Książki / Literatura obcojęzyczna
Source: Wikipedia. Pages: 99. Chapters: The Hollywood Reporter, Publishers Weekly, Back Stage, XBIZ, Variety, Next Magazine, Chemical & Engineering News, Submarine Telecoms Forum, Design World, ABA Journal, Forum Mleczarskie, Music Week, VideoAge International, Screen International, Library Journal, Engineering News-Record, Light Metal Age, R&R, The Accountant, CorpComms Magazine, Energy & Environment, Machine Design, Global Sources Magazines, Food Technology, Harrison's Reports, Travel Extra, Beverage Digest, The Entertainment Herald, Materials Today, International Accounting Bulletin, Modern Machine Shop, Components in Electronics, Print Solutions Magazine, Phi Delta Kappa, ForeWord, Radio & Records, $pread, Overload, Accountancy Age, European Coatings Journal, GameWeek Magazine, List of trade magazines, The Law Society Gazette, Global Custodian Magazine, Associated Construction Publications, Furniture Style, Communicate magazine, TelevisionWeek, REM, Creativity, Construction Law Journal, The Asian Banker Journal, Adweek, International Textiles, Blueprint, Photo District News, DB2 Magazine, Industryweek, AMWA Journal, Building, Next American City, Converting, Bookseller and Publisher, Control Engineering, RFID Journal, Computer Underground Digest, Building Design+Construction, Advance for Medical Laboratory Professionals, International Banking Systems, Rail Professional, EventDV, ClickZ, Advance for Nurse Practitioners, Boards, TWICE, The Ensign, Scotsman Guide, Professional Remodeler, Kine Weekly, Travel Trade Gazette, JOM, Automation World, Home Media Magazine, Revolution magazine, Rail Business Intelligence, International Trade Today, Australian Dairy Foods, The Engineer, Test & Measurement World, International Musician and Recording World, Foodservice Equipment & Supplies, Market for Home Computing and Video Games, Perini Journal, Home Accents Today, The Business Enterprise, The Publican, IEEE Microwave Magazine, Restaurants & Institutions, German Medical Journal, Cruise International Magazine, Front of House Magazine, Supply Management, Brandweek, Gamesauce, Night Magazine, RISKS Digest, American Metal Market, Plant Engineering, Whole Foods Magazine, Packaging Digest, Logistics Management, SQL Server, Construction Equipment, Spectroscopy, Sales Promotion, Talkers Magazine, Products Finishing, Craft Focus, Museums Journal, Design News, The Grocer, Windows IT Pro, Hotels, Semiconductor International, Coinslot, Purchasing, Casual Living, TV Technology, Video Business, Notices of the American Mathematical Society, Consulting-Specifying Engineer, Travel Trade Gazette Middle East & North Africa, The Hard Copy Observer, Graphic Arts Monthly, Irish Medical News, Gavin Report, Gift Focus, Attire Accessories, Marketing Week, Dentistry Magazine, Chain Leader, Chemistry World, Nursing Times, Custom Builder, Morning Advertiser, Musical Courier, Mediaweek, Logistics Management India magazine, CERN Courier, Cranes Today, Speech Technology, Elektronikpraxis, The ENDS Report, Nursing Standard, CIO Digest, Film Journal International, Coach & Bus Week, Australian Banking & Finance, JCK India magazine, Liquid magazine, Dynamic Chiropractic, California Lawyer, Chiropractic Economics, Current, Engineering & Technology, Supply & Demand Chain Executive, CFO, Campaign, Hairdressers Journal International, Golf Course News International, Land Line Magazine, NewHorizon, IBM Data Management magazine, Game Industry Report Magazine, Safeguard, Cement and its a...
Sklep: Libristo.pl 515,45 zł
Książki / Literatura obcojęzyczna
This 1995 book is a general study of politics and society in the Fourth Republic and is founded on extensive primary research. It approaches the period in terms of successful conservatism rather than thwarted reform, maintaining that conservatism in France was a more subtle, dynamic force than has previously been appreciated. Not the preserve of any one single party, conservative ideas were often defended by institutions outside the realm of explicit politics altogether, such as business associations, civil service departments and the law courts. It is proposed that conservatives did not simply return to French politics in 1945 untouched by the events of the previous five years. The experiences of Vichy, the occupation and the purges produced new kinds of political synthesis, making conservatives more dynamic and receptive to change than their 'progressive' opponents.
Sklep: Libristo.pl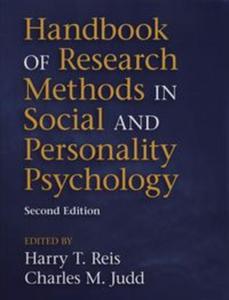 274,00 zł
Książki
This indispensable sourcebook covers conceptual and practical issues in research design in the field of social and personality psychology. Key experts address specific methods and areas of research, contributing to a comprehensive overview of contemporary practice. This updated and expanded second edition offers current commentary on social and personality psychology, reflecting the rapid development of this dynamic area of research over the past decade. With the help of this up-to-date text, both seasoned and beginning social psychologists will be able to explore the various tools and methods available to them in their research as they craft experiments and imagine new methodological possibilities. Reflects rapid changes in social psychology research methods since 2000 Additional chapters emphasize new areas of study and research Highlights methods useful to researchers not only in psychology, but in education, business and law
Sklep: Booknet.net.pl 816,38 zł
Książki / Literatura obcojęzyczna
Shedding light on some of the most pressing open questions in the analysis of high frequency data, this volume presents cutting-edge developments in high frequency financial econometrics. Coverage spans a diverse range of topics, including market microstructure, tick-by-tick data, bond and foreign exchange markets, and large dimensional volatility modeling. The volume is of interest to graduate students, researchers, and industry professionals.This exciting volume presents cutting-edge developments in high frequency financial econometrics, spanning a diverse range of topics: market microstructure, tick-by-tick data, bond and foreign exchange markets and large dimensional volatility modelling. The chapters on market microstructure deal with liquidity, asymmetries of information, and limit order aggressiveness in pure limit order book markets. The chapters on tick-by-tick data present statistical techniques for the analysis of the discrete nature of price movements, the intraday seasonal patterns of financial durations, and the joint probability law of prices, volume and durations. Bond markets are brought into focus through the analysis of macroeconomic announcements in the future bond market as a function of the business cycle. Exchange markets are examined from two perspectives: the study of the impact of information arrival on exchange rate volatility and the uncovering of chartist patterns in the euro/dollar exchange rate. Last, dynamic modelling of large dimensional covariance matrices is also presented. Shedding light on some of the most relevant open questions in the analysis of high frequency data, this volume will be of interest to graduate students, researchers and industry professionals.
Sklep: Libristo.pl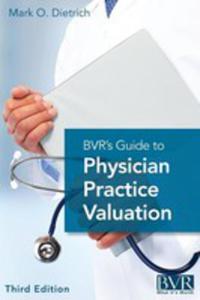 999,99 zł
Książki Obcojęzyczne>Angielskie>Law>Jurisprudence & general issuesKsiążki Obcojęzyczne>Angielskie>Economics, finance, business & manage...
The Landscape Of The Healthcare Industry Is Dynamic And Constantly Evolving, Especially In A Time Of Healthcare Reform. This Is Coupled With Some Major New And Innovative Thinking In The Approach To Healthcare Valuation In A Number Of Areas.  B
Sklep: Gigant.pl
Sklepy zlokalizowane w miastach: Warszawa, Kraków, Łódź, Wrocław, Poznań, Gdańsk, Szczecin, Bydgoszcz, Lublin, Katowice
Szukaj w sklepach lub całym serwisie
2. Szukaj na wszystkich stronach serwisu
t1=0.095, t2=0, t3=0, t4=0.019, t=0.095