krainaksiazek east and west poems 20094284
- znaleziono 13 produktów w 3 sklepach 60,92 zł
Książki
Sklep: KrainaKsiazek.pl 35,99 zł
Książki Obcojęzyczne>Nieprzypisane
0x004c5fc800000000
Sklep: Gigant.pl 54,59 zł
Książki
Sklep: KrainaKsiazek.pl 96,57 zł
Książki
Sklep: KrainaKsiazek.pl 87,50 zł
Książki
Sklep: KrainaKsiazek.pl 34,27 zł
Książki
Sklep: KrainaKsiazek.pl 64,46 zł
Książki / Literatura obcojęzyczna
War never stops. There have been two world wars since 1914 lasting for ten years, but wars have continued for a hundred years since then in many parts of the world: wars between nations, tribes and factions, wars over religion and beliefs, wars fought for land or oil or history, civil wars, political wars, and the Cold War when the West remained on a war-footing while supposedly at peace. This anthology presents poems from a hundred years of war by poets writing as combatants on opposite sides, as victims or anguished witnesses. It chronicles times of war and conflict from the trenches of the Somme through the Spanish Civil War to the horrors of the Second World War and the Holocaust; and in Korea, the Middle East, Vietnam, Central America, Ireland, the Balkans, Iraq and Afghanistan and other so-called "theatres of war". There are poems from years when the world was threatened by all-out nuclear war and more recent poems written in response to international terrorism. Editor Neil Astley has selected many of the poems from his Staying Alive trilogy - the anthologies Staying Alive, Being Alive and Being Human - but has added many others from elsewhere to create this deeply moving testament to humanity caught up in a hundred years of war. Like the trilogy, this is a world poetry anthology featuring poets from a variety of nations writing from different perspectives, experiences and cultures. Where possible, the poems from each war or conflict are presented chronologically in terms of when they were written or set, building up a picture of what individual poets from different nations were experiencing at the same time, either on the same battlegrounds or in other parts of the world (including the home front), with, for example, British, French and German poets all writing of shared experiences in opposite trenches during the five-month Battle of the Somme. At different stages of each war there are also poets responding events in their own countries. For example, in just one three-month period, from August to November 1944, Polish poets join the Warsaw Uprising, Miklos Radnoti is herded on a forced march from Serbia to Hungary (where he is killed), other Hungarian poets witness deportations to camps, Dylan Thomas voices the anguish of Londoners under V-bomb attack, and Louis Simpson is a foot soldier caught up in the chaotic Battle of the Bulge. Just as the original Hundred Years' War in the 14th and 15th centuries was actually a series of nationalistic conflicts rooted in disputes over territory, so it has been in the wars fought over the past century, but with even worse suffering inflicted on countries and people subjected to warfare and mass killing on a scale unimaginable in any earlier time. And yet amidst all that horror, there are individual voices bearing witness to our shared humanity, somehow surviving the folly with defiance and hope, yet often aware that the lessons of history are rarely passed on from one generation to the next. As Germany's Gunter Kunert writes in his poem 'On Certain Survivors' in which a man is dragged out from the debris of his shelled house: 'He shook himself | And said | Never again. || At least, not right away.' A new touring theatre production of The Hundred Years' War will be staged at arts centres, theatres, festivals and other venues around Britain from 2014 by Midland Creative Projects, following their highly successful Staying Alive, Being Alive and Being Human touring productions.
Sklep: Libristo.pl 39,56 zł
Książki / Literatura obcojęzyczna
The Works 4 contains poems about everything and is divided into twenty-six alphabetical sections featuring poems about: A the ark and other creatures, B boys' stuff, C celebrations and festivals, D dinosaurs, dragons and dodos, E elements, seasons and the natural world, F friends and families, G girls' stuff, H home life, I impossible, improbable and inexplicable, J journeys, K kissing and other subjects best avoided, L love, death, war and peace, M monsters, ghosts and scary things, N north, south, east and west, O ourselves and others, P places and people, Q queens, kings and historical stuff, R rescuing the world, S senses and feelings, T teachers and school, U unpleasant poems, V viewpoints, W wonder, X words and wordplay, Y young and old, Z zapping aliens and other space poems. It also contains teachers' notes and a glossary of terms, including explanations of different poetic forms.
Sklep: Libristo.pl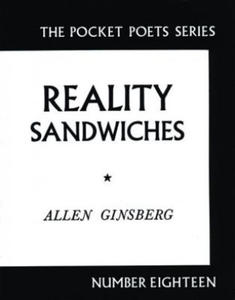 45,50 zł
Książki / Literatura obcojęzyczna
"Scribbled secret notebooks, and wild typewritten pages for yr own joy." Many of Ginsberg's most famous poems. Wake-up nightmares in Lower East Side, musings in public library, across the U.S. in dream auto, drunk in old Havana, brooding in Mayan ruins, sex daydreams on the West Coast, airplane vision of Kansas, lonely in a leafy cottage, lunch hour on Berkeley, beer notations on Skid Row, slinking to Mexico, wrote this last night in Paris, back on Times square dreaming of Times Square, bombed in NY again, loony tunes in the dentist chair, screaming at old poets in South America, aethereal zigzag Poesy in blue hotel room in Peru-a wind-up book of dreams, psalms, journal enigmas & nude minutes from 1953 to 1960 poems scattered in fugitive magazines here collected.
Sklep: Libristo.pl 49,46 zł
Książki / Literatura obcojęzyczna
Vidyan Ravinthiran's much-anticipated first collection contains many poems about Sri Lanka which fuse politics, personal history and myth, yet his voice pitches itself not so much halfway between East and West as between emotional forthrightness and linguistic exuberance. Traditional forms - of culture, of verse - contend with brusquer impulses in an era of technological distortion; without taking himself too seriously, the poet asks if perhaps we don't take ourselves seriously enough. These are poems of impassioned intelligence, which refuse to separate thought and feeling and seek not only to delight and disturb but to work through difficult problems. The intricacies of the modern relationship - the smallest society, a haven of two - are reconnected with the historical world; translations, some from classical Tamil, ask how close two languages or two people can get. Indeed, Grun-tu-molani is concerned throughout with a range of human behaviours common to different societies - the need to assert oneself, save face, explain, and touch; the last of which would not be possible were it not for the distances between us.
Sklep: Libristo.pl 54,40 zł
Książki / Literatura obcojęzyczna
Moniza Alvi left Pakistan for England when a few months old. In her early work, she drew on real and imagined homelands in poems which are 'vivid, witty and imbued with unexpected and delicious glimpses of the surreal - this poet's third country' (Maura Dooley). Her less autobiographical later books are concerned not only with divisions between East and West but also with the interplay between inner and outer worlds, imagination and reality, physical and spiritual. "Split World" is published at the same time as Moniza Alvi's latest collection, "Europa", and includes poems from five previous collection: "The Country at My Shoulder" (1993), "A Bowl of Warm Air" (1996), "Carrying My Wife" (2000), "Souls" (2002) and "How the Stone Found Its Voice" (2005).
Sklep: Libristo.pl 66,60 zł
Książki / Literatura obcojęzyczna
Cowboy's Trail is loosely based on the historic Cowboy Trail that runs from Cardston in southern Alberta not far from the Montana border to Mayerthorpe in Central Alberta. The actual trail is 640 km from south to north, it follows the eastern side of the Canadian Rockies for a picturesque trip. As a writer I took the creative liberty of extending this trail east and west. The places mentioned in the poems are actual places to be found in Alberta, but once again artistic license was taken with some of the places. (One would not shower in the actual Ram River Falls). Only the enigmatic Cowboy, the Man of Mystique is a work of fiction. Or is he...
Sklep: Libristo.pl 71,22 zł
Książki / Literatura obcojęzyczna
An accountant by profession, in a varied career at home and overseas, Brian Grehan here presents an eclectic mix of short stories and poems reflecting some of his life experiences, interests, and passions; including the Middle East, the West of Ireland, and Cricket.
Sklep: Libristo.pl
Sklepy zlokalizowane w miastach: Warszawa, Kraków, Łódź, Wrocław, Poznań, Gdańsk, Szczecin, Bydgoszcz, Lublin, Katowice
Szukaj w sklepach lub całym serwisie
2. Szukaj na wszystkich stronach serwisu
t1=0.048, t2=0, t3=0, t4=0.016, t=0.048