krainaksiazek eclectic school readings stories from life a book for young people 20093729
- znaleziono 9 produktów w 2 sklepach 154,71 zł
Książki / Literatura obcojęzyczna
In the Soviet Union of the 1920s, the most prominent avant-garde artists were eager children's book illustrators. Reaching a mass audience of unformed, malleable young people appealed to their commitment to an art manifesto based on the creation of a new kind of person for the revolutionary age. At the same time, the opportunity to work for good pay along with a low risk of censorship were practical attractions. The Constructivist artists drew considerable attention in the West for their brilliant creativity in using geometric designs, machine-age forms, and an architectural sense of space in their approach to the visual arts. Rejecting easel painting as a passe bourgeois preoccupation, they turned to designing and mythologizing objects of everyday use. In a major reassessment of their work, Evgeny Steiner forcefully demonstrates that the Constructivists were as committed to implementing Utopia - regardless of the human cost - as their establishment counterparts. Basing his work almost completely on primary sources - Russian picture books from the Russian State Library, private collections, and publishers' archives - Evgeny Steiner tells his story in deft prose with a wry sense of humor. The solidness of his sources, the range of his interests, and the depth of his understanding of Russian life combine to make this an unusually perceptive book on a fascinating cultural issue that combines the visual arts, literature, and politics. Evgeny Steiner is a member of the adjunct faculty, New York University, School of Continuing and Professional Studies. Formerly a senior editor in the Iskusstvo publishing house, Moscow, he has taught art history and history of literature in universities in Moscow, Jerusalem, Tel-Aviv, Tokyo, and Yokohama. He lives in New York.
Sklep: Libristo.pl 54,10 zł
Powieści i opowiadania
Orlando Figes
Sklep: Albertus.pl 175,92 zł
Książki / Literatura obcojęzyczna
'Overall, and as one has come to expect from Fink, this is a readable text that thinks outside the box of leadership theory...I have no doubt that the text will be welcomed by many readers for an engaging style that places human interest at the heart of the discourse in the field' - Mark Brundrett, writing in Educational Management Administration and Leadership 'It is a 'must read' for those in educational leadership roles in schools, both to gain invaluable insights and to draw on a framework for individual reflection' - Professor Brent Davies, University of Hull 'I enjoyed reading this book. The combination of critical reflection of his experience in the light of relevant literature makes for a lively and thought-provoking book. I was going to say "little" book, because at times I would have liked to have read more. But on the other hand, it is the sort of book one - the academic and the leader - could read in one sitting, enjoy and come back to for some ideas. I recommend you to do so' - ESCalate 'This book provides a refreshing alternative to the rhetoric about 'superheads', and 'mavericks' that has been prevalent in some of the recent discourse about leadership. Dean Fink draws heavily upon the work of Andy Hargreaves, Michael Fullan and his own research with Louise Stoll so some of the ideas are familiar. However, what makes Leadership for Mortals interesting is the way in which he untangles the complexities of leadership by using genuine examples alongside the theory. Dean Fink's writing is accessible and his anecdotal style should resonate with his intended audience of current and prospective leaders' - LDR, The Magazine for School Leaders 'This book is a welcome antidote to the notion of school leaders as heroic figures. Dean Fink's commitment to enhancing the life chances of young people shines through the pages' - Kate Myers, Times Educational Supplement 'With great wisdom and insight, Dean Fink invites us into his leadership stories to masterfully illustrate that school leadership is no longer a person but an intricate network of 'mortals' working together to enhance learning experiences for students. They are truly leaders of learning, where commitment to successful learning for all students is the locus of their passion, perseverance and persuasion. Balanced with connections to respected leadership literature, this lucid and eloquent book will inspire current and future school leaders to reflect and develop their leadership practice to higher levels of effectiveness. An outstanding and optimistic read for all school leadership mortals, practitioners and scholars alike. I enjoyed it immensely' - David Eddy, Director, First-time Principals Programme, The University of Auckland 'Practitioners will find this book at the same time reassuring and challenging. Fink includes stories of leadership that highlight effective strategies and some approaches that have gone wrong. They are real and ring true and therefore credible and instructive' - Ken Thompson Principal, Gladstone Park Secondary College, Australia 'A great story about schools and their leaders progressing towards a knowledge driven world and the roads they choose to travel. Building sustainable communities of practice and the credible and varied examples of how the combination of leadership behaviour and enabling and disabling processes can make or break a successful school are clearly illustrated in Leadership for Mortals. A significant read for all aspirant and accomplished leaders' - - Jenny Lewis,Executive Officer, Australian Council for Educational Leaders 'Dean Fink brings together a wealth of learning from his own experience as a leader and learner to provide some powerful messages. This is a well-informed book with a strong theoretical basis but it is also personal and real, making sense of educational leadership in a way that is both profound and down-to-earth. School leaders in the UK and elsewhere will find inspiration, reassurance and challenge in this book' - Steve Munby, Chief Executive, National College for School Leadership 'Grounded in solid knowledge base and profound lived experience, Dean Fink's Leadership for Mortals provides deep insights on how ordinary practitioners could become great and sustainable leaders of learning. Fink's book is not a "quick-fix" how-to-do-it manual. It stimulates us to reflect on education leadership both as a personalized, value-laden journey and an art as well as reminds us of the imperative issues of extraordinary commitment, effort and determination in making a difference on leading students and teachers' learning. This is a must-read book for aspiring and serving leaders in the field of education' - Professor John Chi-kin Lee, Dean of Education, The Chinese University of Hong Kong, Hong Kong 'Its style is conversational and unpatronizing, yet it makes powerful statements about the key components that contribute to successful leadership. It is always practical, and readers will come away from this book knowing they have learned something that they will be keen to try out for themselves...Readers will recognise leaders good and bad that they have come across, at times being reassured that they are getting it right and at others despairing as they identify situations in which they, too, got it wrong. Fink's writing makes it clear that leadership is not exact science! He reminds us that, although we are mortals, with good mentoring and better training our own potential has a better chance of being realised, and that this is the best way to enable our students to achieve their own potential.' Journal of Research in International Education Leadership in recent years has become a growth industry. Politicians demand more of it, academics decry the lack of it, and potential school leaders are deciding 'to hell with it' ...we are making the business of leadership so complicated that we seem to need John Wayne at his mythological best or Xena the Warrior Princess to run a school. Most educational leaders are not 'heroic' but rather ordinary people who through extraordinary commitment, effort, and determination have become extraordinary, and have made the people around them exceptional. Educational leadership is more art than science; it is more about character than technique; it is more about inspiration than charisma; it is more about leading students and teachers' learning than the management of things This resource for prospective and practising school leaders: - motivates and inspires - addresses the challenges of contemporary school leadership - presents a model for leadership development, selection and succession - challenges existing and prospective leaders to develop and live by a set of core values based on students' learning - describes and explains the 'learnings' required by effective leaders of learning - describes the intellectual 'tool kit' that leaders can develop - describes the trajectories through which leaders proceed, and the 'learnings' required at each stage of the leaders evolution - presents a template for leadership development and succession.
Sklep: Libristo.pl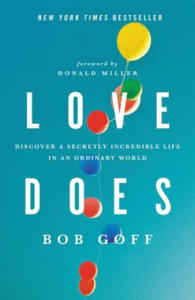 44,77 zł
Książki / Literatura obcojęzyczna
Now a New York Times Bestseller! As a college student he spent 16 days in the Pacific Ocean with five guys and a crate of canned meat. As a father he took his kids on a world tour to eat ice cream with heads of state. He made friends in Uganda, and they liked him so much he became the Ugandan consul. He pursued his wife for three years before she agreed to date him. His grades weren't good enough to get into law school, so he sat on a bench outside the Dean's office for seven days until they finally let him enroll. Bob Goff has become something of a legend, and his friends consider him the world's best-kept secret. Those same friends have long insisted he write a book. What follows are paradigm shifts, musings, and stories from one of the world's most delightfully engaging and winsome people. What fuels his impact? Love. But it's not the kind of love that stops at thoughts and feelings. Bob's love takes action. Bob believes Love Does. When Love Does, life gets interesting. Each day turns into a hilarious, whimsical, meaningful chance that makes faith simple and real. Each chapter is a story that forms a book, a life. And this is one life you don't want to miss. Light and fun, unique and profound, the lessons drawn from Bob's life and attitude just might inspire you to be secretly incredible, too. Endorsements: "If this book does not make your heart beat faster, book the next flight to Mayo Clinic!" --Bill Hybels, Senior Pastor, Willow Creek Community Church, Chairman, Willow Creek Association "Bob Goff is a one-man tsunami of grace, a hurricane of love. He doesn't just talk about change, he really is change, as Love Does chronicles in such a vivid way. Yet, Love Does doesn't leave you feeling like you want to celebrate its author, it awakens a sense deep within that you, too, have an outrageous role to play in God's unfolding story or rescue and repair." --Louie Giglio, Passion Conferences/Passion City Church "An interesting and compelling story (with Young Life roots) that ends with a practical challenge and punch: 'love does' and God can use you to do it!" --Denny Rydberg, President, Young Life "Every once in a while someone like Bob Goff shows up to remind us that some things matter a lot more than others. Love Does has a kind of 'north star' effect that will push you to refocus your life and energy on what is most significant. It doesn't just invite you to respond with your God-given potential, it invites you to become a part of what God can do beyond your potential." --Reggie Joiner, Founder and CEO of Orange "We liked the book a lot. Mostly, the balloons on the cover. The rest was pretty good too. Lots of stories about how God helps us." --Aedan, Asher and Skye Peterson ages 13, 12 and 9 "This may look like a book. It's not. It is an invitation to enter into the greatest adventure you have ever known-your life as it was meant to be lived. Hang on!" --Michael Hyatt, Author, Platform: Get Noticed in a Noisy World, MichaelHyatt.com "Bob's ability to love people brings contagious hope and inspiration wherever he goes. The power of love showcased in this book will surely touch the hearts and souls of many people. Read Love Does and find a friend in one the world's best hidden secrets, a person who shows how love can create connection and make a difference-even across oceans." --George Tsereteli, Deputy Chairman of the Parliament of Georgia (former Russian Republic)
Sklep: Libristo.pl 159,85 zł
Self-Injury Rowman & Littlefield Publishers
Książki / Literatura obcojęzyczna
Life as a teenager can be tough. Pressures from school, expectations from parents, fitting in with peers, and facing self-doubt are just a few things that can weigh heavily on a teen's shoulders. While some young adults seem to thrive on adversity, others wilt under the strain and opt for less productive means of coping. Millions of American teenagers and college students deliberately injure themselves as a way of handling stress. They cut, burn, break, and poison their bodies, seeking physical pain as a means to avoid emotional pain. In Self-Injury: The Ultimate Teen Guide, Judy Dodge Cummings tackles this serious subject, offering hope for young adults everywhere. In this book, Cummings defines self-injury as it is understood by the medical community and examines the causes of self-harm. The author shares the stories of several young women and men to help explain what types of people are most affected by this disorder. Topics covered in this book include *Who is most prone to self-injury *Internal and external triggers to self-harm *The impact of social media and the Internet on this issue *Obvious and subtle signs of self-harm *Coping mechanisms *Resources for individuals Aimed at teens who need to find healthier ways to handle the pressures of everyday life, this book will also assist friends and families who want to help their loved ones. Weaved throughout the chapters are first-person accounts of teens who intentionally hurt themselves, and their stories will help others understand they are not alone. Providing paths to individual recovery, Self-Injury: The Ultimate Teen Guide is a valuable resource for anyone who wants to help a young person break free from self-destructive behavior.
Sklep: Libristo.pl 36,77 zł
Książki / Literatura obcojęzyczna
The truth is that for those who dare to be different school and growing up can be hell. "Truth & Dare" is a collection of edgy, quirky stories that revolve around a funny, nerdy cast of characters who struggle to fit in ...or struggle not to. They will appeal to the inner geek of anyone caught up in attempts to navigate the labyrinthine teen caste system. Written in authentic teen voices, they speak to fans of the movies "Juno" and "Nick and Nora's Infinite Playlist" and the TV series "The Gilmore Girls". Witty and smart, these are short stories from the point of view of funny, though not always cool or popular guys and girls, who are dealing with all the pressures of growing up - school, friends, music, relationships, parents, and just plain fitting in (or not). Contributors: Jennifer Finney Boylan is author of eleven books, five of which are YA books. Sarah Rees Brennan is author of "The Demon's Lexicon", which was one of Kirkus' Best Books, ALA's Top Ten Best Books and a Best British Fantasy book. Cecil Castellucci is the author of "Rose Sees Red" and a picture book "Grandma's Gloves". Emma Donoghue is author of Booker-shortlisted Room. A.M. Homes is the author of, "This Book Will Save Your Life", "Music For Torching", "The End of Alice", "In a Country of Mothers", and "Jack". Jennifer R. Hubbard author of the contemporary YA novel "The Secret Year", published in 2010. Heidi R. Kling is the author of the Penguin Young Readers YA novel "Sea", a story of hope after tragedy set in the aftermath of the 2004 tsunami. Michael Lowenthal is the author of the novels "Charity Girl", "Avoidance", and "The Same Embrace". Saundra Mitchell is author of "Shadowed Summer" and "The Vespertine". Luisa Plaja author of the teen novels - "Split by a Kiss", "Swapped by a Kiss" and "Extreme Kissing". Matthue Roth author of "Never Mind the Goldbergs", his first novel, a coming-of-age tale Sherry Shahan has written over 30 books, including "Purple Daze". Shelley Stoehr is the author of four award-winning novels for Young Adults, including the still popular, award-winning, "Crosses". Ellen Wittlinger had her first teen novel, Lombardo's Law,published in 1993. Jill Wolfson author of award-winning novels for young people including "What I Call Life"; "Home, and Other Big, Fat Lies"; and "Cold Hands, and Warm Heart". Contributors also include: Courtney Gillette, Jennifer Knight, Gary Soto, and Sara Wilkinson.
Sklep: Libristo.pl 70,40 zł
Książki / Literatura obcojęzyczna
We use the bush as our school and as our playground, says one of the many Aboriginal and Torres Strait Islander people whose voices combine in this anthology of true stories about childhood, compiled from a wide range of memoirs and oral histories. Alongside reminiscences of getting bush tucker, going fishing and taking part in ceremony, there are descriptions of playing games, building cubbies and having fun. The warmth of home, the love of family and the strength of community shine through every story. Freedom goes hand in hand with responsibility, while respect and sharing are constant themes. The eighty Elders - both past and present - who have contributed their words or artwork to this book include many prominent community leaders, educators and artists. Their life-stories span the twentieth century. Just as important are the contemporary stories told by twenty secondary school students. Although some of these young people now make their home in the city, their connection to traditional country remains the source of learning. As we listen to these stories that come from country and from inside the heart, we find wisdom that could help us care for each other and for the land where we all now live.
Sklep: Libristo.pl 37,03 zł
Książki / Literatura obcojęzyczna
The five letters - from 1 Thessalonians to Titus - form a discipleship training school for anyone who wants God to transform their life. Paul was forced to flee the city of Thessalonica so quickly the he wrote 1 Thessalonians as the first lesson in his discipleship training school, teaching us how to be true converts. He was unable to return so he wrote 2 Thessalonians as a second lesson, which teaches us how to be true warriors. The last three letters were to individual graduates: Titus lays out the syllabus which we need in order to be truly fruitful; 1 Timothy explains how his young graduate can help the Ephesians to become truly mature in their faith and 2 Timothy acts as Paul's final will and testament in which he assures his converts that they are truly ready to continue the work after his death. The Straight to the Heart of series of devotional commentaries allow people to get to grips with each book of the Bible one bite at a time. Phil Moore focuses on key sections which together form a useful introduction. There will be 25 volumes in all, each containing 60 readings. The short chapters are punchy and relevant, yet crammed with fascinating scholarship.
Sklep: Libristo.pl 123,36 zł
Legacies University of California Press
Książki / Literatura obcojęzyczna
One out of five Americans, more than 55 million people, are first-or second-generation immigrants. This landmark study, the most comprehensive to date, probes all aspects of the new immigrant second generation's lives, exploring their immense potential to transform American society for better or worse. Whether this new generation reinvigorates the nation or deepens its social problems depends on the social and economic trajectories of this still young population. In "Legacies", Alejandro Portes and Ruben G. Rumbaut - two of the leading figures in the field - provide a close look at this rising second generation, including their patterns of acculturation, family and school life, language, identity, experiences of discrimination, self-esteem, ambition, and achievement. Based on the largest research study of its kind, "Legacies" combines vivid vignettes with a wealth of survey and school data. Accessible, engaging, and indispensable for any consideration of the changing face of American society, this book presents a wide range of real-life stories of immigrant families - from Mexico, Cuba, Nicaragua, Colombia, the Dominican Republic, Haiti, Jamaica, Trinidad, the Philippines, China, Laos, Cambodia, and Vietnam - now living in Miami and San Diego, two of the areas most heavily affected by the new immigration. The authors explore the world of second-generation youth, looking at patterns of parent-child conflict and cohesion within immigrant families, the role of peer groups and school subcultures, the factors that affect the children's academic achievement, and much more. A companion volume to "Legacies", entitled "Ethnicities: Children of Immigrants in America", was published by California in Fall 2001. Edited by the authors of "Legacies", this book will bring together some of the country's leading scholars of immigration and ethnicity to provide a close look at this rising second generation. It is a co-publication with the Russell Sage Foundation.
Sklep: Libristo.pl
Sklepy zlokalizowane w miastach: Warszawa, Kraków, Łódź, Wrocław, Poznań, Gdańsk, Szczecin, Bydgoszcz, Lublin, Katowice
Szukaj w sklepach lub całym serwisie
2. Szukaj na wszystkich stronach serwisu
t1=0.099, t2=0, t3=0, t4=0, t=0.099