krainaksiazek embrace a life of guidance 20131135
- znaleziono 6 produktów w 2 sklepach 147,60 zł
Biznes
This book is about strategic thinking in Hispanic marketing. The size and economic importance of the Hispanic market in the US are attracting enormous attention. The buying power of the US Hispanic market is now larger than the GDP of the entire country of Mexico, and it is the second largest Hispanic market in the world. Businesses and institutions have launched major initiatives to reach this important segment. Yet, the number of qualified individuals who understand the market is small; and many of those already catering to the market still struggle to learn about its intricacies. This book is a cultural approach to Hispanic marketing. Each of the chapters describes and explains the cultural principles of Latino marketing. Recent case studies help marketers relate to the material pragmatically. The book integrates concepts and practical examples and provides critical guidance to discern between alternative courses of action. This book is not about repeating well-known statistics, but about the Hispanic market as a cultural target. It takes a profound look at the values, beliefs, and emotions of US Hispanics, which impact consumer behaviour. Each of the chapters has been the subject of public presentations and lectures to marketing professionals. It is their positive reactions as well as the authors
Sklep: Albertus.pl 42,47 zł
Książki / Literatura obcojęzyczna
Number 1 bestselling author, Cathy Glass, shares her experience and expertise gained across 25 years as a foster carer in this brilliantly practical self-help guide for adults, the long-awaited sequel to her much-loved parenting guide that fans of Happy Kids have been clamouring for. Cathy Glass reveals the secrets of happiness and contentment in adulthood by combining common-sense psychology with tried-and-tested strategies and case studies, always from her own unique and insightful perspective. With practical guidance on how to develop your own optimistic personal philosophy, tips on when to listen to intuition, and attitude and lifestyle suggestions, Happy Adults is the essential manual for getting the best out of life. The recipient of thousands of letters and emails from readers touched by her inspirational memoirs whose own life stories resonate with those of the children in her care, Cathy has identified the key traits in happy readers that have buoyed them up during harrowing childhoods, through to functional and successful adulthood. Compiling these valuable lessons on outlook and behaviour, for instance, how to dispel negativity and unproductive anger and embrace empowerment, and the importance of trust in oneself, Cathy has produced a single invaluable handbook for adults seeking fundamental life guidance or useful effective approaches for a lifetime of hope and fulfilment.
Sklep: Libristo.pl 46,32 zł
Książki / Literatura obcojęzyczna
Like fellow Dubliner, Lorna Byrne, Patricia Buckley - the author of "My Journey with the Angels" - is a down-to-earth mystic. Patricia is gentle, funny and practical and in the last decade, through her joyous embrace of the angels in her life, she has been able to give hope to countless wounded souls who have come to her seeking guidance. From as early as she can remember, Patricia took for granted that she could speak to angels and dead people. And though her childhood was blighted by poverty, neglect and abuse, the spirit world made her feel secure and cherished. However, after many tough years - during which she was committed to a mental ward, was nearly killed by an abusive boyfriend and eventually became homeless - she gave up on that part of her life. Patricia found love in a good marriage and joy in the birth of her children. And yet for twenty years she remained fragile and dependent on tranquillisers. That was until a chance encounter woke up her hidden spiritual energies and revived her passion for living. The time had come to share her gifts with the world. Patricia shares her story in "My Journey with the Angels" - a heart-breaking memoir of a Dublin childhood, a moving account of how she came to accept her extraordinary gifts, and an inspirational guide - full of examples from her life and work - to the wisdom of the angels.
Sklep: Libristo.pl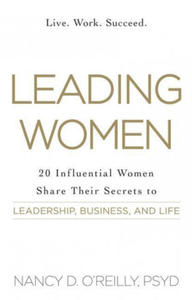 79,82 zł
Książki / Literatura obcojęzyczna
Now is the time...Stop waiting around for the career--and life--that you desire and start taking the reins! Leading Women shows you how to claim power and respect, conquer your internal barriers, and change the world by helping other women do the same. Featuring stories from twenty nationally acclaimed female leaders, this empowering guide offers real-life advice for breaking free of the predetermined roles in the business world and life. These powerful women describe what it's like to go beyond one's comfort zone, hold their own in a male-dominated environment, and take control of the situations that keep many women from achieving their goals. From Yahoo! Inc. CEO Marissa Mayer's determination to build credibility as both a leader and a new mother to New York Times bestselling author M. Bridget Cook's struggles after years of abuse, their insight will help you embrace your purpose, seize important opportunities, and overcome any obstacle that comes your way. With the guidance of these influential, resourceful leaders, you'll maximize your personal power, exceed your business goals, and establish a network designed to support your fellow careerwomen.
Sklep: Libristo.pl 249,56 zł
Książki / Literatura obcojęzyczna
Praise for Service-Oriented Architecture "This book provides a superb overview of the SOA topic. Marks and Bell provide practical guidance across the entire SOA life cycle-from business imperatives and motivations to the post-deployment business and technical metrics to consider. With this book, Marks and Bell demonstrate a unique ability to take the complex dynamics of SOA, and through an eloquent set of metaphors, models, and principles, provide an understandable and insightful how-to manual for both technical and business executives. This will become a required handbook for any organization implementing SOA." -Dan Bertrand, Enterprise Technology Officer & EDS Fellow, EDS Corporation "A fundamental breakthrough in the business and technology perspectives of SOA-this book belongs in every software developer, architect, and IT executive library. Marks and Bell demonstrate a creative and practical approach to building complex, service-oriented systems. I especially liked the hands-on perspective brought to multiple aspects of SOA. A must-have guide in the technology turbulence of the future." -Ariel Aloni, Chief Technology Officer, SunGard Data Management Solutions "This outstanding text gets straight to the heart of the matter, cutting through the hyperbole and discussing how to drive real business value through SOA. It will certainly impact my behavior, our governance models, and, subsequently, the successful business outcomes we derive as we continue to embrace SOA. A must-read for battle-scarred SOA veterans and fledgling architects alike." -Christopher Crowhurst, Vice President and Chief Architect, Thomson Learning "Too often, SOA has been perceived as 'all about the technology'-standards, technology stacks, operational monitoring, and the like. In this book, Marks and Bell expand beyond the technology to provide a refreshing business-driven perspective to SOA, connecting the dots between business requirements, architecture, and development and operations, and overlaying these perspectives with tried-and-true governance techniques to keep SOA initiatives on track. A must-read for those leading the charge to adopt SOA within their enterprise." -Brent Carlson, Chief Technology Officer, LogicLibrary and coauthor of San Francisco Design Patterns: Blueprints for Business Software "Marks and Bell have captured a wealth of practical experience and lessons learned in what has become the hottest topic in software development. In this book, they explain in detail what works and what does not, from procedural issues to technical challenges. This book is an invaluable reference for organizations seeking the benefits of SOAs." -Dr. Jeffrey S. Poulin, System Architect, Lockheed Martin and author of Measuring Software Reuse: Principles, Practices, and Economic Models "One of the last things companies often consider when implementing a business solution such as SOA is the impact on people. Marks and Bell provide an in-depth look at 'what has to change' from a process standpoint to make any SOA implementation a success. A great read for those considering to embark on an enterprise SOA and looking for the right mix of people, process, and products." -Alan Himler, Vice President of Product Management and Marketing, LogicLibrary SOA is a complex topic and a complex organizational goal Service-Oriented Architecture: A Planning and Implementation Guide for Business and Technology shows you how to plan, implement, and achieve SOA value through its prescriptive approach, joining the business and strategic perspective to the technical and architectural perspective. Applicable to all industries, technology platforms, and operating environments, this innovative book provides you with the essential strategies to drive greater value from your SOA and realize your business goals.
Sklep: Libristo.pl 56,74 zł
Książki / Literatura obcojęzyczna
While the demands and pace of modern living often prevent many from seeing the transcendent and extraordinary elements in the simple activities and events in life, this beautifully written, lucid, and practical primer for prayer, meditation, and mindful living focuses on seeking and appreciating the sacred in everyday life. Divided into four sections concentrating on our bodies, our dwellings, everyday things, and gratitude, Norris illuminates ways to see and embrace the sacred each day. The guidance and advice offer a very practical and accessible way to appreciate and celebrate holiness in daily life.
Sklep: Libristo.pl
Sklepy zlokalizowane w miastach: Warszawa, Kraków, Łódź, Wrocław, Poznań, Gdańsk, Szczecin, Bydgoszcz, Lublin, Katowice
Szukaj w sklepach lub całym serwisie
2. Szukaj na wszystkich stronach serwisu
t1=0.022, t2=0, t3=0, t4=0, t=0.022