krainaksiazek empirical methods in language studies 20096995
- znaleziono 7 produktów w 3 sklepach 319,99 zł
Książki Obcojęzyczne>Nieprzypisane
Empirical Methods In Language Studies Presents 22 Papers Employing A Broad Range Of Empirical Methods In The Analysis Of Various Aspects Of Language And Communication. The Individual Texts Offer Contributions To The Description Of Conceptual Strategies,
Sklep: Gigant.pl 257,61 zł
Książki / Literatura obcojęzyczna
Presenting 22 papers employing a broad range of empirical methods in the analysis of various aspects of language and communication, this book offers description of conceptual strategies, syntax, semantics, non-verbal communication, language learning, discourse, and literature.
Sklep: Libristo.pl 512,95 zł
Książki / Literatura obcojęzyczna
The monograph presents a selection of empirical papers dealing with second and multiple language acquisition, in which qualitative research methodology is employed. Each of the studies reported in individual chapters is based on a solid theoretical background and an overview of studies in a given area. Although the main focus is on qualitative methods, some of the papers demonstrate the complementarity of quantitative and qualitative approaches in studying language acquisition.
Sklep: Libristo.pl 357,60 zł
Książki / Literatura obcojęzyczna
More than 1.46 million people in the United States have hearing losses in sufficient severity to be considered deaf; another 21 million people have other hearing impairments. For many deaf and hard-of-hearing individuals, sign language and voice interpreting is essential to their participation in educational programs and their access to public and private services. However, there is less than half the number of interpreters needed to meet the demand, interpreting quality is often variable, and there is a considerable lack of knowledge of factors that contribute to successful interpreting. Perhaps it is not surprising, then, that a study by the National Association of the Deaf (NAD) found that 70% of the deaf individuals are dissatisfied with interpreting quality. Because recent legislation in the United States and elsewhere has mandated access to educational, employment, and other contexts for deaf individuals and others with hearing disabilities, there is an increasing need for quality sign language interpreting. It is in education, however, that the need is most pressing, particularly because more than 75% of deaf students now attend regular schools (rather than schools for the deaf), where teachers and classmates are unable to sign for themselves. In the more than 100 interpreter training programs in the U.S. alone, there is a variety of educational models, but little empirical information on how to evaluate them or determine their appropriateness in different interpreting and interpreter education-covering what we know, what we do not know, and what we should know. Several volumes have covered interpreting and interpreter education, there are even some published dissertations that have included a single research study, and a few books have attempted to offer methods for professional interpreters or interpreter educators with nods to existing research. This is the first volume that synthesizes existing work and provides a coherent picture of the field as a whole, including evaluation of the extent to which current practices are supported by validating research. It will be the first comprehensive source, suitable as both a reference book and a textbook for interpreter training programs and a variety of courses on bilingual education, psycholinguistics and translation, and cross-linguistic studies.
Sklep: Libristo.pl 62,20 zł
Książki / Literatura obcojęzyczna
Seminar paper from the year 2004 in the subject English - Pedagogy, Didactics, Literature Studies, printed single-sided, grade: 1,7, (Institut für Anglistik/Amerikanistik), course: Seminar Collocations and meaning, 12 entries in the bibliography, language: English, abstract: The object of this analysis is the triplet of (ostensible) synonyms oppress, repress, and suppress, all of which express an action of subjection and therefore share at least a part of their meaning. Also, all three of them are (in most contexts) commonly translated into German as unterdrücken . The question is to what extent they may be called synonymous.In order to answer this question, the British National Corpus was taken as an empirical basis.Compiled corpora offer the advantage of an approach which is time-saving and potentially free of oversights or slips, as decisions are open to be checked at any time again. Data and methods thus allow for an empirical and replicable analysis of meaning.
Sklep: Libristo.pl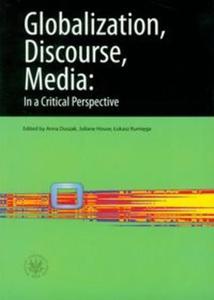 46,70 zł
Wydawnictwa naukowe i popularno-naukoweKomunikacja społeczna. Media. DziennikarstwoGlobalizacja
This volume deals with communicative, social and media-related aspects of discourses under globalization. In one way or another, all the contributions touch upon issues relating to new multilingualism and new multiculturalism, which are being propelled worldwide by politically and economically motivated processes of migration. The pivotal topics covered are: postmodern social identities (esp. national, transnational and consumer identities), linguistic and cultural variation and change under the influence of global English and new technologies, as well as the ideologization of public discourses and that of the media in particular. The chapters are united by their focus on in-depth critical interpretations of public (often political) discourses. While most of the contributions are couched in a Critical Discourse Analysis framework, room has been made for cognate interdisciplinary approaches to social communication. Alongside well grounded empirical studies, this volume features innovative theoretical reflections and proposals of how new approaches and methods for investigating social and linguistic phenomena might be employed to meet the challenges of the 21st century. The bilingual format of this volume (English and German) affords the possibility to elucidate on language- and culture- based variation and on how these respective issues are academically researched and socially mediated.
Sklep: Booknet.net.pl 297,35 zł
Książki / Literatura obcojęzyczna
Doctoral Thesis / Dissertation from the year 2017 in the subject Law - Criminal process, Criminology, Law Enforcement, grade: A, , language: English, abstract: Close proximity to the major production zones, porous borderlands, mountainous frontiers and long coastlines offer advantageous conditions for trafficking narcotics. The illicit drug situation has become much more complex in Vietnam with the growth in amphetamine-type stimulants production and trade. Even so, empirical research and analysis of the organization and operation of transnational narcotics trafficking (TransNT) remains limited. The purpose of this thesis is to present the first detailed inquiry into the nature of TransNT across the border between Lao People's Democratic Republic (PDR) and Vietnam using an exploratory approach which draws upon qualitative and quantitative methods. In particular, the thesis presents findings from case studies of cross-border trafficking between Vietnam and Lao PDR in the period of 2003-2013 combined with interview and survey data from criminal investigation police and drug-related crimes officers (CIPDRC) from six border provinces who are directly and indirectly involved in investigating these cases. The findings of this study indicate that drug markets in Vietnam are not controlled by monopolistic, hierarchical organizations or 'cartels'. The structures of TransNT entities operating across the Lao-Vietnam border are small, based on family ties and fellow-countrymen relations, are fluid and loosely organized. They are very adaptable and sophisticated with diverse modus operandi and multiple divisions of labour. This presents particular challenges to law enforcement agencies (LAEs). This thesis questions to capacity of Vietnam's police to enforce the government's zero-tolerance anti-narcotics policy. The study highlights practical problems and specific barriers in combating TransNT. LEAs in Vietnam and Lao PDR operate without effective mechanisms to cooperate and share information. It is also the case that traffickers often have more sophisticated equipment at their disposal to help them avoid arrest. Police forces work within national structures and yet are faced with the task of combatting transnational crime. This reality affects law enforcement capacity at a national as well as regional level, but Association of the Southeast Asian Nations member states have yet to establish effective structures for dealing with this non-traditional security challenge. Based on these findings, therefore, the thesis proposes recommendations to enhancing the effectiveness of LEAs to combat TransNT between Vietnam and Lao PDR.
Sklep: Libristo.pl
Sklepy zlokalizowane w miastach: Warszawa, Kraków, Łódź, Wrocław, Poznań, Gdańsk, Szczecin, Bydgoszcz, Lublin, Katowice
Szukaj w sklepach lub całym serwisie
2. Szukaj na wszystkich stronach serwisu
t1=0.036, t2=0, t3=0, t4=0, t=0.036