krainaksiazek england their england a classic british humor novel 20088766
- znaleziono 9 produktów w 2 sklepach 11,15 zł
Książki & Multimedia > Książki
Opis - Pierwsze na świecie świadectwo ofiary zbrodni honorowej. Miała siedemnaście lat i zakochała się: zhańbiła rodzinę. Więc rodzina wydała na nią wyrok śmierci... Pokochała go pierwszą miłością. Myślała, że się z nią ożeni. Ale ukochany zniknął, a ona odkryła, że jest w ciąży. A w jej świecie to najcięższa zbrodnia... W zapomnianej przez Boga wiosce w Cisjordanii kobiety są warte mniej niż zwierzęta domowe. Tu mężczyzna jest panem życia i śmierci żony, córki, siostry. Brat może bezkarnie zabić siostrę, matka - córkę, kolejną bezużyteczną dziewczynkę, jaka się urodzi. Tu kobiecie odbiera się godność, a nawet życie zgodnie z odwiecznym obyczajem i uświęconą tradycją. A śmierć jest karą dla dziewczyny, która zhańbi rodzinę. Tak jak Souad. Wyrok wydaje jej ojciec. Szwagier dokonuje egzekucji. Oblewa Souad benzyną i podpala... SOUAD przeżyła - cudem, ale rodzina usiłowała zabić ją nawet w szpitalu. Na zawsze jednak pozostanie straszliwie okaleczona - na ciele i duszy. I wciąż musi się ukrywać; dopóki żyje, jej rodzinę okrywa hańba. Spalona żywcem, opublikowana pod pseudonimem szokująca opowieść o piekle, jakim było jej dzieciństwo i młodość, stała się międzynarodowym bestsellerem. Wydana w 37 w krajach książka przerywa tabu milczenia wobec istniejącej nadal w krajach muzułmańskich barbarzyńskiej tradycji. Nieludzkiego obyczaju, prawa mężczyzn, na mocy którego co najmniej pięć tysięcy kobiet pada co roku ofiarą zbrodni honorowej. Nazwa - Spalona Żywcem Wyd. Kieszonkowe Autor - Souad Oprawa - Miękka Wydawca - Amber Kod ISBN - 9788324159406 Kod EAN - 9788324159406 Wydanie - 1 Rok wydania - 2016 Tłumacz - 31182,maria rostworowska; Format - 110 x 175 x 14 Ilość stron - 224 Podatek VAT - 5% Premiera - 2016-06-23
Sklep: InBook.pl 137,93 zł
Książki / Literatura obcojęzyczna
Rogue Male (1939) by Geoffrey Household is a classic thriller novel of the 1930s.The protagonist, an unnamed British sportsman, sets out to see whether he can stalk and prepare to shoot a European dictator. Supposedly interested only in the hunt for its own sake, he convinces himself that he does not intend to pull the trigger.He is caught in his stalk by the dictator's guards and tortured but on the verge of being put to death, he manages to escape. After making his way covertly back to England, he realizes that he is still being hunted and eventually he is forced literally to go underground. During the time he spends holed up in his "hide" he ponders on his predicament and confesses to himself that he would have "pulled the trigger" as punishment for the earlier execution of the love of his life by the fascist regime. He has to use all his wit and guile to turn the tables on his pursuers and escape from their clutches.
Sklep: Libristo.pl 200,62 zł
Książki / Literatura obcojęzyczna
"Dracula's Crypt" unearths the Irish roots of Bram Stoker's gothic masterpiece, offering a fresh interpretation of the author's relationship to his novel and to the politics of blood that consumes its characters. An ingenious reappraisal of a classic text, "Dracula's Crypt" presents Stoker's novel as a subtly ironic commentary on England's preoccupation with racial purity. Probing psychobiographical, political, and cultural elements of Stoker's background and milieu, Joseph Valente distinguishes Stoker's viewpoint from that of his virulently racist, hypermasculine vampire hunters, showing how the author's dual Anglo-Celtic heritage and uncertain status as an Irish parvenu among London's theatrical elite led him to espouse a progressive racial ideology at odds with the dominant Anglo-Saxon supremacism. In the light of Stoker's experience, the shabby-genteel Count Dracula can be seen as a doppelgnger, an ambiguous figure who is at once the blood-conscious landed aristocrat and the bloodthirsty foreign invader. Stoker also confronts gender ideals and their implications, exposing the 'inner vampire' in men like Jonathan Harker who dominate and absorb the women who become their wives. Ultimately, Valente argues, the novel celebrates a feminine heroism, personified by Mina Harker, that upholds an ethos of social connectivity against the prevailing obsession with blood as a vehicle of identity. Revealing a profound and heretofore unrecognized ethical and political message, "Dracula's Crypt" maintains that the real threat delineated in Dracula is not racial degeneration but the destructive force of racialized anxiety itself. Stoker's novel emerges as a powerful critique of the very anxieties it has previously been taken to express: anxieties concerning the decline of the British empire, the deterioration of Anglo-Saxon culture, and the contamination of the Anglo-Saxon race.
Sklep: Libristo.pl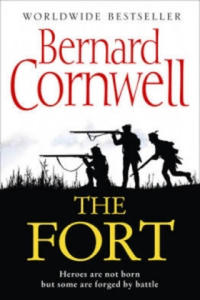 44,46 zł
Książki / Literatura obcojęzyczna
'Captivate, kill or destroy the whole force of the enemy' was the order given to the American soldiers. THE FORT is the blistering new novel from worldwide bestseller Bernard Cornwell. Summer 1779. Seven hundred and fifty British soldiers and three small ships of the Royal Navy. Their orders: to build a fort above a harbour to create a base from which to control the New England seaboard. Forty-one American ships and over nine hundred men. Their orders: to expel the British. The battle that followed was a classic example of how the best-laid plans can be disrupted by personality and politics, and of how warfare can bring out both the best and worst in men. It is a timeless tale of men at war, written by a master storyteller.
Sklep: Libristo.pl 44,46 zł
Książki / Literatura obcojęzyczna
An autobiographical work that describes firsthand the great tectonic shifts in English society following the First World War, Robert Graves' "Goodbye to All That" is a matchless evocation of the Great War's haunting legacy, published in "Penguin Modern Classics". In 1929 Robert Graves went to live abroad permanently, vowing 'never to make England my home again'. This is his superb account of his life up until that 'bitter leave-taking': from his childhood and desperately unhappy school days at Charterhouse, to his time serving as a young officer in the First World War that was to haunt him throughout his life. It also contains memorable encounters with fellow writers and poets, including Siegfried Sassoon and Thomas Hardy, and covers his increasingly unhappy marriage to Nancy Nicholson. "Goodbye to All That", with its vivid, harrowing descriptions of the Western Front, is a classic war document, and also has immense value as one of the most candid self-portraits of an artist ever written. Robert Ranke Graves (1895-1985) was a British poet, novelist, and critic. He is best known for the historical novel "I, Claudius" and the critical study of myth and poetry "The White Goddess". His autobiography, "Goodbye to All That", was published in 1929, quickly establishing itself as a modern classic. Graves also translated Apuleius, Lucan and Suetonius for the Penguin Classics, and compiled the first modern dictionary of Greek Mythology, "The Greek Myths". His translation of "The Rubaiyat of Omar Khayyam" (with Omar Ali-Shah) is also published in "Penguin Classics". If you enjoyed "Goodbye to All That", you might like Ford Madox Ford's "Parade's End", also available in "Penguin Modern Classics". "His wonderful autobiography". (Jeremy Paxman, "Daily Mail").
Sklep: Libristo.pl 104,05 zł
Książki / Literatura obcojęzyczna
Lady Charlotte is the happiest of young ladies as she awaits her beloved Gerald Kirkland, the dashing young man who is also, seemingly, devoted to her. Then, suddenly and without warning, Gerald disappears to far-off America in the company of the caddish Fitzwilliam Canterby, there to fall into the clutches of the lovely, dangerous Miss Chastity Brown. When Charlotte finds herself forced by her father into an engagement to the notorious Marquis of Beresford, who can promise her only a lifetime of cold courtesy and callous betrayal, she can bear it no longer. As her wedding day draws near, Charlotte realizes she is about to lose her one chance of happiness -- unless she takes matters into her own hands, and even if it means behaving as no young lady should, and taking a gamble she cannot afford to lose. Fans of Jane Austen and Georgette Heyer will delight in the reissue of this classic Regency Romance by Judith Harkness. With a light touch and keen eye for human foibles, Harkness not only paints the fashionable world of Regency England, with its beaus and belles, balls and routs, but takes the reader on a fascinating tour of post-Revolutionary New York. There, on the majestic banks of the Hudson River, we are given a privileged view of how aristocratic Americans lived only a few decades after declaring their independence from the British. Brimming with period detail, Lady Charlotte's Ruse will delight readers craving a good, old-fashioned romantic caper. Judith Harkness is the author of five classic Regency Romances: The Montague Scandal, The Admiral's Daughter, The Determined Bachelor, Contrary Cousins, and Lady Charlotte's Ruse, all originally published by Signet. She is the co-author of a screenplay, EMMA in New York, an updated version of the classic Jane Austen novel set in contemporary Manhattan. As J.H. Richardson, she writes non-fiction on subjects ranging from children with learning and developmental issues to profiles of notable creative artists. She lives in Rhode Island with her husband, Will Taft. Finally! A really well written historical romance that can hold it's own with the likes "Emma" and "Pride and Prejudice." Can't wait to read more...-Sally Quinn, New York
Sklep: Libristo.pl 123,76 zł
Książki / Literatura obcojęzyczna
Immortalized as the author of "The Riddle of the Sands", Erskine Childers led a life quite as enigmatic and adventurous as his classic novel. Childers was orphaned at an early age. Though he was brought up in County Wicklow, he received an English education that culminated in a clerkship to the House of Commons, voluntary service in the Boer War, and the writing of his great novel. Thus far he appeared patriotic, imperialist and largely conformist. But marriage to a strong-willed Bostonian and an increasing interest in the affairs of Ireland led to his questioning the imperial Zeitgeist. At first this took constitutional forms, but such was Childers' frustration with progress towards any manner of Irish independence from British rule, that on the eve of the First World War he instigated gun-running to supporters of the Home Rule movement. Nonetheless, he still regarded it as his duty to serve England, and during the war he distinguished himself as an observer in the early seaplanes and torpedo boats. Traumatized, however, by the Easter Rising of 1916, he finished the war profoundly divided in his loyalties. With the Irish question now critical, Childers settled his fate by becoming the official propagandist for the Republican movement. He opposed the treaty that established the Irish Free State, regarding the compromise as anathema, and joined the IRA. Hunted by the Free State authorities, he was eventually captured and executed in November 1922. Set against the backdrop of Britain's imperial zenith, the great naval arms race and the First World War, Jim Ring's acclaimed biography of Childers does full justice to this dramatic and intriguing story. "Jim Ring has written a fine and fluent biography of an extraordinary man, navigating the angry waters [of Irish politics] with a sure hand but dodging none of the difficulties." ("Independent on Sunday").
Sklep: Libristo.pl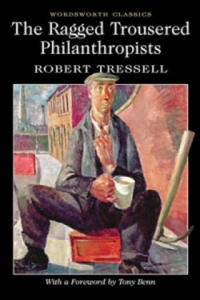 12,38 zł
Książki / Literatura obcojęzyczna
The Ragged Trousered Philanthropists is a classic representation of the impoverished and politically powerless underclass of British society in Edwardian England, ruthlessly exploited by the institutionalized corruption of their employers and the civic and religious authorities. Epic in scale, the novel charts the ruinous effects of the laissez-faire mercantilist ethics on the men, women, and children of the working classes, and through its emblematic characters, argues for a socialist politics as the only hope for a civilized and humane life for all. It is a timeless work whose political message is as relevant today as it was in Tressell's time. For this it has long been honoured by the Trade Union movement and thinkers across the political spectrum.
Sklep: Libristo.pl 96,73 zł
Książki / Literatura obcojęzyczna
"In Forever Azathoth Peter Cannon captures Lovecraft's style deliciously, takes affectionate digs at such horror eminences as critic S. T. Joshi and writer T.E.D. Klein, and even-has the man no shame?-subjects a number of mainstream classics to a hideous cross-pollination."-Michael Dirda "The stories in Forever Azathoth all qualify as Lovecraftian metafiction, ranging from parody to pastiche to homage. Cannon adds spice to this stew by calling in elements from authors as disparate as William Faulkner and James Herriot. The most surprising and surprisingly successful combination is Cannon's importation of P.G. Wodehouse's air-headed Bertie Wooster and Bertie's "gentleman's gentleman," the unflappable Reginald Jeeves, into the world of Lovecraftian weirdness." -Richard Lupoff H. P. Lovecraft once wrote: "As a rule, I don't think that a comic or flippant style-or one with much satire-mixes well with the weird." Peter Cannon has devoted most of his writing career to breaking this rule, usually at the expense of Lovecraft himself. This volume collects the finest and funniest of Cannon's parodies and pastiches, starting with the title story, a six-part sequel to Lovecraft's "The Thing on the Doorstep." Various Edward Derby heirs and scholars contend for control of the poet-prodigy's literary legacy, too absorbed in their own affairs to take much heed of the supernatural mischief made possible by mind transfer. Before there was Pride and Prejudice and Zombies, there were the three "Wodecraft" tales, in which P. G. Wodehouse's characters show considerable savoir faire in the face of cosmic dread. Cannon also mashes up Lovecraft with two classic American writers, F. Scott Fitzgerald ("Tender Is the Night-Gaunt") and William Faulkner ("The Sound and the Fungi"). Two selections pay homage to living horror greats Ramsey Campbell ("The Undercliffe Sentences") and T.E.D. Klein ("The Arkham Collector"). "The Madness out of Space" chronicles the efforts of a scholarly New England gentleman to connect with the cosmic. This quality Hippocampus Press edition contains all the stories in the limited, signed Subterranean Press edition together with the novelette "The Madness out of Space." Handsome interior illustrations by noted Lovecraftian artist Jason C. Eckhardt, some newly commissioned for this paperback edition, form an added bonus. Peter Cannon is the author of Pulptime (1984), a Sherlock Holmes pastiche in which H. P. Lovecraft plays Dr. Watson to the great detective; Scream for Jeeves: A Parody (1994), a blend of Wodehousian humor and Lovecraftian horror with a dash of Conan Doyle; and The Lovecraft Chronicles (2004), a novel that imagines a happier and longer life for Lovecraft. He lives with his wife and three children in New York City.
Sklep: Libristo.pl
Sklepy zlokalizowane w miastach: Warszawa, Kraków, Łódź, Wrocław, Poznań, Gdańsk, Szczecin, Bydgoszcz, Lublin, Katowice
Szukaj w sklepach lub całym serwisie
2. Szukaj na wszystkich stronach serwisu
t1=0.061, t2=0, t3=0, t4=0, t=0.062