krainaksiazek essays in medieval indian economic history 20125248
- znaleziono 10 produkty w 2 sklepach 209,99 zł
Książki Obcojęzyczne>Angielskie>Economics, finance, business & management>Economics>Economic history
Includes The Economic Foundations Of Medieval Society, The Rise Of A Money Economy, The Chronology Of Labour Services And The Charters Of The Villeins.
Sklep: Gigant.pl 135,91 zł
Książki / Literatura obcojęzyczna
Europe was formed in the Middle Ages. The merging of the traditions of Roman-Mediterranean societies with the customs of Northern Europe created new political, economic, social and religious structures and practices. Between 500 and 1300 CE, food in all its manifestations, from agriculture to symbol, became ever more complex and integral to Europe's culture and economy. The period saw the growth of culinary literature, the introduction of new spices and cuisines as a result of trade and war, the impact of the Black Death on food resources, the widening gap between what was eaten by the rich and what by the poor, as well as the influence of religion on food rituals. A Cultural History of Food in the Medieval Age presents an overview of the period with essays on food production, food systems, food security, safety and crises, food and politics, eating out, professional cooking, kitchens and service work, family and domesticity, body and soul, representations of food, and developments in food production and consumption globally.
Sklep: Libristo.pl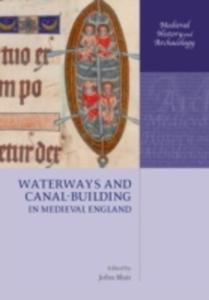 174,99 zł
Książki Obcojęzyczne>Angielskie>Humanities>History>Earliest times to present day>Early history: c 500 to c 1450/1500>Medieval histor...
The First Study Of Anglo-Saxon And Anglo-Norman Canals And Waterways, This Collection Of Essays From Economic Historians, Geographers, Geomorphologists, Archaeologists, And Place-name Scholars Broadens Our Understanding Of The Economy, Landscape, Settlement Patterns, And Inter-regional Contacts Of Medieval England.
Sklep: Gigant.pl 249,33 zł
Książki / Literatura obcojęzyczna
The nation's premier private collection of Rookwood art pottery featuring American Indian portraiture is on display at the Cincinnati Art Museum from October 2007 to January 2008. "Rookwood and the American Indian: Masterpieces of American Art Pottery from the James J. Gardner Collection" is a remarkable exhibition catalogue that will be of interest well beyond the exhibition because of its unique subject matter. Fifty-two pieces produced by the Rookwood Pottery Company are showcased, many accompanied by black-and-white photographs of the American Indians portrayed by the ceramic artist. In addition, the catalogue includes a brief biography of each artist as well as curators' comments about the Rookwood pottery and the Indian apparel seen in the portraits. The catalogue also presents two essays. The first, "Enduring Encounters: Cincinnatians and American Indians to 1900," by ethnologist and co-curator Susan Labry Meyn, describes American Indian activities in Cincinnati from the time of the first settlers to 1900 and relates these events to national policy, such as the 1830 Indian Removal Act. "Rookwood and the American Indian," by art historian Anita J. Ellis, concentrates on Rookwood's fascination with the American Indian and the economic implications of producing that line. "Rookwood and the American Indian" blends anthropology with art history to reveal the relationships between the white settlers and the Native Americans in general, between Cincinnati and the American Indian in particular, and ultimately between Rookwood artists and their Indian friends.
Sklep: Libristo.pl 205,45 zł
Książki / Literatura obcojęzyczna
Until recently almost all histories of historiography have focused on national developments or at best introduced a comparative note from a limited Western perspective. Only in the last few years have there been serious attempts to transcend these borders. The present volume examines turning points in historical thought in a variety of cultures. The essays in the first half of the book deal with fundamental reorientations in historical thinking in the pre-modern period since Antiquity, specifically in ancient Greece and China and in medieval Christian Europe, the Islamic world and again China. The essays all proceed from the premise that historical thought in none of these cultures was static but underwent profound changes over time. The essays in the second part deal with historical writing beginning with the professionalization of history in the nineteenth century.National history researched and composed around a master narrative constituted a major turning point in this period. Although the new paradigm emerged in the West, it was broadly accepted by historians throughout the world in the twentieth century. Individual chapters deal with conceptions of scientific history in the West, a comparison of national histories in Japan, France, and the United States, and the invention of Chinese, African and Indian national histories; finally the critiques of the modern paradigm in postmodernist and postcolonial theory and a consideration of the shortcomings of these critiques. Georg Iggers is Professor Emeritus of History at the State University of New York at Buffalo; Q. Edward Wang is Associate Professor of History at Rowan University.
Sklep: Libristo.pl 324,41 zł
Książki / Literatura obcojęzyczna
Oman unterscheidet sich von den anderen arabischen Staaten auf der Arabischen Halbinsel und in der Golf-Region durch seine lange Geschichte als historisch-politische Einheit. Ein weiteres Charakteristikum ist sein Ruhm als Seefahrer-Nation sowie der Ibadismus, dem die Majorität der Bevölkerung angehört. Einen bislang nur unzureichend untersuchten Aspekt der Geschichte Omans zu beleuchten, war das Ziel einer Tagung, die im Mai 2011 in Tübingen stattfand und deren Ergebnisse im vorliegenden Band zusammengefasst sind. §Im Fokus der Tagung stand die komplexe Wechselbeziehung zwischen Oman und den anderen Anrainern des Indischen Ozeans, sowie deren Blick von außen auf die Kultur und die Religion Omans. Mit dieser Frage haben sich Forscher aus sehr unterschiedlichen Wissenschaftsgebieten auseinandergesetzt. Entsprechend breit gefächert sind die Ansätze und Ergebnisse der hier präsentierten Arbeiten. Sie reichen von der vorislamischen Archäologie Omans über die Sprachenvielfalt Ostafrikas bis zu den ökonomisch-kulturellen Verbindungen zwischen Südamerika und Oman. Technologische Aspekte des Schiffsbaus werden ebenso behandelt wie wissenschaftshistorische, wobei vielfach bislang wenig bekanntes Quellenmaterial vorgestellt wird. Allen Aufsätzen gemeinsam ist dabei, dass sie die Bedeutung Omans als ökonomischen und kulturellen Knotenpunkt zwischen dem östlichen und dem westlichen Indischen Ozean deutlich hervortreten lassen.§Oman differs from other Arab countries of the Arabian Peninsula and the Gulf region in having a long history as a unified state. It is also famous as a seafaring nation and for the Ibadi tradition of Islam practised by most of the population. This volume contains the proceedings of a conference held in Tübingen in May 2011 with the aim of highlighting other, previously little known or studied aspects of Oman s history.§The conference focused on the complex interrelationships between Oman and other countries bordering the Indian Ocean, and on views from outside of Oman s culture and religion. Researchers from a wide range of disciplines examined these questions and the approaches and conclusions presented here are similarly wide ranging, from the pre-Islamic archaeology of Oman and the multiple languages of East Africa to the economic and cultural ties between Latin America and Oman. The technology and history of shipbuilding are also examined, using previously little-known source material. But however varied their themes, all the essays clearly emphasise Oman s significance as an economic and cultural bridge between the eastern and western Indian Ocean.
Sklep: Libristo.pl 154,44 zł
Książki / Literatura obcojęzyczna
India and China had a glorious history of cultural and material exchanges, which developed into friendship and subsequently into camaraderie during first half of the twentieth century when both India and China fought western imperialism. Owing to serious misconceptions and misjudgements the relations remained under the shadow of animosities and mutual distrust for over three decades until Rajiv Gandhi's China visit in 1988. After 62 years of diplomatic relations between the two, there is a certain maturity in the relations, as both are sharing new responsibilities in the stupendously changing global architecture. India-China Relations: Future Perspectives is a collection of eighteen essays by eminent Indian and Chinese scholars, diplomats and political personalities, who look at the complex and multi-layered relationship from different perspectives covering various domains such as civilizational dialogue through history, the 1950s brotherhood, the border, and various other issues pertaining to education, agriculture, security, defense and economic complementarities etc. The complex and multi-layered character of the relationship makes it difficult to define as an adversarial or competitive, for there has been cooperation at various levels between the two, such as climate change and many other multilateral forums like G20 and BRICS. Notwithstanding the cooperation, there have been incremental yet cautious approaches towards cooperation in various fields from both the sides. As the global economic and political scenario is undergoing a tremendous change, and its shift to Asia is visible, the contributors feel that India and China need to handle the hypersensitive issues with care and tap the existing complementarities appropriately, or else the Asian century would not only be a distant dream, but could also endanger the peace and stability of the region and the world.
Sklep: Libristo.pl 164,26 zł
Książki / Literatura obcojęzyczna
The most comprehensive survey of Polish history available in English, God's Playground demonstrates Poland's importance in European history from medieval times to the present. Abandoning the traditional nationalist approach to Polish history, Norman Davies instead stresses the country's rich multinational heritage and places the development of the Jewish German, Ukrainian, and Lithuanian communities firmly within the Polish context.Davies emphasizes the cultural history of Poland through a presentation of extensive poetical, literary, and documentary texts in English translation. In each volume, chronological chapters of political narrative are interspersed with essays on religious, social, economic, constitutional, philosophical, and diplomatic themes. This new edition has been revised and fully updated with two new chapters to bring the story to the end of the twentieth century.
Sklep: Libristo.pl 380,48 zł
Książki / Literatura obcojęzyczna
A topical, comparative study of the economic, social and political development of Norway and Scotland since 1800 How did the development of two small countries at the north of Europe, whose histories were joined from about the year 795 AD - including a 300-year alliance - nevertheless diverge sharply in the modern era? This edited collection of essays covers various elements of this analysis including land ownership, politics, agriculture, industry, money and banking, local government, education, religion, access and the outdoor life, as well as several more synthetic chapters. Written as it is by historians, political scientists, economists, sociologists, anthropologists and human geographers, the book moves beyond historical narrative, and outlines elements of a theory of divergent development between Norway and Scotland over the long term, and so towards a novel history which will be of interest to a wider audience. Key Features: Focus on key periods of intensive relationships between Scotland and Norway New analysis of the differences between the two countries after the medieval period Clear information and analysis of how Norway changed after independence from Denmark Policy ideas on 'independence' issues such as natural resources and land rights Exclusive essays from established and new scholars
Sklep: Libristo.pl 410,90 zł
Książki / Literatura obcojęzyczna
This volume not only defines medievalism's margins, as well as its role in marginalizing other fields, ideas, people, places, and events, but also provides tools and models for exploring those issues and indicates new subjects to which they might apply. The eight opening essays address the physical marginalizing of medievalism in annotated texts on medieval studies; the marginalism of oneself via medievalism; medievalism's dearth of ecotheory and religious studies; academia's paucity of pop medievalism; and the marginalization of races, ethnicities, genders, sexual orientations, and literary characters in contemporary medievalism. The seven subsequent articles build on this foundation while discussing: the distancing of oneself (and others) during imaginary visits to the Middle Ages; lessons from the margins of Brazilian medievalism; mutual marginalization among factions of Spanish medieval studies; and medievalism in the marginalization of lower socio-economic classes in late-eighteenth- and early nineteenth-century Spain, of modern gamers, of contemporary laborers, and of Alfred Austin, a late-nineteenth- and early twentieth-century poet also known as Alfred the Little. In thus investigating the margins of and marginalization via medievalism, the volume affirms their centrality to the field. Karl Fugelso is Professor of Art History at Towson University in Baltimore, Maryland. Contributors: Nadia R. Altschul, Megan Arnott, Jaume Aurell, Juan Gomis Coloma, Elizabeth Emery, Vincent Ferre, Valerie B. Johnson, Alexander L. Kaufman, Erin Felicia Labbie, Vickie Larsen, Kevin Moberly, Brent Moberly, Alicia C. Montoya, Serina Patterson, Jeff Rider, Lindsey Simon-Jones, Richard Utz, Helen Young.
Sklep: Libristo.pl
Sklepy zlokalizowane w miastach: Warszawa, Kraków, Łódź, Wrocław, Poznań, Gdańsk, Szczecin, Bydgoszcz, Lublin, Katowice
Szukaj w sklepach lub całym serwisie
2. Szukaj na wszystkich stronach serwisu
t1=0.055, t2=0, t3=0, t4=0, t=0.055