krainaksiazek essence of managing people 20099387
- znaleziono 6 produktów w 2 sklepach 229,99 zł
Książki Obcojęzyczne>Angielskie>Economics, finance, business & management>Business & management>Management & management techniques>Mana...
0x0136000700000000
Sklep: Gigant.pl 271,36 zł
Książki / Literatura obcojęzyczna
Brief, concise and analytical, this book helps managers at all levels to get the best out of the people they manage, to conduct effective appraisals and to be an effective coach. It includes easy to use structures for planning specific appraisals and a strategy for people development.
Sklep: Libristo.pl 48,53 zł
Książki / Literatura obcojęzyczna
From Michael Armstrong, HR expert and best-selling author, comes this new edition of the business staple, How to Manage People. Providing valuable insight into the functions and skills required to be an effective manager - from how to manage teams to successful recruitment - it will help you get the best from your staff through motivation, reward and leadership. With three brand new chapters on managing virtual teams, enhancing employee engagement and managing conflict, it is full of easily applicable advice as well as practical tools and checklists. Essential reading for anyone who wants to get the best from their teams, How to Manage People distills the essence of good management into one handy book.
Sklep: Libristo.pl 142,32 zł
Książki / Literatura obcojęzyczna
"If we didn't write this book, we would be dying to see it published. Whenever one reads about ABB in the management literature, there is a 'no questions asked' quality of 'if ABB has done it, why can't you, it must be the right thing to do. This is the way to do it, this is what ABB have done.'"- Claudia Heimer & Kevin Barham There is almost an ABB doctrine that fascinates both scholars and managers. Why is ABB so interesting to managers and gurus alike? Why is it the world's favorite case study? Why is Percy Barnevik possibly 'the most influential manager in the world' (according to the Observer newspaper) In June 1987, Beat Hess, head of the legal department of the world-famous Swiss electro-technical firm BBC Brown Boveri, was about to take his family on a well-earned week's holiday to Italy. He was suddenly told by BBC's chairman Fritz Leutwiler and chief executive Thomas Gasser, to prepare a full draft agreement for the 'unthinkable' - negotiations for a merger with long-time rival ASEA, the Swedish power engineering firm that had been gaining ground on Brown Boveri ever since a new CEO, Percy Barnevik, had taken over in 1980. If it came off, this would be the largest cross-border merger in history. Hess was told to go ahead with his holiday if he wanted to, but that the agreement had to be completed by the first week in July. The handwritten draft with its coffee and suntan lotion stains that Hess brought back from Italy was to be the basis for what has now become a legend of corporate history. ABB has grown to be the leading power engineering company in the world. It doubled its size in six years and is now a $31 billion corporation employing 213,000 people in 50 or more countries, including all the major markets, around the globe. According to the last three years' surveys in the FT, it is Europe's most admired company and Percy Barnevik, Europe's most admired CEO. How do we make sense of what ABB has achieved? Their success, in one of the most fiercely competitive industries in the world, a success which is all the more remarkable for a company which pioneered a new form of global organization. Percy Barnevik has described the paradoxes that ABB has tried to resolve as the simultaneous attempt to be 'global and local, big and small, and radically decentralized with central reporting and control.' In essence, Barnevik and his senior colleagues at ABB have tried to resolve these contradictions by creating what we call a 'globally-connected corporation', a loose-tight network of processes and partners which can only be held together by highly committed people and strongly-held principles. The gurus fell in love with ABB very quickly...Tom Peters calls ABB a 'buckyball organization' and says that Percy Barnevik is the most insistent enemy of bureaucracy that he has ever met. Manfred Kets de Vries has described the challenge of managing ABB as 'making a giant dance', While it may not be a model for every other company, it is certainly an example of what most companies can achieve. ABB The Dancing Giant gives its reader the exciting opportunity to look through the keyhole and hear from some very interesting people around ABB, both in the corporate headquarters and locations world-wide. It will also satisfy their curiosity about the heritage of Percy Barnevik, who has almost come to personify the company. It will look at how the company is doing now that he has passed on the role of CEO to Goran Lindahl. You will be able to look behind his image and public statements and find out what other people in the company think, how they lived the story of the merger, and what life is like for them in the organization. ABB the Dancing Giant has not been written simply for the sake of a fascinating history, which it certainly is, but to ask ourselves what other managers who are faced with the challenges of globalisation can learn from the story. It will : * document the story of the merger and of ABB's growth and global expansion * catch a greater glimpse of the real story behind the company's on-going success * raise some key questions for the future of ABB - how is Goran Lindahl preparing ABB for the next Millennium? * highlight some lessons from ABB's experience for managers in other organizations facing international and global challenges * be a frank look at the good and bad of ABB and what other managers and companies can learn and implement from this story. Authors: Kevin Barham is Director of the Ashridge Center for Management and Organization Learning and a founding partner of the Global Development Partnership. His research has focused on the development of international managers - a topic where ABB itself has much to teach other organizations. Claudia Heimer is Business Director and a member of the management team of Ashridge Consulting, where she has been interested in the cultural, strategic and IT implications of globalisation Outline Contents Part One : The Birth of a Modern Giant The story of the two companies that came to form ABB, ASEA of Sweden, and BBC (Brown Boveri Corporation) of Switzerland. Includes insights into the details of the merger talks, the high emotions involved and the way that Percy Barnevik drove the negotiations to a successful outcome. Part Two : Giant Steps to the Globally-Connected Corporation Looks at ABB's global expansion and looks at ABB through a number of different lenses. Looks at ABB as the 'globally-connected corporation' and sets ABB in the context of the global transitions that more and more firms are having to make to compete in a globalised world. Includes an overview of four of the most important analyses of ABB by leading management gurus. Part Three : Reaping the Harvest The organization a decade after the merger - find out how the masterplan has worked out so far. Looks more closely at why ABB has become the world's favorite case study and at why it is an example of that rare organizational breed, a successful cross-border merger. Postscript : The Future of ABB ABB has successfully completed its first decade of existence and occupies the corporate Mount Olympus together with General Electric and Microsoft, but what does the future hold? How can ABB sustain and build on their success? How will Goran Lindahl shape up now Percy Barnevik has given him control?
Sklep: Libristo.pl 100,67 zł
Art of Asking Financial Times Prentice Hall
Książki / Literatura obcojęzyczna
Ask the Right Questions in the Right Ways...And Get the Answers You Need to Succeed! Discover the core questions that every manager needs to master...how to avoid the mistakes business questioners make most often...ten simple rules for asking every question more effectively. Learn how to ask tough questions and take control of tough situations...use questions to promote innovation, drive change, identify hidden problems, and get failing projects back on track. Ask better questions, get better answers, achieve better results! "Required reading for every leader who wishes to see his or herorganization flourish and career progress." Garry A. Neil, MD, Corporate Vice President, Johnson & Johnson "Asking, listening, understanding the real meaning of the answers, and taking actions based on facts are really the essence of managing. This book has helped me in connecting the dots in my understanding (and lack thereof) of why things really did not work the way I expected them to." Pradip Banerjee, PhD, Chairman and Chief Executive Officer, Xybion; retired partner, Accenture "The framework and techniques provide outstanding ideas for executives to both gain better information and develop the analytical skills of their teams." Terry Hisey, Vice Chairman and US Life Sciences Leader, Deloitte We've all met the corporate inquisitor: the individual whose questions seem primarily intended to terrify the victim. The right goal is to solve the problem--and to build a more effective, collaborative organization where everyone learns from experience, and nobody's too intimidated to tell the truth. That means asking the right questions in the right ways. This book will teach you how to do precisely that. Terry J. Fadem shows how to choose the right questions and avoid questions that guarantee obvious, useless answers...how to help people give you the information you need...how to use body language to ask questions more effectively...how to ask the innovative or neglected questions that uncover real issues and solutions. You'll learn how to adopt the attributes of a good questioner...set a goal for every question...use your personal style more effectively...ask tough questions, elicit dissent, react to surprises, overcome evasions, and more. Becoming a better questioner may be the most powerful thing you can do right now to improve your managerial effectiveness--and this book gives you all the insights, tools, and techniques you'll need to get there. *Evaluate your current "questioning" skills...then systematically improve them*Choose better questions...and ask them the right way*Ask tough questions more effectively Get at the truth, uncover the real problem, and solve it*Master the crucial nonverbal aspects of asking questions Finding your best style and the right body language
Sklep: Libristo.pl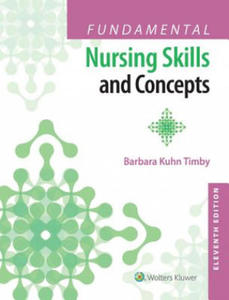 351,04 zł
Książki / Literatura obcojęzyczna
This trusted text helps LPN/LVN students develop the understanding and clinical skills necessary for effective practice in today's challenging health care environments.  Fundamental Nursing Skills and Concepts, 11th Edition, continues the tradition of excellent coverage of basic nursing theory and clinical skills that have long made this text a leading resource for LPN/LVN students at the start of their studies. Students using this text will learn theoretical nursing concepts, step-by-step skills and procedures, and clinical applications, all while applying philosophical concepts focusing on the human experience such as caring as the essence of nursing, supportive health care provider networks, and accountability for actions and clinical decisions. Filled with engaging learning tools that promote critical thinking, this new edition has been fully updated to reflect current medical and nursing practice with visually enticing photos and illustrations that bring the information to life and reinforce learning. Highlights of the 11th Edition include: *Coverage of new educational trends such as QSEN competencies and the SBAR technique for standardized communication.*Updated NANDA diagnoses and definitions in Nursing Implications and Nursing Care Plans reflect the latest NANDA-I publication, Nursing Diagnoses 2015-2017.*A continuing focus on the Nursing Process that covers concepts and paradigms in Chapter 2 with each skill chapter including the most recent applicable Nursing Diagnoses.*Nursing Care Plans that help students identify with "real people" and their individualized care.*Skills clustered at the end of each chapter that comply with Standard Precautions and infection control guidelines from the Centers for Disease Control and Prevention.*Nursing Guidelines that show students how to perform various types of nursing care or offer suggestions for managing client care problems.*Client and Family Teaching boxes that highlight essential education points nurses can communicate to clients and their families.*Chapter-ending Critical Thinking Exercises that use clinical situations or rhetorical questions to give students an opportunity to apply the material.*NCLEX-PN Style Questions that help students apply what they've learned to items that reflect the formats within the 2016 NCLEX-PN Test plan. This leading content is also incorporated into Lippincott CoursePoint, a dynamic learning solution that integrates this book's curriculum, adaptive learning tools, real-time data reporting, and the latest evidence-based practice content together into one powerful student learning solution. Lippincott CoursePoint improves the nursing students' critical thinking and clinical reasoning skills to prepare them for practice. Learn more at www.NursingEducationSuccess.com/CoursePoint.
Sklep: Libristo.pl
Sklepy zlokalizowane w miastach: Warszawa, Kraków, Łódź, Wrocław, Poznań, Gdańsk, Szczecin, Bydgoszcz, Lublin, Katowice
Szukaj w sklepach lub całym serwisie
2. Szukaj na wszystkich stronach serwisu
t1=0.018, t2=0, t3=0, t4=0.011, t=0.019