krainaksiazek essential buddhist teachings a practice guide 20167605
- znaleziono 8 produktów w 2 sklepach 77,24 zł
Książki / Literatura obcojęzyczna
Your concise guide to Buddhism, mindfulness, and meditation!"The Everything Essential Buddhism Book" is your beginner's guide to the Buddhist principles of nonviolence, mindfulness, and self-awareness. Learn about the deceptively simple truths of this enigmatic religion, including: The life of Buddha and his continuing influence throughout the worldBuddha's teachings and the Four Noble Truths of BuddhismThe Noble Eightfold Path and how it should guide youWhat the Sutras say about education, marriage, sex, and deathThe proven physiological effects of meditationThe growing impact of Buddhism on modern American culture Also included is instruction for the many forms of Buddhist meditation, including Zen and Tibetan practices. Most important, you will learn how you can apply the tenets of Buddhism to your daily life--and achieve clarity and inner peace in the process.
Sklep: Libristo.pl 126,42 zł
Książki / Literatura obcojęzyczna
Say a Little Prayer (SALP) provides a fresh, modern means of relating to the spiritual. In our ever more frenetic age, this original and exciting project does not intend to replace or compete with pre-existing religious practices and imagery, but instead to reinterpret the moments of calm offered by religious iconography and text in a contemporary, multicultural way. Uniting spiritual schools of thought from across history and geography, the project presents ten colorful card sets connected with Brazilian Candomble, Buddhism, Catholicism, Confucianism, Hinduism, Judaism, Kabbalah, Islam, Protestantism, and Shinto. Each set contains eleven beautifully designed cards, including one card introducing the religion, and 10 individual icon and prayer cards, which combine an image with a corresponding text. Whether illustrating the exquisite, intricate design of Islamic patterns; the beauty of Hindu goddess Durga; or the detailed figurative symbolism of Kabbalistic imagery, each card is a delicate artwork, as well as an inspiring insight into spiritual thought around the world. SALP is the work of acclaimed creative director Giovanni Bianco and his New York-based Studio65. Brazilian Candomble - Candomble originated in Nigeria, and was brought to Brazil by Africans who had been illegally captured and then sold as slaves. This religion is based on beliefs, practices, and rituals, and above all, on the energy that comes from nature as well as all of nature's elements. Candomble has existed for over 200 years, and today is practiced by believers across the globe. Buddhism - The religion and philosophy that is derived from the teachings of the Buddha, or "enlightened one," who lived in the northern region of India between the 6th and 4th centuries BCE. Approximately 350 million people worldwide adhere to Buddhist teachings, primarily in Asia. Meditation and the observance of moral precepts are central to the practice of Buddhism. Catholicism - There are approximately 1.1 billion Catholics in the world, more than any other Christian group. It is the dominant Christian tradition in many European countries, a major religious tradition in much of Africa, and the religion of most of the population in Central and South America. Catholics believe in the ancient Christian doctrines of The Trinity (God is Father, Son, and Holy Spirit), the Incarnation of God in Jesus Christ, and the saving work of Jesus in his death and resurrection. Confucianism - The scholarly tradition and way of life that adhere to the teachings of Confucius (K'ung Fu-tzu), who lived in the 6th to 5th centuries BCE. Confucianism, although more a philosophy than a religion, is practiced by more than 300 million people worldwide, primarily in China and Korea. Confucius taught the value of living in peace and harmony as well as consideration and respect for ancestors. Hinduism - The world's third-largest religion with an estimated 850 million practitioners, Hinduism is practiced primarily in India but has followers all over the world. It is considered to be the oldest of the world's major religions. In Hinduism, the whole of creation is seen as the dynamic game of the Trinity of Gods: Brahma, Vishnu, and Shiva. Brahma is the creator of the universe and of all beings. One of the world's major religions with over 1 billion practitioners, Islam (literally "surrender" to Allah) was founded in the 7th century CE by the prophet Muhammad. Although believers in Islam live throughout the globe, it is widely practiced in the Middle East and Africa. Islam is a monotheistic religion, believing Allah to be the one God, with Muhammad as His greatest messenger. Judaism - One of the world's major monotheistic religions, Judaism started as the faith of the ancient Hebrews, and is now practiced throughout the world. Its sacred text is the Torah, consisting of the teachings revealed to Moses by God on Mount Sinai. Additionally, the Talmud, teachings and thoughts of hundreds of rabbis gathered over 15 centuries, remains an essential sacred text in the Jewish faith. Kabbalah - Although primarily associated with Jewish mysticism, Kabbalah is not specifically a Judaic practice; people of many faiths practice Kabbalah. The teachings of Kabbalah include the belief that each person is a work in progress and has the potential for greatness; the goal of Kabbalistic practice is to free oneself from the human ego and create an affinity with the essence of God. Protestantism - Protestant Christianity traces its roots to the Reformation of the Catholic Church begun by Martin Luther in the 16th century. Protestants emphasize the Bible as the only rule of life and faith, and believe that salvation comes by "believing in your heart and confessing with your lips" that Jesus Christ is Lord. They teach that each believer approaches God on his own, without need of priests, saints, or other intermediaries, and that every believer is given grace to interpret the Scriptures. There are about 500 million Protestant Christians in the world. Shinto - Shinto (literally "the way of the gods") is the native religion of Japan. Its origins date to over 1,500 years ago, and Shinto is currently practiced by approximately 100 million people. Shinto worship is rarely congregational, more often done in private.
Sklep: Libristo.pl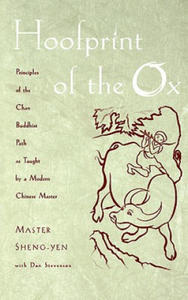 25,25 zł
Książki / Literatura obcojęzyczna
Revered by Buddhists in the United States and China, Master Sheng-yen shares his wisdom and teachings in this first comprehensive English primer of Chan, the Chinese tradition of Buddhism that inspired Japanese Zen. Often mistunderstood as a system of mind games, the Chan path leads to enlightenment through apparent contradiction. while demanding the mental and physical discipline of traditional Buddhist doctrine, it asserts that wisdom (Buddha-nature) is innate and immediate in all living beings, and thus not to be achieved through devotion to the strictures of religious practice. You arrive without departing. Master Sheng-yen provides an unprecedented understanding of Chan, its precepts, and its practice. Beginning with a basic overview of Buddhism and meditation, 'Hoofprint of the Ox' detials the progressive mental exercises traditionally followed by all Buddhists. Known as the Three Disciplines, these procedures develop moral purity, meditiative concentration, and enlightening insight through the 'stilling' of the mind. Master Sheng-yen then expounds Chan Buddhism, recounting its centuries-old history in China and illuminating its fundamental tenets. He contemplates the nature of Buddhahood, specifies the physical and mental prerequisites for beginning Chan practice, and humbly considers what it means to be an enlightened Chan master. Drawing its title from a famous series of pictures that symbolizes the Chan path as the search of an ox-herd for his wayward ox, 'Hoofprint of the Ox' is an inspirational guide to self-discovery through mental transformation. A profound contribution to Western understanding of Chan and Zen, this book is intended for practicing Buddhists as well as anyone interested in learning about the Buddhist path.
Sklep: Libristo.pl 52,99 zł
Książki Obcojęzyczne>Angielskie>Humanities>Religion & beliefs>Buddhism>Buddhist life & practice
Drawing On His Own Experience, And On Buddhist Teachings, Western Philosophy, Psychology And Literature, Ratnaguna Provides A Practical Guide To Reflection In Its Many Forms. This Is A Book About Reflection As A Spiritual Practice, About Its Importance, And About What We Think And How We Think About It.
Sklep: Gigant.pl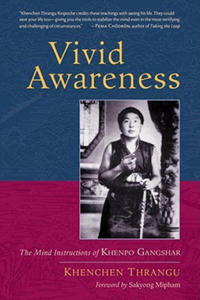 115,37 zł
Książki / Literatura obcojęzyczna
In the summer of 1957, the revered Buddhist teacher and scholar Khenpo Gangshar foresaw the difficulties that would soon fall upon Tibet and began teaching in a startling new way that enabled all those who heard him to use the coming difficulties as the path of Dharma practice. The teaching consisted of the essential points of mahamudra and dzogchen, both view and practice, presented in a way that made them easy for anyone to use, even in the most difficult of circumstances. Khenchen Thrangu Rinpoche was one of the grateful recipients of these teachings, which he regards as among the most important he has ever been given. He transmits them here, for the benefit of all of us who strive to practice in challenging times. They include contemplations on the ephemeral nature of both joy and suffering, meditations for resting the mind, and guidance for cultivating equanimity in any situation.
Sklep: Libristo.pl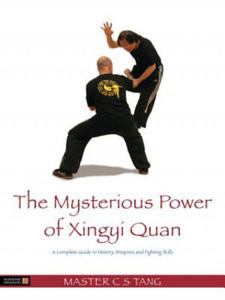 177,59 zł
Książki / Literatura obcojęzyczna
The ancient Chinese martial art of Xingyi Quan is known for its explosive internal power. Closely related to both Taiji Quan and Bagua Quan, Xingyi is regarded as the most esoteric, and the most dangerous of the fighting arts, though the purposes of consistent practice include health and spiritual development. This in-depth guide is the first to cover the history and traditions of the art in such a comprehensive way, describing the essential Xingyi Quan movements, and their effects, in fully illustrated form, and including the author's research with the Song Xingyi Quan clan in China. The book contains a comprehensive teaching guide to the practice of Santi Shr and the Five Element Fists, the core exercises of this potent fighting system, as well as explanations of the underlying principles which give Xingyi Masters their great depth of skill and refined understanding of combat strategy. The reader will also find clearly illustrated teachings of all the Twelve Animal Forms, linking forms, two person sets, basic skills, and the weapons training. This authoritative book will be an illuminating and complete guide for anyone interested in the internal martial arts, especially those practicing or teaching Xingyi Quan or wanting to learn more about it.
Sklep: Libristo.pl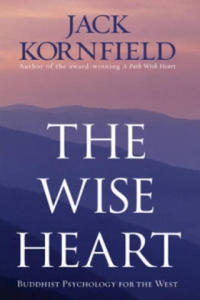 85,66 zł
Książki / Literatura obcojęzyczna
For over 2000 years, Buddhist psychology has offered invaluable insights into the nature of the heart and mind, and transformed the way many people around the world handle life's challenges. But the ancient texts on which these remarkable teachings are based can be difficult to penetrate for modern seekers. Now, drawing on his experience as a monk trained in Thailand, Burma and India, as well as his expert psychology practice, Jack Kornfield provides an accessible, definitive guide to Buddhism for Buddhists and non-Buddhists alike. This important new work is in the tradition of his classic works A Path with Heart and After the Ecstasy, the Laundry, offering practical tools to coping with modern life and dealing with emotions such as fear, anger and shame. Kornfield also shares the illuminating stories of his students and fellow practitioners, as well as his own journey towards enlightenment, including his recovery from a violence-filled childhood. Here is a rare treasure that will give readers greater access to the secret beauty within - and without.
Sklep: Libristo.pl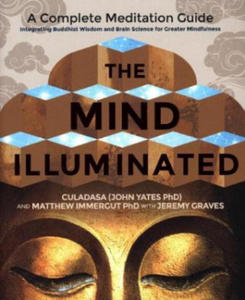 90,61 zł
Książki / Literatura obcojęzyczna
A comprehensive and accessible guide to meditation, providing a stage-based system that helps all levels of meditators establish and deepen their practice. Combines Buddhist teachings with neuroscience.
Sklep: Libristo.pl
Sklepy zlokalizowane w miastach: Warszawa, Kraków, Łódź, Wrocław, Poznań, Gdańsk, Szczecin, Bydgoszcz, Lublin, Katowice
Szukaj w sklepach lub całym serwisie
2. Szukaj na wszystkich stronach serwisu
t1=0.038, t2=0, t3=0, t4=0, t=0.038